BMW M4 Convertible (2014 - ) Review
BMW's M4 Convertible is a fearsome piece of kit that blasts its way from A to B. But is it special enough to warrant a £70k-plus price-tag?
More On This Car
Take one for a spin or order a brochure
Request a BMW M4 brochure
Request a BMW M4 test drive
From £58,365
Pros:
Dynamic and muscular design

Blistering performance

Open-top motoring at a pace
Cons:
Boot is compromised on convertible

White leather upholstery is so unpractical

Every other motorist will want to challenge you
Introduction
BMW claims its M4 Convertible represents the epitome of a high-performance sports car and it would be nigh on impossible to provide evidence that proves otherwise. It looks brutally muscular, delivers sprint times that are not for the faint-hearted and drops its top at the first sign of sunshine.
It has just undergone a mid-trim face-lift and features a Competition Package for £3k extra that adds forged 20-inch black alloys along with some additional distinctive styling features. Oh yes, there is an extra 19bhp too bringing the output to 450bhp.
On The Road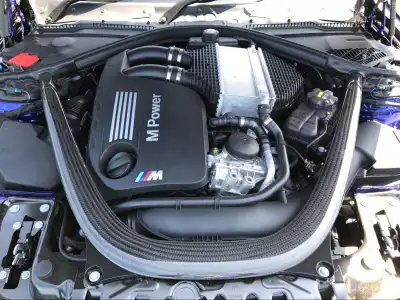 Performance
When BMW had a re-think of its model numbers the M4 Convertible was launched to replace the M3 Convertible. It's longer and wider than its predecessor and in true cabrio form transforms itself from sleek sports coupe into open-top convertible in a matter of seconds.
Nowadays, the M4 Convertible offers a whole lot more especially with the addition of the Competition Package.
It is powered by a 3.0-litre, six-cylinder 450bhp engine delivering 550Nm of torque and those figures translate into a 0-62mph sprint time of 4.5 seconds. It actually completes that dash faster than you can say: "nought-to-sixty-two-mph-in-4.5-seconds!" The top speed is limited to 155mph.
The car has many characteristics. It can be driven in a sensible manner when it remains refined and composed. But there are options to adjust the throttle, suspension and steering individually to create the desired effect. In its sportiest settings, the engine roars like a wild beast on the prowl in the Serengeti and it flashes through the seven-speed double clutch transmission like a lightning strike. The road holding is ultra grippy and the steering precise with plenty of driver feedback.
Ride Handling
Clearly the rear wheel drive M4 is not for the faint hearted even when driven 'sensibly', but it is one of those cars that has driving dynamics that match the aggressive styling. The acceleration is rapid and the addition of the Competition Package introduced some key features that are not cosmetic but certainly impact upon the car's performance.
These include upgraded suspension featuring new springs, reconfigured driving modes along with improvements to the Active M differential on the rear axle and dynamic stability control – both of which have been configured to match the car's upgraded dynamics.
This is a car that is guaranteed to make you smile the longer you spend behind the wheel. But it's also a car that brings out the green-eyed monster in other drivers. On three occasions, I had people in neighbouring vehicles revving their engines for all they were worth and giving me the 'stare'. And don't expect anyone to let you out at a junction – it simply won't happen.
But those factors aside, it is a thrill-seeker's dream. It's fast, furious and you sit close to the Tarmac so feel connected with the road no matter how efficient the suspension settings are.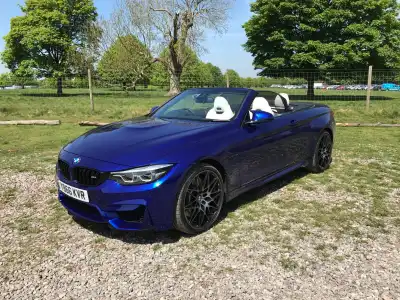 Styling
Refinement is an area where BMW excels and the higher up the model scale you venture the more opulent the options become. The M4 Cabriolet is no exception although the practicality of Opal White Merino leather upholstery does pose some serious questions. The leather extends to the dashboard too and once again this is white.
However, the car is generously equipped with all the latest infotainment systems along with plenty of options to adjust the car's settings. Creature comforts include BMW M head-up display, a pitch perfect Harmon Kardon surround sound system, Apple CarPlay, a TV function, steering wheel heater and a wind deflector that makes conversation a possibility even at high speeds.
The exterior looks drop dead gorgeous from every angle thanks to the long, sleek streamlining, the powered hood and those 20-inch M Star-spoke style 666M Black forged alloys – I think the 666 gives a hint at this car's devilish character.
Comfort levels within the car are good for a sports convertible and there is room for back seat passengers who will all enjoy the enhanced sound from the four exhausts.
In The Car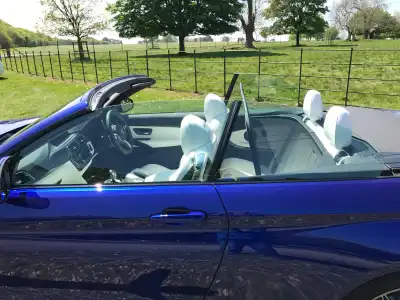 Behind the Wheel
The interior of the BMW M4 oozes class from its Opal White Merino leather seats and dashboard to the beautifully laid-out instrumentation. The car also boasted carbon fibre interior trim with black chrome finishers to complete the striking appearance. This is the sort of model that attracts attention and the owners will be the sort of people who lap that up.
There are techno treats galore to be explored including wireless phone charging, dual zone climate control, seats that can be electrically adjusted, a heated steering wheel, head-up display and BMW's iDrive set-up with a clear 8.8-inch infotainment screen where features such as the sat nav, DAB radio and other online services can be accessed.
The test car featured a number of optional extras as befits any premium car these days. One of these was called Comfort Access, which is basically keyless entry to the car and boot with the addition of door handles that light up as you approach. It costs £495 and for me, was an optional extra too far in the long list that totalled £14,990.
But I liked the air collar (£360 extra) that blew warm air into your neck and shoulders.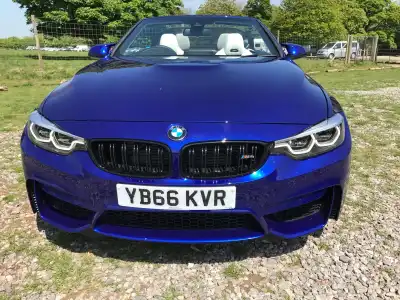 Space & Practicality
Despite its low-to-the-ground stance, the M4 Convertible is actually a really comfortable car and up front there is bags of room to stretch out. But also impressive is the fact that the car can accommodate a couple of adults in the back too. The downside of being relegated to the back is the wind chill factor. Even at slower speeds it can be pretty drafty and when the power is cranked up a little, a bobble hat in the height of summer could be a necessity!
The boot can hold 370 litres of luggage. However, that capacity is reduced to just 220 litres with the convertible roof lowered. Extended storage, which is a £155 option, adds a retaining net, bag hooks and two extra 12V sockets.
There is no room for a spare wheel, but the car does have a tyre inflation kit.
Some open-top cars can complete the opening and closing of the roof operation whilst on the move in 10 seconds or less and up to speeds of 30mph. However, that's not so with the M4 Convertible, which takes 20 seconds to complete either procedure, but can only be driven at 12mph or less.
Ownership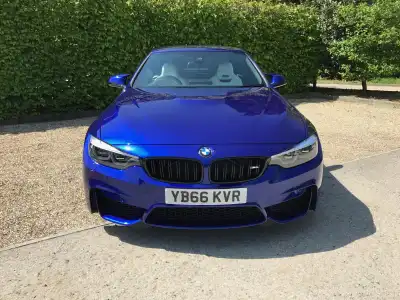 Running Costs
BMW competes in the premium market so don't expect the initial price-tag or running costs to be low. And it's a fact that the Bavarian marque's cars will be loaded with extras. The cost of options on the test car was just £10 shy of £15k and that would buy you two-and-a-half Dacia Sanderos.
But in a world where money isn't really the issue, the BMW M4 Convertible has bundles of appeal. The 3.0-litre petrol powered car will hit the 62mph mark from a standing start in 4.5 seconds and it is guaranteed to deliver outstanding driving dynamics for any thrill seekers or driving purists out there. The price for that fun though is combined fuel economy of 31.0mpg and that is the official figure so in real world terms you can expect to see about 20mpg. The high CO2 emissions figure of 213g/km will also have financial consequences. But M4 Convertible customers are happy to splash £77,600 on a car with optional extras coming out their ears – you even pay £25 for the number plates. So those buyers will have little concern about visiting a garage regularly.
The insurance rating is 45.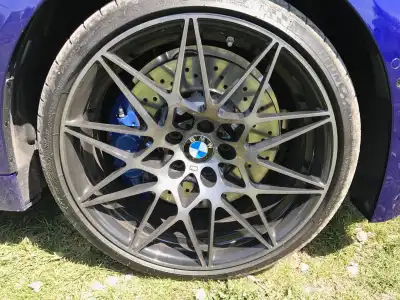 Quality & Reliability
The BMW M4 Convertible comes with a three year/unlimited-mileage warranty and the company has an excellent reputation for reliability.
The vehicle felt sturdy with good solid interior features that would stand the test of time. That said; the white leather upholstery would be a 'no-no' in my opinion. Yes, it looks absolutely beautiful on the new car, but after a few months of driving it could start to look jaded and anyone wearing a new pair of jeans would be strictly banned for fear of the dye ending up on the seats.
I particularly liked the car's infotainment screen with BMW iDrive to access features. It was nice not to have over-complicated switches and dials to navigate menus. In addition, the buttons to adapt the suspension, steering and throttle were ideally positioned.
The doors close with a reassuring thud and when the retractable hard top roof closes over your head the cabin becomes nicely hushed against the outside world. The paddle shifts are also solid and nice and easy to flick through the gears.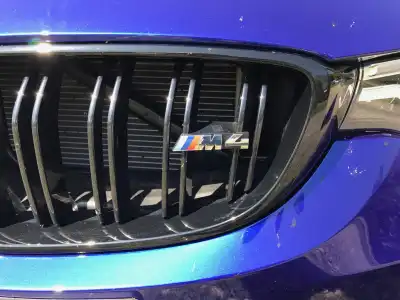 Safety & Security
Safety needs to be a priority when producing such a dynamically powerful car and the M4 Convertible is packed to the brim with technology to protect occupants and pedestrians.
The car sells quite low volumes so has never been tested for a Euro NCAP rating, but the standard BMW 4 Series Convertible received four stars.
There are no current plans for the mid-life or as BMW calls it LCI model (which stands for Life Cycle Impulse), to be tested.
BMW has devised its M4 with driver orientation at the forefront so, as it would be in racing, all controls are designed with a focus on the driver to enable the shortest possible reaction times.
The car also features the BMW ConnectedDrive preventative passenger protect system. It sounds complicated but in layman's terms it alerts the driver if it detects signs of tiredness. In addition, seat belts are tensioned in critical situations, electric seats are returned to an upright position and the windows are closed. If an accident occurs the brakes are automatically applied to bring the car to an abrupt standstill.
The Competition Package, that was included in the test car introduced springs, dampers and anti-roll bars.
More On This Car
Take one for a spin or order a brochure
Request a BMW M4 brochure
Request a BMW M4 test drive