BMW M440i xDrive Coupé (2020 - ) Review
BMW's M440i xDrive Coupé offers superb handling and hardcore performance. It's also got a new look, better technology, and a tighter hold on emissions due to mild-hybrid tech.
More On This Car
Take one for a spin or order a brochure
Request a BMW M4 brochure
Request a BMW M4 test drive
Pros:
Build like a brick outhouse

Sharp handler

Athletic driving experience
Cons:
Looks are divisive

Limited headroom in the rear

Harsh M Sport ride
Starting price:
£53,875 - as tested
Introduction
With weight-saving chassis technology, mild hybrid magic and an M Sport Pro Package, the latest BMW 4 Series Coupé is already raising the stakes in the premium mid-size auto sector.
The Bimmer is longer and wider than the old generation, but a trifling 6mm has been added to its stature. It has larger track widths, slim pillars, tiny overhangs, long doors, frameless windows, and a slippery roofline.
But, the most prominent new feature of the model is the outsized kidney-shaped grille. We like what it does for the 4 - but many auto-aficionados won't. No shakes there, though. The German automaker is always doing weird things that get talked about - and then the "weirdness" gets copied by other manufacturers and becomes "normal".
Anyway, enough about the new 4's appearance - what's the Coupé like to drive? Keep on reading to find out.
On The Road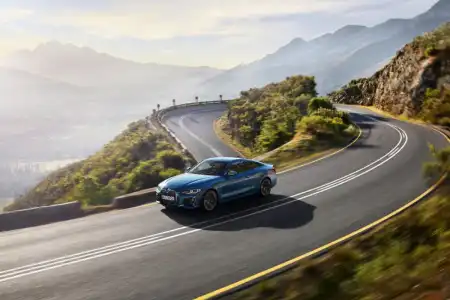 Performance
The star of the "4" show, as driven here, is the M440i xDrive Coupé. It's a soil-your-pants monster when it comes to acceleration. Only the seed of confidence planted by the all-wheel-drive system ensures you stay sane (and clean). The German car could melt British bitumen with its speed on the straights. And when it comes to the twisty tarmac, it doesn't flinch for a second - the BMW tackles corners with psychopathic precision.
The 2,998cc turbocharged six-cylinder M440i is muscled up to 374PS, so 62mph arrives in a trifling four and a half seconds. The top speed is electronically muzzled to 155mph. Is that an issue? No, not in the UK. Overtaking any other motor with this much thump means the maneuver is over before you know it.
The 4's tight eight-speed auto Steptronic transmission is factory-fitted, and quick-fire shifts mean the Coupé always motors along in the highest gear, even when moving at a chilled pace.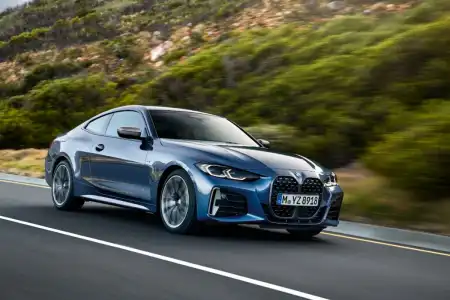 Ride Handling
Handling and steering accuracy is why you buy a Bimmer. On the M440i xDrive Coupé, you only have to twitch your little finger, and instantly there's a difference to the direction you're travelling in. Yes, there are no flies on this model – it's a beast - but it's a sensitive one.
On the ride side of things, it's always a sporty event, but the "M" suspension setup doesn't exactly soak up potholes. Hell, it's not meant to - this BMW is all about flat cornering and straight-line speed. Buy a big squidgy Lexus SUV if you want to float about.
Add smart four-wheel drive to the spicy mix, and you have a Coupé that doesn't have any plans to exit stage left or right at any time at all. The grippy system sharpens up the M440i's motoring properties, throwing power to the wheels as and when required.
Where all-wheel drive is not wanted, all the might is channelled to the rear alloys - guaranteeing the premium-class motoring experience that BMW is renowned for.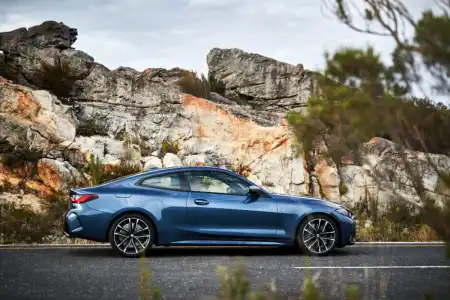 Styling
BMWs should be refined - it's in the German firm's genetic code. What good is a Bimmer without sophistication after all? Alright, BMWs aren't Bentleys, but an iconic Teutonic marque is required to have the kind of flair that you don't always find everywhere else. The 4 Series doesn't drop the ball in this respect – even with the "M" suspension.
The leather-bound seats are cosseting; indeed, the latest sport seats' side bolsters give serious support during naughty cornering. BMW also throws in front-seat heating.
The M Sport comes with a leather steering wheel in conjunction with multi-function switches, "M" upholstery, an instrument cluster display, and door sill plates boasting the "M" badge.
Elsewhere, BMW's usual "safe as houses" level of build quality and insulation are present and correct. You certainly won't feel fleeced on this front.
In The Car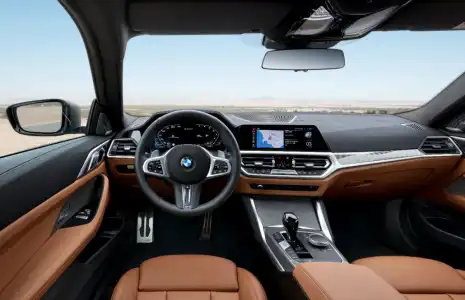 Behind the Wheel
Well, anyone already chummy with a Bimmer will feel at home here. Top-quality materials and the driver-directed assembly of the cockpit spell out the cabin's performance-oriented disposition.
The M440i's instrument panel configuration is based around equidistant lines, with its breadth further underscored by electroplated contours and strips stretching into the BMW's door areas. Even the flanks of the lofty centre console have knee pads to support a passionate driving style.
The start/stop button for the 4's powerplant is now located in a control panel within the centre console. Here, there's also a differently designed selector lever and BMW's brilliant iDrive Controller. Joining this gathering of gizmos is the electro-parking brake and knobs for the "Driving Experience Control" switch.
Overall, the new BMW's cockpit is fitted out with high levels of quality and controls that are in all the areas you'd expect them to be. It's a typically meritorious effort from BMW, with no yucky surprises.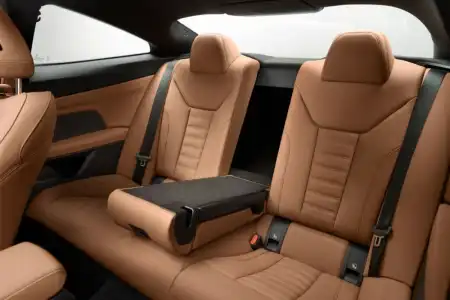 Space & Practicality
With a steeply sloping roofline at the back, the rear headroom in the M440i xDrive Coupé isn't all that. We took a pew behind the front seats and had to stoop to get in the car.
Thankfully, once inside the 4, the two-door, four-seater's knee room is ungrudging. Your head will still kiss the model's headliner, though. But there are no such worries for smaller occupants, and toddlers will have loads of space. Well, a couple of them in their ISOFIX docked seats will. Up front, there's ample room for the driver and whoever's riding shotgun.
As for the boot, this has been enlarged to 440-litres, and the 40:20:40 folding backrest enhances luggage space further. There's also a helpful bunch of storage areas dotted throughout the BMW's cabin.
Ownership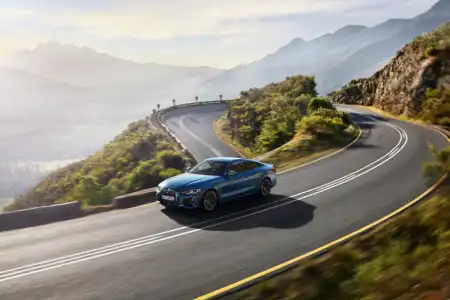 Running Costs
Mild hybrid tech has been integrated with the M440i xDrive Coupé's straight-six petrol lump. Shoehorning in a 48V starter-generator and second battery significantly hikes the capacity for utilising brake energy regeneration and the electrical vivacity it produces.
The harvested energy is sent to the electrical system or used for making additional drive power when pointed back to the BMW's starter generator. When the car accelerates, the generator also delivers an electric boost reaction that makes an extra 11PS.
The 374PS M440i's fuel economy hovers around 39-41 mpg, so that's not bad. Its powerplant's CO2 emissions of 155 g/km are not to be sniffed at, either.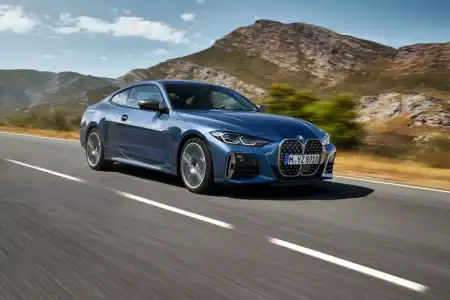 Quality & Reliability
BMW has a funny old reliability history. Some of the automaker's older vehicles haven't always been as dependable as hoped. That said, the German manufacturer has a laudable reputation as a rule, and dealerships regularly receive good feedback.
Furthermore, the M440i xDrive Coupé is safeguarded by a three-year/unlimited mileage guarantee. This warranty equals peace of mind for the first few years of your BMW purchase. It even comprises BMW Emergency Service for any unanticipated incidents.
There's no need to probe the quality of BMW's products, and this 4 Series is no different. Everything you prod poke or push feels well-made, and the finish of the entire model is of a very high standard.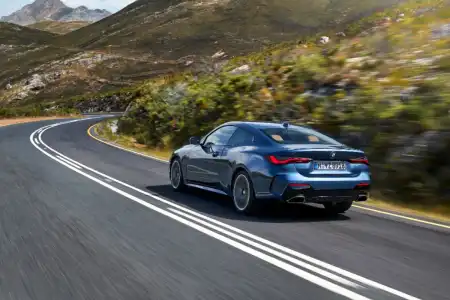 Safety & Security
The weight-reducing design of the 4's body and chassis features a combination of steel and alloys to lessen the vehicle's lard. It also gives healthier body rigidity and, therefore, better crash protection.
A passive safety concept boosts occupant protection as well. Alongside the strong passenger cell and beefy supporting structures, BMW incorporates safety electronics that set off the restraint systems at precisely the right moment - and with the required effect for the severity of any crash. The Coupé is also furnished with an active bonnet system to heighten pedestrian protection.
Furthermore, the driver assistance systems in the M440i xDrive Coupé have been modernised. They process camera images and data collected by the 4's sensors to perceive threats and then minimise the risk of an impact with braking inputs or corrective steering.
For instance, Front Collision Warning is now fitted to the Coupé. This system consists of person and collision alert, along with city braking. This can sense cyclists, pedestrians, and other cars. A Lane Departure Warning system is part of the new BMW's standard kit list, too.
Moreover, cruise control and braking function come factory fitted, and ISOFIX child-seat anchor points are all present and correct.
Euro NCAP hasn't crash-tested the latest M440i xDrive Coupé yet, but the 3 Series to which it's closely related chalked up the top five stars. So, you can expect this model to replicate that excellent result.
On the security front, BMW works to improve and design the best vehicle security systems. The company also joins forces with the authorities in responding to current threats and forecasting potential new dangers. So, have no doubt, you're in excellent hands if you purchase the BMW M440i xDrive Coupé.
More On This Car
Take one for a spin or order a brochure
Request a BMW M4 brochure
Request a BMW M4 test drive