From £43,740
Pros:
Gorgeous design and drives as well as it looks

Powerful, yet smooth diesel engine

Packed with techno treats, including full on-board infotainment system
Cons:
Optional extras result in quite a price hike

Not as practical as the X3

Rear headroom is reduced by the sloping roof design
More On This Car
Take one for a spin or order a brochure
Request a BMW X4 brochure
Request a BMW X4 test drive
Introduction
BMW has sold more than 200,000 first generation X4 models globally since its launch in 2014, so the all-new second generation car has a lot to live up to. And it does just that with improved driving dynamics, a stronger design with a coupe silhouette, along with an abundance of driver assistance systems and connectivity options.
The X4 is billed as a Sports Activity Coupe model and is available in a choice of trim levels called Sport, M Sport, X Line and M Sport X with the M Performance models completing the range. All cars can be fully specced with a raft of optional extras too.
The new model is longer and wider than its predecessor giving it a sportier appearance than the X3 on which it is based. On the downside, it does compromise a little on space and practicality compared to its sibling.
On The Road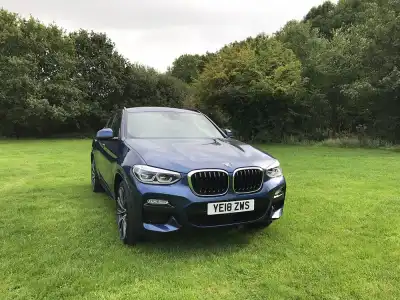 Performance
We tested the BMW X4 in M Sport trim powered by a 2.0-litre 190PS diesel engine delivering 400Nm of torque. This car, with xDrive which is BMW's 4WD system, could complete the 0-62mph dash in 8.0 seconds and maxed out at 132mph.
The X4 is based on the X3 but is designed to be the more dynamic of the two. And it has to be said, the X4 handles really well. The punchy diesel engine delivers all the power you could wish for as it accelerates through the smooth, yet rapid-firing eight-speed automatic gearbox. There are steering wheel-mounted paddles if you want to take control of the gear changes and different driving modes called Eco Pro, Comfort and Sport alter the way the car reacts.
If those figures are not quite fast enough then the Performance M models see the 0-62mph dash reduced to just 4.9 seconds and they redline at 155mph, but prices for those models are in the £55k region – without any options factored in.
The clever xDrive system works very effectively and adds to the versatile sportiness of the car with the rear-biased system helping the car power through corners with ultimate grip and outstanding balance. It's a car that can be driven with a heavy right boot into tight bends with confidence. There is minimal body sway and the car feels perfectly poised at all times.
Ride Handling
BMW has adapted the chassis set-up on the new X4 and that has resulted in a higher degree of comfort. It feels more agile and refined than the outgoing model and that translates into a better all-round driving experience.
But it's certainly not become a soft option. The power at your disposal can be blisteringly quick when required and it's a car that overtakes slower moving traffic at the blink of an eye. Switch across into Sport mode and everything becomes a little livelier and even the instrumentation gets a red glow with some 'M' badging as a not-so-subtle reminder that this BMW has the 'wow' factor when called upon.
Standard specification on the X4 not only includes M Sport suspension but also variable sport steering which is specially tuned to deliver extra-dynamic handling. This version of the electric power steering system ensures precision through keenly taken corners along with excellent straight-line stability. The steering feels perfectly weighted and there is ample driver feedback.
The X4 really is a go-anywhere vehicle. It eats up the motorway miles, sweeps through the country lanes for fun, weaves its way nimbly through the busy city centre crowds and can even tackle some off-road work in its spare time. It boasts ground clearance of 204mm, a wading depth of 500mm and can clamber over bulky obstacles, so even a heavy fall of snow will not put a stop to the X4's progress.
Styling
The BMW X4 is beautifully refined. The 190PS 2.0-litre diesel engine is the perfect reminder that modern day diesels are nicely hushed and, even under heavy acceleration, barely a murmur from the powertrain can be heard within the cabin. Any road surface and wind sounds are also minimal. Our car featured a Comfort package which introduced acoustic glazing which offered even more protection from irritating outside noise intrusion.
The UK roads are becoming renowned for their poor quality with plenty of unexpected bumps, dips and potholes encountered on most journeys. Once again, the X4, with its highly efficient suspension system, copes well and even when fitted with 21-inch wheels, the ride quality proved impressive.
The X4 is a car that oozes premium styling both inside and out. It looks dynamic thanks to its sweeping lines with sports coupe profile. It has BMW's instantly-recognisable kidney grille and twin headlight units, new horizontal fog light integrated into the outer air intakes plus L-shaped LED tail lights positioned at the extreme edges of the car to accentuate its width.
The interior has a modern, premium feel to it and is not dissimilar to the X3, which is not a bad thing. The driver-focused cockpit is a BMW tradition and when you take your seat it has an 'all about me' feeling with exceptional comfort levels within a car that is kitted out with the finest leather materials, piano black trim and soft-touch surfaces.
In The Car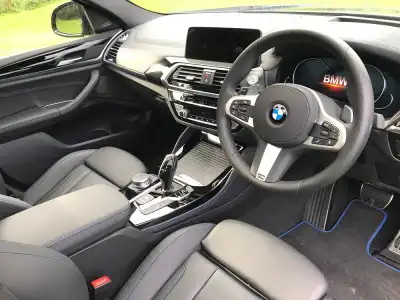 Behind the Wheel
Finding the perfect driving position within the new X4 is a quick and simple process thanks to the powered seats and adjustable steering wheel. The slightly elevated seating position results in good all-round visibility and a clear view of the road ahead. It really does feel like the car has been finely honed to your requirements with all dials, readouts and controls perfectly positioned for driver usability.
There's a wealth of on-board technology to explore, yet the car is clutter-free in its design and layout. I particularly liked the fact that the climate control settings could be accessed via simple dials rather than having to navigate a complicated touchscreen menu.
There is full smartphone connectivity via Apple CarPlay and a 10.3-inch infotainment touchscreen. Our car included a Technology package costing £1,690 that added a head-up display, Bluetooth with wireless charging, a digital cockpit which changes its display according to the driving mode, Wi-Fi hotspot preparation and gesture control, which proved great fun. Simply rotate your finger clockwise or anti-clockwise near the screen and a tiny overhead camera detects the movement and the volume on the harman kardon surround sound system increases or decreases. You can also accept or reject incoming calls using this function.
The more traditional way to navigate the car's systems is via the BMW iDrive dial which works very efficiently and is simple to use.
The test car also came fitted with a two-section panoramic roof which let light flood into the car and was part of another package costing just shy of £2k.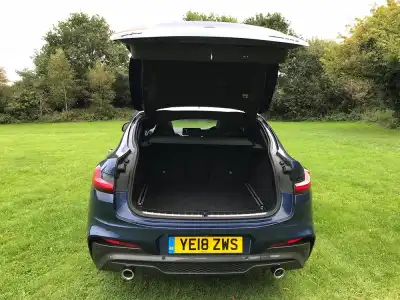 Space & Practicality
Up front, the driver and passenger are treated to plenty of space but it's the trio of back seat occupants, especially taller ones, that might suffer a little as a result of the X4's sloping roofline. There is room for three adults to fit in but the narrow central seat makes it all a little cosy. It's worth noting though that there is plenty of legroom in the back.
The rear door openings are not as big as they look either and I bumped my head a couple of times getting in and out of the car. So that's a consideration if fitting a child seat is a regular task.
When it comes to storage, the X4 is a practical option and the boot with its 525-litre capacity can easily swallow a set of golf clubs or suitcases. Drop the 40:20:40 split-folding rear seats and that capacity increases to 1,430 litres. If storage is a priority then the X3 may be the preferred option as that has a boot capacity that ranges from 550-1,600 litres.
There are a number of storage options scattered throughout the car, including a lockable glovebox, cup holders, deep door pockets with designated water bottle section, a deep central bin, boot pockets and net hooks, a mobile phone section and a small compartment by the driver's right knee with fold-down cover.
Ownership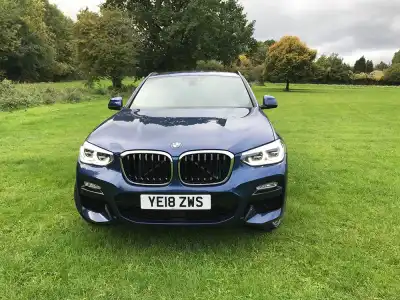 Running Costs
So, getting down to the nitty gritty then – how much of a dent will the X4 make in your savings? That really depends on the model choice and how much you value the vast range of options on offer. The model line-up starts at £42,900 which is actually quite reasonable for a car of the X4's calibre. Our test model started life costing £44,970 but a whole host of extras saw the price climb to £57,255.
The running costs are encouraging with our 2.0-litre 190PS diesel engine officially delivering combined fuel economy of 50.4mpg with carbon emissions of 146g/km. This CO2 figure would result in a first-year Vehicle Excise Duty charge of £200 which would reduce to £140 for the following years. But there is an additional expense to factor in because cars with a list price above £40,000 pay a £310 supplement for five years. After the five-years have elapsed the vehicle is taxed at the applicable standard rate.
The BMW X4 we tested falls into insurance group 32.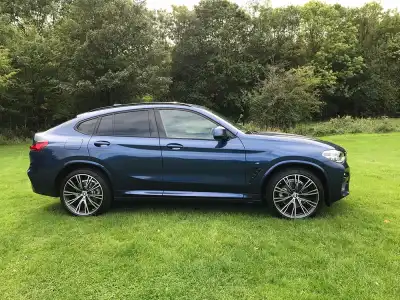 Quality & Reliability
BMW has an excellent reputation for producing reliable cars that will survive the test of time and the X4 is no exception to that rule. It's a car that can tackle off-road courses and feels robust and tough in its design and make-up.
The interior boasts a nice mix of high-quality luxurious materials and practical wipe clean surfaces. Although the piano black trim and touchscreen may be prone to fingerprints, they are easily dabbed away with a micro-fibre cloth.
The neatly-styled leather seats offer plenty of support and also look and feel like they will pass the longevity test. All the switchgear seems sturdy enough and functions such as the gesture control system will probably keep going long after rheumatism has set into your fingers!
The BMW X4 comes with a three-year, unlimited mileage warranty.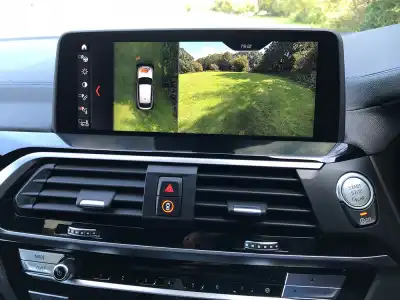 Safety & Security
The BMW X4 will not be tested for a new Euro NCAP safety rating, but it is packed with driver safety aids to protect occupants, pedestrians and help prevent accidents from happening in the first place. The car is based on the X3 which was awarded the maximum five stars when it was tested, so the X4 should be equally impressive.
Safety specifications include the likes of Cruise Control with braking function as well as Collision and Pedestrian Warning with City Collision Mitigation. There is the option of semi-autonomous Active Cruise Control with Stop & Go function which is capable of stopping the car and setting off again automatically.
A Driving Assistant Plus package adds Steering and Lane Control, Lane Keeping Assist with Side Collision Protection, and Cross Traffic Warning and Crossroads Warning systems.
The car's sporty and sure-footed handling are aided by the likes of the powerful lightweight braking system and the Dynamic Stability Control system with anti-lock brakes, dynamic traction control, cornering brake control, start-off assistant and hill descent control.
And to keep any uninvited attention at bay, the X4 is protected by an alarm and immobiliser.
More On This Car
Take one for a spin or order a brochure
Request a BMW X4 brochure
Request a BMW X4 test drive