From £57,085
Pros:
Excellent value if short commutes are a regular practice

Low benefit-in-kind bills

Practical for all the family and handles beautifully
Cons:
No seven-seat option

Reduced boot space compared to standard X5

Official 83.1mpg fuel figure is unrealistic – expect about 40-45mpg
Buy and save on quality approved and used cars
Introduction
The BMW X5e was the first plug-in hybrid production car to arrive in UK showrooms from the Bavarian manufacturer and offers all-round appeal to fleet drivers up and down the country.
It looks like a 'normal' X5 apart from some distinctive badging and a plug-in port, so it's a bold, athletic and muscular car packed with all the latest kit, including 20-inch alloys, a panoramic glass roof, roof rails, aerodynamic body styling and plenty more besides.
But this is a hybrid and so brings with it some financial benefits. If the day-to-day commute involves a short hop to the railway station, then the car can be charged overnight and the economy will be excellent. If, however thousands of motorway miles are the norm, then the diesel option will be more economically viable.
On The Road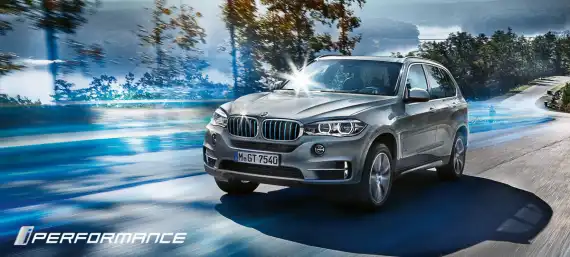 Performance
The X5 xDrive40e is available in two trims called SE and M Sport. We drove the range-topper priced at £61,070 although as is the norm with premium marques these days a whole host of optional extras are on offer – just over £7,000 worth on the test car.
Powered by a 2.0-litre 245bhp turbo petrol engine working in conjunction with a 113bhp electric motor, the car offers a total output of 313bhp with 450Nm of torque. And those figures translate into excellent driving credentials.
The X5 xDrive40e can power its way to 62mph from a standing start in 6.8 seconds and maxes out a top speed which is limited to 130mph. And those are seriously impressive figures for a car the size of the X5.
The acceleration through eight-speed Steptronic gearbox is blisteringly quick and the option of steering wheel mounted paddles give the driver extra control over the gear changes.
There are driving modes called Eco Pro, Comfort, Sport and Sport+ that alter the throttle, steering and gear shift timings accordingly and the car can cover up to 19 miles in EV mode (depending on the driving style).
The road-holding is assured, there is minimal body sway into bends and there is plenty of driver feedback through the steering wheel.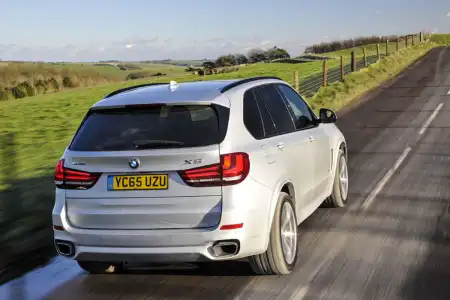 Ride Handling
When the ignition is switched on, the X5 xDrive40e defaults to its Auto eDrive mode which attempts to utilize the electric motor as much as possible, introducing the 2.0-litre petrol engine as and when necessary.
But BMW owners expect great driving dynamics from their cars and this particular model doesn't disappoint.
Despite being a hybrid with an EV-only driving mode, this BMW can put in a good shift when faced with the open road. The acceleration is smooth and responsive, but the power into bends is what really impresses. The M Sport model has adaptive dampers which results in outstanding body control into corners and any uneven surfaces won't cause the car to fidget in the slightest.
The car has xDrive which is BMWs 4WD system which is a bonus with our unpredictable weather patterns and also means the X5 can confidently venture off the beaten track.
It's also worth noting that if your short commute in electric-only mode involves some faster roads, the X5 xDrive40e can be driven at speeds up to 75mph before the petrol engine cuts in.
Despite being a PHEV the X5 xDrive40e offers all the dynamism of the more traditional X5.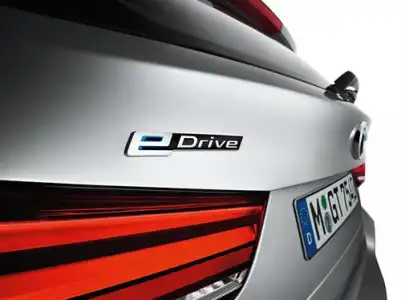 Styling
The interior of the X5 xDrive40e is BMW through and through with the finest materials, upholstery and attention to detail all creating a premium-style cabin environment that is packed with the latest technology and infotainment systems.
Creature comforts include heated seats that can be electrically adjusted, a pitch perfect Harmon Kardon surround sound music system, enhanced Bluetooth with voice control, internet access and lots more beside. The panoramic glass roof allows light to flood into the car and all occupants enjoy a comfortable, spacious and beautifully designed interior that lives up to its premium branding.
The X5 xDrive40e is beautifully refined with very little engine, road surface or wind noise filtering through and the M Sport model has the adaptive dampers as standard which improves the handling and ride quality considerably.
The hybrid system is advanced and the driver can significantly influence the car's energy consumption via three modes. Auto eDrive allows the BMW EfficientDynamics system to determine the most efficient combination of the electric motor and petrol engine; Max eDrive results in pure electric driving up to 19 miles and with a speed limit cap of 75mph; and Save Battery does just that – the battery can be charged via the combustion engine or the existing range and charge can be saved.
In The Car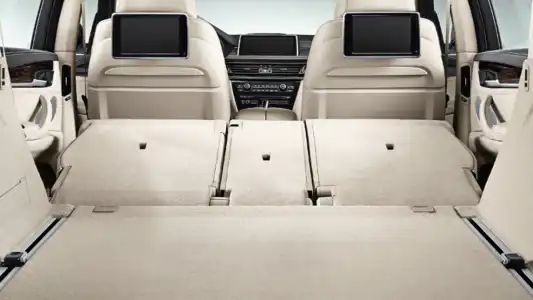 Behind the Wheel
The BMW X5 xDrive40e is a car that is quick to feel at home in. There is plenty of steering wheel and seat adjustment so it's easy to get comfortable and all the dials, controls and instrumentation is perfectly positioned for usability.
The Dakota leather upholstery looks fabulous, there are plenty of soft-touch surfaces and the seats can be heated front and back.
While BMW has ensured the cabin is consistent with the standard X5 you will find some hybrid-specific instrumentation which alters according to the drive mode selected. This means you can easily find relevant data regarding the vehicle's electric range, current fuel or electricity consumption and recuperation etc.
Elsewhere there is a wealth of on-board technology, including an excellent sat nav system, a premium sound system, a colour touchscreen and the familiar and intuitive iDrive dial that allows easy access to the car's infotainment systems.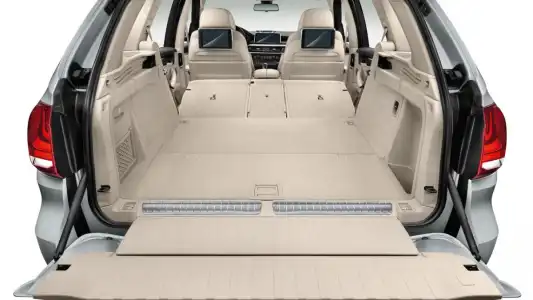 Space & Practicality
Although there is no seven-seat option available in the BMW X5 xDrive40e this is a 'proper' five-seater with ample room in the back for a trio of adults to stretch out. The upright design of the car means there is no fear of limited head room in the back and the wide opening rear doors result in easy access for older passengers or operating a child seat.
As the battery is housed beneath the luggage compartment floor, there is a slight impact on the boot capacity. But the limit is still a rather impressive 500 litres which is increased to 1,720 litres with the 40:20:40 split-folding rear seats dropped flat. Standard X5 models boast a capacity ranging from 650 to 1,870 litres.
Elsewhere, there are numerous convenient storage options scattered throughout the car, including a generously-sized glovebox, door pockets, a central bin, cup holders and lots more besides. The automatic tailgate is a bonus when approaching the car carrying lots of shopping bags.
According to BMW, the BMW X5 xDrive40e can be charged in two-and-a-half hours from a wallbox or three-and-a-half hours from a domestic power point.
Ownership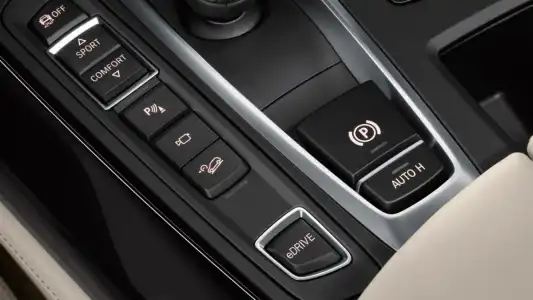 Running Costs
The test car carried a price-tag of £61,070, although if you are looking for a cheaper option the entry-level SE model starts life at £57,085. But as is the norm with premium marques there is list as long as your arm of optional extras so expect the final price to rise rapidly if you add all the bells and whistles.
The test car with its 0-62mph sprint time of 6.8 seconds could deliver an official combined fuel economy of 83.1mpg with carbon emissions of 78g/km. In reality that figure is pie in the sky and would prove impossible to match. A more realistic figure would be around the 40mpg mark, but that would also mean some 'sensible' driving rather than foot-to-the-floor motoring.
But based on the CO2 figures of 78g/km the car would result in a Vehicle Excise Duty cost of £100 for the first year which is reduced to £140 after that. Unfortunately, the carbon emissions figure is too high to benefit from the Government's £2,500 plug-in grant, but it would gain from an attractive Benefit in Kind rate of 19 per cent.
However, if the owner is likely to clock up thousands of motorway miles each year, then the diesel option would be the wisest choice. Yet this car would not have such an appealing BiK rating.
The insurance group rating for the test car is 42.
Quality & Reliability
As the BMW X5 xDrive40e is the company's first plug-in hybrid electric vehicle to be produced for the UK market, it is impossible to say how reliable the engineering system will be. However, BMW has certainly made its mark on the EV scene with its cool i3 city car and awesome i8 performance model. So, with that in mind, this hybrid system should prove up to scratch.
The build quality is excellent with plenty of upmarket materials, including Dakota leather upholstery. All dials and switches have a sold feel and BMW has a long-established reputation for building cars that last the test of time. If you want further proof, look how many older models carrying the blue, black and white circular badge are hurtling along our roads today.
It comes with a three-year, unlimited mileage warranty.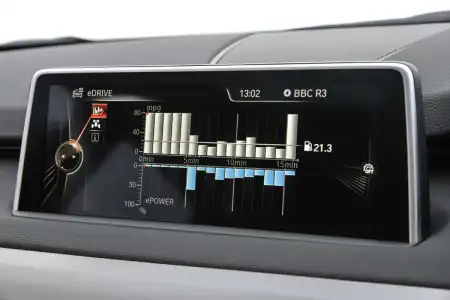 Safety & Security
The BMW X5 xDrive40e is packed with class-leading safety features that helped it achieve the maximum five stars when tested for its Euro NCAP rating.
It boasts a rigid body shell, numerous airbags along with anti-lock brakes, parking sensors, stability control, traction control and a number of packs that introduce additional kit.
For example, there is the Driver Assistant Plus system that adds lane departure warning, forward collision warning, city collision mitigation and adaptive cruise control.
Owners can also specify adaptive LED headlights with night vision to spot animals or pedestrians along with a full colour head-up display system.
And, as one would expect, the vehicle also has an excellent alarm system to keep intruders at bay.
See our offers on all used BMW models.
Buy and save on quality approved and used cars