Pros:
Powerful looks with performance to match

Punchy diesel engine with well timed gearbox

Impressive interior with high levels of comfort and excellent infotainment system
Cons:
Expensive to buy and run, especially with optional extras

Not as spacious or practical as the X5

Poor driver visibility due to tiny rear screen and wide B pillars
More On This Car
Take one for a spin or order a brochure
Request a BMW X6 M brochure
Request a BMW X6 M test drive
Introduction
BMW has sold almost 450,000 X6 models globally since its launch in 2008 and now the latest third generation version of this premium SUV-cum-coupe model, dubbed the Sports Activity Coupe by the Bavarian carmaker, boasts a more powerful look along with lots of extra technology.
It has had quite a growth spurt too gaining 26mm in length, 15mm in width and a 42mm longer wheelbase. But it is lower to the ground by 6mm so has a lower centre of gravity and appears more muscular.
There are three trim levels called Sport, M Sport and M Performance along with petrol or diesel powertrains. The petrol X6 range is headed up by a 4.4-litre V8 engine developing 530hp. But the most popular X6 in the UK tends to be diesel-driven with the 3.0-litre V6 400hp being the most potent. And it was the X6 M50d with that engine we opted to test.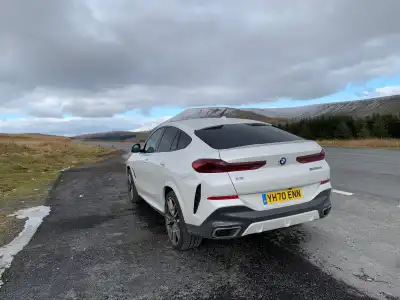 Ride Handling
BMW's X6 line-up comes with Dynamic Damper Control as standard. This not only improves the ride and handling of the car, but it also enhances the vehicle's dynamic characteristics with a choice of two settings – one for a sportier driving experience and the other focusing on comfort.
Despite still being quite heavy at more than 2.2 tonnes, the car feels a lot more agile than its predecessor with a turning lock of 12.6 metres. And the upgraded roll stabilisation set-up increases straight-line driving comfort by cushioning any bumps on one side of the road. This also enables improvements when the X6 is turning into corners or accelerating away.
Out on the open road, the level of power is constant with short bursts of rapid-fire pace making light work of overtaking slower vehicles.
The only real downside to driving in Sport mode is the comfort levels as you will experience the occasional shudder through the car as you hit an unexpected bump or dip in the road. But it is far more settled in Comfort mode.
The top trim M50 model sits on 22-inch wheels which perfectly suit the vehicle without too much bounce. The lower specification X6 models have smaller wheels.
And the added reassurance of the efficient all-wheel-drive system, officially called BMW xDrive, will keep the car moving during more adverse weather and driving conditions.
On The Road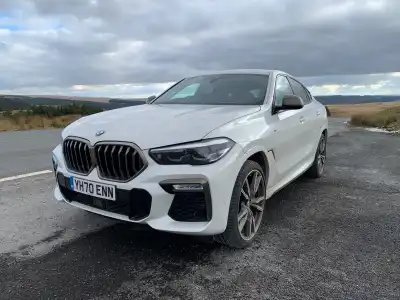 Performance
We tested the most powerful diesel variant of the X6 – the M50d driven by a quad-turbocharged 3.0-litre V6 engine delivering 400hp and a whopping 760Nm of torque. That translates into impressive performance figures with a 0-62mph sprint time of 5.2 seconds and a maximum speed that is limited to 155mph.
The X6 is very much based on its sibling X5 model but it has had a real shot of adrenaline somewhere along the way. It looks more dynamic and is more aggressively styled especially with the predominantly black new-look grille.
The punchy diesel engine delivers all the acceleration and intensity you could wish for as it powers through the smooth, rapid-firing eight-speed automatic transmission. There are steering wheel-mounted paddles to take control of the gear changes manually and the different driving modes called Eco Pro, Comfort and Sport alter the way the car reacts. Special mention to the perfectly weighted steering that delivers ample driver feedback.
The M badging is a reference to BMW's M division which is the performance-led department and this is a car that likes to perform. It effortlessly eats up the motorway miles but is eager to please on the more testing country lanes where the road holding is sublime through tight bends with little sign of body sway. At just over two metres wide, you do find yourself breathing in on narrower stretches, but the handling is really confident and assured.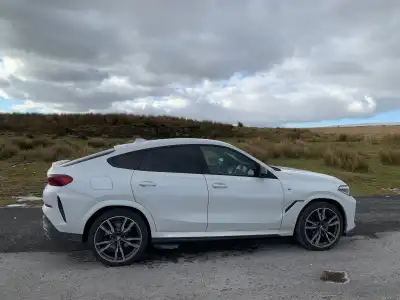 Styling
The new BMW X6 shows off all the car maker's latest design language with the main change being the very distinctive and much larger grille. This has had a bit of a marmite effect with some customers liking the brash, bold statement and others claiming it is too 'in your face'. There is also the option to have the grille illuminated for even more impact.
The sharply raked roofline tapers away quite dramatically to give the X6 a coupe silhouette. There are tinted windows, sweeping light clusters with LED daytime running lights, sports exhausts, plus 22-inch alloys and blue brake callipers to complete the dynamic, muscular styling. In addition, the not so subtle M badging is a reminder that this X6 is a little bit special.
The interior has taken a giant leap upmarket too with a very driver-focused cockpit that's packed with top quality fixtures and fittings, including the latest version of BMW's iDrive controller system for navigating the many onboard infotainment features.
There is elegant leather upholstery, plenty of soft-touch surfaces and neat decorative trims. As is the BMW way you can personalise your car with an array of options such as cup holders that can keep a drink hot or chilled, a panoramic sunroof that looks like a starlit night sky in the dark and four-zone climate control.
When it comes to driver refinement, the X6 is a bit of a mixed bag. On faster motorways, you can expect to hear a little wind noise due to the upright design of the car, but it doesn't impact on the enjoyment too much and you do have one of the best sound systems around to drown out any annoying noise.
In Comfort mode, it all calms down and becomes far more 'grown up' and sensible.
In The Car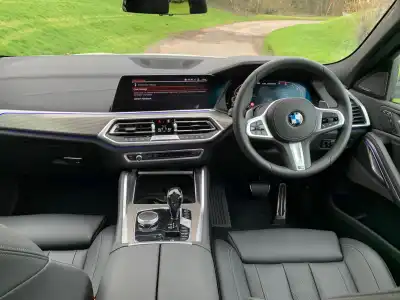 Behind the Wheel
It takes just seconds to find the perfect driving position inside the BMW X6 with power-adjustable seats and an electrically adjusted steering wheel. And once settled there are memory settings to store your preferred positions.
The driver sits high up in the latest X6, but the back end of the car tapers away quite sharply and, as a result, the rear screen is quite small which limits visibility considerably. That said; a reversing camera is fitted as standard. The large B pillars also restrict the over-the-shoulder view, so the X6 is not the best for all-round visibility, especially if you have recently driven the higher, more practical X5 model as a comparison.
But on a more positive note, there is a wealth of on-board technology to explore – much of which is accessed via the iDrive dial. There is smartphone connectivity via Apple CarPlay, a 12.3-inch touchscreen, gesture control to quickly increase the volume on the radio and a' Hey BMW' personal assistant that can follow clear instructions such as programming in popular navigation destinations, adjusting the seat heater settings and finding preferred radio stations. The range of functions will be increased with regular software updates carried out via a smartphone.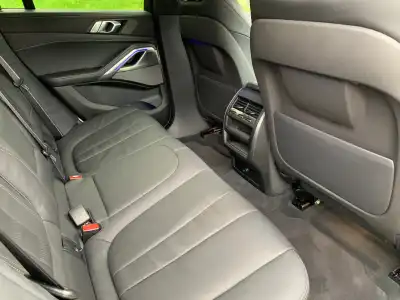 Space & Practicality
The latest X6 has grown a little in length and width, but the space in the back of the car is still fairly restricted if the front seats are pushed well back. There is ample room for a couple of youngsters to travel in comfort though.
And the pure sportier design of the vehicle means storage levels are less than its sibling, the X5. The X6 has a boot that can swallow 580 litres of kit, a limit that extends to 1,525 litres with the 40:20:40 split-folding rear seat dropped down. This compares to 650 and 1,870 litres available in the X5.
The tailgate is power-operated which is handy if approaching laden with shopping bags and there are lashing points and pull-out hooks to stop items rolling around.
In addition, there are numerous convenient storage compartments scattered throughout the car, including a lockable glovebox, central cubby beneath the front armrest, practical door bins with a drinks section, cup holders, a wireless charging pad and some useful trays.
The rear door openings are not as big as they look so getting in and out wouldn't be that easy for someone with mobility issues or if you're regularly fitting a child seat. But once again, it's worth remembering the X5 is the practical option here.
The X6 can tow a trailer or caravan weighing up to 2.7 tonnes and the all-wheel-drive system is a bonus when towing across wet or boggy ground.
Ownership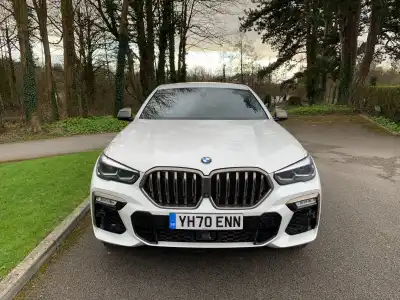 Running Costs
Premium cars always come with a premium price-tag and the BMW X6 is no exception to that rule.
Although the entry model is a more reasonable £62,410, the costs increase fairly steeply as you move up through the trim levels and powertrain upgrades.
Our 3.0-litre V6 diesel model in high-end M50d specification cost £76,465, although it had an optional Technology Pack that added a further £1,735 to the total. This pack introduced a BMW Display Key, Parking Assistant Plus, BMW Driver Recorder, a Head-up Display and Harmon Kardon surround sound system.
There are all manner of packs and options available to help personalise your vehicle, but the costs will rise quite significantly.
According to official figures, under the stricter WLTP testing, our car with 400hp could deliver a combined 39.2-40.9mpg with carbon emissions of 181g/km. This CO2 figure would mean a first year Vehicle Excise Duty (road tax) charge of £870 which would drop down to £150 after 12 months. But there are additional costs to factor in because owners of cars with a list price above £40,000 pay a £325 supplement for five years. After the five-years have elapsed the car is taxed at the applicable standard rate.
And the bad news doesn't end there, because the BMW X6 M50d that we tested falls into the most expensive insurance category - group 50.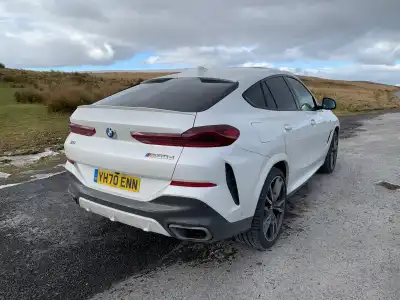 Quality & Reliability
BMW has an enviable reputation for producing well engineered cars that are packed with the latest technology. But sometimes the overload of technical know-how can backfire a little and, in recent years, the manufacturer has dropped down the table in customer satisfaction surveys.
Although the X6 is very capable if put to the test off-road it is unlikely many owners will venture too far from the Tarmac. However, the excellent all-wheel-drive set-up has always been given good press for its efficiency over the years, so a mood swing by Mother Nature should not pose any problems.
The interior is designed with a mix of high-quality luxurious materials and practical wipe clean surfaces. And all the switchgear looks sturdy and should survive the test of time.
The neatly-styled leather-upholstered sports seats offer good levels of support and also look and feel like they will pass the longevity test.
The BMW X6 comes with a three-year, unlimited mileage warranty.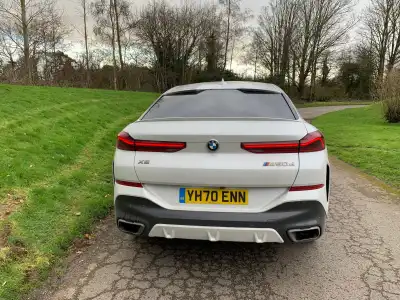 Safety & Security
The BMW X6 has not been tested for a Euro NCAP safety rating, but it is heavily based on the X5 which received a maximum five stars, and it is packed with safety systems and driver assistance aids to help prevent accidents happening in the first place.
The autonomous emergency braking will warn the driver when a pedestrian, cyclist or other vehicle is in the car's path, braking if the warnings are ignored. There is cruise control as standard and an Active Cruise Control system with Stop & Go is available as an option and this slows the car down if it gets too close to the vehicle in front and then accelerates as that car moves away.
Once again, there are all manner of optional packs that can be introduced such as the Driving Assistant Professional that includes steering and lane control assist with traffic jam assistant and side collision protection. With the Lane Change Assistant, which works on motorways or dual carriageways, the driver simply pushes the indicator stalk in the desired direction and the car automatically steers safely into the next lane. All very clever, but these systems do add to the overall cost.
To keep intruders at bay, the X6 is protected by an alarm and immobiliser.
More On This Car
Take one for a spin or order a brochure
Request a BMW X6 M brochure
Request a BMW X6 M test drive