Pros:
That grille

Better to drive than a huge SUV really should be

Luxurious, refined and spacious, like a limo
Cons:
That grille

Running costs high

Access to the rear-most seats is tricky
More On This Car
Take one for a spin or order a brochure
Request a BMW X7 brochure
Request a BMW X7 test drive
Introduction
The BMW X5 has grown up over the last 20 years or so, stretching from around 4.6 metres to nudging up to 5 metres long. That, seemingly, isn't quite big enough for BMW which explains why the X7 has appeared. Larger than a Range Rover, this SUV promises to seat seven adults in comfort while being engaging to drive and offering luxury and technology in spades.
That's quite a set of requirements for the engineers to accommodate, especially as it's also meant to go off-road, but they're a clever bunch in Munich. We took the 3.0-litre petrol model, in M Sport trim, to see if they're clever enough.
On The Road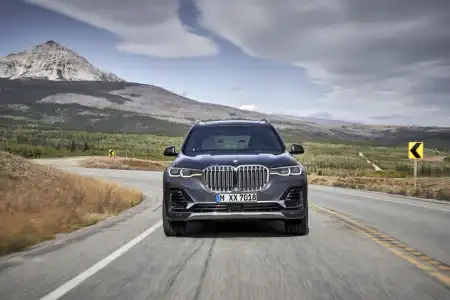 Performance
The 3.0-litre petrol engine under that enormous bonnet boats twin turbochargers, allowing it to produce 340hp. That's enough to drag the X7 to a maximum speed of 152mph, while the 450Nm of torque gets it to 62mph in just 6.1 seconds. For something that weighs close to 2.5 tonnes and, visually at least, has the aerodynamics of a mountain, that's pretty impressive.
An eight-speed automatic gearbox shifts ratios smoothly, but you've got to wait a second or two while the computer catches up to a sharp throttle input and drops a couple of gears. There are paddles behind the wheel to swap ratios manually, which helps, but the X7 always feels like it's taking some time to respond.
Once it's rolling, it feels unstoppable. A glance down at the speedo always seems to show a figure 10-20mph greater than you expect, as the bulk of the car expertly masks real-world pace.
The 3.0-litre diesel option is less powerful, but feels just as quick off the line. It struggles to keep up at speed though, the weight of the X7 overwhelming the engine a little. A more powerful version is available in the M50d, which solves that problem - and then some.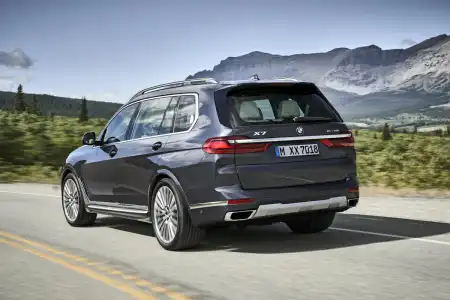 Ride Handling
Somehow, BMW's engineers have managed to isolate the X7 almost entirely from the road. There's adjustable air suspension with fluid-filled bushes, which leads to a comfort focussed ride. It glides over undulations, floating a little on the downside of each bump, but was never unsettled by anything on some of Scotland's more rural roads. Even the M Sport's 21-inch wheels failed to upset things.
Switch the car to sport mode and it gets a little firmer, but not uncomfortably so. Instead of gliding over bumps it now smashes them into submission, tightening body control and making proceedings just a little sharper. It never ventures into sportscar territory though, despite being tested on the famous Nurburgring, as the bulk means rapid changes of direction are rather more relaxed than you might want.
The steering is pleasingly accurate though, and the X7 does follow the path prescribed to it. In reality, despite making it sound rather laborious, it's far more agile than you have any right to expect. Entertaining? No, but extremely capable.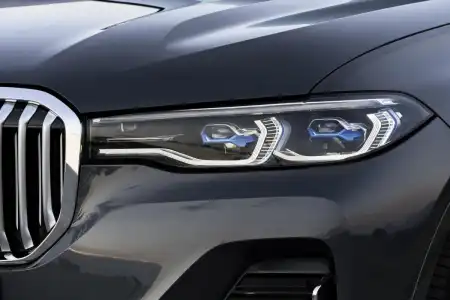 Styling
BMW has targeted luxury buyers with the X7, and that means there needs to be rather more refinement than in an 'ordinary' 3 Series. It's certainly been achieved; there's no wind noise, the tyre roar is minimal and the engine is almost inaudible. Laminated side windows and a thicker windscreen keep even more noise at bay, to the extent that it's almost silent inside the cabin. A 10-speaker sound system covers everything else, but this test model was fitted with the optional 16-speaker Harman Kardon system that adds volume and quality to the sound.
Elsewhere, superb quality leather seats (with pillowed head rests) isolate you from every remaining vibration. The engine, being a six-cylinder, is smooth and the gearbox almost imperceptible when it changes gears. The only suggestion that you're even moving is when you're pushed back into the seats with more force than you expect.
In The Car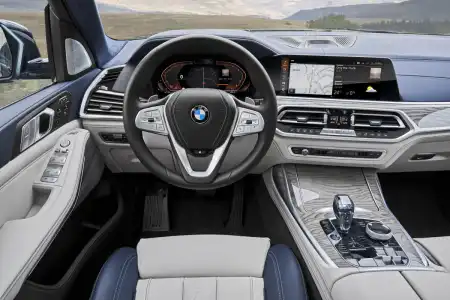 Behind the Wheel
You don't so much sit high up in the X7, but rather tower above everybody else. Visibility is, therefore, excellent, and that's helped by a huge amount of glass around the car. It's easy to find a comfortable driving position too, thanks to electrically adjustable seats that move in countless directions - even the backrest is split so the shoulder section can be at a slightly different angle to the rest of the seat.
The infotainment system can be dealt with by touch, which isn't always that easy, but simple operations can be carried out with the literal waving of a hand. Hidden sensors detect a swirl of a finger, for example, and adjusts the volume accordingly. If the phone rings, simply wave your hand in front of the dashboard dismissively and the caller will be sent to your voicemail.
For those that want to keep their phone hooked up, Apple CarPlay is available for a year, before a subscription will need to be paid. Frustratingly, there's no sign of Android Auto. There is, however, BMW's voice-controlled user interface. Call out 'Hey BMW' and it kicks into life, allowing you to ask specific questions or give instructions. It apparently learns as it goes along, getting better the more you use it but, having used it over a couple of days, I fear it might need a bit longer to learn than owners will be prepared to give it.
Everything is wrapped up in a glorious cabin that's got its ergonomics spot on. Even those in the rear seats get individual climate controls, and there are buttons and switches everywhere to move, slide or fold every seat individually.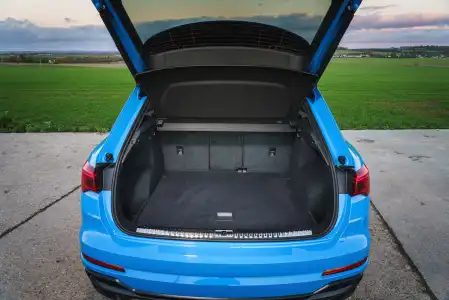 Space & Practicality
It would be a surprise to find the X7 is cramped, so happily there are no surprises here. It's as big inside as it is on the outside, with seven seats and a decent boot. Those seats are suitable for adults too, even the rear most pair. Granted, they're not particularly easy to get into, but once in place you'll find enough room for knees, shoulders and heads. The centre row of seats slides forward (electrically, of course) to free up more legroom behind, but still leaves those in the middle with more than enough space.
The boot is a tad tight when all seven seats are in use. The 326 litres of space under the parcel shelf is about the same as you'd find in a hatchback like a Ford Focus, but it extends to a van-like 2,120 litres once all the seats have been folded flat and you've loaded it to the roof.
The boot lid is split, with the large window section rising up and a lower shelf folding down. This is big and strong enough to sit on and, with a button to lower the rear suspension, makes loading things into the boot a piece of cake. For those that want even more capacity, it'll tow up to 2.2 tonnes.
Ownership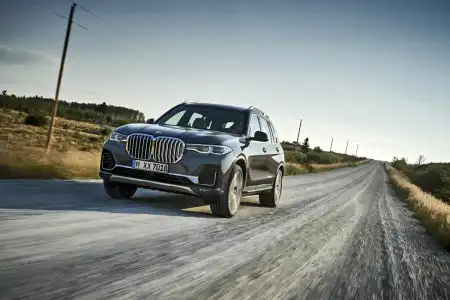 Running Costs
The X7 won't be a cheap car to run. The range starts at more than £72,000, but most will be sold on a lease or finance deal. Still, even then dealers are asking around £900 a month and a £12,000 deposit.
Official economy figures of 24.8mpg suggest the 40i model tested here will be thirsty, and our sub-20mpg result from road testing back that up. Don't think switching to the diesel engine will save much, as that will only reach the low 30s. Even with an 80-litre fuel tank, stops at fuel stations will be frequent.
CO2 emissions ensure you're caught in high tax bands, too. Car tax is £1,280 in year one, before dropping to £465 for the next five years, thanks to a figure of 198g/km. The diesel's 171g/km figure saves a marginal amount, but both choices will put company drivers into the highest BIK band of 37%. For the 40i driven here, expect a company car tax bill of more than £900 a month.
Despite the huge numbers, it's competitive against its rivals, costing less per mile than a similar Range Rover or Mercedes GLS.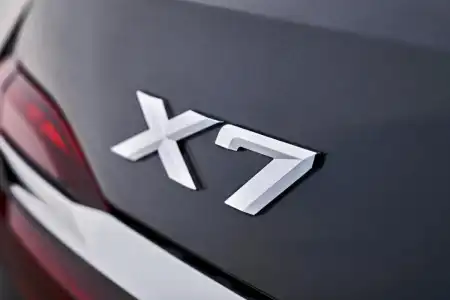 Quality & Reliability
Perceived quality is as good as it gets, with high-quality materials in use throughout the X7's cabin, and a feeling of solidity in all the construction. Anything that might be touched by human hands is designed and refined to the n-th degree, ensuring every contact feels just right, from the resistance in the dashboard knobs, to the damping of the grab handle above the door.
Reliability should be competitive, as there's no new technology in the drivetrain - the engines in the X7 are in use in other BMW models without issue, and the gearbox is shared across other cars.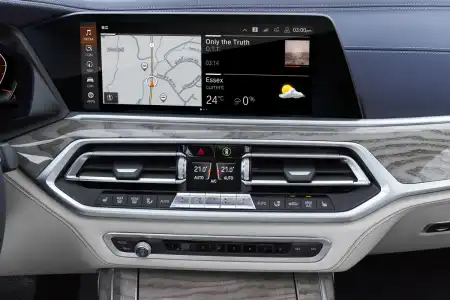 Safety & Security
The surprising agility of the X7, along with epic brakes, huge tyres and an advanced stability control system, means avoiding an accident in the first place is more likely than in some other cars. However, there's a disappointing amount of equipment that's relegated to the options list.
You'll need to pay extra for lane departure warning, automatic emergency braking at city speeds, active cruise control, active side collision protection, and more. It's all part of an optional pack that includes a head-up display and that Harmon Kardon sound system, but adds an extra £3,150 to the asking price.
The X7 hasn't been tested by EuroNCAP yet, but the smaller X5 scored the full five stars, and had particularly high scores in individual areas of pedestrian and passenger protection. It's not unrealistic to expect the X7 to score just as highly.
More On This Car
Take one for a spin or order a brochure
Request a BMW X7 brochure
Request a BMW X7 test drive