Pros:
A far better effort than previous models

Fun to drive

Has an aura of class
Cons:
Features one of BMW's current exterior designs

Not as sharp to drive as another two-seater
More On This Car
Take one for a spin or order a brochure
Request a BMW Z4 brochure
Request a BMW Z4 test drive
Introduction
We haven't been thinking much about the BMW Z4 for the last few years. Towards the end of the previous model's lifespan, it had almost retired from the imagination of the public. It had become something of an afterthought in the car market. Then again, BMW's sports cars haven't always been much of a success. The Z3 wasn't much to write home about, and the last Z4 missed the mark, too. BMW naturally rates this new model, though, and let's not forget it shares its DNA with the up-to-the-minute Toyota Supra, so surely this time BMW has cracked it?
On The Road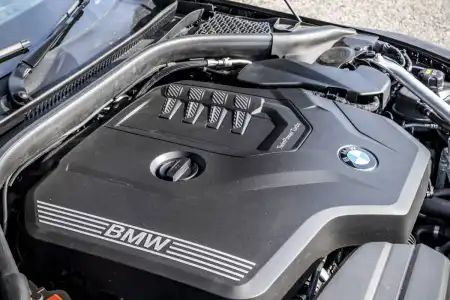 Performance
In the good old days, a BMW marked with a '30i' badge would have landed you a silky six-cylinder engine. In 2019, though, climate change and new laws mean you get a very well-tuned 2.0-litre four-cylinder unit in its place. It's offering 258PS, so it doesn't exactly lack in punch, and this sort of power is perfectly adequate for a car of this size. After all, we're looking at a two-seater convertible here.
Zero to 62mph will take you 5.4 seconds, and the top speed is the usual German-restricted mark of 155mph. This model comes with an eight-speed automatic gearbox, the same unit you'll find in many of the company's products - so you'll be switching cogs just as quickly as you'll be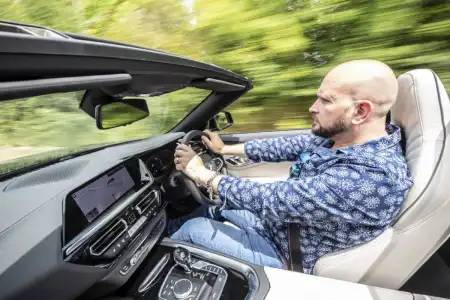 Ride Handling
As this is a BMW, the 'sports car' feel is rounded off. It just wouldn't be acceptable for a BMW product to feel firm, and there's a sense that the Z4 is more like a sports car with a qualification in hospitality rather than one that's been bred to be an athlete.
This is a slightly longer and wider car than the previous model, and it behaves in a very mature manner out on the road. BMW has overhauled the suspension for this generation of Z4 and for the most part, it shows.
Buyers seeking something a little sharper and more brimming with feel will probably be slightly turned off by this approach. But let's face it, this is a BMW and customers want something that feels like a 'Bimmer'. That means composure and comfort, just as much as entertainment.
You'll be pleased to note, though, that the new Z4 is far nimbler and more direct than previously. As a result, it delivers more fun to the driver when the asphalt starts to get a bit twisty. Guess what? It's a rear-wheel-drive BMW, and we all know how they handle in the corners – brilliantly. Despite the enjoyable driving characteristics, we'd be hard-pressed to call this an exciting car; it just doesn't quite deliver on thrills. Perhaps the M140i would be a better bet for a more exhilarating drive.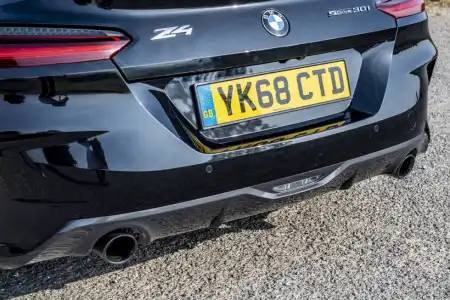 Styling
The new Z4's policy on refinement comes from the same think-tank that developed the strategy on the ride and handling. As a BMW, it's simply unfathomable to think that this would have true sports car refinement. The engine, for example, doesn't flood the cabin with noise and drama. Instead, it's smooth and progressive so that you can enjoy driving around with the atmosphere as your canopy without being interrupted by the raucous din of a strained four-cylinder.
In a convertible like this, it's always worthwhile talking about the soft-top. Yes, gone are the days where some cars would come with a folding metal hard-top instead. A soft-top is the only option here, but it's a good one, and actually, most modern soft tops like this don't feel much different to a coupe when they're up and fixed in place. Not that they'll spend much time in that position, of course.
Elsewhere, the usual BMW levels of build quality and insulation are present, and you certainly aren't going to feel short-changed here, because this looks and feels every bit a luxury model
In The Car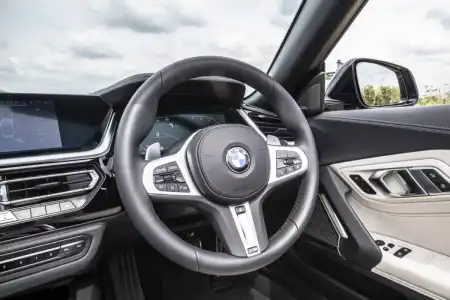 Behind the Wheel
Well, anyone familiar with a BMW product of the last decade will feel right at home here. It isn't exactly old-school, though. There's a new digital cockpit which feels very in keeping with current trends in the luxury car market, which has seen dials thrown out for HD screens. You can, if you wish, also specify an optional heads-up display, a handy extra that's becoming more commonplace now. It helps you maintain your focus solely on the road, and in a sports car that can be useful, as passionate driving requires maximum focus.
Here's the point in the review where we remind you that BMW produces one of the better infotainment setups on the market. The system helpfully includes a swivel wheel near the gear selector. This allows you to intuitively cycle through the car's menus and modes without having to focus on jabbing a touchscreen. Mind you; you can also do it that way if you wish.
Overall, this is a driver-focused cockpit with high levels of quality and controls that are in all the places you'd like them to be - a typically good effort from BMW, with no surprises.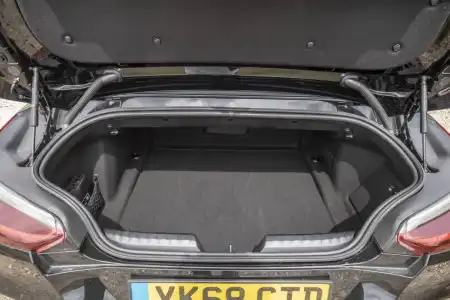 Space & Practicality
As a two-seater convertible, this section will be relatively short. This isn't a car to choose if you need either space or practicality. However, compared with some rivals, the interior space for both driver and passenger actually feels slightly roomier. That's pretty good considering what this car is.
Furthermore, that dimensional expansion has undoubtedly paid off inside. A 281-litre boot means you can pack a couple of bags if you fancy a little weekend away in the Z4, which is ideal for the duties that this car will be carrying out.
Ownership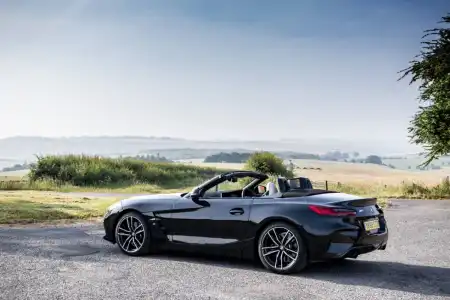 Running Costs
In theory, running this BMW Z4 in sDrive30i trim shouldn't be too hard on the wallet. BMW will tell you that this car is capable of achieving over 46mpg, but that's pretty optimistic and it's more sensible to expect mid-30's if you're driving in a relatively responsible way. We shouldn't forget that this is a 258PS engine, though, so the fact you can get that kind of efficiency and pump out just 139g/km of CO2 is quite impressive, if not earth-shaking.
Road tax is going to be setting you back £210 in the first year and £465 after that. Additionally, be aware that if you're going to be driving this vigorously, you're going to have to expect tyres and pads to wear out just a bit quicker, particularly on the rear.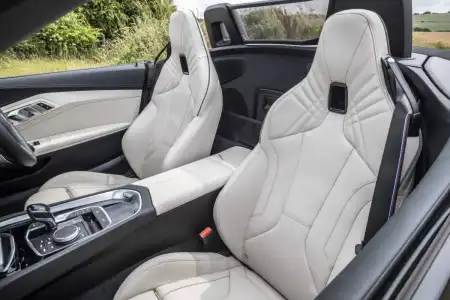 Quality & Reliability
BMW has a good reputation amongst the general public, and its dealerships often receive favourable feedback.
There's certainly no doubting the overall quality of the Bavarian giant's cars, and this new Z4 is no different; everything you touch feels well made, and the finish of the whole product is of a very high standard.
Buyers should also take some comfort in the fact that the majority of components for this car are carried across the BMW family range, and the engines and gearboxes, in particular, are some of the best on the market. When striking a deal with your local outlet, you're also likely to be able to get free servicing thrown in, taking the cost out of the initial ownership period of this car.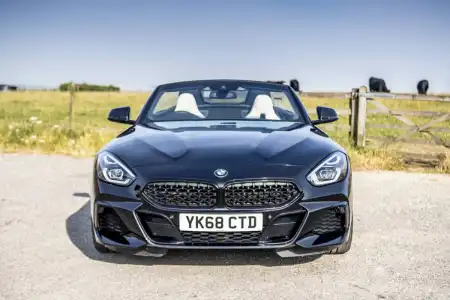 Safety & Security
It will be a surprise if the new BMW Z4 ends up getting crash-tested by Euro NCAP. Rivals, like the Porsche 718 Boxster and even the new Alpine A110 Coupe, haven't had that treatment either. As a result, it's unlikely we'll be able to give you a crash safety rating for the Z4.
What we can tell you, though, is that it's equipped with all the modern safety technology one should expect to be found in a car of this stature. Clever electronic aids to help you regain control when you've lost it; sensors to keep you aware of your surroundings and even the very latest kit, like autonomous emergency braking, can all be found in the Z4. Additional safety technology is also available should you wish to tick a few items on the options list, as many BMW customers do.
More On This Car
Take one for a spin or order a brochure
Request a BMW Z4 brochure
Request a BMW Z4 test drive