£13,995
Pros:
Funky and fresh design

Really well-priced in a competitive segment

Lots of space in a very practical car
Cons:
Not as much fun to drive as the C3

Some colour clashes within the interior
More On This Car
Take one for a spin or order a brochure
Request a Citroen C3 brochure
Request a Citroen C3 test drive
Introduction
Citroen have discontinued their little MPV C3 Picasso and replaced it with what they think buyers are more likely to go for, a compact SUV. So with that in mind they've launched the bold, quirky looking C3 Aircross.
Looking like a more rugged version of their very popular C3, will it tempt buyers to opt for a compact SUV? We took it out on the UK launch in the Cotswolds to find out.
On The Road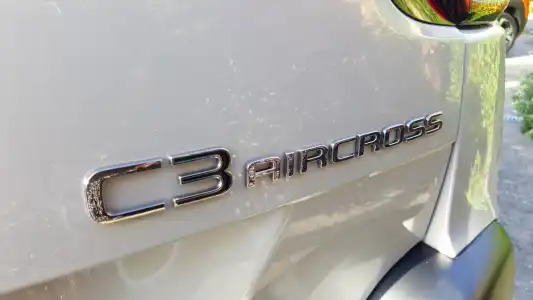 Performance
We tested the diesel BlueHDi 1.6-litre turbocharged engine which produces 100hp with 245Nm of torque, it's quite sprightly and available with just a five-speed manual gearbox. Although performance figures won't set the world alight; it has a 109mph top speed and a 0-62mph time of 12.8 seconds, it does have very good fuel economy with a combined 70.6mpg and just 104g/km of CO2 emissions, so will cost £140 for the first year in road tax.
The same diesel engine also delivers 120hp with a six-speed manual gearbox, while the petrol offering is a PureTech 1.2-litre turbocharged three-cylinder engine, available with either 110hp, which comes either as a manual or six-speed EAT6 automatic gearbox, or for a bit more power 130hp.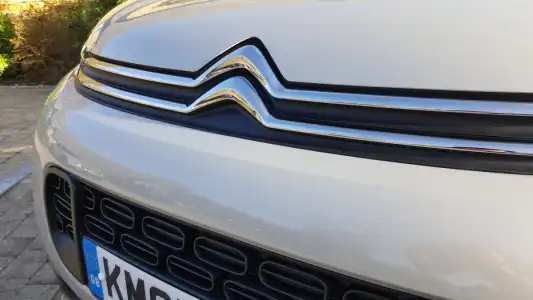 Ride Handling
Built on the same PF1 platform as the C3 and C4 Cactus, the ride is fairly comfortable and it worked well nipping down B roads on the route we did, the odd bit of rough road can make it feel quite sensitive though as imperfections were felt in the cabin. The light steering is responsive, yet it lacks the fun drive of the C3 which is a shame because it's a really good car.
If you want to take it onto challenging terrain it has 17.5 cm of ground clearance and new to the Citroen range is hill desent control, so once you have that and the optional Grip Control you can really put it through its paces with plenty of traction going up or down steep inclines.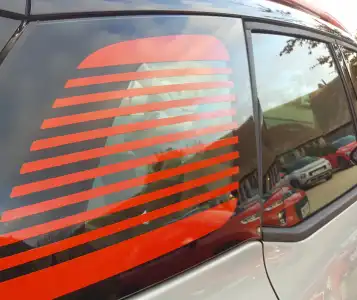 Styling
The cool thing about the C3 was the design and Citroen have come up with standout looks for the Aircross, which is what you need with all the competition.
Roof bars come as standard on the compact SUV with front and rear skid plates and coloured light surrounds, door mirrors and wheel centre caps adding plenty of individuality.
There are eight body colours and three roof colours to choose from with up to 85 possible colour combinations, we're just not so sure about the 'venetian blind' in the rear side quarter windows or the sand colour interior with the contrasting orange details, seemed an odd colour combination.
There aren't any Airbumps which is a feature we liked on the C3, but Citroen have chosen to leave them off so as not to clutter up the exterior design.
In The Car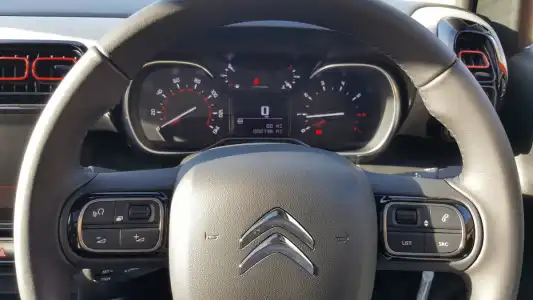 Behind the Wheel
The C3 Aircross benefits from Citroen's Advanced Comfort programme so expect comfortable and supportive, sofa like front seats.
There is a large, 7-inch touchscreen which features climate control, radio, navigation and telephone settings, with smartphone connectivity available through Apple CarPlay and Android Auto and new to the Citroen range is smartphone wireless charging.
The interior has been kept relatively simple and free from lots of buttons, the display screen sits neatly underneath the air vents, but we're not a fan of the large hardbrake.
There are just three trim levels: Touch, Feel and Flair, with the entry level Touch offering standard equipment including cruise control, a pull out boot floor, a tyre pressure monitor and a lane departure warning system, while Flair has front and rear bumper protectors, Citroen Connect Navigation, 17-inch alloy wheels and a bi-tone roof.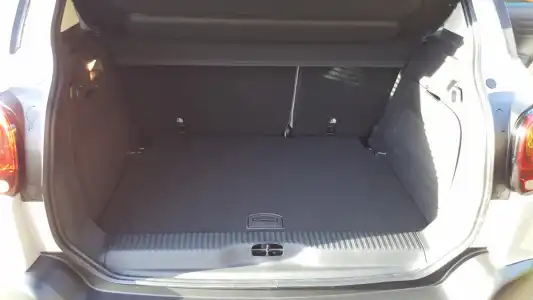 Space & Practicality
Citroen have described it as an SUV on the outside, MPV on the inside and that's where it's so appealing as it offers up so much room. The rear bench seat splits 60:40 and can be folded down flat, with the front passenger seat doing the same to give 2 metres 40 of loading room.
The rear seats can slide forward up to 15cm in the Flair trim so the boot goes from 410 litres to 520 litres, seats down increases it to an enormous 1,289 litres. If you're looking to pile in the suitcases then you'll have plenty of boot space to fit them in as the Citroen is best in class.
With an opening panoramic roof which is nearly one metre in length, passengers will benefit from plenty of leg and headroom and three adults should fit in the rear without feeling too much like sardines.
Ownership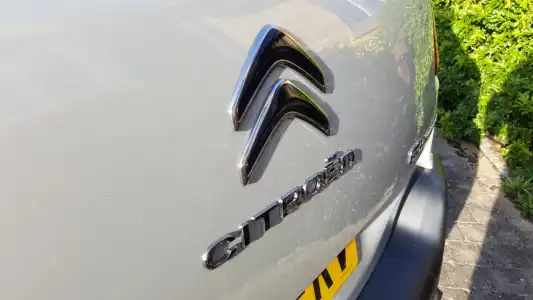 Running Costs
The Citroen C3 Aircross starts at £13,995 for the entry level Flair with the PureTech 82 engine and comes with a three-year/60,000 mile warranty. So with more competitors to the compact SUV segment, will this be more popular than Kia Stonic or Seat Arona?
The C3 Aircross will definitely appeal to those wanting something a bit different, visually it outshines its rivals with its unique design, it's also an extremely practical, spacious car and price wise it's cheaper than the others so that's a plus point too.
Citroen sold 1.2 million cars in 2016 and they're on a mission to sell even more, wanting to sell 1.6 million a year by 2020. C3 has become their best-selling model in the UK with over 15,000 sold since it came out at the start of the year, and with this model and a C5 Aircross launching in 2018, then this figure could be easily achievable.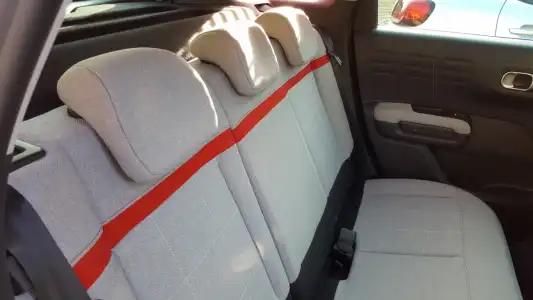 Quality & Reliability
There are some plastics that don't feel as high quality as we would like in the cabin, around the ignition it was already scratched from inserting the key, but the fabric seats feel durable, probably not such a good choice in Soft Sand colour, as it will get dirty very easily with children...or adults, or even pet pooches.
Citroen are a mixed bag when it comes to reliability as they don't rate as highly as their European rivals, but so far so good for C3 which has been problem free, and it was also named 'Best Urbanite' in the BBC Top Gear Magazine Awards. So will the C3 Aircross have plenty to celebrate shortly? We think so, even if it's just for the design.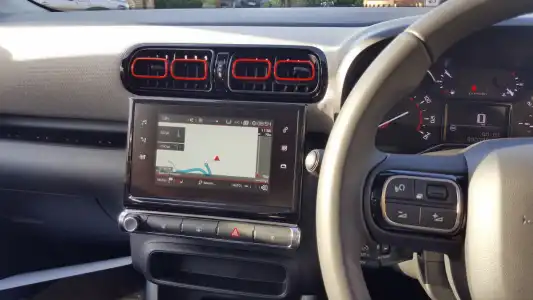 Safety & Security
The Citroen C3 Aircross hasn't yet been tested in the EuroNCAP tests, the C3 scored four stars with 88% for adult occupant protection and 83% for a child.
The model comes packed with safety features including twelve driving aids, ranging from a head up display with speed sign recognition, blind spot monitoring, lane departure warning, active safety brake, which applies the brakes if a collision is likely, park assist and also a reversing camera.
It also comes with airbags and a reversing camera so we would expect it to receive the full five stars when it is tested.
More On This Car
Take one for a spin or order a brochure
Request a Citroen C3 brochure
Request a Citroen C3 test drive