From £17,265
Pros:
Excellent comfort from the innovative seating and suspension technology

Stylish, modern design with plenty of character

Still maintains Airbumps – they have simply shrunk in size
Cons:
Touchscreen is overcomplicated

Reduced headroom if panoramic sunroof is fitted

Shallow front door pockets that are not very practical
Buy and save on quality approved and used cars
Introduction
The launch of the Citroen C4 Cactus in 2014 had a bit of a marmite effect on the world of motoring. That's because the car featured giant protective Airbumps along the sides making it a car that was impossible to ignore.
Now, the model has undergone a mid-life revamp. The Airbumps are much smaller but still protect the doors and the emphasis has moved very much towards comfort.
There are cushioned seats that offer incredible levels of support and a hydraulic suspension system that has been inspired by the company's experience in racing.
Citroen is quick to point out that 90 per cent of the exterior components have been changed with improved lights, the introduction of smart chrome trim, a bumper with side scoops, 3D rear lights and a revised engine line-up all geared towards making the C4 Cactus an upmarket model competing for sales in the C-hatchback sector.
Factor in the nine body colours, four body colour packs and four interior design choices and there is plenty of ways to personalise the car.
On The Road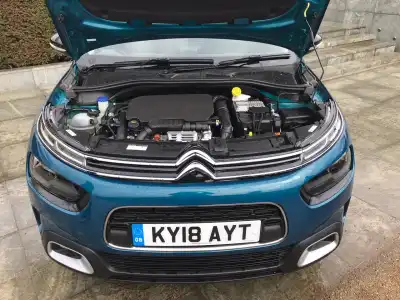 Performance
C4 Cactus is available with three 1.2-litre 3-cylinder PureTech petrol engines with power outputs of 82PS, 110PS and 130PS. There is also a BlueHDi 100PS diesel version. Customers can choose from two main core trim levels called Feel and Flair with a Feel Edition grade available for a limited time. There is also a choice of five or six-speed manual gearboxes or an EAT6 automatic transmission.
We tested the C4 Cactus in range-topping Flair spec powered by the 130PS petrol engine mated to a six-speed transmission with 230Nm of torque. This model priced at £20,665 (£21,710 with options) could reach 62mph from a standing start in 8.2 seconds, maxed out at 120mph and, according to official figures, could deliver combined fuel economy of 58.9mpg with carbon emissions of 110g/km.
Whilst these are not the fastest hatchback performance figures out there, Citroen is very quick to express the fact that the C4 Cactus is all about premium comfort and outstanding ride levels.
But, it's no slouch either. The acceleration through the manual gears is smooth and responsive and there is ample power to overtake when necessary. In stop start traffic, it cruises effortlessly and on motorways it eats up the miles with ease. On twisting country lanes you will have to work the gears a fair amount to keep power levels high, but that sort of adds to the appeal.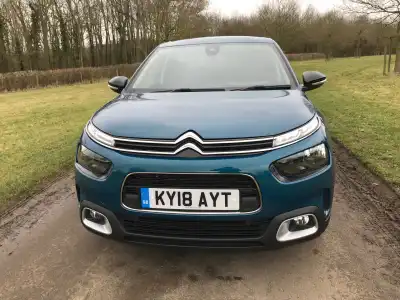 Ride Handling
Ride is an area that Citroen has focused its attentions on and the result is most impressive. Through its Advanced Comfort Programme, the C4 Cactus takes driver and passenger well-being to a whole new level. It is the first model to feature the brand's Advanced Comfort seats and also the eagerly-awaited Progressive Hydraulic Cushions suspension system.
While the seating set-up will be explained in more detail a little later, the suspension system is paramount to the vehicle's excellent ride quality. The hydraulic cushions absorb road imperfections for a magic carpet ride effect without altering the car's handling in any way. While this is noticeable on our snow battered lanes with potholes galore, it is really impressive on motorways where any bumps and dips are ironed out to deliver an exceptionally smooth ride.
The C4 Cactus is also a car that's very easy to live with. It may not be as exhilarating to drive as a VW Golf, but the handling is generally notable with precise steering, good road-holding and minimal body sway into corners.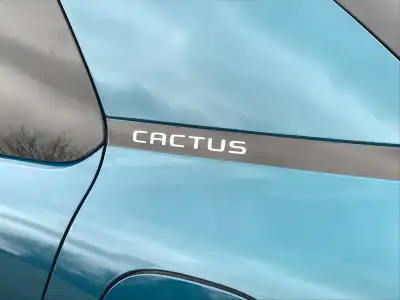 Styling
Citroen has worked incredibly hard to move the C4 Cactus upmarket and the French marque appears to have succeeded on all counts. The interior is modern, clutter-free with plenty of soft-touch surfaces. But, the car has also maintained its distinctive interior styling too with the faux leather straps adorning the glovebox, straps for door pulls and pop-out rear windows.
However, the car has certainly stepped up a notch when it comes to refinement. There are armchair-like Advanced Comfort seats which guarantee exceptional luxury thanks to the foam and high-density layers within the seats. There is bolstered support along with lumbar adjustment for the driver. This may sound like a lot of publicity puff, but the seats are actually very sumptuous.
The cabin has also been well-insulated against outside noise thanks to an acoustic windscreen, thicker glass and improved sound insulation around the engine and floor. These improvements are particularly noticeable at higher speeds when there is a gentle rumble of road surface noise and that's all.
In The Car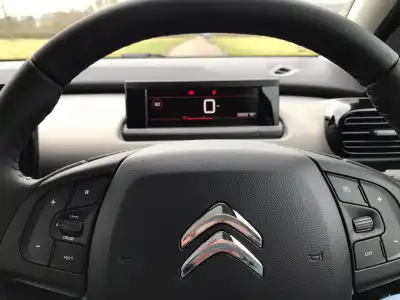 Behind the Wheel
The C4 Cactus is a car that you can immediately feel at home with. There is ample seat and steering wheel adjustment and all controls and readouts are perfectly positioned for driver usability. The fully-loaded Flair model was packed with techno treats including a seven-inch colour touchscreen with satellite navigation, full smartphone connectivity, a DAB radio, Bluetooth, a USB socket, air conditioning and a smart digital information screen in front of the driver that displays the speed along with other vital information such as fuel levels, lights, gear change prompts, total mileage and cruise control etc.
The driver benefits from excellent all-round visibility and the seats, which were finished in a wild grey shade on the test car, delivered exceptional levels of support and comfort.
On the downside, I did find the touchscreen a little overcomplicated. For example, it took several actions to access the buttons to increase or reduce the temperature within the car. This can be really annoying when travelling along a bumpy surface and is also a major distraction.
And for anyone whose life revolves around symmetry, the C4 Cactus will not be ideal as there are air vents that differ in shape and size and they are not evenly spaced out along the dashboard with two for the driver and only one for the passenger.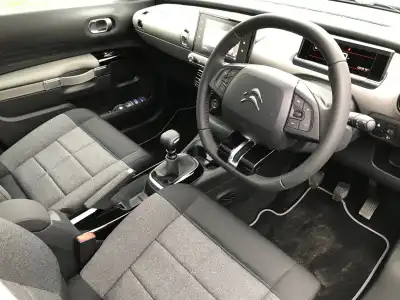 Space & Practicality
The C4 Cactus is a practical car for the active family with plenty of room for four adults to travel in comfort – five if you don't mind rubbing shoulders. The test car had a fixed panoramic sunroof which means a slight reduction in rear headroom so taller passengers lose out a little. But on the plus side it helped to create a warm, bright and welcoming environment.
Another feature that back seat occupants may complain about are the pop-out hinged rear windows. They look neat, but are not so refreshing on a blazing hot day when all you want is traditional wind-down windows.
The wide-opening rear doors make entering or exiting the car very easy and this will be ideal for older passengers or gaining access to a child seat.
The boot is generously sized for its class and has a capacity of 358 litres which can be increased to 1,170 litres with the 60:40 split-folding rear seats dropped flat. And there are numerous storage options scattered throughout the car, including the glovebox with its suitcase-styled appearance, a covered central bin, cup holders, a non-slip tray, deep rear door pockets, quite shallow door pockets up front and plenty more besides. The boot lip is quite high which will make loading heavy or awkwardly-shaped goods quite a chore, but that aside, the C4 Cactus is a very practical option.
Ownership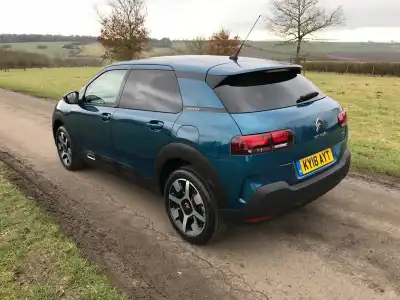 Running Costs
The test car was priced at £20,665, but optional extras such as blind spot monitoring, front parking sensors, smart access pack and metallic paint saw the cost increase to £21,710. However, anyone looking for a cheaper C4 Cactus could consider the Feel Edition model which is available for a limited time and powered by the 82PS petrol engine priced at £17,265.
The test car could officially deliver combined fuel economy of 58.9mpg and during a two-hour test run we saw an average of 53.2mpg which is impressively close to the mark. It had carbon emissions of 110g/km and that would result in a Vehicle Excise Duty cost of £140 for the first year and for each following year.
Once again, there is an option for customers looking for a potentially more frugal car. The diesel-powered cars can deliver up to 83.1mpg on a combined run with C02 emissions of 90g/km. As a result, the first year's VED costs would be reduced to £100 and then £140 each year after.
Insurance ratings for the cars are yet to be announced.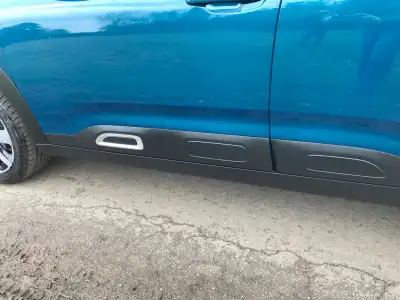 Quality & Reliability
The original C4 Cactus scored highly in a number of customer satisfaction and reliability surveys so there is little reason to think this model will have any issues. All models come with a three-year, 60,000-mile warranty.
The interior of the car feels robust with strong supportive upholstery and wipe-clean surfaces.
The seats incorporate high density foam with textured foam nearer the surface. This keeps the seats feeling soft as well as supportive. They certainly look and feel like they will survive the test of time.
The outside of the car is also well protected against knocks and scratches. The large Airbumps on the original model have been reduced in size but still offer ample protection if a neighboring car door is opened against them.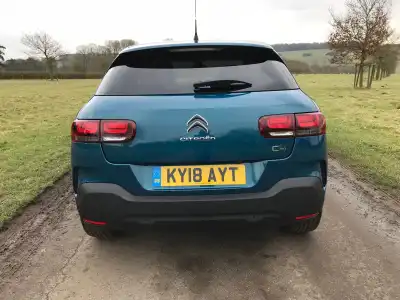 Safety & Security
The original Citroen C4 Cactus secured four out of five stars when it was tested for its Euro NCAP rating and it's unlikely the latest model will be re-tested.
The car includes plenty of kit as standard such as stability control, six airbags, ISOfix child seat fittings and a tyre pressure monitoring system.
In addition, there are 12 driving aids, which, depending on model, include active city break, speed limit recognition and recommendation, lane departure warning, driver attention alert, coffee break alert, blind spot monitoring and keyless entry and start. These are in addition to the optional grip control, hill start assist, fog light cornering function, reversing camera and park assist.
Buy and save on quality approved and used cars