Pros:
Can carry and tow heavy loads

Low roof height allows access to car parks

Good value for money
Cons:
Bland cabin design

Offset driving position

Smaller than some rivals
More On This Car
Need more information?
Request More Information
Introduction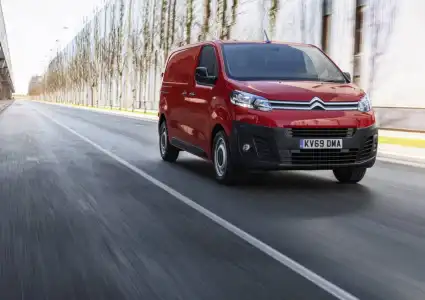 It would be tempting to simply copy and paste what we've written about the Vauxhall Vivaro, seeing as that van and this Citroen Dispatch are fundamentally the same van, but there are some differences that could swing the balance in favour of the French firm's version.
Citroen offers the Dispatch in two body lengths (ignore the brochure, which still details the compact XS model) but only one roof height. While a crew cab model is available, you won't find chassis or platform models. Still, for those that just need a capable panel van — especially in urban areas — the Dispatch could be a solid choice.
Four engine options, with outputs ranging from 100hp to 180hp, and three trim levels add further choice, while a pure-electric e-Dispatch offers emissions-free transport. It's not the most comprehensive lineup, but it provides a wide enough selection that there's something for most business users.
You'll be hard-pushed to tell the difference between them all from the outside. Most models are available with flat white paint, with a range of metallic colours available at extra cost, and grey plastic bumpers. Step up to the top-of-the-range Driver Pro model — as we've done — and you get a free choice of colours (apart from, inexplicably, Passion Red and some special colours on the XL body length model) which extends to the bumpers, side strips and door handles. There are also some flashier 17-inch alloy wheels, rather than the steel 16-inch variety on lower-spec models.
The van has won its fans; as part of the Stellantis quintet of nearly identical vans, it's the second best-selling van in the UK, although it does share that honour with the Fiat Scudo, Peugeot Expert, Toyota Proace and Vauxhall Vivaro.

On The Road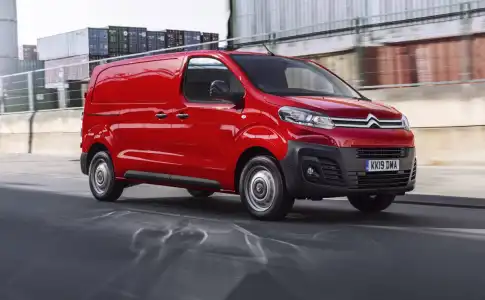 Handling & Performance
The Dispatch has been around for a few years, which is apparent when you look around the cabin. Overall, it's a perfectly fine environment with a simple design, little unnecessary complexity and decent ergonomics. The bijou 7.0-inch infotainment screen is a little lost in the middle of the dashboard, while other details are frustrating; for example, there's a tray underneath the screen, right next to the USB socket, that looks perfect for a smartphone. It's not, as it's slightly too small and too flat, so even if you can wedge a phone in there, it'll eject itself at the first corner.
It's great for storing bits and pieces, though, with countless places to keep your items out of view when parked. A lidded unit in the top of the dashboard is particularly handy, and that joins a good glovebox, huge door bins and plenty of cupholders - a more important piece of equipment than many realise.
Citroen has done well to equip the Dispatch with quite so much kit. While the entry-level X Pro model is perhaps a little too sparse — it misses out on essentials such as air conditioning, the infotainment screen, and a list of safety equipment — the rest of the range is packed to the gunwales, with our Driver Pro model fitted with climate control, satellite navigation, electric folding and heated door mirrors, automatic lights and wipers, front fog lights, a clever passenger bench seat with built-in table, and a load-through flap to extend the cargo area further.
Safety is also boosted with a reversing camera, lane departure warning, speed limit recognition, and driver attention alert. Sadly, no diesel-powered model benefits from an automatic emergency braking system.
As with the quintet of Stellantis medium vans, the Dispatch is a perfectly competent vehicle on the road. It's not exciting, but then it's a van at its best when lugging loads around. Fun is secondary, but it rides well, is refined - especially on the motorway - and is utterly predictable. With light steering, it's easy to drive around the city, too, removing the stresses of fighting with your van when manoeuvring, so it's a shame that the driving position is off - the steering wheel and pedals are significantly offset, leading to a twist in your body while driving.
Performance from the 145hp model we're trying is impressive, with rapid responses and almost exciting acceleration levels. Experience with the 100hp engine in the Vauxhall Vivaro suggests it's not an entirely necessary upgrade, but the extra oomph is appreciated at times, especially when the van is loaded.

Space & Practicality
From the cabin backwards, the Dispatch is completely conventional. Citroen has, rightfully, avoided the temptation to try and include gadgets and gizmos, so the load bay is a simple, straight-sided shape that can accommodate a trio of Euro pallets.
Every model gets a sliding door on each side of the van, which is a boon in the city. Access to cargo is easy, regardless of which way around you park your van, which speeds up deliveries and keeps downtime to a minimum. There are double rear doors too, which open and swing around to 180 degrees, leaving wide, open access to the load bay. Tie-down hooks are dotted around — six in the M length model and eight in the XL — which allows you to secure most loads without any extra equipment.
The M body length provides a load area that's 2,512mm long. The longer XL model extends that to 2,862mm, while the discontinued XS van shrunk it down to 2,162mm. All are competitive with their rivals, but not the longest. However, a load-through panel in the solid metal bulkhead allows long, thin loads to slide through into the cabin, extending the maximum length to an impressive 3,674mm on this M-length van. The maximum load height is 1,397mm, with the width standing at 1,628mm. Wheel arch trusion is kept to a minimum but does cut the width down to 1,258mm. Still, that's enough to squeeze a Euro pallet in, and there's room for another two to make three in total.
Fully load our test van, and you could carry up to 1,446kg of cargo, which is an excellent figure compared to other vans, including the Ford Transit Custom. The model range runs from a lower limit of 1,108kg for the 120hp M model and reaches as high as 1,446lg for our van and the same spec in Enterprise Pro trim.
Those who wish to tow will need to check limits ranging from 1,800kg to 2,500kg, with no discernable pattern. Our van was listed with a limit of the full 2,500kg, with a gross train weight limit of five tonnes, making it the most versatile model in the Dispatch range.

Ownership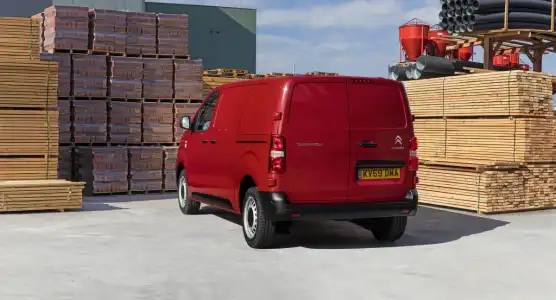 Running Costs
With the second most powerful engine in the range, at 145hp, we didn't expect great fuel economy. Officially, it'll return between 37.0 and 41.9mpg, at least according to WLTP lab testing, so our result of 35.4mpg feels reasonably impressive. Do bear in mind that, for the most part, the van was running with little to no load in the back. Carrying up to 3.3 tonnes of cargo inside and on a trailer will significantly impact that result.
Servicing is required just once every two years, which is a superb money-saving benefit, reducing costs and keeping the van on the road for longer. It's possible to pay a fixed rate in advance for servicing for up to three years, although that's limited to 35,000 miles.
Should anything go awry, you'll be backed by Citroen Assistance. This roadside recovery service kicks into action in the event of a breakdown and covers the van in the UK and Europe. It's limited to the first year of service, though and will need renewing after that.
Back at the dealer, a three-year, 100,000-mile warranty package will cover most issues with the van. For owner-operators and small businesses planning on keeping their vehicles beyond that time, the identical Toyota Proace has a warranty that can run for up to 10 years once you've crossed a few very low hurdles.

Verdict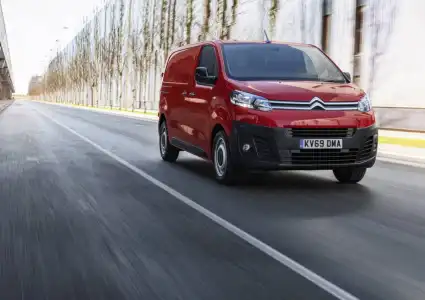 We enjoyed our time with the Citroen Dispatch. The 1435hp engine offers peppy performance, and the safe, comfortable handling makes longer journeys a breeze. Granted, there's not much fun to be had, but your van is a working tool and not after-hours entertainment.
The Ford Transit Custom outsells everything else on the market, and for good reason, but the Citroen edges ahead in some areas. It leads the way with ultimate payload capacity, allowing you to shift heavier loads. The Transit Custom is a little bigger in the back, allowing for larger but lighter loads, but the differences between the two are minimal.
That said, unless you need to squeeze every kilogram out of your van, the Citroen does feel a little outclassed by the Ford, even in range-topping Driver Pro trim, as we have tested here.

More On This Car
Need more information?
Request More Information