Pros:
Good to drive

Exceptionally quiet and refined

Impressive cargo volume and payload limit
Cons:
Very expensive to buy compared to the diesel model

Range is unreliable at speed

Towing limits are low
Introduction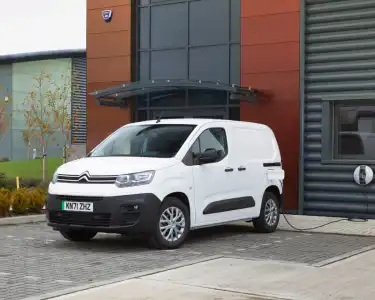 The current Berlingo has been around since 2018, so it's a well-known — and well-liked — van that suits the needs of many businesses. The electric version, cunningly called e-Berlingo, arrived at the beginning of 2021 and promised a 'no compromise' switch from diesel to electric power.
Citroen is keeping things simple with trim levels, offering just two; Enterprise and Driver. The entry-level Enterprise trim comes well equipped, with air conditioning, cruise control, and an 8.0-inch infotainment screen with DAB radio and both Android Auto and Apple CarPlay. The Driver trim adds satellite navigation, parking sensors, front fog lights and some snazzy wheel trims, amongst other features.
Each is available in two body lengths, with the M version measuring 4,403mm long and the XL option extending to 4,753mm. There's only one roof height, though. Each offers the same cargo volume as their diesel-powered siblings, which confirms the 'no compromise' stance, but payload limits are a little lower at up to 803kg and 753kg, respectively, compared to a maximum of 1,010kg on the diesel models.
There's also a Crew Van based on the longer XL model, which squeezes in a trio of extra seats, but at the expense of ultimate cargo-carrying ability.
Living With The Citroen e-Berlingo
There'll be plenty of people saying that 171 miles just isn't enough and that an electric van can never compete with a diesel-powered model. We put that to the test, being a chauffeur for an Evri delivery man, working an entire day and covering 93 drops — a light day, apparently.
In that time, we covered just 32 miles. I'm not sure where the driver lives, but I'm guessing it's not 70 miles from the depot, so there'll be plenty of battery power for a full day's work — even in the middle of winter.
That might not be true if you spend your days on the motorway, as the distance the van will go drops alarmingly at speed. On a perfectly normal day, the 180-mile run to Heathrow and back required stopping to charge twice, each time at expensive motorway charging stations.
The good news is it'll top up at 100kW, so I wasn't stationary for very long; filling the battery from empty to 80% shouldn't take more than half an hour on a suitable rapid charger. It'll take less than eight hours at home (or overnight at a depot) to go from empty to full.
Once charged, it's a nice van to drive. It's comfortable and rides the broken roads of the UK well, while feather-light steering makes urban manoeuvring a cinch. The extra weight of the battery hasn't affected its ability to handle cross-country roads, and it might even be a little more stable thanks to the low centre of gravity the battery pack creates.
The cabin is pleasant enough and remarkably quiet, although it's a shame to see the hefty lump that usually holds a gear lever still in place, making any middle passenger's day miserable. Gear selection is now just choosing between forwards and reverse on a rocker switch, which could theoretically have been placed anywhere.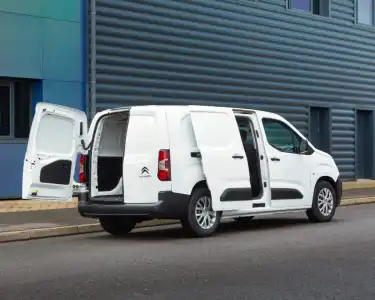 Space & Practicality
Packaging a battery pack into the floor of the e-Berlingo hasn't impacted the size of the cargo box. The floor is 1,817mm long on the M model, rising to 2,167mm on the XL, with both having a maximum load width of 1,550mm. Between the wheel arches, that drops down to 1,229mm. The roof height is 1,236mm (with an extra 6mm on the XL), giving the van a load volume of 3.3m3 or 3.8m3, depending on whether you opt for the M or XL variant.
Higher-spec Driver models have 'Extenso' seating in the front, which provides extra carrying capacity by folding the passenger seat away.
That's a lot of numbers, so let's just go with it being a little bit larger than a Ford Transit Connect and a little bit smaller than a Renault Kangoo.
Payload limits are slightly lower than the diesel-powered models but still a respectable 803kg on the M-sized Driver spec model. You'll lose about 50kg by choosing the larger, more spacious XL-length van. Towing is limited to just 750kg.
The Crew Van is rated to carry a maximum of 721kg, but bear in mind that the payload figure includes your passengers!
Access is via a wide sliding door on the M model, with an additional sliding door on the other side for the XL van. At the rear, a pair of 60/40 split doors swing open to 180 degrees, giving easy access and even allowing a forklift to slide a Euro pallet into place.
Ownership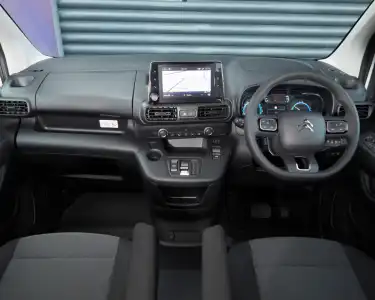 Running Costs
The biggest expense of moving to an eLCV is the capital cost. Starting at £32,385, before any taxes or government incentives, the e-Berlingo Enterprise M is £13,065 more than a diesel-powered model.
You'll make that back eventually. Despite the rocketing electricity bills we've seen, energy costs are still lower than pumping diesel into a tank. With at-home charging available from about 7.5p/kWh, a full battery will cost £3.75. You'll need to return more than 300mpg to match that in a diesel model.
It falls apart slightly if you don't have cheap charging options. Top up on the motorway, and your costs will quickly mount, where 40mpg would be the break-even point — something that's easily achievable.
Servicing is infrequent, with Citroen expecting to see the van every 25,000 miles or two years. Wear and tear on electric vehicles tends to be lower too, with service items like tyres and brakes lasting longer.
Verdict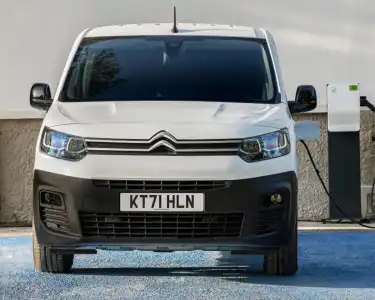 The Citroen Berlingo has always been a popular choice — it's the second-best-selling compact van, behind the identical Peugeot Partner and ahead of the identical Vauxhall Combo — and the switch to electric power has only extended its appeal.
It's a fine-driving, comfortable and refined vehicle to spend your day in, with just enough equipment to keep you comfortable and entertained while out on the road.
The fact that the cargo volume remains the same as the diesel-powered models is impressive, given the size of the battery pack that's been wedged under the floor, and while the payload limit has suffered a little, it's still more than you'll be able to carry in a Volkswagen Caddy.
But, like all electric vehicles, it's not for everyone. If your work involves lots of high-speed, long-distance runs, then this isn't the van for you. For the construction firm worker visiting sites or the local last-mile parcel delivery driver, it'll meet all your needs without skipping a beat.