Pros:
Cavernous cargo area

Practical cabin

Good economy
Cons:
Not a mile-muncher

Lacking safety technology

Noisy and uncomfortable
Secure your test drive today
Request a Citroen Relay test drive
Introduction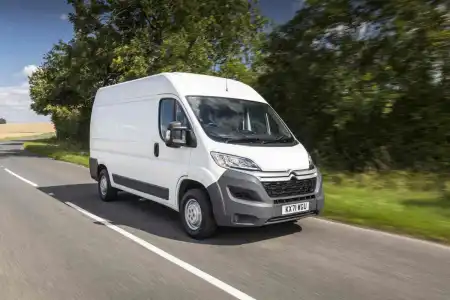 The current Citroen Relay has been around for an astonishing 16 years, although a substantial facelift in 2014 ensured it remained up to date. Since then, it's been fettled and refined, but there's no escaping that it's beginning to show its age - especially against the likes of the Volkswagen Crafter, Mercedes-Benz Sprinter and dominant Ford Transit. Citroen has tried to keep it in touch with the competition, increasing the size of the diesel engines in 2019 to 2.2 litres and making a range of new safety equipment available. It also introduced an electric version, the cunningly named e-Relay, to appeal to those in the city needing a cavernous last-mile machine. We're not in anything as eco-friendly as that just yet, testing the middle-of-the-road model, the mid-range Enterprise specification with the mid-power 2.2-litre diesel engine. Presented in the second of four length options and the middle of three roof heights, it balances ultimate cargo capability and inner-city manoeuvrability.
On The Road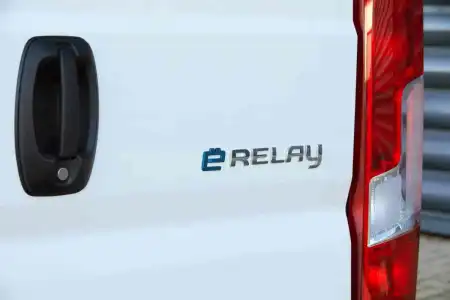 Performance
Our 140hp model isn't over-endowed with oomph, but the 340Nm of torque will get it rolling quickly enough. When empty, it's surprisingly rapid, but that sensation fades as you add cargo to the back of the van. There's a cheaper 120hp model that we imagine won't feel very different, and a more powerful 165hp is available. Frustratingly, no models are available with an automatic gearbox.
When you do get rolling, it's not the sharpest of vans. Any of the myriad new models around, such as the Ford Transit, will drive rings around it. The steering is very light, which is a boon in the city, but it becomes vague and imprecise at speed.
The ride quality never settles, with the van skipping across bumps and surface cracks, even with some load in the back. A bulkhead is there to keep the cargo separated from the cabin and, helpfully, isolates a little of the noise, but it's still a loud van to spend time in. It all combines to make long motorway journeys rather tiring affairs. While the driver's seat is comfortable enough, an optional suspended seat might make the difference if you spend a long time in the Relay.
Despite its bulk, it's far better in urban areas. There's excellent visibility through the huge windscreen and side windows, large door mirrors with a separate wide-angle section, and that light steering comes into its own. It's also got a surprisingly tight turning circle, making manoeuvres in the city a cinch.
The cabin is perfectly serviceable but is showing its age a little. The dashboard is functional, with a bijou 5.0-inch infotainment screen surrounded by glossy plastic. There's integrated navigation on this Enterprise model, although the tiny screen makes following directions tricky. You'll also find a DAB radio and Bluetooth connectivity but no Android Auto or Apple CarPlay. The climate control buttons and knobs sit below, offering a quick and tactile way of adjusting the cabin environment.
Practicality is a strong point, with numerous areas to store your work detritus. A pair of glove boxes provide secure storage, lidded compartments on the top of the dashboard are helpful, and there's even a document clip. Large door pockets and an accommodating overhead compartment add up to, according to Citroen, 13 storage compartments.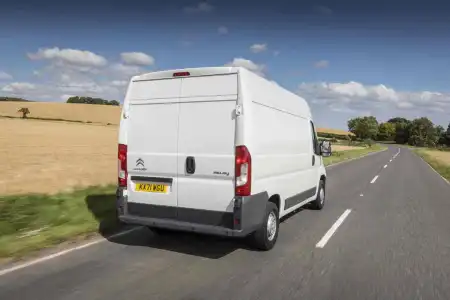 Space & Practicality
The Citroen Relay is available in four body lengths — from 4.96m total body length to 6.36m — and three roof heights ranging from 2.25m tall to 2.76m. At its most extreme, you can squeeze in cargo measuring up to 2.17m tall and up to 4.07m long. In total, there's 17m3 of capacity, which is right up there with the best.
Our L2H2 model, while offering a lower volume, is no less impressive. An 11.5m3 cargo area is competitive, as are the maximum dimensions of 3.12m long and 1.93m. A maximum payload of 1,545kg is equally pleasing. The lowest payload in the range is a significant 1,125kg, rising to 1,870kg at the top of the range.
A pair of rear doors swing open wide, to 96 or 180 degrees, with an option available allowing them to fold back along the side of the van. A single side door slides open, allowing easy access, with a second sliding door available as an optional extra to increase flexibility.
The rear is quite a height from the floor, so an integrated step might have been a good idea. You'll just have to get your thigh muscles working if you're climbing in and out through the rear doors.
Those wanting conversions to tippers, refrigerated units or any of the other countless options will be well served, too, with a broad range of choices available from Citroen and comprehensive third-party support.

Ownership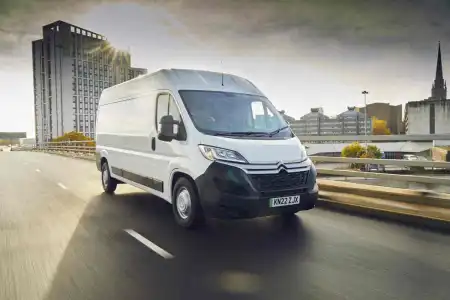 Running Costs
Citroen promises 40.1mpg from our van, at least according to official WLTP testing. You're likely to get reasonably close to that in the real world. Our 35.9mpg wasn't a bad result, considering the heavy right foot of your writer.
Every Citroen van is backed by a three-year or 100,000-mile warranty, further enhanced by 24/7 roadside assistance for the first year. Service intervals can stretch as far as once every two years or 30,000 miles, so you'll not see your dealer very often. That said, Citroen does recommend annual safety checks and more regular service intervals for heavily used vans. It's possible to pay a fixed rate for servicing, but Citroen limits that to 35,000 miles.
Should your van have an unexpected gentle interface with another vehicle or object, repair bills might be lower than expected; the bumpers are made in sections, so just one corner might need to be replaced rather than an entire bumper unit.

Verdict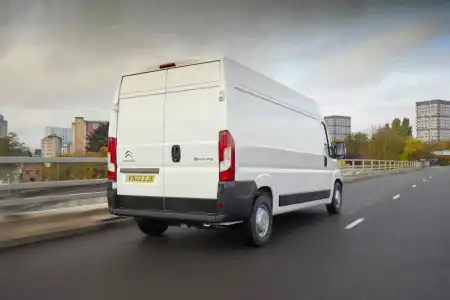 When the Relay first arrived, it won plaudits for its combination of practicality and contemporary design. Well, it's still practical…
The pros and cons list is long on both sides, making it tricky to summarise. It's noisy, not that comfortable and frustrating to drive on long journeys, but it's a lovely (if large) thing in the city and offers a mammoth payload with a spacious and practical cabin.
It's a cop-out, but the Relay might be perfect for you if you've got the right business needs. If that involves lots and lots of miles, though, look elsewhere.

Secure your test drive today
Request a Citroen Relay test drive