From £9,495
Pros:
A lot of metal for your money

Refreshingly simplistic layout

Child & dog-resistant interior
Cons:
Poor safety score

Very limited options list

Plastic… everywhere
Buy and save on quality approved and used cars
Introduction
When Dacia first contacted us to review some of their cars the consensus across the office was far short of elated. Dacia won't mind us saying that their cars are not the prettiest in the world, and that they aren't the fastest cars in the world either. Another reason for the lack of enthusiasm was because the majority of the office, and the general public, think of Dacia cars as 'cheap' because, well, they are. Isn't that a good thing though?
Performance is relative though, even a blistering Golf GTi is slow compared to a Ferrari 458 - just like how a Transit van is impractical compared to the latest DAF lorry. So, relatively, is the Dacia a good car for what it it's worth - which isn't a lot?
I enthusiastically and excitedly took the Duster for a weekend of activities to see what was what.
On The Road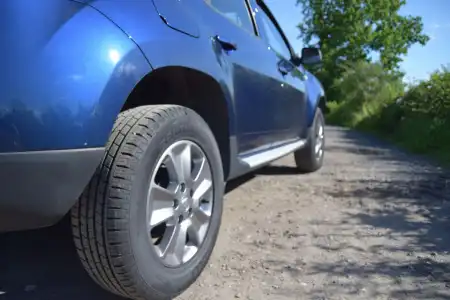 Performance
We had the 1.5dCi diesel engine to play with - a stellar choice. This engine has been mixed and matched with a number of cars now from a number of manufacturers, including the likes of the Nissan Qashqai and the Mercedes Benz A Class. It's a solid performer, returning up to 65mpg on the motorway - which it actually achieved in our short time with it. This engine also has plenty of low-end grunt and enough torque to whoosh you from the lights at a rate on-par with competitors. It's fair to say that first gear only exists to get you to a gentle roll, before you have to change to second.
On the motorway the diesel engine was absolutely fine for everything you would need. Overtaking requires little preparation, the car holds the road well and it didn't feel unsettled in a particularly rough storm.
Ride Handling
It would be hypocritical of me to say that no cars in this segment handle well, because I mentioned relativity earlier and therefore some must handle well and some must handle poorly. The fact of the matter is, all cars in this SUV B segment suffer from body roll in the corners as well as fairly loose steering and a certain amount of understeer in the wet. The Dacia has all of these quirks, but no worse than the likes of the new Peugeot 2008 or Ford Ecosport. In fact the Duster is considerably more joyful to drive enthusiastically through bends than the Ecosport, not that you'd ever really want to.
The ride is fantastic. The Duster glides over potholes and speed bumps comfortably and you'll struggle to fault it when rolling through suburbia. Mounting curbs irresponsibly outside school zones is a breeze too, in case you were wondering.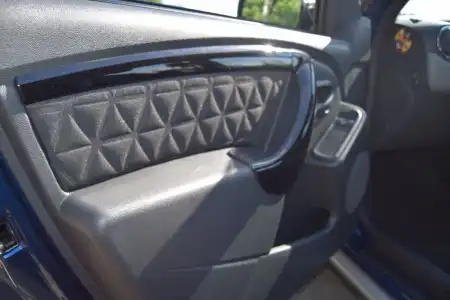 Styling
Ah, this is where things start getting a bit... cheap. We've been ranting and raving about how good the diesel is to drive, but it does come up short in terms of refinement. It's very rattly. More rattly than I've ever experienced this 1.5dCi engine; even more rattly than it is in the cheaper, smaller and less substantial Dacia Logan MCV. Anywhere above 2k revs and it becomes audible, anything over 4k and it becomes irritating, and if you dare hit 5k you need to take a long hard look at yourself… you're in a Dacia Duster, calm down. Also you're ruining your chances of achieving high mpg's which means reduced bragging rights among your frugal friends.
Other than the noise, the steering wheel vibrates when idle and the pedals feel quite a bit of a judder too. It shouldn't put you off though, you're saving a good £3k on most competitors when buying the Duster. So what if it shakes a bit sometimes? Live with it.
In The Car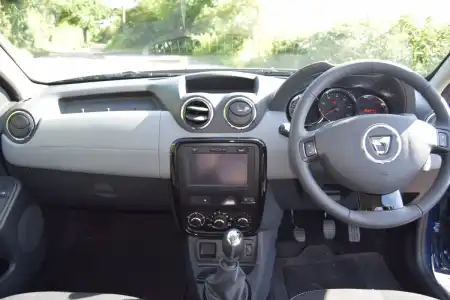 Behind the Wheel
I'm going to throw it out there, the inside of the Duster is fine. Just fine. Get on with it. Yes there are scratchy plastics across the dash like a Transit van - but that's part of the beauty of it. What are you comparing it to? There's nothing alongside the Duster in terms of value - so it's part and parcel of buying this car. If a plastic dashboard is enough to put you off then look elsewhere.
One area for improvement would be a bit more bolstering on the seats. They don't do much to stop you swaying from side to side, which happens a lot in a car like this.
The central controls are simple enough and it's refreshing to see nice, big physical buttons and dials which click into place noticeably. There are no fancy backlit LED buttons which are touch-sensitive; just regular, plastic, on/off switches and clunky dials.
We also grew to be pleasantly surprised by the infotainment system in the Laureate model. With AUX and and USB connectivity, the centre console is a simple device to use with a responsive touch screen and now tacky animations between menus. It just works. The Sat Nav is good too.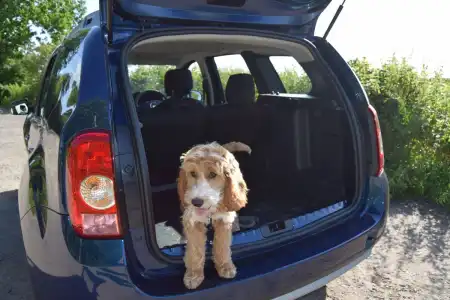 Space & Practicality
The Duster excels in both space & practicality. In the back there is loads of legroom and headroom. I successfully carried 4 fully grown men to and from our Monday League football match without a single complaint, including 2 centre-backs who are both well clear of 6 foot.
Another test for the Duster was carrying my 3 month old puppy, who loves to damage things, for a walk through rural Cheshire. I wouldn't have even considered taking a press car for this chore, as not to damage what isn't mine, but the boot of the Duster is lined with hard, rugged plastic across the floor and the sides too. I took the risk and Jasper loved it. Even the most destructive of puppys will struggle to make a mess of this boot. Top marks for the Duster here. In total the Duster has a boot capacity of 475 litres which increases to 1,636 when you fold down the rear seats.
Ownership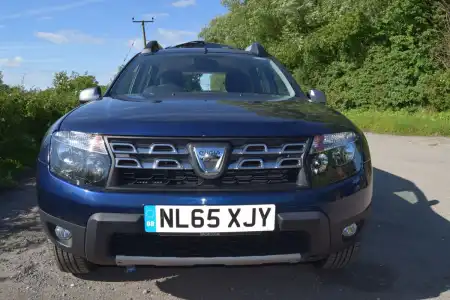 Running Costs
The 1.5dCi engine that we tested is probably the best choice for the Duster. While it's a bit slower to 60 than the 1.2 litre petrol engine, it has loads more torque once you're up and running and is considerably more efficient too. You can get up to 64mpg out of the 1.5dCi, whereas the 1.2 can only get 46mpg at best.
The road tax is also much cheaper on the diesel model, at just £30 due to the low emissions of CO2, this increases to £130 a year if you decide to go for the petrol model.
Quality & Reliability
The material selection is poor against more expensive cars in the segment, but not bad considering how much you'll save. We've mentioned how the dash is littered with hard plastics that are pretty horrible to touch, with a hollow wheely-bin-like feel that suggests build quality isn't up to… 'scccratch'. I've driven 3 Dacia cars in a week now and in every single one of them the armrest wobbled from side to side. On the flip-side of this though, the parts used are extremely reliable. They've withstood the test of time in numerous other vehicles, be it from Renault or other manufacturers, and generally they do their job without making any fuss. You'll have to do-away with the idea of being surrounded by soft touch materials and supple leather. Even the top spec comes with a cloth interior and there's no option for leather.
Safety & Security
The Duster only scored 3 out of 5 for safety when tested on the EURO NCAP ratings. It's worth mentioning that it scored a modest 74% and 78% for adult and child occupant safety respectively, but a measly 28% for pedestrian safety. Finally in the Safety Assist category it scored a poor 29% - this is to judge the presence and effectiveness of different safety technology that comes with the car. Sadly with the Duster this doesn't extend much further than ABS and airbags.
Buy and save on quality approved and used cars