From £5,995
Pros:
Most affordable brand new car

Economical engines

Functional interior
Cons:
Plenty of scratchy plastics

Vague steering

Antiquated cabin
Buy and save on quality approved and used cars
Introduction
The small car market is an incredibly competitive place to land your product with every mainstream manufacturer offering a different alternative, each with their own unique selling points. The Sandero, arguably, boasts the most eye-catching perk of them all as it's one of the most affordable car on the new-car market. The timing could be perfect for the Sandero as the British population is buying record amounts of brand new cars while also having a keen eye for a good deal. The Sandero might just hit the jackpot, but is it worth the saving?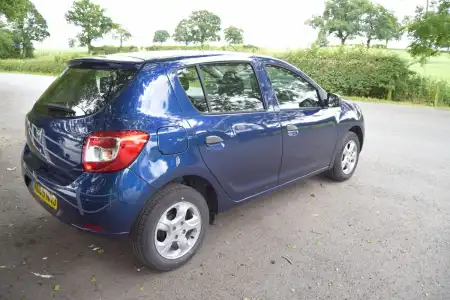 Ride Handling
The Sandero is no worse than any other city car in terms of ride & handling. Yes, you feel potholes and speed bumps more than most other cars but that's part and parcel of being a city car. The Sandero is certainly better on motorways than the likes of the VW up!, Skoda Citigo and SEAT Mii as the Dacia feels more planted on the tarmac, particularly in windy conditions.
The handling is a little vague though and it can feel like steering a boat through the bends when you decide to press-on, as the wheel doesn't seem to get much stiffer at speed and there isn't an awful lot of feedback from the road - although there's plenty from the rattling diesel engine. The car is predictable enough though and very easy to drive - we're certain the simplicity, relative comfort and ease of manoeuvrability will make it a hit with the elderly buyers.
On The Road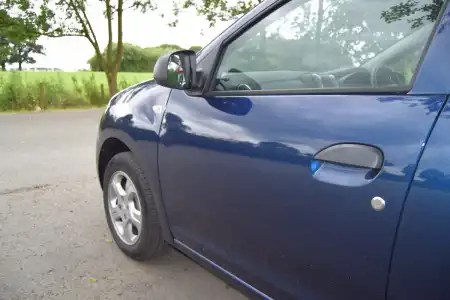 Performance
The Sandero uses engines which have performed valiantly in other models. The first of which is the 1.5 dCi diesel engine from the Juke, Qashqai, A Class, Megane, Clio and so on. Alternatively there are petrol options in the 1.2 and 0.9 litre TCe engines that feature in the Renault range. Interestingly the 0.9litre is the fastest to 60mph but it soon runs out of guts at speed, so if you spend some time on the motorway the 1.5dCi is the one for you as the torque is much more suited for travelling at pace. Neither of the petrols have sufficient power to overtake convincingly on motorways.
Around town the 0.9litre is certainly nippy enough and it makes the car good fun to drive thanks to the linear power delivery and small dimensions. This car is easy to park without any sensors or cameras necessary, also the car is nice and narrow making parking bays simple too.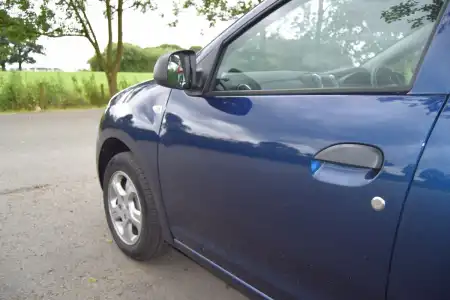 Styling
The Dacia Sandero is a car made up from the spare parts of countless other vehicles, some of which aren't even in production anymore, but what this means is that the car uses tried and tested components which have proven to withstand the test of time. Sadly, the diesel 1.5dCi engine does tend to make a racket at speed and could become seriously irritating. Similarly with this engine you get a noticeable rumble through the accelerator pedal and steering wheel. From within, road noise is relatively muted and you don't notice tyre or wind noise much at all.
In The Car
Behind the Wheel
Our verdict on life behind the wheel of a Sandero is entirely dependent on the spec you choose. The starting price of £5,995 gets you as good as nothing, not even a radio. You get seats and a steering wheel and that's about it, although the seats are nice - to be fair. Creep up the spec levels and you get a surprisingly easy-to-use touch screen centre console as well as AUX and USB connectivity. You'd expect a cheap and glitchy sat-nav, but it's actually rather good. Once spec'd to a reasonable standard the Sandero doesn't seem like a budget car at all, in fact it's arguably ahead of some older competitors.
The dashboard layout doesn't bother with soft-touch plastics or gimmicks like temperature dials inside air vents; you just get functional buttons which are easy to understand and made of hard plastic. It all works. Relative to what you pay, the Sandero isn't an unpleasant place to be whatsoever. No, the seats don't have a massage function. No, there are no heated cup-holders to keep your Starbucks at optimum temperature. The inside of the car does everything you'd expect from a car of this price tag rather well, nothing more.
Our favourite touch? The horn is operated via the indicator stalk... Nostalgic.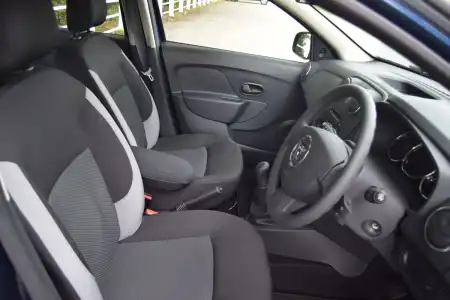 Space & Practicality
The Sandero is only 4 metres long and 1.7 metres wide but Dacia have done a good job of making the most of the interior space with clever packaging. They have managed to squeeze a massive 320litre boot into the rear which is extremely large for a car in the city-car segment and this expands to 1,200 litres if you fold the seats flat! You're not going to find another supermini with that much space on the market.
There are a couple of drawbacks in terms of driver and passenger comfort. For example the front two seats are quite short in length so you're left sat rather upright. This might be good for your posture but it gets uncomfortable after a while - this shouldn't be a problem if you're under 6 foot though. The back seats are best reserved for children though, as few adults will be able to get comfortable if they've got a tall person sat in front of them. Again, this is true for most cars in this segment but it's something we have to mention.
Ownership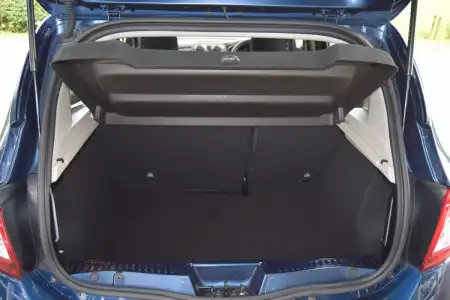 Running Costs
If you're looking at a Dacia then you're already a cost-conscious individual and that's nothing to be ashamed of. We'd recommend the 1.5dCi for its savings throughout ownership. First and foremost; fuel economy. You get up to 74mpg with the diesel engine whereas the 0.9litre and 1.2litre offer 57mpg and 48mpg respectively, so that's a no-brainer. The diesel is also the only engine that is free to tax each year due to the brilliantly low emissions. The 0.9litre will cost £20 each year and the 1.2litre will cost £110 - again, an easy decision really. As mentioned though the 0.9litre is better suited to driving in built up areas and 57mpg is still extremely competitive. This one might be the one for you if you do most of your driving around town - particularly when it is £1,000 cheaper than the diesel engine, which is a good few tanks full!
Insurance should be no problem, even for younger drivers. The Sandero 1.2 sits in group 4, which is the cheapest, and the most expensive is the Laureate Prime diesel which is group 12 - still very much insurable...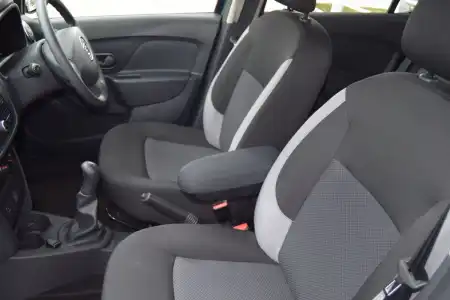 Quality & Reliability
Well in the case of the Dacia range, Quality and Reliability are entirely independent entities. The quality is basic, low-cost and poor by modern standards. Compared to competitors the frequency of scratchy plastics is unforgivable. Simple as that.
Reliability, on the other hand, is a different matter. We're happy to report the Dacia range are actually a particularly reliable bunch of cars. The lack of complex technology means there are few recorded electrical problems and the basic functions are tested on different cars already in existence. Dacia didn't pick parts that were commonly faulty, so you can bet that a Dacia will last you a good while. Unsure? For £395 you can extend the warranty from 3 years to 5 years, or £850 to go as far as 7 years and 100,000 miles!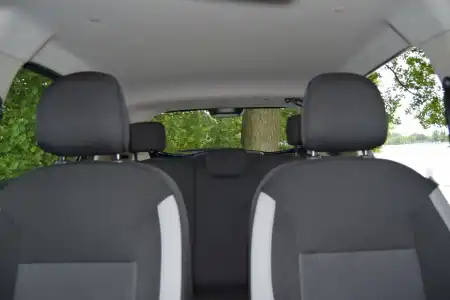 Safety & Security
Safety is the area where Dacia tend to fall a little short against competitors. Naturally this is an aspect keenly addressed by manufacturers who spend more on research, development and production. The Sandero scored 4 out 5 stars in the Euro NCAP safety tests. Not bad in any other form of tests, but when pretty much every competitor is scoring 5 out of 5 it does highlight some shortcomings. There's 4 airbags in the Sandero, which isn't a lot by modern standards.
Buy and save on quality approved and used cars