Pros:
Individual design stands

Distinctive interior looks suitably premium

Frugal and fast enough
Cons:
Not sporting despite Performance tag

Gearbox is smooth but slow

Ergonomic issues in the cabin
More On This Car
Take one for a spin or order a brochure
Request a DS DS 3 brochure
Request a DS DS 3 test drive
Introduction
The DS brand, a luxury badge attached to Citroen cars that's been spun out to be a marque in its own right, initially struggled to make an impression on UK buyers. The DS 3 was a well-liked but ageing hatchback, the 4 was an unloved Focus rival that missed the mark by some margin, while the DS 5 was a luxury model that failed to live up to luxury expectations.
However, now DS is dropping the Citroen hand-me-downs and going its own way. The 7 Crossback SUV has been well received, and now the DS 3 Crossback brings the same sense of style and distinctiveness to a smaller, more affordable model.
It's got the Audi Q2 and Mini Countryman in its sights, both capable models from long-established brands, so raises the bar with a plush, fully-loaded La Première launch edition. Once they're gone, a range of three luxury models and one apparently sporting version will have to suffice, powered by petrol engines producing between 100 and 155hp, and a single 100hp diesel option. A pure-electric model arrives later in the year.
Prices currently range from £21,555 to £33,955, with the model tested here, the Performance Line Pure Tech 155 Auto coming in at £27,455 - before options, of course.
On The Road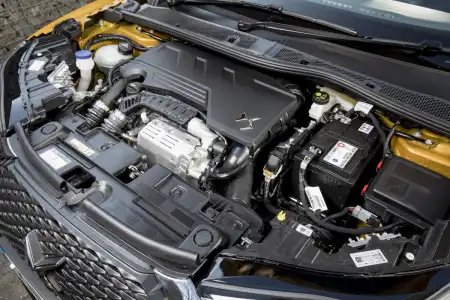 Performance
The tiny 1.2-litre three-cylinder petrol engine under the high clamshell bonnet of the DS 3 produces a handy 155hp, which is enough to propel the car from standstill to 62mph in 8.2 seconds.
For the most powerful model in the range, and a model with 'Performance' in its name, it's not really a ball of fire, but there's enough grunt to keep up with all but the most enthusiastic of traffic. That's thanks to some surprising mid-range flexibility, and an eight-speed automatic gearbox with steering-wheel-mounted paddles ensures you're always in the right ratio.
While the 155hp option is up to the task of powering the DS 3, it's only by a small margin and makes us wonder how lower output models might cope.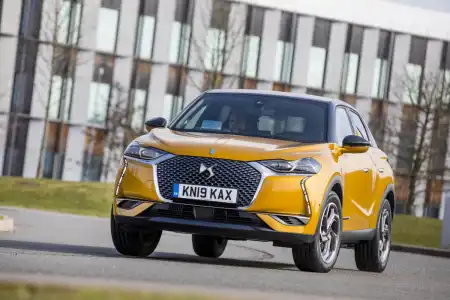 Ride Handling
The Crossback name hints that outright handling prowess probably isn't the goal of the DS's chassis engineers, so the 3 sits in a bit of a no-man's-land where it's quite agile and quite comfortable, but not excelling at either. That's really a positive outcome, as erring towards one extreme or the other would alienate a significant chunk of buyers, so DS has tried to be all things to all people.
Hurtling through country lanes is not necessarily the domain of a small SUV that measures just 8cm longer than a Ford Fiesta but, should you be in a hurry, there's plenty of grip available, with no worrying handling traits. It's softly sprung which leads to a bit of extra body roll, but that pays off in urban environments.
City centre stuff is where the DS 3 Crossback feels most at home, with the diminutive dimensions and lightweight controls making it a cinch to manoeuvre around. It soaks up most imperfections well enough, but maybe sharper-edged potholes will bump their way through to the cabin.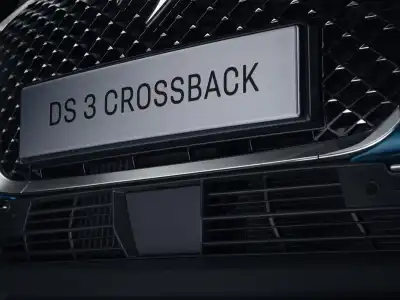 Styling
Using a tiny engine often makes for strained behaviour, but the engine in the DS offers a pleasing 'thrumble' engine note that only gets intrusive when worked very hard. The eight-speed automatic gearbox attached to it is as smooth as butter too, although it can be a little slow when you really need a different gear.
While it's all great when rolling along but when crawling at very low speeds the stop-start system sometimes kicks in early, bringing the car to a stop before you're necessarily ready too. A tap of the throttle brings it back to life, where it lurches forward a bit and you can carry on.
Still, aside from that little blip, it's actually rather good. Wind noise is almost imperceptible, the engine note is pleasant and distant. And even tyre noise is kept at bay well.
In The Car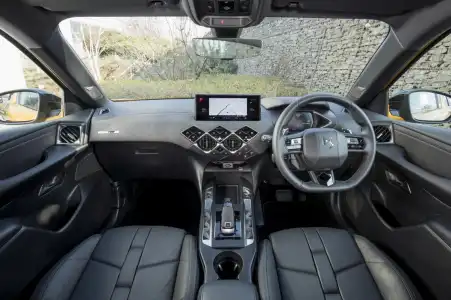 Behind the Wheel
Nobody will sit in a DS 3 and think the cabin is bland. Once they've got past a surprisingly high sill, it's a bounty of shapes, surfaces and materials that makes the Crossback stand out from literally every other car on sale. There's a diamond theme running through every element, from a bank of buttons across the centre stack through to tiny knurled details on the steering wheel buttons.
Surfaces are covered in an Alcantara material that leaves everything feeling magnificent, but step back and you'll see that it's all actually rather conventional. That's a positive, as unnecessarily weird design tends to make a lesser user experience. That said, mixing buttons with touch-sensitive panels leads to the occasional accidental activation of something or other.
Above all of this design-led sits an infotainment touchscreen that, despite the obvious diamond theme, shares its inner workings with every other Citroen and Peugeot. That means it's usable but has some frustrating quirks in the user interface. That's matched by digital instruments that look great, but you can't help but wish for at least the option of a traditional set of dials.
There's no navigation system on the Performance Line model (you need to pay extra or choose a Prestige model) but, pleasingly, Android Auto and Apple CarPlay are both fitted as standard, allowing for smartphone mirroring.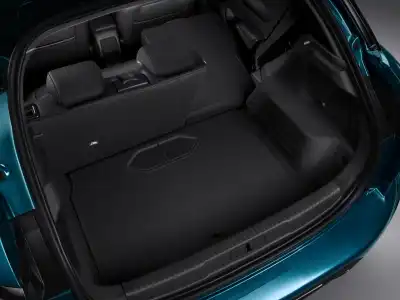 Space & Practicality
Barely any bigger than a Fiesta, the DS 3 Crossback might look like a practical SUV but expectations should be kept in check. That said, the front of the cabin is spacious enough to keep anybody happy; those wide and tall sills sit below doors that seem to be set far away from the seats, adding significant elbow room.
It's pretty good in the back too, with enough space for a couple of adults to get comfortable. Even leg and headroom is sufficient, but it's definitely best when limited to just two rear passengers. It does get a bit dark in there though, as the high waistline that rises up towards the rear, and that distinctive and stylish 'shark fin' eats into window space.
The available space has definitely been prioritised towards the occupants, with the boot left to take just 350 litres of luggage. That's slightly less room than you'll find in the back of a Volkswagen Polo, but ahead of the Fiesta. The rear seats do split and fold down, although there's no flat floor once they're down.
Ownership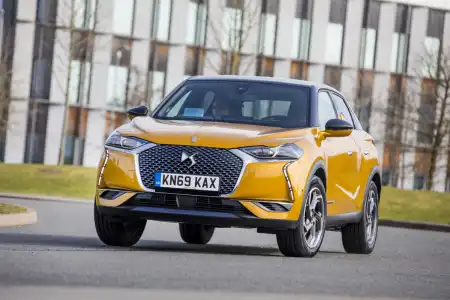 Running Costs
The DS 3 Crossback is sold as a premium model, and the price tag confirms that. Charging so much affects monthly leasing and PCP costs, but DS says residual values should be strong which will hopefully leave plenty of equity at the end of a financial deal.
Economy from the 1.2- litre petrol engine is mostly impressive, with an official figure of 46.6mpg promised. Certainly, after a week of urban driving and a couple of long motorway runs, the screen was reading above 40mpg, which is reasonable. Those wanting to save fuel should look at the diesel option, with its 62.7mpg figure.
Low CO2 emissions will keep company car user-choosers happy too, as 121g/km means a BIK rate of 28%.
Expected resale values after three years are competitive too, with the DS 3 expected to retain good value. That's slightly behind the Audi Q2 but, impressibly, ahead of the Mini Countryman.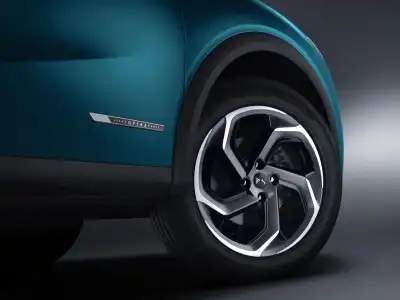 Quality & Reliability
DS is such a young brand with such a small range that trends have yet to show themselves. However, all of the technology and engineering is the same as you'll find in a Peugeot or Citroen, so those brands should give a good indicator of future reliability.
All DS cars are covered by a three-year warranty so, should anything go wrong, there should be backup from a dealer. Bear in mind that the first two years cover an unlimited mileage, but the third year is limited to 60,000 miles.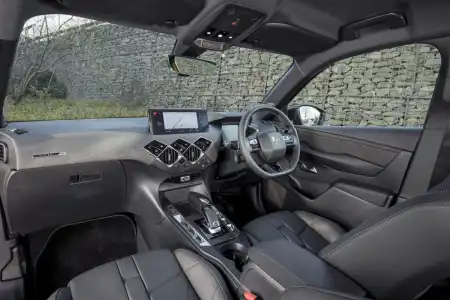 Safety & Security
Crash safety testing by EuroNCAP resulted in a good four-star result for the DS 3 Crossback. Passenger protection was rated highly, but lower for pedestrian protection.
Every DS 3 is fitted with automatic emergency braking, lane-keeping assist, lane departure warning, speed limit recognition and intelligent speed adaptation and rear parking sensors. Front sensors and a reversing camera are available as standard on higher models, while adaptive cruise control is standard only on the La Premiere spec.
More On This Car
Take one for a spin or order a brochure
Request a DS DS 3 brochure
Request a DS DS 3 test drive