Price: From £28,050
Pros:
Standout design

Luxurious interior

Huge display screen
Cons:
Timepiece is an acquired taste

Touchscreen is difficult to use on the move
More On This Car
Take one for a spin or order a brochure
Request a DS DS 7 brochure
Request a DS DS 7 test drive
Introduction
We all remember the Citroen DS, the elegant yet rather quirky French executive car notable for featuring a hydropneumatic suspension but epitomising Frenchness in a fun way.
With Citroen struggling to produce anything as popular after its production run ended in 1975 DS models made a comeback in 2010 when the DS3 was launched. But it wasn't until 2014 that DS became a standalone brand aiming to place themselves in the luxury premium market, just like Toyota have done with Lexus.
So with an increase of 33% in the premium market, can DS make an impact with their DS 7 Crossback?
We went along to the UK launch to find out.
Ride Handling
It feels a rigid car when you drive it so there's not much body roll but this is paired with quite a firm ride. If you get the right specification and engine with their active scan suspension which scans the road ahead and can adapt the suspension for ride comfort, it's an ideal car over those rough roads!
Steering is quite heavy but it gives you plenty of direct feedback and although we didn't take the car on any really challenging roads, the potential is there for it to be an engaging drive.
There are various drive modes including eco, comfort and sport, the latter enhancing the dynamics of the car plus there's an interesting engine note that seems to make its way into the cabin.
On The Road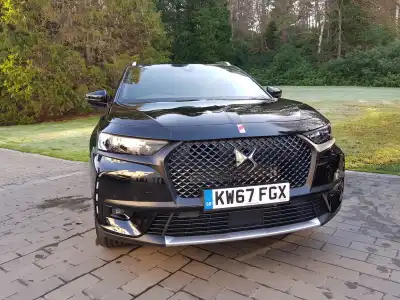 Performance
The DS 7 Crossback comes with two petrol and two Diesel engines; we tried out the BlueHDI 180, the two litre producing 180hp with 400Nm of torque, propelling it from 0-62mph in a decent 9.9 seconds with a top speed of 134mph. It was paired with a 8-speed automatic transmission which wasn't as seamless as we liked so the steering wheel paddles came to the rescue to get the most out of the engine.
Citroen reckon it can achieve a combined 57.6mpg and with it emitting 128g/km it will cost £160 for the first year in road tax.
The other diesel variant delivers 130hp paired with a six-speed manual transmission and emits just 107g/km, a 1.6 litre Puretech 225 is the petrol option with the automatic delivering 225hp with 300Nm of torque. In 2019 DS will add a 300hp Plug in Hybrid to the lineup but this will increase the cost of the DS 7 Crossback to £50,000.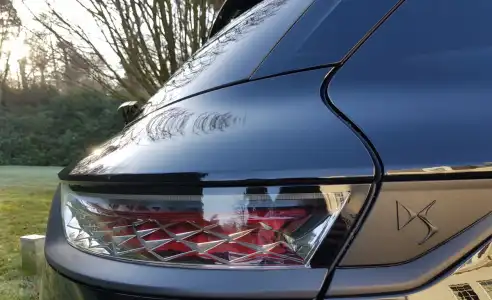 Styling
Ivo Groen, Vice President of design at DS and his team have created a stunning SUV, the large diamond studded grille dominates the front of the car, flanked by the unique LED lights which feature three modules that light up purple when you unlock the car. At night they're handy in a car park as the modules move to give you a "I'm over here!" look.
With a bold profile and funky rear 3D lighting the DS 7 is an appealing proposition in the premium SUV segment.
There are nine paint colours with a combination of flat, metallic and pearlescent to choose from, including a striking Byzantin Gold, stunning Ink Blue and a bold Perla Nera Black.
There are four interior designs to choose from: Bastille, Performance Line, Rivoli and Opera and our favourite was the sporty Performance Line with classy alcantara adding to a stylish yet understated cabin.
In The Car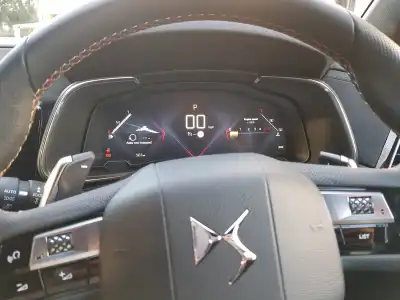 Behind the Wheel
A 12.3 inch digital instrument is informative, slick and also features in recent Peugeot models and it's this and the enormous 12 inch high definition display screen which add a premium look to the interior.
The buttons below the screen are touch sensitive so they do take some getting used to - prodding them didn't work so a light touch is paramount and although it's a touchscreen it's not the easiest to use when on the move.
Smartphone connectivity is through Apple CarPlay and Android Auto plus there's USB and 12v points along with a wireless charger available in some trims.
With four trim levels available for the DS 7 Crossback, Elegance, Performance Line, Prestige and Ultra Prestige. The entry level is packed with equipment including keyless start, 8-inch touchscreen, Bluetooth, 18-inch diamond cut alloy wheels, leather steering wheel and gear knob and rear parking sensors. The top spec has 20-inch wheels, keyless entry, electric opening panoramic sunroof, interior lighting, laminated front and rear windows, remote tailgate opening and black Nappa leather dashboard and door panels with pearl stitching. There is even a massage function for the seats too which can be activated through the touchscreen's DS Sensorial Drive.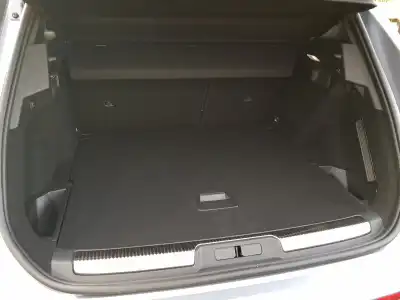 Space & Practicality
The boot is quite high and has a concealed, separate floor making it a good size at 555 litres, but like the Audi Q3 the design of it is slanted so you do have to pack in items right otherwise you won't get the tailgate down.
A simple pull of a lever and the rear seats fold flat which increases the boot space to 1,752 litres.
There's good all round space up front and in the rear and there's plenty of storage too with two cupholders between driver and passenger, underneath the centre console and also a surprisingly deep centre armrest.
Ownership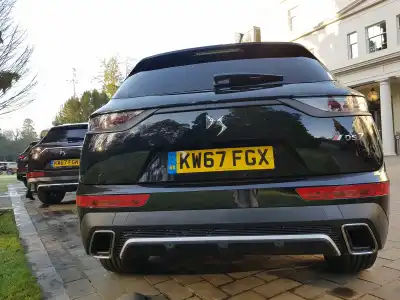 Running Costs
DS have got quite the task to take on the premium big guns but will they manage it with this model?
The French aren't afraid to make a statement, their various successful fashion houses have proved that and let's not forget they will strike too to get their point across, so with DS now concentrating on becoming a premium car manufacturer they've signalled their intent and this model might make some of the big German hitters take note. There are better drives out there in this segment, but it's the enthralling design and its advanced technologies which really make it hugely appealing.
Prices start at £28,050 for the Elegance with the BlueHDI 130, while the Performance Line costs £31,435 with the same engine.
DS will have 60 new stores and salons opening across the UK in 2018 and with them aiming to have six models in the range, and to be electrified by 2025, then the manufacturer is definitely on a mission.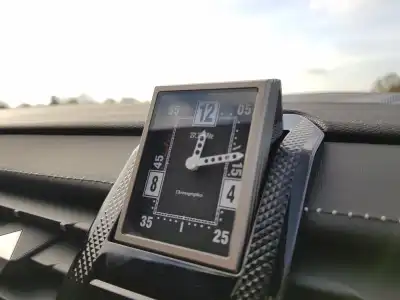 Quality & Reliability
When you measure it against the likes of Jaguar or Audi for quality, it's definitely on a par with them. Whereas the latter's interiors have been a bit bland of late the DS 7 Crossback screams opulence. The top level Ultra Prestige features pearl stitching on the dashboard and door panels which is certainly different and this diamond fascination that seems to be throughout the car is around the window operating buttons in the centre stack, on the air vents, on the touchscreen buttons and also around the clock. The B.R.M timepiece is something you'll either really love or hate, sadly we were the latter as it just looked a bit gaudy.
It's too early to say how reliable the DS 7 Crossback will be as the brand itself is still in its infancy.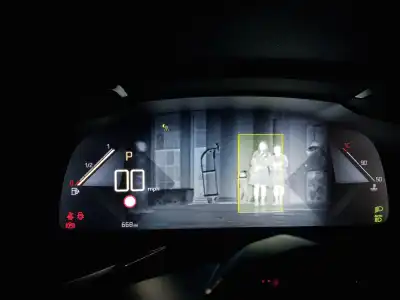 Safety & Security
The DS 7 Crossback have excelled with their onboard driving technology which includes Active Safety Brake, this will automatically brake the car after a collision to avoid a multiple pile-up. DS Connected Pilot - which is semi-autonomous - so driving on a motorway it can manage the steering and speed, but you can still take control of the car should you need to. Extended Traffic Sign Recognition and DS Night Vision, the infrared camera in the grille can recognise animals and pedestrians alerting you to them on the instrument panel.
There are plenty of airbags fitted to the model, front and rear parking sensors, a reversing camera, a safety kit which includes a first aid kit, yellow vest and triangle and Isofix points in the rear.
The DS 7 Crossback scored the full five stars in the EuroNCAP tests with 91% for an adult occupant and 87% for a child.
More On This Car
Take one for a spin or order a brochure
Request a DS DS 7 brochure
Request a DS DS 7 test drive