Pros:
Economical

Decent Handling

Good looks
Cons:
Engines aren't great

Limited rear legroom

Poor infotainment system
Introduction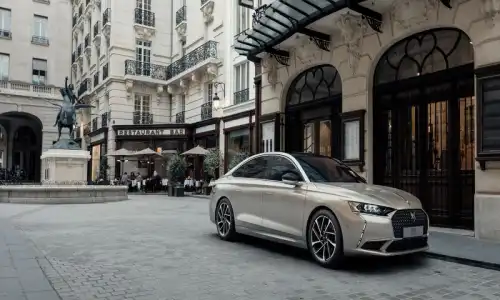 If you're after a posh, four-door saloon, then you'll no doubt be looking at BMW's 5-
Series, a Mercedes-Benz E-Class or the Audi A6.
But would you consider a DS 9? You see, for all the badge-snobbery the Germans can offer, the French might provide a good alternative.
You might be asking, "but isn't it a Citroen?" Well, sort of. DS was part of the Citroen brand, but it's now become a marque in its own right.
You might now be asking, "but isn't it still technically a Citroen?" Well, maybe. But by the same logic, you could argue that a Bentley is 'just' a Volkswagen.
The DS 9 has lots going for it. It offers something fresh from the endless kidney-grilled Euro boxes we see everywhere. The German brands have no exclusivity whatsoever nowadays. The DS 9 will turn heads.
There are two trims to choose from.
Entry-level is Performance Line Plus, which includes 19-inch alloys, a black Alcantara interior, a BRM R180 timepiece (a posh clock), keyless entry and start, DS Connect with SatNav and electrically adjustable heated front seats. You also get DS Active LED Vision, which automatically adjusts the headlights to suit the driving conditions.
Rivoli Plus tops the range with a basalt black leather interior, an air quality system, DS Active Scan suspension (which we'll explain later), a reversing camera and DS Drive Assist. What's more, the front seats are ventilated and have massage functionality.
There are three engines to choose from, all of which are 1.6-litre four-cylinders and available with both trims.
PureTech 225 is a turbocharged petrol, producing 225PS.
There are two petrol hybrids with an 11.9kWh battery. E-Tense 225 produces 225PS with a claimed electric-only range of 38-miles, while E-Tense 4x4 360 makes 360PS, claiming a 25-mile electric-only range.
On The Road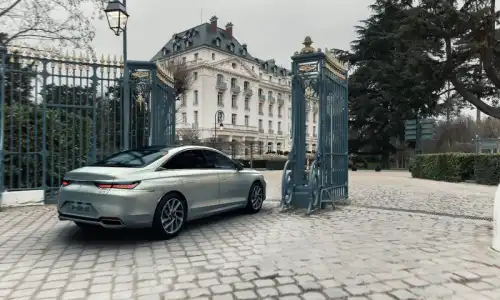 Performance
We tested the E-Tense 225 in Rivoli Plus trim.
At lower speeds around town, the all-electric mode is excellent. It provides enough power to make sufficient progress without giving you so much that you're feathering the accelerator.
As you pick up speed, the petrol engine is called into action. The switchover is seamless, but the unit is noisy and feels strained when you demand a lot of it.
Although 225PS is a decent amount of clout, it's significantly down compared with its rivals. For example, it takes 8.3-seconds to get from 0-62mph (it's 8.1-seconds in the PureTech 225, although the E-Tense 4x4 360 can do it in 5.6-seconds).
We'd have to recommend the higher-spec 360PS engine. However, even at entry-level trim, this ups the price significantly above £54,000 if you're buying outright.
On the plus side of things, the gear changes are smooth and untroubled.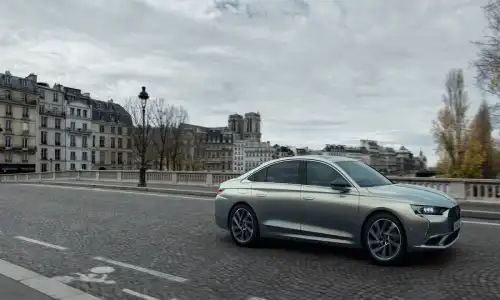 Ride Handling
Our car is fitted with the DS Active Scan suspension. This scans the road surface for lumps, bumps and potholes and then adjusts the dampers to cope with what's ahead.
The tech works reasonably well, but even knowing what's ahead doesn't make it better than a BMW 5-Series. It is more comfortable than BMW's sport suspension, but BMW has its adaptive system, too, which comfortably outclasses it.
Nevertheless, it's still a refined ride. Once the engine settles down on motorways, it's quiet and relaxing. The windows feature acoustic treatment, which helps keep the road and wind noise to a minimum.
Around corners, the DS has plenty of grip. But the car still tends to understeer, and it leans into bends quite a bit, which doesn't give you the confidence to keep your speed up.
It's not a car built for performance, but it's well-suited to longer distances as a motorway cruiser.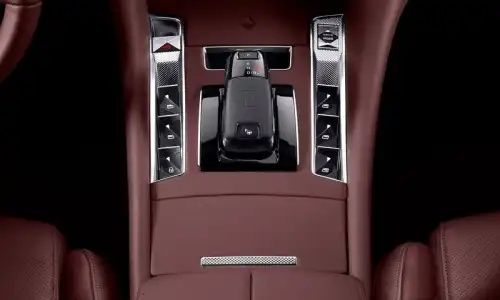 Styling
The DS 9 looks imposing. It has a mean-looking face, with a sizeable Audi-style grille and two thin headlights which slightly angle upwards towards the sides. The lower grille is broken up by two diagonal pillars, which provide space for air intakes on either side.
The DS looks nice from the side, too. It certainly gives off an impression of luxury, with creases along the top and bottom of the doors, the latter showing off the side skirts. The French car looks pacey and, if anything, gives off more of a coupe shape.
The rear is where it really excels, though. The lights swoop around from the sides, thinning out towards the middle. A chrome strip spans the boot, while there's a modest spoiler worked into the bodywork. It somewhat resembles modern-day Mercedes coupes, which lower the number plate, giving off a minimalist look.

In The Car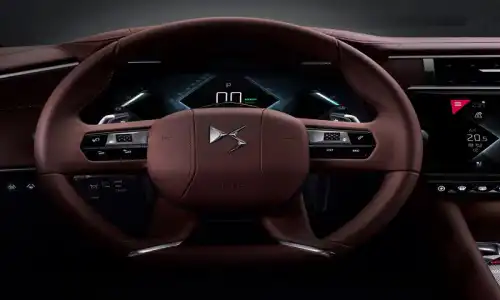 Behind the Wheel
The interior is well thought-out and attractive, if not overly luxurious.
A chunky flat-bottomed steering wheel will be attractive to drivers who want to enjoy their journeys. The infotainment screen bridges itself on the raised edges of the centre console, meaning there's space underneath it to store a phone or wallet.
The infotainment system isn't the best. It's a bit laggy and isn't exceptionally user-friendly. If you're used to BMW's iDrive, then this will do little to tempt you away.
There are plenty of Citroen-inspired features, though. Bizarrely, a couple of buttons – notably for the cruise control and the electric mirrors – are hidden behind the steering wheel.
The interior is pleasant, and there are flashes of silver but not enough of them for us. As a result, it looks rather monotonal, and there's not much in there to break up the dark colours and offer a bit of brightness.
Rear visibility isn't the best, but the reversing camera helps resolve the problem.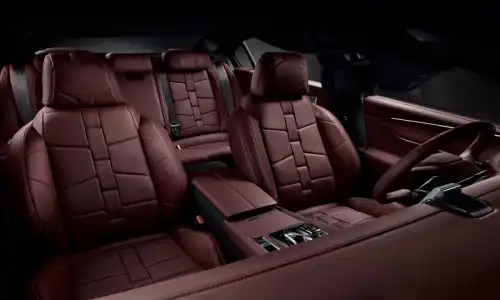 Space & Practicality
There's a good portion of space in the front, which will help you enjoy a comfortable, relaxing journey. Of course, the ventilated seats assist with this, too.
The front seats are pretty big, which limits rear legroom somewhat. However, there's a good amount of headroom in the back, which will make up for that.
Storage space is plentiful, with large door bins on all four doors, although the glovebox could be bigger.
Boot capacity is 510-litres, and this can be increased with the rear seats folded away in a 60/40 arrangement.
If you choose the optional Lounge pack, though, the seats can't be folded down. You'll have to put up with being limited to opening the traditional ski hatch in the middle rear seat.
Boot space is also reduced if you have the Focal HiFi sound system.

Ownership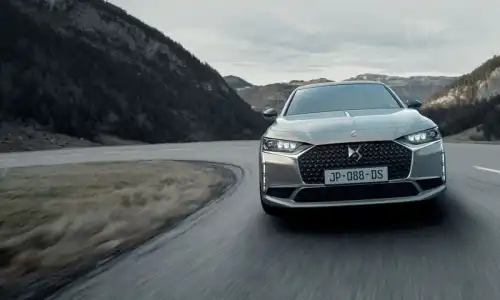 Running Costs
The PureTech 225 will manage 40.4mpg, producing 155g/km of CO2.
However, the hybrids comprehensively beat these figures, with the E-Tense 225 claiming up to 188.3mpg while producing 33g/km of CO2.
These figures are only slightly compromised in the highest-powered variant, the E-Tense 4x4 360, claiming 156.9mpg and 41g/km CO2.
The two hybrids will be the vehicles of choice for their low Benefit in Kind tax, making them attractive to company car owners.
DS also offers a servicing plan for all vehicles for £299 for the first year and £299 for the second year. After that, you'll alternate between minor (£225) and major (£375) services, while a brake fluid change is charged separately at £69, with an MOT costing £45.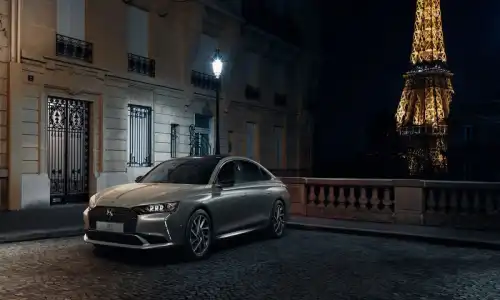 Quality & Reliability
DS is a relatively new brand, so it isn't easy to gauge its long-term reliability.
However, some comfort can be taken from the fact that French cars are becoming more reliable. So much so that some manufacturers are ranking above the traditionally reliable heavyweights of Audi, BMW and Mercedes-Benz.
Also, the DS 9 is based on Peugeot's 508, which has faired reasonably well.
You get a three-year, 60,000-mile warranty for peace of mind, although this is extendable to five years.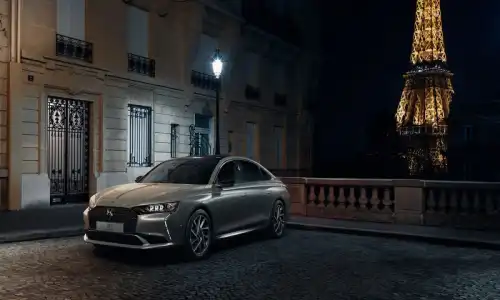 Safety & Security
Euro NCAP haven't safety tested a DS 9 yet.
However, a DS 3 Crossback earned a four-star rating in 2019, scoring 87% for adults, 86% for children and 63% for safety assists. This became a five-star rating (along with scores of 96%, 86% and 76%) with an optional safety pack fitted.
The comparable Peugeot 508 did even better, while most of the features of the safety pack are included in the DS 9.
Park Pilot, which can automatically park the car, is available as a £700 optional extra on the entry-level Performance Plus trim (£400 on the Rivoli Plus).
DS Drive-Assist, a semi-autonomous driving system with adaptive cruise control and lane positioning assist, is included on the higher trim. It costs £700 to add to the Performance Plus grade.

Summary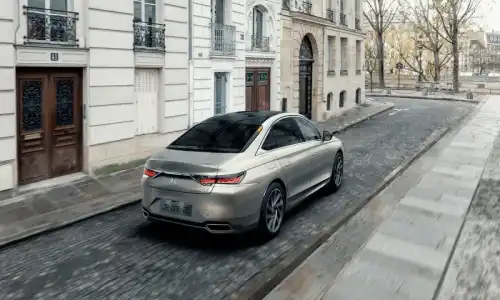 While the DS 9's interior is undoubtedly better than a Citroen, it's nowhere near the German rivals it's hoping to unseat. In addition, the infotainment system is well below the standards most expect of a BMW or Audi.
DS still has a way to go to challenge them, but the hybrids will make attractive company car options. And, although it's not a cheap car, compared with competitors, you'll still be saving a decent chunk of money.
Furthermore, if you like driving head-turners, this will certainly grab some attention.