Pros:
Retro styling that has gained iconic status over the decades

Well equipped with a body style and trim level to suit

Brilliant to drive around town and simple to park
Cons:
Tiny 69hp engine struggled with long steep climbs

Cramped in the back with limited headroom

You can feel quite vulnerable as a juggernaut rumbles past
More On This Car
Take one for a spin or order a brochure
Request a Fiat 500 brochure
Request a Fiat 500 test drive
Introduction
The last time a random stranger waved excitedly at me I was driving a VW Beetle and so were they. I experienced the same reaction while sitting behind the wheel of my mint green Fiat 500 during a recent test drive – it was like I had joined some exclusive club and why not? That's because like the Beetle, and possibly the Mini, the Fiat 500 has never lost its magic.
The car first took to the road way back in the 1950s when it was called the Cinquecento. Then 50 years later, in 2007, the car we now know as the 500, arrived on the scene.
It has developed over the years and there are now even compact crossover five-door models. And for the ultimate thrill, a high-performance Abarth model really cranks up the wow factor. But we are sticking to the little three-door version that made such an impact all those years ago.
On The Road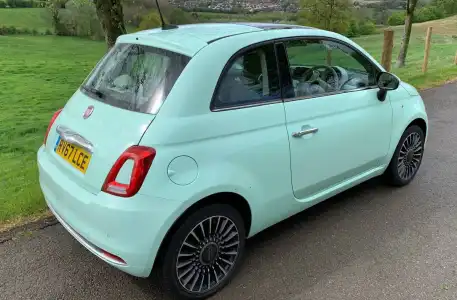 Performance
The standard three-door Fiat 500 is available as a hard-top or convertible and customers can select from three trim levels called Pop, Lounge and S (there are also some limited edition versions available). We drove the mid-range Lounge model with a solid roof powered by a 1.2-litre 69hp petrol engine that delivered 102Nm of torque.
The four-cylinder engine can drive the car, which weighs less than a tonne, from 0-62mph in 12.9 seconds and onto a maximum speed of 101mph.
While these performance stats are not exactly blistering, the acceleration through the five-speed manual transmission feels much sharper. The car whizzes through bends and is brilliant fun to drive on the flat. Come across a slight incline and it copes fine. Come across a long, steep climb and you will find yourself changing down through the gears until you reach second or even first to maintain any momentum. Creep over the top of the hill though and it's fun, fun, fun all the way down. Of course, if it's all-out performance you're seeking, the Abarth models deliver on all counts.
But in reality, the Fiat 500 was developed as a city car and that's where it excels. It's punchy, easy to manoeuvre and with its compact dimensions it squeezes into the tiniest parking spaces.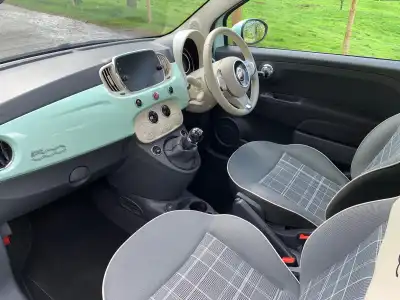 Ride Handling
While the Fiat 500 is certainly nimble out on the twisting country roads, it could never be described as particularly sporty or dynamic. It feels very light as it weaves its way through the lanes and there is just about enough feedback from the steering wheel, although it does feel quite light at times.
Cornering is neatly controlled and there's no sign of any body sway. It feels nicely balanced and composed, but it does appear you are going faster than you actually are.
The car will become somewhat unsettled when pottering along uneven roads and the 500's suspension doesn't exactly shine when it comes to smoothing out any minor potholes.
There is a very effective Dualdrive Power Steering system that, when pressed, offers lighter steering which is ideal for city driving with lots of wheel turning. Then it can revert back to normal as you head out of town again. There is a cruise control setting which is ideal for motorway driving, although the tiny 500 can feel a little vulnerable as larger lorries go thundering past.
Once again though, we are judging this car away from the setting it was developed for. In the city, the light steering and soft suspension are the perfect combination.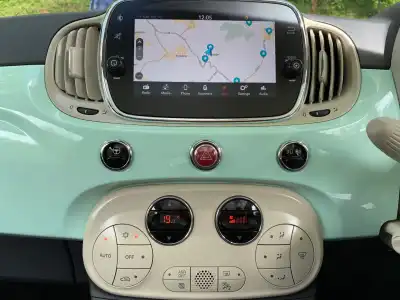 Styling
Without a shadow of a doubt, the three-door Fiat 500 is a true icon. With its instantly-recognisable cute and compact styling, it oozes character and charm. The distinctive design of the Lounge trim includes a fixed sunroof, LED daytime running lights, 16-inch alloy wheels, plenty of chrome trim around the bumpers, windows and exhaust, electrically-adjustable and heated door mirrors plus fog lights.
Our car featured a Smooth Mint pastel paintwork that added £350 to the cost. This resulted in frantic waves of excitement from a young lady approaching in the opposite direction driving a similar Fiat 500 in the same colour. As I said; the Fiat 500 has an iconic status.
The interior is beautifully simplistic in its design and layout with clear, precise instrumentation. Our car featured upmarket grey and ivory check-patterned, two-tone cloth upholstery with '500' stitched into the seat backs. The mint green and cream theme continues to the dashboard and steering wheel giving the car a quirky, yet stylish appearance.
As far as driver refinement goes, the Fiat 500 is not exactly the quietest. The four-cylinder petrol engine with just 69hp can become quite raucous at higher speeds, but when confined to town, it's all more controlled and agreeable. The same applies to wind and road surface noise – in town, it's perfectly acceptable. Crank up the power and it is less sophisticated.
In The Car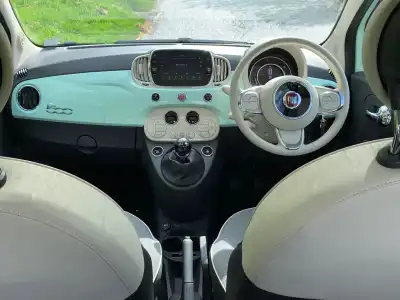 Behind the Wheel
Getting comfortable is simple in the Fiat 500 with ample manual seat adjustment. There is height, but no reach adjustment to the steering wheel, but I soon found a decent driving position.
All controls, dials and readouts are well placed for ease of use and despite the uncomplicated, clutter-free design, there is actually a fair amount of technology to explore.
Our car featured an optional Tech Nav Pack costing £250 that added a seven-inch high definition touchscreen, DAB radio, Bluetooth, rear speakers plus Apple CarPlay and Android Auto to connect a smartphone.
The leather-trimmed steering wheel feels upmarket and features audio controls and there is air conditioning, with straightforward switches.
The gearstick is positioned quite far forward and higher than normal just beneath the dashboard, but this is very practical to use on the move.
Despite its diminutive stature measuring just over 3.5 metres in length, the Fiat 500 offers a very welcoming cabin environment and, even on a dull and gloomy day, light floods through the panoramic glass sunroof.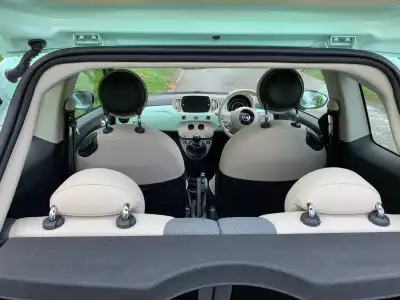 Space & Practicality
Clearly, space and practicality are not areas where a car such as the Fiat 500 is going to score highly. Yes, it's a fabulously practical city run-around that can turn on a sixpence and is so tiny, you feel you could almost pick it up and pop it down in a parking space. So, it definitely has its own fields of expertise.
But as for carrying lots of passengers and their kit, well just forget it. There are rear seats, but the legroom is quite restricted and getting in and out can be a struggle. The doors open fairly wide and the front seats slide forward, but it's not ideal for full-sized adults to clamber in and out on a regular basis.
The boot can hold 185 litres of luggage, a limit that increases to 550 litres with the 50:50 split-folding rear seats dropped down. Elsewhere there is a glovebox, four cupholders, narrow door pockets and a small tray to the side of the gearstick.
Ownership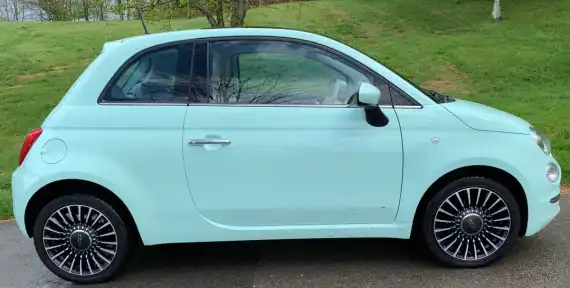 Running Costs
Fiat 500 customers have a wealth of choice these days with the traditional three-door models, convertibles, hard-tops, five-door compact crossover versions and even an Abarth performance car for a more exhilarating performance. There were AWD models but they are no longer available in the UK market.
The traditional three-door version of the 500 is available in three core trim levels called Pop, Lounge and S priced from £12,015 to £15,165.
Our test car, in Lounge trim, cost £13,765, although the final price was bumped up to £15,290 due to a number of optional extras. These included the Pastel Paint, 16-inch alloys (15-inch as standard), a Tech Nav Pack, 7-inch TFT instrument cluster for a digital display, automatic climate control and a rain and dusk sensor.
When it comes to running costs, the 1,242cc petrol model delivered a combined fuel economy of 44.8mpg (WLTP) with carbon emissions of 116g/km. This would result in a first year Vehicle Excise Duty charge of £170 and a payment of £145 each following year.
Insurance rates for the Fiat 500 range from 7 to 11. Our car was in group 8.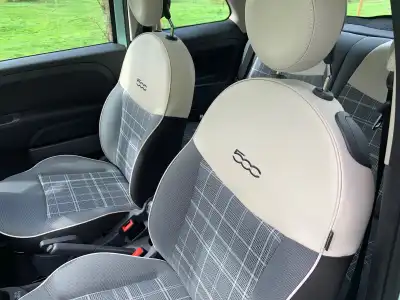 Quality & Reliability
There have been some reliability issues surrounding the Fiat 500 in recent years, but the car does feel well engineered and well put together. The upholstery looks upmarket and the seats feel like they will survive the test of time.
There is a fair amount of hard plastic surfaces throughout the cabin which may prove prone to scratching over time, but this car tends to have a loyal fanbase who are unlikely to be deterred by someone with a sensible head advising about longevity and reliability. As far as the Fiat 500 goes, it's heart-over-head every time.
The car comes with a two-year manufacturer plus one additional year dealer, 60,000-mile warranty.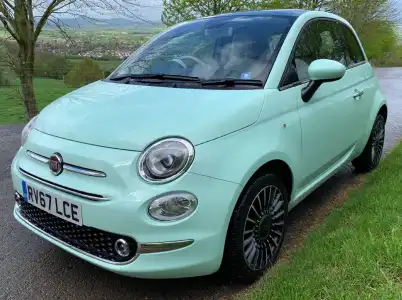 Safety & Security
The fiat 500 only secured three out of five stars when it was tested for its Euro NCAP safety rating. However, the car does come as standard with anti-lock brakes, electronic stability management, hill hold assist, hydraulic brake assist and seven airbags. There are Isofix fixtures too.
When the car was originally tested back in 2007 it was awarded a five-star rating. But the testing process has become much stricter and the fact that the car lacks autonomous emergency braking has not helped.
More On This Car
Take one for a spin or order a brochure
Request a Fiat 500 brochure
Request a Fiat 500 test drive