Pros:
Iconic, retro charm and great fun to drive

Good choice of trims and the option of a cabriolet version

Economically priced and cheap to run with decent range
Cons:
Some rivals go further on a full charge

Cramped in the back

Tiny boot space
More On This Car
Take one for a spin or order a brochure
Request a Fiat 500 brochure
Request a Fiat 500 test drive
Introduction
The 500 EV (or New 500 to give it its official name) is Fiat's first all-electric car and is the third generation of the model that first graced the city streets back in the 1950s. And with the historical theme in mind, Fiat has returned to the 500's original birthplace at the Mirafiori Plant in Turin to build the new car.
Customers can select from three main trim levels called Action, Passion and Icon, as well as a fully-loaded limited-run launch model called La Prima with prices ranging from £22,995 to £29,995. There is also an open-top model on offer in the top three trims priced from £29,145 to £32,995 (before the £3k Government grant has been deducted).
On The Road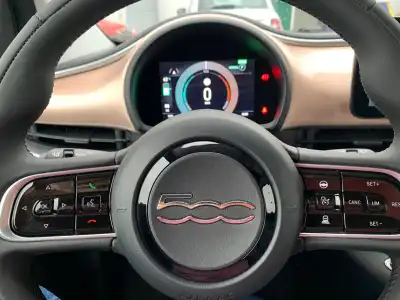 Performance
The new third generation Fiat 500 will no longer be sold as a pure petrol model. Instead, it will be available as a mild hybrid or fully electric car. It is Fiat's first venture into EV territory and buyers have to make plenty of choices before signing on the dotted line.
There is a wide selection of trim levels, a hard top or convertible and also the option of two different battery sizes. A smaller 24kWh unit is available in Fiat 500 Action models with a range of 115 miles, or a 42kWh battery in all models with a greater 199 miles range between charges.
We opted for the 500 Electric Cabriolet in high-end Icon specification powered by the larger 42kWh battery and it didn't disappoint with a 0-60mph sprint time of 9.0 seconds (it feels faster) and top speed of 93mph.
The acceleration out of the starting blocks is super quick with the instant torque that battery-powered cars offer. It fizzes around town but has ample power to tackle faster country lanes and motorways too.
The steering is finger-light which is brilliant in busy town centres with lots of twisting and turning, but a little more feedback would be nice on the faster B roads.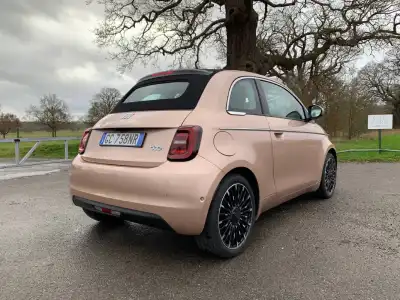 Ride Handling
The front-wheel drive Fiat 500 has always been viewed as a 'fun' car to drive and this latest version is exactly that. It maintains all its historical character but now boasts improved ride and handling along the way.
It feels nicely balanced and although it's never going to be the most dynamic model to hit the streets, it drives beautifully and with the roof down and the wind in your hair, it feels like you're driving at twice the speed you are.
The material roof slides back and forth and also lowers completely onto the boot lid at the press of a button. This process takes about 25 seconds and can be completed at speeds of up to 62mph so you won't be caught out by an unexpected shower. Worth noting too that this 500 Electric Cabriolet is the only fully electric, four-seater, convertible currently on sale.
There are three e-modes to switch through that help you get the most from the EV technology. Firstly, Normal, which is ideal for day-to-day driving. Then there is the Range setting which increases the regenerative braking and means the car can be driven using just the accelerator pedal. And finally, the Sherpa mode which limits the car's top speed to 50mph and cuts off features such as the air conditioning to maximise the battery level.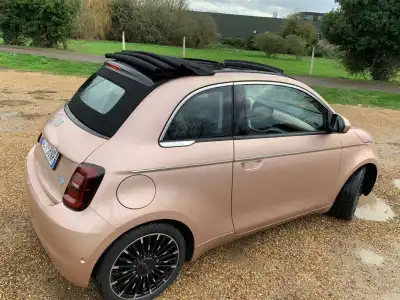 Styling
There's no denying the fact that the Fiat 500 has always been a head turner with its charming character and stand-out design. While the latest generation car maintains all that appeal, it has grown a little, but not so much that it looks out of proportion in any way.
New two-door 500 is 6cm longer and 6cm wider than its predecessor and the wheelbase has also been increased by 2cm which means extra cabin space for occupants. That said rear seat passengers will soon be complaining about the limited leg room.
Our Fiat 500 EV test car looked stunning with its Rose Gold paintwork and the headlights look like bright eyes. LED signature lights, chrome trimmings and 17-inch alloys complete the styling. This is a car that would be perfectly at home on a catwalk.
The interior is smart, modern and feature rich with all the creature comforts you could wish for in a city car. The high-quality fabric seats are upmarket in their design and have been made from recycled materials. And there are a number of Turin skyline and other graphics tucked away in the doors and on the dashboard that are a gentle reminder to the car's heritage.
Driving refinement rather depends on how much respect you give the car. If driven with a little TLC then the comfort levels are good and the noise within the cabin is kept to a minimum. If driven hard, you will be shouting to make yourself heard, especially with the roof down.
The car's effective suspension system does a good job of ironing out most bumps and dips along the way. The ride on 17-inch wheels felt ideal.
In The Car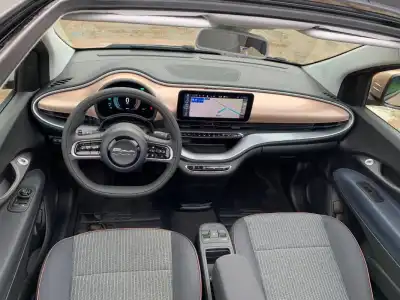 Behind the Wheel
Getting a comfortable driving position inside the Fiat 500 is a simple process with front seats that offer six-way adjustment and can also be heated to fend off the winter chill.
There are no traditional door handles inside the car. You simply press a button to open the door. But there is an emergency handle tucked away in case anything goes wrong.
And there is a wealth of technology to explore. It is the first FCA car to feature the new Uconnect 5 infotainment system which is compatible with Apple CarPlay and Android Auto and can also be used in wireless mode too.
Inside the cabin there is a smart 10.25-inch high-definition touchscreen with sharp graphics, TomTom navigation, a DAB radio, automatic air conditioning, a smartphone wireless charging pad (£130 extra) and a 7-inch digital display cluster.
All the systems are simple to operate on the fly, and controls and readouts are perfectly positioned for ease of use.
The upgrade in technology also introduces a number of new features to the 500 line-up. My Remote allows you to check the battery charge levels from a smartphone and schedule its charging, lock or unlock the vehicle and pre-set the climate control. The My Navigation feature allows you to programme in a navigation route with charge points highlighted along the way. My Assistant will call the breakdown services if necessary. My Theft Assistance tracks the car. My Wi-Fi is a hotspot that connects up to eight devices and, finally, My Car checks the condition of the vehicle from tyre pressures to scheduled service reminders.
Space & Practicality
The Fiat 500 was never that big on space and practicality and that hasn't changed despite the slight growth spurt.
Up front, comfort levels are good without feeling at all cramped. Move into the back though and it's a different story with very restricted legroom. But in fairness to Fiat, this is the norm in most compact city cars.
The boot is pretty tiny too at 182 litres (185 litres on the hard-top hatchback), but will easily accommodate a couple of overnight cases and, with the 50/50 split-folding rear seats dropped, the capacity increases further. Elsewhere, there is a large tray that houses the wireless phone charger, a glovebox, narrow door pockets and a few other handy storage options.
But when focusing on EVs, practicality also covers miles between charges and the ease in which the battery can be boosted. The 500 Electric is available with two battery sizes. The smaller 24kWh unit has a range of 115 miles, while the 42kWh battery boasts 199 miles between charges. These figures obviously depend on the way the car is driven, the weather, the number of on-board systems being used and the amount of regenerative energy that is captured during the journeys.
Charging the 23.7kWh battery from zero to 100 per cent takes just under nine hours on a domestic socket, two-and-a-half hours at a 11kw station and 30 minutes on a 50kw fast charger (0-80 per cent). The 42kWh battery takes 15 hours, 15 minutes (3kW), 4 hours, 15 mins (11kW) and 35 minutes on the faster 85kW charger.
Ownership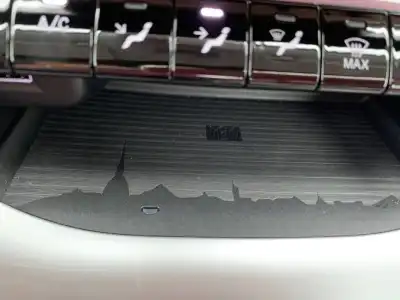 Running Costs
The entry-level Fiat 500 Electric in Action trim with the smaller battery costs £22,995 before the Government's £3k Plug-in Grant has been deducted. The costs rise to £29,995 for the limited-run La Prima model. And the cabriolets, which are available in all trims apart from Active, are priced from £29,145 to £32,995.
Our open-top test car, in Icon trim level, cost £27,645 (including the Government's PiCG). There were a few optional extras too, including special alloys (£500), a smartphone wireless charging pad (£130), an 11kW charging cable (£250) and a parking pack £850)
With zero g/km carbon emissions, there are attractive financial savings for owners as the car will be exempt from Vehicle Excise Duty, otherwise known as road tax.
The New 500 is on sale now with deliveries expected in March. The insurance group rating is yet to be confirmed.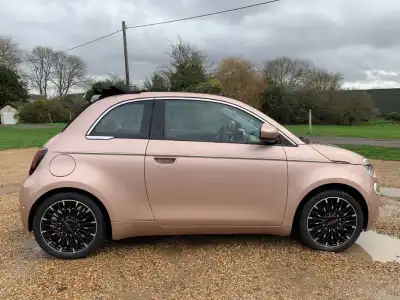 Quality & Reliability
The New 500 looks really upmarket and the interior is very modern and feature rich. The seats have been manufactured in part using recycled materials which is good for the planet. But they also feel very sturdy and well-constructed.
The fabric folding roof works really well and shouldn't pose any problems – after all how much use will it get in the UK anyway!
The New 500 is the first fully electric vehicle designed from the ground up on an all-new platform from Fiat Chrysler Automobiles and is also the first city car to feature level 2 autonomous driving, so there are lots of 'firsts' on this car that we cannot predict the reliability of.
However, the car does come with a three-year, unlimited mileage warranty. And the battery warranty is 8 years,62,000 miles.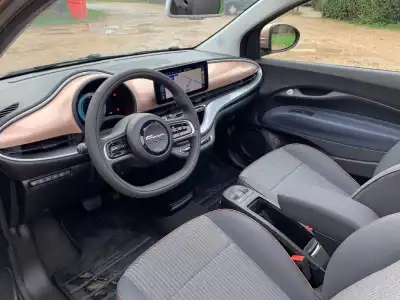 Safety & Security
The New 500 is the first city car to be sold with level 2 autonomy. There is adaptive cruise control with a set speed, set distance from the car in front and lane centring.
Other safety kit on this car includes a rearview parking camera, 360-degree parking sensors and urban blind spot monitors. These compliment the more standard kit such as autonomous emergency braking with pedestrian and cyclist detection, lane control, attention assist and intelligent speed assistant with traffic sign recognition.
There are six airbags as standard along with an emergency call system in the event of an accident.
The car has not yet been tested for its Euro NCAP safety rating.
An alarm system will help keep intruders at bay.
More On This Car
Take one for a spin or order a brochure
Request a Fiat 500 brochure
Request a Fiat 500 test drive