Pros:
It's a stylish car

Fun to drive

Efficient mild-hybrid technology
Cons:
Too small to be truly practical

It can't run on electricity alone

The all-electric 500e is just around the corner
More On This Car
Take one for a spin or order a brochure
Request a Fiat 500 brochure
Request a Fiat 500 test drive
Introduction
Fiat's new 500 Hybrid runs on a mix of petrol and electricity. However, the motor attached to the combustion engine only generates energy when slowing or braking and feeds it to a special battery. This is later used for helping the car start, and it aids acceleration when possible. It doesn't mean the car can run on pure electricity for any amount of time. In other words, this is a mild hybrid – and it makes you wonder why Fiat is bothering. After all, the all-electric 500e is going to be here in the second half of this year. That'll be far cleaner than the half-way house that this version of the 500 is. Anyway, how do I know so much about the model? Well, I was invited by Fiat to drive the 500 Hybrid at its media launch in and around Bologna. It would've been impolite to have refused the offer, wouldn't it?
On The Road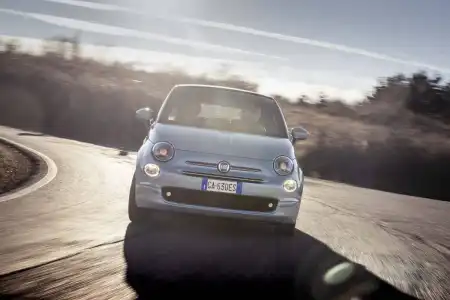 Performance
If you're going to buy yourself a new Fiat 500 Hybrid, choosing which power unit to go for is a piece of cake – there's only one version, and it runs on petrol and electricity. The car houses a 1.0-litre, three-cylinder engine, providing 71ps. I was handed the keys to the Launch Edition model, which is the flagship car in the 500 Hybrid line-up. But performance is the same whichever grade you drive. The 1.0-litre engine, electric motor and battery combo work together to deliver zero to 62mph in 13.8 seconds, and the maximum speed is 104mph. The powerplant is hooked up to a zesty little six-speed manual gearbox, resulting in a fun and funky drive in and out of town. Indeed, the behind the wheel experience is more enjoyable than the figures on paper would have you believe – the 500 Hybrid feels more like a 1.4 petrol.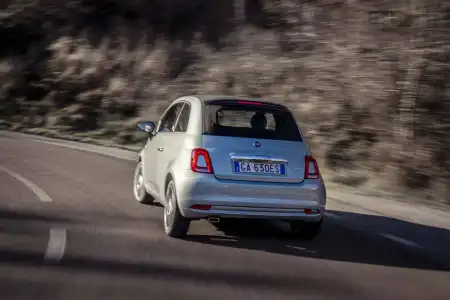 Ride Handling
The size of the Fiat 500 makes it perfect for navigating city streets and for chucking U-turns. It zigs and zags around like it has had too much caffeine, but, boy, is it fun. There's a fair amount of roll in corners – yet the 500 never feels unstable. Sure, you feel like your fillings will fall out over scarred tarmac – but then that's always been the way the 500 rocks. Its short wheelbase makes for a bouncy, bonkers ride, but you're guaranteed an entertaining drive. The steering provides a sense of confidence in urban areas or on longer runs, and parking is a doddle – even in the tightest of spaces. Ultimately, there's not a lot to grumble about - the Fiat will be easy to live with in the real world – whether in Hybrid guise or not. Just think twice about going too far in the 500 – a trip of 100 miles or more might leave you feeling a tad shell-shocked. Don't forget the Fiat 500 is designed as a city car, and that's still the best environment to drive it in.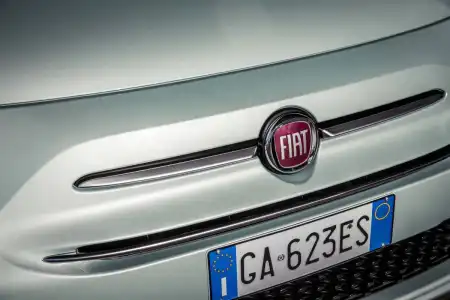 Styling
There is no doubt that the new Fiat 500 Hybrid is a relatively refined machine – for a city car. It's more than ready to take on the new decade with an interior that looks like an Instagrammer's fantasy. The vehicle has always been blessed with Italian chic, and therefore it's appealed to fashionistas over the years. Yet, the 500's cabin is a practical one – well, as practical as you can hope for in a miniature motor. The seats are well-trimmed, and, on the Launch Edition model, they're made from recycled plastic sieved out of the sea. How cool and eco-friendly is that? Noise and vibration aren't that good at speed, though – and tyre and wind roar are a big issue out on the open road. But, that's part of the deal with the 500 – hybrid or no hybrid. Fiat does try to contain these unwelcome noises with decent materials and insulation, but this only works when you're driving at a moderate pace around town. Again, this points to the 500 not really being designed for long distances. The best thing about the hybrid system, though, is that it does help to provide a high standard of comfort when tootling around town. A quieter, smoother restart of the engine is especially noticeable when the car goes into stop/start mode in traffic jams or at the lights.
In The Car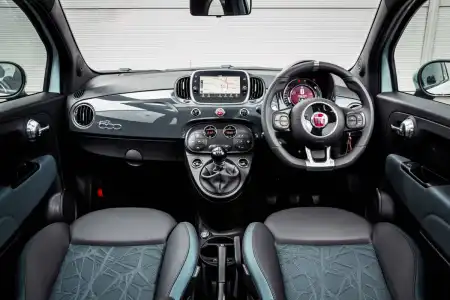 Behind the Wheel
Inside the 500 Hybrid, you get a very familiar design. The layout is minimalist and straightforward, with a steering wheel that feels oversized. The most significant difference compared with the regular 500 is the display in the driver's binnacle. This has been modernised to show things like the battery level, the flow of energy, and the best gear to use to get the greatest efficiency.
Some lovely stylish touches are thrown into the 500 Hybrid – like the satin chrome details on the gearstick and the steering wheel. The dashboard colour is also matched to the outside of the car – in the case of the Launch Edition I drove, the shade is Matt Dew Green – signalling the "greenness" of the car's hybrid technology.
The tech doesn't begin and end there, though. Due to Apple CarPlay, you can hook your iPhone up to the Fiat's seven-inch HD display to get directions, handle calls and messages or listen to music. You can control all this by using the touchscreen, or better still, via voice commands.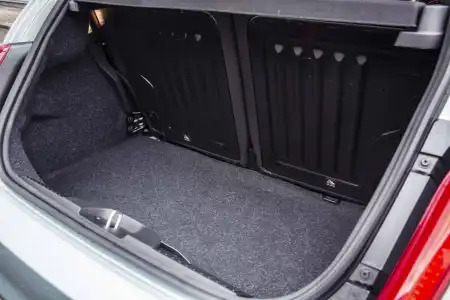 Space & Practicality
The Fiat 500 is, by its very nature, a compact car. It's minuscule, in fact. Yet in the front, there's quite a lot of headroom – and legroom. Well, the legroom is fine as long as you don't have an adult sitting behind your seat. In the back, taller occupants' will find their knees up by their ears, and their skulls will skim the headliner. Fortunately, though, Fiat has designed some hollows in the side panels, where elbows can at least find a place to rest. I'm not saying it's impossible to get two adults in the rear – indeed most people will handle a short buzz around town crammed in there - and it's cool for a couple of small kids and their obligatory child-seats. That said, the boot is only 185-litres, so, if you're a new parent, make sure you don't buy a massive pushchair for your tot. If you do need more room – and you're not carting people around in the back, then you can fold the rear seats down, liberating 550-litres of cargo capacity. That makes the Fiat 500 a car you still take stuff to the tip in – just! Oh, but do remember that if you like a bit of sun on your bonce, the 500C convertible model's boot is even smaller at 182-litres.
Ownership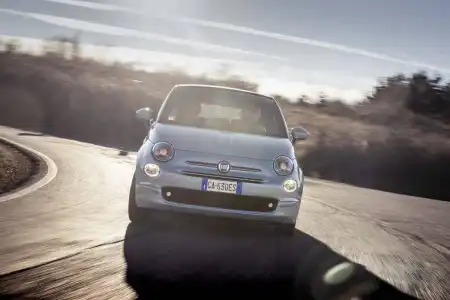 Running Costs
As well as buying or leasing the 500 Hybrid for its cute looks and its fashionable interior, you'll want it for its efficiency. It does just over 53mpg, and it pumps out 88g/km of carbon dioxide. The minimal emissions are due to the mild-hybrid technology the 500 Hybrid employs – something that manufacturers are bringing in more and more to prepare us for full electrification. Speaking of which, Fiat will be ushering in its all-electric 500e in the latter half of 2020.
Anyway, the hybrid system works like this: The Fiat's 1.0-litre petrol unit is linked to a special battery and an electric motor. The motor amasses energy during braking and deceleration, then dumps it into the battery. This electrical power goes on to restart the city car's engine after it briefly switches off in, say, traffic jams, and to boost it when under acceleration.
Compared with the 500's outgoing 1.2-litre powerplant, the mild-hybrid tech certainly makes a difference when it comes to efficiency – especially when you consider CO2 emissions have been axed by up to 30 per cent.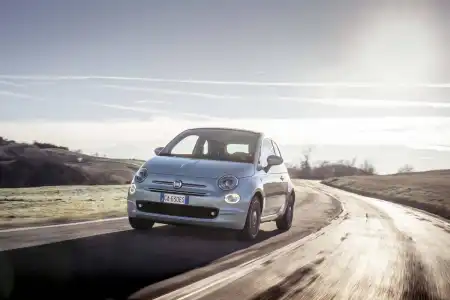 Quality & Reliability
The Fiat 500 has always been the go-to choice of transport for those wanting stylish city transport. The fact it's been around in one shape or another since 1957, shows Fiat must be doing something right. The 2007 and onwards new 500 is a proven vehicle, although the hybrid system isn't. That said, other tech within the Fiat is already used elsewhere.
What's more, there aren't any major worries when it comes to overall Fiat quality. Most of the firm's modern vehicles, especially the 500, have a good enough name, and they've borne this out over recent years.
As with all brand-new Fiats, the 500 also comes with a three-year/100,000-mile warranty. So, if you keep the city car for three years, then you can be assured of anxiety-free motoring knowing the motor is covered against any defect. In addition, insurance is cheap on the 500 - and the model tends to hold its value due to its chic image.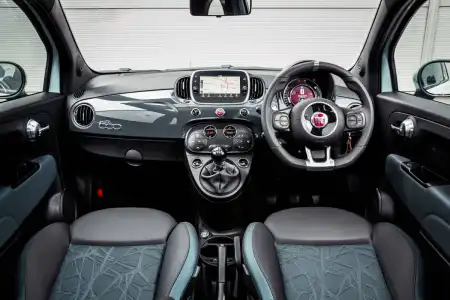 Safety & Security
The Fiat 500 Hybrid is teeming with technology, helping to safeguard you and your occupants. There are seven airbags, and other safety aids to help take care of you in the event of an accident. These include ABS, electronic stability control and electronic brake distribution. What's more, the 500 proudly wears a five-star safety medal, awarded after Euro NCAP put it through rigorous crash tests.
More On This Car
Take one for a spin or order a brochure
Request a Fiat 500 brochure
Request a Fiat 500 test drive