Pros:
Impressive cargo volume

Spacious and comfortable cabin

Well-equipped at all levels
Cons:
Expensive compared to diesel twin

Payload limits are a little low

Dated infotainment
Introduction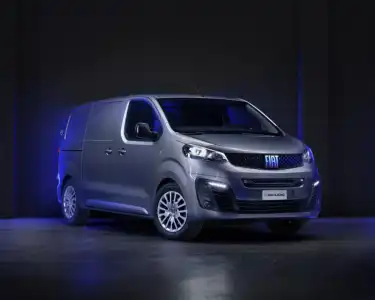 Honestly, you're looking at a Fiat in the pictures. It may look a lot like a Peugeot e-Expert with a Fiat badge stuck on the front, but… well, that's entirely accurate.
After a long absence, the Scudo has been returned to the Fiat lineup. This time, under Stellantis ownership, the brand has taken the quick and easy way of filling its commercial vehicle range by taking advantage of the Stellantis stockroom. The result is a van that's so closely related to the Citroen e-Dispatch, Peugeot e-Expert, Toyota Proace Electric and Vauxhall Vivaro Electric that choosing between them will come down to the finest details.
The Ford Transit Custom is the elephant in the room, selling more than the five vans above combined, but that's only true for diesel-powered models. With no electric model from Ford — yet — Fiat has an opportunity to steal a march on its rival.
Living With The Fiat E-Scudo
Despite being a new model, the basic underpinnings of the Fiat have been around wearing one badge or another since 2016. It doesn't offer anything particularly new, not least because it's all been seen before on its siblings, which means there's a 136hp electric motor under the bonnet. This drives the front wheels, with a 75kWh battery pack hidden under the floor to provide energy.
When running empty, there's plenty of power available, even for cruising along the motorway. Find a suitable road on the continent, and it'll reach 80mph. Hit the M25, and driving an electric van is almost relaxing, as the lack of vibrations and stop/start interruptions relieves much of the stress of slow-moving and queueing traffic. As with all electric models, there's no gearbox as such, which also means there's no clutch pedal to work.
Under normal circumstances, you don't get all 136hp, with the range-extending software limiting your use of power a little. Pressing a button to switch on Power mode unlocks it all while, conversely, an Eco mode cuts performance significantly. Arguably too significantly, as you'll end up overriding it to make any progress.
What does grate after a while is the offset driving position, with a steering wheel offset to the left. If you're fit and healthy, you may never notice it, but those with bad backs — something many people who jump in and out of vans and lift heavy cargo suffer from — might find it uncomfortable for longer journeys.
The rest of the cabin is fine if unremarkable. It's, again, identical to its siblings, so you'll spot the clear analogue instrument panel lit with blue LEDs and the too-small 7.0-inch infotainment screen. This includes a DAB radio as well as Android Auto and Apple CarPlay connectivity, which is handy as there's no built-in navigation. The USB port is lower down on the dashboard, underneath the air-conditioning controls and ancillary switches, with a small shelf next to it that looks like an attractive place to put your phone. It's not, as it's way too small for any modern smartphone and will see your expensive bundle of tech ejected onto the floor at the first corner.
There's plenty of space, even for three people, although the middle passenger will complain about the gear selector hub protruding into their knee space. That's not a situation limited to the Fiat, though, with countless vans suffering the same fate.
There are two specifications to choose from; the unimaginatively named 'Standard' model and the higher-specification 'Primo' trim. We had the latter, but both are well equipped, with the infotainment system, air conditioning, heated door mirrors, rear parking sensors and cruise control fitted to all E-Scudos. The Primo model adds a rear camera, front fog lights, smarter body-coloured bumpers, larger 17-inch wheels, and a clever passenger seat with a load-through slot from the cargo area. You'll pay £1,540 extra for the Primo.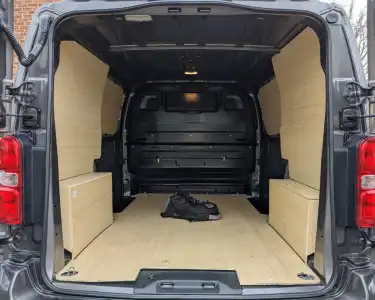 Space & Practicality
You only get one roof height on the E-Scudo, with two body lengths. The shortest model provides a load bay of up to 2,017mm long and 1,618mm wide, with the longer L2 model extending the length to 2,365mm. The internal height is 1,337mm for the L1, with the L2 gaining an extra 2mm at its peak. Ultimately, you'll be able to squeeze 5.3m3 of cargo into the L1 and 6.1m3 in the longer L2. Primo-level vans come with a load-through bulkhead for carrying longer items, although you have to give up your passenger seats to use it. The clever system extends load lengths to 3.67m (L1) or 4.02m (L2), although those loads need to be quite thin.
Sliding doors on each side and a pair of barn-style rear doors that open to 180 degrees make access easy wherever you've parked.
Helpfully, the van stands at just 1,895mm tall, which means it'll be able to get into the vast majority of multi-storey car parks or other low-roof locations without any problems.
Those dimensions are the same in the diesel-powered models, too, which is a credit to Stellantis; finding space for a large battery pack without interfering with cargo volume isn't easy.
It has, however, affected payload limits. At 987kg on our Primo spec model in L2 form, it's some 300kg lower than a diesel model. At its best, the shorter L1 E-Scudo in Standard trim can take 1,014kg of cargo. Towing limits are set at one tonne, which is well below its conventionally fuelled twins.
Ownership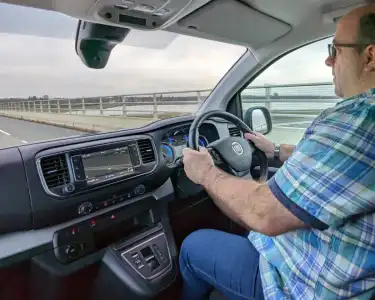 Running Costs
The elephant in the room is the list price of the E-Scudo, with Fiat asking £39,510 plus VAT for the entry-level model, rising to £46,190 plus VAT for the van we were testing. That's around £15,000 more than a regular model, which is reflected in monthly leasing and PCP rates, too.
However, there's much to be saved in running costs, and maybe enough to cover the £200 or so a month extra you'll need to pay. The 75kWh battery in our L2 Primo van gives a 201-mile range, extending to 284 miles if you stay in the city. Whilst that's optimistic for a long motorway run on a cold day when fully loaded, it's enough for most people to cover a day's work.
It'll cost about £25 to fully charge from empty when plugged into a home charger, and even less if you can find a suitable EV-centric tariff. Plug into motorway rapid chargers, and it'll cost more, but a 10-80% charge won't take long, at just over half an hour.
A lower-capacity 50kWh battery pack is available, dropping the range to 139 miles but saving £4,280 off the list price.
Verdict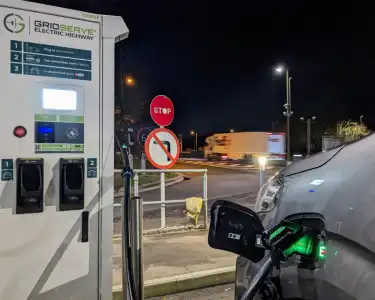 The Stellantis quintet of medium vans have proven popular over the last seven years, and with good reason; they're sensibly sized, have good cargo volumes and impressive payload limits, and are spacious and comfortable for drivers.
The Fiat E-Scudo is more of the same, which is no bad thing. It's feeling its age in a few areas — that infotainment system is dated, slow and small — but remains on a par with its rivals in most areas.
Whether the efficiency gains from the electric powertrain are enough of a draw to balance the extra cost of buying or leasing a van is one you'll need to sit down and work out. Don't simply discount an electric van, though, as you might be surprised at how flexible and capable they are.
If it is right for you, you've got one more problem. Do you go for the Fiat or one of the other badges that adorn the same van? If you're leasing or intend only to keep the van for a few years, pick the best price. If you're an owner-operator or small business looking at keeping it for an extended period, then the identical Toyota Proace Electric might be a slightly better option — instead of a three-year warranty with the Fiat E-Scudo, Toyota will extend your warranty every time you service the vehicle, right up to a maximum of 10 years.