£21,495
Pros:
Enthusiastic engine and glorious handling

Impressive comfort and high equipment levels

Strong value for money
Cons:
Autonomous emergency braking as an option
More On This Car
Need more information?
Request Dealer Contact
Introduction
The outgoing Fiesta ST was one of the most loved cars available. It was fun, sensibly priced and handled better than anything else in the sector. That combined with small-hatchback practicality and reasonably low running costs just added to its strengths.
This Fiesta improved on every area of the old one, although it's not quite as entertaining to drive as the previous generation. It's more grown up, certainly, and far more refined than many of its rivals, but something got lost when the seventh generation car appeared.
Now it's time to turn it into an ST, which means adding a 200hp engine, some clever suspension and a hefty dose of attitude.
On The Road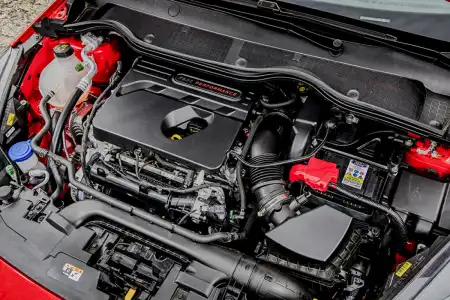 Performance
There's a 1.5-litre three-cylinder petrol engine at the front of the Fiesta, with a turbocharger bolted on. That produces a very healthy 200hp that, in what is a relatively lightweight car, translates to a 0-62mph dash that's completed in just 6.5 seconds. Where roads, and laws, allow, it'll carry on to a surprisingly fast 144mph.
The engine reacts immediately to throttle inputs, with revs rising rapidly. That necessitates some quick gear changes, with the six-speed manual transmission having a smooth and slick mechanism.
It all combines to encourage you to explore the range of the engine, where you'll find it to be a zesty, flexible and ultimately entertaining unit.
Fortunately stopping power matches the performance from the engine, with huge 278mm vented disc brakes shedding speed at a pleasingly high rate. The pedal feel is lovely too, allowing continuous modulation of braking power right down to a stop.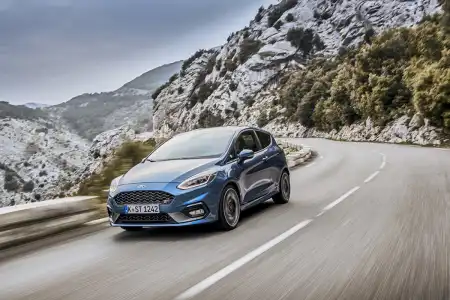 Ride Handling
Ride quality and handling are two sides of the same coin, but it's difficult to excel at one without affecting the other negatively. Somehow though, Ford has managed to throw both heads and tails at the same time, with the ST being unusually cosseting on the road. Yes, it's firmly sprung, but somehow it absorbs almost every bump and surface change.
The handling is something else though. The level of communication from the front wheels is incredible, with information on the road surface reaching your hands instantly. The rear suspension transmits what's happening right to the base of the seat, where everything combines to give you an almost telepathic understanding of exactly what grip you have available at each corner of the car.
After revelling in the mid corner grip, push the throttle down and the ST simply refuses to understeer and, counter intuitively, actually tightens its line slightly. There's an optional limited-slip differential fitted to the front of the car that explains that behavior (and it's worth spending the £850 to add it to your car) and also allows you to adjust the line of the car using just your right foot. Lift off and the rear end swings slightly wide, offering a perfectly balanced drift that straightens a curve and encourages you to seek the next curve, the next piece of entertainment.
In a nutshell, it's good. Very good.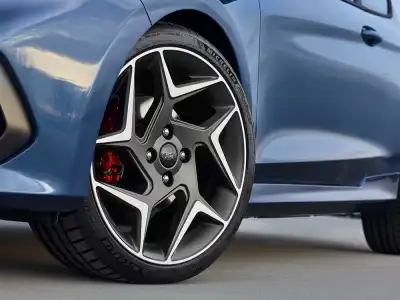 Styling
There have been no compromises made to the rest of the Fiesta in turning it into an ST. The cabin is the most refined in the sector, and arguably from a sector or two above as well.
You can't help but have some tyre roar, but it's not intrusive and soon fades into the background. When cruising along, wind noise is virtually non existent while engine noise is muted. However, step hard on the throttle and a backing track of digital engine noise boosts the rumbly tone in the cabin, artificially making it sound and feel even quicker. It remains entirely normal outside though, so you won't upset any neighbours.
Sporty Recaro seats are firm but utterly supportive, allowing you to relax on longer journeys, using the DAB radio and impressive sound system keep the outside environment at bay.
In The Car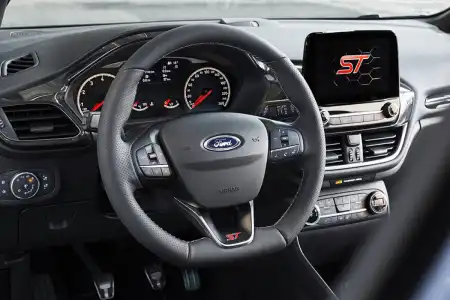 Behind the Wheel
It's all very Fiesta-like in the cabin, which is no bad thing at all. Getting comfortable in those Recaro seats is easy, and the steering wheel has a huge range of adjustment. It sits in front of a clearly laid out instrument binnacle, but your attention will be drawn to the huge eight inch touchscreen that stands proud from the dashboard in the centre.
This touchscreen controls almost every part of the audio and navigation systems in the car, with next to no physical buttons to use instead. It's easy to use, is extremely clear, and includes voice control. This is a tad hit and miss, but far better than the system in other similar cars. Thankfully, there's also Android Auto and Apple CarPlay in place, so you can just stick to systems you know well.
Elsewhere there's an air of quality about the cabin, with some lovely material choices and plastics that aren't usually found in a car of this size. Dotted around are carbon effect trim pieces and ST badges to remind you that this is the sporting version, but it's really just the already excellent Fiesta with a bit of added bling.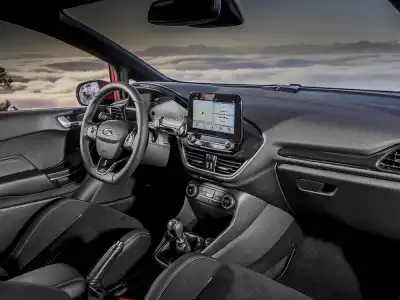 Space & Practicality
Practicality takes an immediate hit as Ford has revived the three-door body shell for the Fiesta ST. You can specify rear doors, but they'll cost extra and add a little weight to the car, but however you make your way into the rear seats you'll find them surprisingly spacious. There's really only room for two, even if it's just children, but nobody will be squeezed too tight. There are no complaints up front, where there's plenty of width and a wide range of adjustments for the seats and steering wheel.
The boot is a decent, if not class-leading, size, but the opening is wide and the lip to lift things over is quite low.
Overall, it's not quite the best in class, but it's up towards the top so there's little to gain from looking elsewhere.
Ownership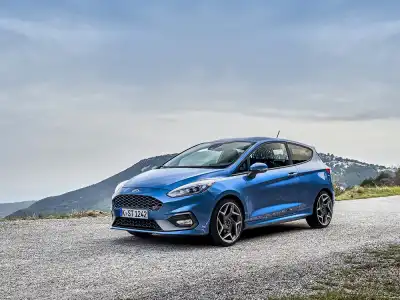 Running Costs
The purchase price of the ST is impressively low, while residuals should be strong, so there's every chance of getting a cracking PCP deal to buy the car with low monthly payments. However, insurance is likely to be rather expensive and, despite the fuel economy claims of 47.1mpg, there's every chance that your right foot will disagree and send the figures lower.
That said, the three-cylinder engine has a party trick - when it's not needed to provide all the power, it can shut down the middle of the three cylinders and operate as a more fuel efficient two cylinder engine. The result is a 20% improvement in economy.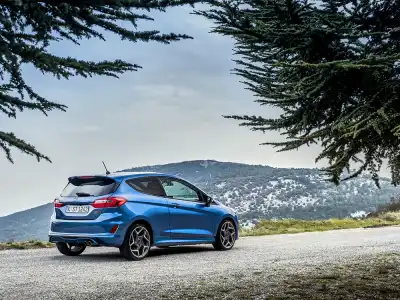 Quality & Reliability
Everything feels incredibly solid in the Fiesta, ST or otherwise. It's stepped up a rank or two in terms of perceived quality, and there's no reason to doubt Ford's ability to screw a car together - they've been doing it long enough!
There's a three-year or 60,000 mile warranty with every new Ford, and that comes with one year's breakdown recovery as well, should the worst happen.
Maintenance should be affordable though. There's a Ford dealer in virtually every town, and no end of independent specialists who'll be able to help out.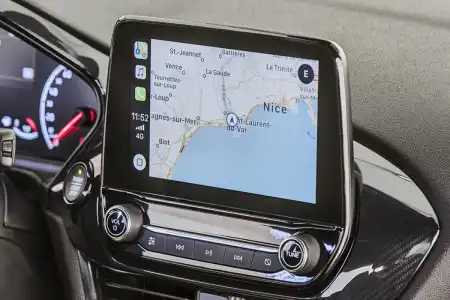 Safety & Security
The ST is simply a development of the Fiesta, and that was tested by EuroNCAP last year. Thanks to strong protection for both front and rear passengers, the car scored the maximum five stars.
However, while there are some basic safety features fitted as standard, such as lane keeping assist, traffic sign recognition and a speed limiter, even this top-of-the-range ST 3 leaves autonomous emergency braking and blind spot warning on the options list.

Find out our latest offers for used Ford Fiesta.
More On This Car
Need more information?
Request Dealer Contact