Pros:
Surprisingly comfortable

Surprisingly agile

Surprisingly frugal
Cons:
No hybrid power for the hatchback

Interior materials feel cheap and brittle

Hybrid falls short of expectations
More On This Car
Need more information?
Request More Information
Introduction
It's been almost six years since the latest Mondeo arrived in the UK, and it was already a couple of years old at that point - it had been sold in the US for some time before, where it's known as the Fusion.
In the years since, every single rival has been replaced and refreshed, risking leaving the Mondeo looking and feeling dated. It's a credit to the Ford of Europe team, who led the styling on this generation, that it still looks reasonably fresh.
That's been helped by a nip and a tuck in 2019 but, in a world that's moved on, can a large saloon car compete against premium-badged rivals, an explosion of SUVs, and stylish new mainstream competitors? The answer might just surprise you.
On The Road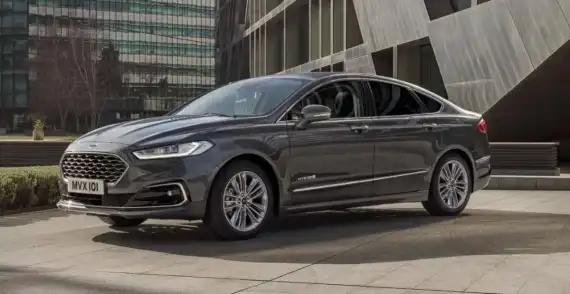 Performance
Diesel's decline hasn't hit the Mondeo yet, where your choices of traditional engines consist of just a 2.0-litre diesel. You can choose between a 150 or a 190hp option though, and it's the 190 that's obviously the quickest choice.
Sprinting from zero to 62mph takes as little as 8.9 seconds. Not enough to tear the skin off your face, but fast enough to join a motorway without fear. However, drop to the lower power model and you only add 0.8 seconds to that time, which is still plenty potent enough for most.
That's thanks to the 400Nm of torque on the 190hp model only dropping by 50Nm on the cheaper 150hp model. The lower output is the only model to get a choice between a six-speed manual or eight-speed automatic gearbox, as it's all-auto higher up the food chain.
Then there's the 2.0-litre petrol hybrid option. At 187hp, outright performance is similar, but lower torque figures and a CVT gearbox makes it less of an appealing prospect for those that like to make swift progress.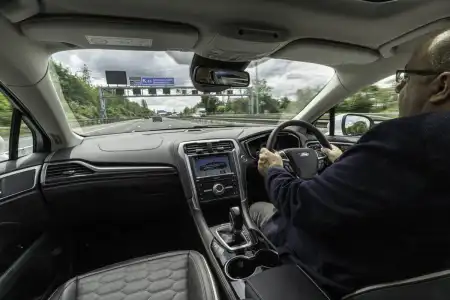 Ride Handling
There's nothing fancy going on under the skin of the Mondeo. There's no adaptive suspension, no torque vectoring, and no hydraulic bump stops. It's just springs and dampers tuned by the same engineers behind cars such as the Fiesta ST, Mustang and Focus RS.
Which means it's impressively agile. Despite being the best part of five metres long, it turns into corners enthusiastically, doesn't roll significantly through the corner, and remains well balanced right up to the point where you push just that it too far. Despite that zestiness, it's also stable and secure at high speeds.
When you've settled onto the motorway, you'll struggle to think of another car that rides more smoothly and serenely. Volkswagen Passat? Not even close. Mercedes C-Class? Possibly, but not in AMG Sport trim. This Vignale test model has huge 19-inch wheels, which add a very slight edge to the ride, but take the smaller wheels on lower models and it'll be the most comfortable thing this side of a chaise lounge.
Choose ST-Line trim and you'll get stiffer sports suspension, which doesn't ride as well and adds little to the handling. It feels more sporting, but misses the point somewhat.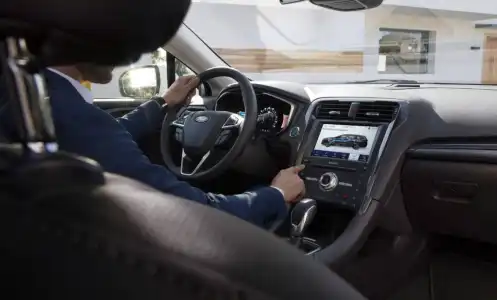 Styling
Cruising at motorway speeds is smooth and refined, but the automatic gearbox clunks and shunts its way through gears to get there, while those choosing the hybrid option will find the switch between petrol and electric power isn't particularly smooth.
The diesel engine is smooth though, and pleasingly quiet. There's little in the way of vibrations that make their way through to the cabin, and wind noise is kept well at bay, but tyre roar can creep in at higher speeds.
That's mitigated on the Vignale trim level, as that includes active noise cancellation technology. It's like wearing a car-sized pair of Bose headphones, playing out soundwaves that cancel out the drone of the road. It's magnificent, and makes the cabin environment almost eerily quiet.
In The Car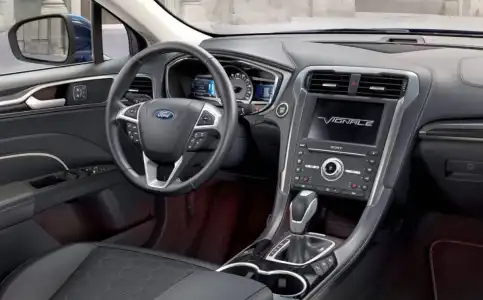 Behind the Wheel
Big, comfortable seats and lots of room. That's what strikes you on first getting into the Mondeo, but you'll soon be distracted by slabs of dreary plastic and faux-aluminium. Things get better on the Vignale trim, which covers much of the plastic with leather, but there's no getting away from the fact that the interior isn't as classy as you'll find in BMW or Audi.
The instrument binnacle is clear and pleasant, although the digital displays in the middle can be a little small, and the remaining controls around the car are clear and usable. The latest Ford Sync 3 infotainment system sits on top of the centre stack, showing off its ease of use and flexibility, including Android Auto and Apple CarPlay connectivity, but also its rather lacklustre graphics and slow responses.
Only the Vignale model has a rear-view camera, which is a shame as the Mondeo's bulk can make placing the car a little difficult as none of the extremities can be seen from the driver's seat. Still, that's not a complaint only the Mondeo suffers from.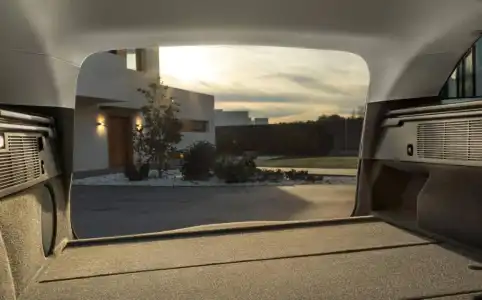 Space & Practicality
You'll find more room in the Mondeo than most other cars, thanks to its near 5m length and relatively short bonnet. That allows the cabin to be stretched as far as possible, and that shows in the acres of room available to front passengers.
The same holds true in the rear, mostly. Legroom is generous, but you'll find a little more in a Skoda Superb. Beyond that, few will run out of headroom or shoulder room. You can even fit a third adult in, although the middle seat isn't really designed for anything more than a short journey.
Boot space is significant, with 654 litres of capacity in the hatchback while the estate gains an extra 101 litres. Folding the seats down leaves a flat floor and extends the capacity to 1,446 and 1,630 litres respectively.
Opt for the hybrid estate and you do lose a little capacity, as the battery pack is hidden under the boot floor. At 633 litres, there's less room than in the regular hatchback, but you do gain the flexibility offered by the estate.
Ownership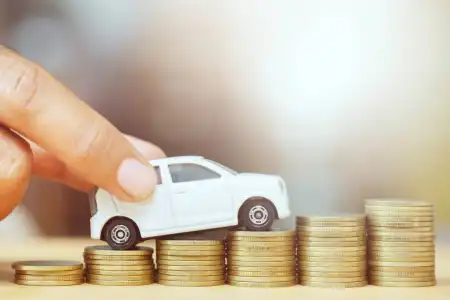 Running Costs
The Mondeo's biggest problem is depreciation. As a mainstream model (even though so-called premium models outsell it) it just doesn't have the badge that second-hand buyers want, and that hits leasing and PCP costs hard.
However, it's exceptional value for money. The range starts at £24,930 (you can buy a Fiesta for more than that!) which helps redress that balance. Company car drivers also benefit from a lower tax bill thanks to that low list price, even if emissions of as high as 127g/km from the diesel models mean a 32% BIK rate.
Hybrid models such as this test car suddenly start making more sense here, as the BIK rate of no more than 23% helps soothe the pain of the so-so performance and refinement.
Fuel economy of around 50-56mpg is promised from the diesel models, and just under 50mpg for the hybrid.
Quality & Reliability
Despite lacking a premium badge, Ford does significantly better than its German rivals in the Auto Express Driver Power survey, finishing ahead of Audi, BMW and Mercedes. It's not great news though, as the brand still finished in the bottom half of the table.
Results were slightly improved in the JD Power Vehicle Reliability Study, where Ford once again beat the German trio, but also edged into the top half of the chart.
With a dealer in virtually every town, there should be no issues with getting any niggles sorted under warranty. Ford provides every Mondeo with three years of cover, but it's limited to just 60,000 miles - that might not be enough for some high-mileage company users.
It's possible to extend the warranty to five years, with a 100,000-mile limit.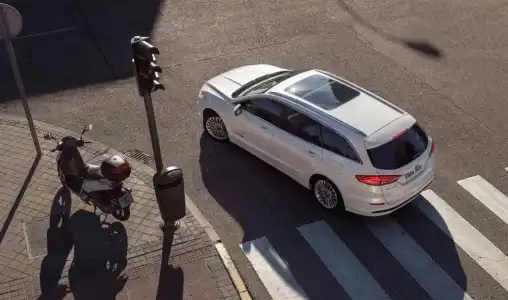 Safety & Security
Last year's revisions to the Mondeo meant Euro NCAP wanted to take another look at crash testing it. At its launch, the car scored the full five-stars and, despite a tougher test in 2019, the Mondeo still got every star. Adult protection was particularly impressive, with an individual rating of 96%.
Every Mondeo comes equipped with an array of safety technology, including stability control that includes trailer sway control (apart from the Hybrid), pedestrian and cyclist detection, and automatic emergency braking. There are also parking sensors front and rear, cruise control, lane-keeping assist, traffic sign recognition, and a heated windscreen.
Blind-spot detection and adaptive cruise control are available as options on every model.
More On This Car
Need more information?
Request More Information