From £37,645
Pros:
Unmistakable looks will draw positive attention wherever you go

Handling is much improved thanks to new suspension system

Nothing sounds quite so good as a naturally aspirated V8
Cons:
Still can't match European rivals dynamically

Running costs can be high
More On This Car
Need more information?
Request Dealer Contact
Introduction
The word iconic gets thrown about a lot when it comes to cars but among the handful of vehicles that truly deserves the label is the Ford Mustang. The model kicked off the pony car revolution 51 years ago, blending looks and power with a price low enough to make it accessible to blue-collar workers across the United States. Huge sales numbers and starring roles on the silver screen helped cement its legendary status but for most of its life the Mustang remained a purely America product, denied an official release in Europe.
In 2016 the Mustang was finally put on sale in Europe, specially tuned and equipped to meet European drivers' demands. Now, for 2018 it's been updated. On the outside a front splitter, revised grille and lower bonnet with integrated air vents sharpen the front end looks and there are LED headlights and fog lights. At the rear, the tri-bar tail lights have also been updated with LEDs and the bumper and diffuser have been remodelled.
The changes are noticeable in the metal but do nothing to detract from the Mustang's instantly recognisable profile. Styling revisions are complemented by a selection of new colours and wheel designs plus the option of a rear spoiler.
On The Road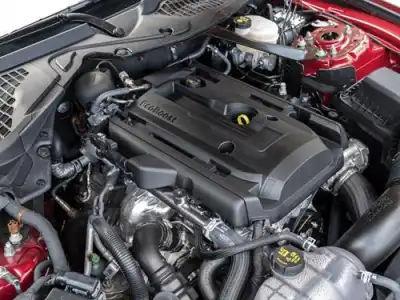 Performance
The Mustang's engine line-up – comprising a 2.3-litre EcoBoost four-cylinder and a 5.0-litre V8 – has been carried over from before but with changes to both.
A fuel particulate filter which makes the EcoBoost cleaner has robbed it of a few horsepower – down from 306bhp to 286bhp. That's still a healthy amount of power to be putting through the back wheels and the EcoBoost has no problems making swift progress. Matched to the 10-speed automatic, in the fastback it'll reach 62mph in 5.5 seconds and rattle on to 145mph.
The 2.3-litre also feels more responsive at lower revs than the 5.0. While the V8 delivers its best further up the rev range, the twin turbos of the four-cylinder engine spin up quickly and offer more immediate torque.
Unlike the Ecoboost, the V8 in the GT models has been given more power thanks to new injection technology. Now rated at 444bhp and with 529Nm of torque, it will dispatch 62mph in 4.3 seconds for the automatic fastback and 4.5 for the convertible.
It might take a moment longer to deliver its performance than the EcoBoost but when it does the V8 is a glorious thing, roaring up to 7,000rpm and beyond with the muscular shove and aural drama you expect from a naturally aspirated V8.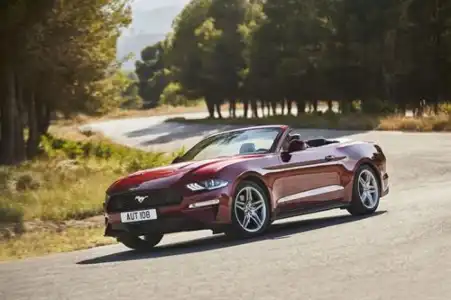 Ride Handling
The first generation of "European" Mustangs had their suspension specially tuned to give a firmer, more controlled ride than American models but, nonetheless, they lagged a long way behind true European sports cars.
For 2018 Ford has revised the standard passive suspension but also added the option of a MagneRide adjustable system. This uses electromagnets and special fluid containing iron particles to instantly change the damping resistance depending on road and driving conditions. It's a big improvement over the old model, offering far greater body control, especially on tighter, twisting roads.
There's no getting away from the fact that this is still a long, wide and heavy car. While it's a better, more engaging car to drive than before it's still less composed than more expensive sports coupes from Germany and beyond.
On standard 19-inch wheels the ride over smooth surfaces is pliant and comfortable – ideal for long-range cruising – but even with the clever suspension it can get overly firm on broken-up urban roads.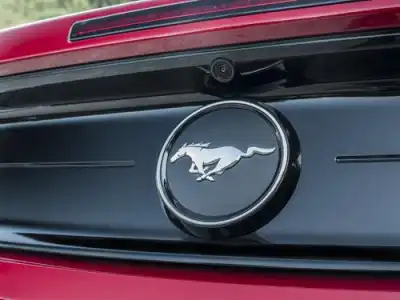 Styling
We only managed to test the drop-top version of Mustang – something about being in sunny southern France made choosing a hard-top just unthinkable.
Obviously, in this guise there's a fair amount wind noise but even at motorway speeds with the roof down you don't have to shout to be heard. You won't be fooled into thinking you're in a hard top when the fabric roof is up but it does a good enough job of isolating you from the wind and road noise to make it a realistic choice for long-distance journeys.
Part of the joy of driving the V8 is, of course, the deep burble it produces and you don't want to be too isolated from that. It's always there in the background but at a cruise it fades enough to avoid becoming a hardship. The 2.3 is virtually silent at cruise, emitted a synthesised roar under hard acceleration.
In The Car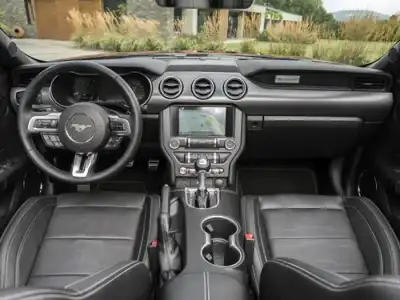 Behind the Wheel
The Mustang is nearly 4.8 metres long – that's only 2cm shorter than an Edge SUV – so there's plenty of space for driver and passenger. You sit low (seemingly lower if you're in the passenger side) in deep, well upholstered leather seats that come with the option of heating and ventilation. There's loads of adjustment and although they're quite wide the seats offer plenty of grip and support. In the fastback there's the option of sportier Recaro seats.
Much of the interior is unchanged, retaining looks inspired by the car's long heritage. The toggle switches beneath the central eight-inch touchscreen, circular air vents and cowled dashboard are all throwbacks that sit well in this retro-inspired interior and the fat, big-circumference steering wheel reminds you that this is a muscle car you're piloting.
What is new is a 12-inch digital display in place of traditional dials. It's configurable, with a different look depending on which of the six drive modes you're in, but key information is always clear and easy to find.
The touchscreen houses Ford's Sync 3 infotainment system. While not the best out there it's clear and easy to use thanks to a split-screen option and steering wheel controls, and it comes with navigation, voice control, Android Auto and Apple CarPlay compatibility as standard.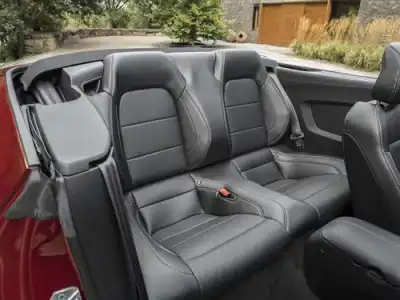 Space & Practicality
As we've mentioned there's enough space up front for even the tallest and widest of drivers to get comfortable and front seat passengers enjoy the same generous room.
Ford market the Mustang as a 2+2 but you'd have to really dislike someone to offer them a lift in the back. The rear seats are deep buckets that you have to fall into and only those with narrow hips and short legs will be able to get comfortable.
The boot's a good size – 408 litres for the fastback, 332 for the convertible – but the car's shape means it's a low, wide and long space, with the height somewhat limiting what you can get into it.
The car's low stance and huge doors also mean you'll want to avoid tight car parks unless you fancy trying out your skills as a contortionist.
Ownership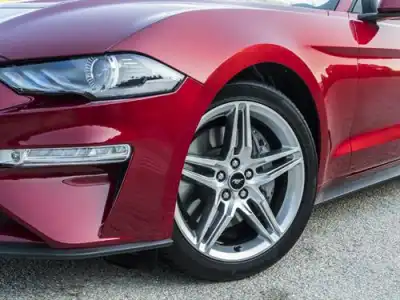 Running Costs
Let's be honest, if running costs are forefront in your mind you won't be considering a 5.0-litre, petrol-powered muscle car. Depending on body style and gearbox choice, that big V8 will get through a gallon of fuel every 25.7 miles, and that's the official figures. It'll also emit between 270 and 285g/km of CO2, meaning a first-year tax rate of £2,070 on top of the £42,745 starting price. That list price will also see you hit with the £310 'premium' levy in years two to six of ownership.
The 2.3 is clearly the cheaper choice. It starts at £37,645 and with emissions of 199-211g/km is cheaper to tax in year one. It also claims to return between 31mpg depending on body and gearbox.
Insurance is frighteningly expensive, the Mustang falling into group 47 (out of 50 groups) and depreciation is steeper than you might like. At least service costs shouldn't be too high, with there being nothing unusually complicated under the bonnet.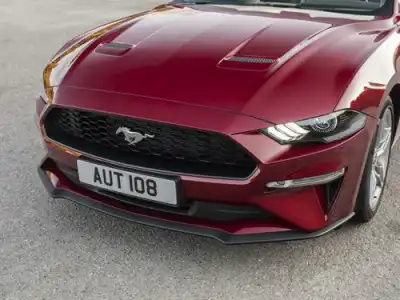 Quality & Reliability
At around £40,000 for 444bhp V8 muscle car with all its heritage, the Mustang still seems like a bit of a steal but there is a catch. Despite some material improvements and optional dress-up packs, the car's interior still feels faintly cheap and flimsy and makes you wonder how it'll cope as the miles pile on.
All Mustangs come with a three-year, 60,000-mile warranty. Buyers can extend that to four or five years and there's the option of the Ford Protect Service Plan, which bundles scheduled servicing with roadside assistance and car hire.
Servicing is every year or 10,000 miles.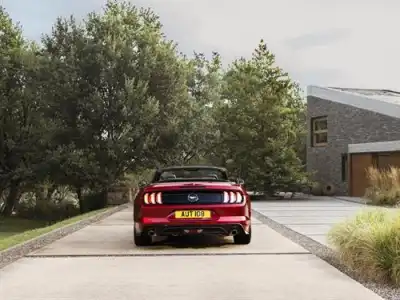 Safety & Security
Adult occupant protection and pedestrian protection is rated highly. All models also come with emergency brake assist, pre-collision assist with pedestrian detection, lane keep assist and driver alert monitoring along. Adaptive cruise control, three-stage electronic stability control and driver and passenger airbags are also standard fit and all models get Isofix child seat points in the rear seats and a Thatcham category 1 alarm.
More On This Car
Need more information?
Request Dealer Contact