Pros:
It's a practical car

Different looks make it stand out from the crowd

Mild-hybrid technology makes it efficient
Cons:
The looks are devisive

Different looks make it stand out from the crowd

Yet another SUV added to the crowd
More On This Car
Need more information?
Request Dealer Contact
Introduction
The Ford Puma is already beaming like a cat who's devoured the cream because of the accolades being thrown at it. The car has every reason in the universe to be happy, because I have to admit it's one of the coolest driving small SUVs you can purchase. It's also an eye-catcher - but not in the way the first Puma (1997 to 2001) turned heads. It's more mature - and far more practical, particularly with a compartment known as a "MegaBox" in the boot floor. But, why take notice of my thoughts about this new motor from Ford? Well, I was invited by the automaker to test drive the new Puma at its media launch in Spain. It would've been plain rude of me to refuse the offer, wouldn't it?
On The Road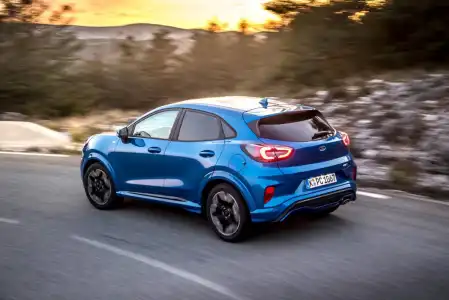 Performance
If you're going to lease or purchase an all-new Puma, selecting which power plant to go for is a cinch - there are only a couple of engines, and both little lumps are propelled by petrol. Mind you, there's also a diesel - but I doubt that'll be popular, given the fuel's demonization.
The petrol version, which we focus on here, contains a 1.0-litre, three-cylinder assembly, pushing out a decent 125ps or a more robust 155ps. I was given the keys to the 155 ST-Line X. In this guise, the SUV does the 0-62mph benchmark in 9.0 seconds, and its top speed is a not-to-be-sniffed-at 127mph. The lower-powered Puma will make the 0-62mph run in 9.8 seconds and runs out of puff at 119mph. Whichever unit you opt for, though, you'll probably be driving a manual - because that's the type of gearbox the car was launched with. An automatic transmission is available now, but it seems like a bit of an afterthought. Oh, and something pretty fundamental you should know is that performance is hiked by mild-hybrid tech. It also makes the car greener and more economical. That's one hell of a win-win all round, don't you think? I'll try not to bore you stupid with how it all works - it's basically a case of a battery charging when you brake or decelerate. This process sparks energy and spoonfeeds it to an electric motor that supports the petrol-powered engine. The upshot is that you feel you're driving something more intense than a 1.0-litre car - it feels more like an old-school 1.6-litre lump.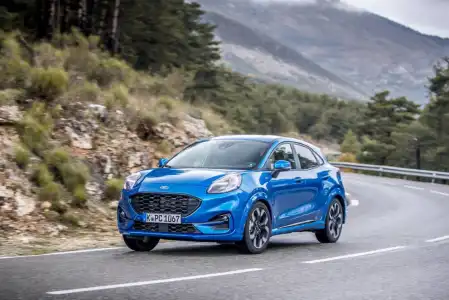 Ride Handling
The small-ish size of the Puma helps to make it effortless to operate. Certainly, the steering provides the same feeling of confidence as it does in the Fiesta - the hatchback on which the all-new Puma is based. Even though it has a higher centre of gravity than the Fiesta, the SUV's body feels unruffled and self-assured in bends. The handling is partly due to stiff-ish suspension and meaty shock absorbers - and then there's the fact the Puma is broad, which aids composure on the road.
You can add more fun by using the Ford Puma's Drive Mode tech, if you feel the need. By hitting Normal, Eco, Sport, Slippery and Trail, the car subtly fine-tunes itself to your driving style of choice. For instance, Sport gives a snappier throttle response and adds weight to the steering. And, as for the other settings, well, they do what they say on the tin.
On the ST-Line X variant, as tested here, even stiffer suspension is fitted. The suspension enables the Puma to hug corners like no high-rider has the right to do. And, in urban areas, the Puma is easy to manoeuvre in small streets, thanks to its compact structure and easy-going steering. Parking is a piece-of-cake, too. Ultimately, there's not a lot about the car to wind you up - the all-new Puma will be a pleasure to live with in the real world.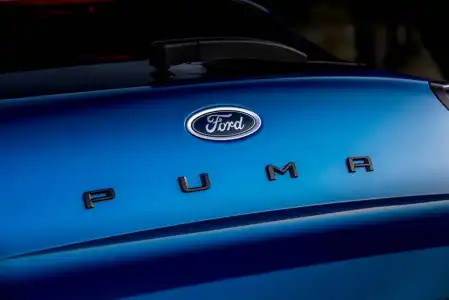 Styling
There is no doubt that the Puma is a well-built machine. It's more than ready to take on the new decade with an interior that looks like it'll handle years of abuse. Noise and vibration are well suppressed, so you won't find that wind and road roar is an issue. The containment of these bothersome sounds is down to excellent insulation, and the materials used in the Ford's cabin.
As reviewed here in ST-Line X grade, the SUV comes with lumbar and height-adjustable front seats, semi-leather trim, and faux carbon infotainment and air vent trims. The Puma has also got a B&O audio system, electronic air temperature control, satellite navigation and privacy glass in the rear. Oh yes, and when you're in the mood to go from trot to canter, then to full-on gallop, extra cushioning in the ST-Line X's seats gives first-class support when hitting the corners. Add all this together, and the all-new Puma is a satisfying place to be.
In The Car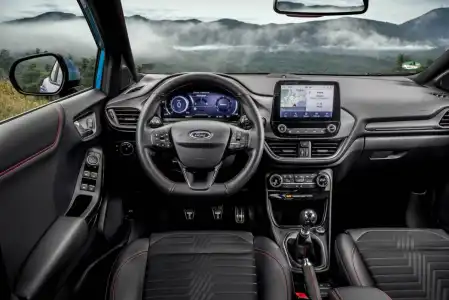 Behind the Wheel
Inside the Ford Puma, you get a design that's not dissimilar to the Fiesta. There are fewer buttons than in older Fords, and you get an eight-inch infotainment system with an easy-to-read display. You can also hook up and use your smartphone through the system as it supports Android Auto and Apple CarPlay.
On the ST-Line variant, a flat-bottomed steering wheel signifies the grade's athletic leanings – as does an aluminium gearstick, red stitching, alloy pedals and jet-black headlining.
The Puma's trim is of excellent quality, with even the door cards sheathed in fabric. Digital dials and wireless charging add a modern flavour to the interior, making it all a rung or three higher in quality than the ubiquitous Fiesta.
What's more, the compact SUV has a mighty audio system with more speakers than you can shake a stick at, helping to keep you entertained at the wheel.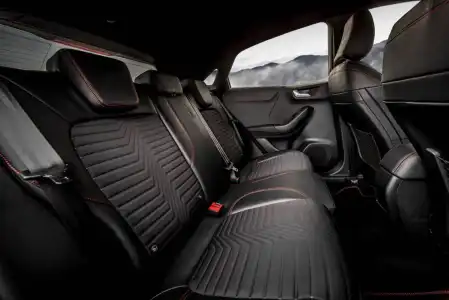 Space & Practicality
With a boot capacity of 456-litres, the Ford Puma boasts the best-in-class load space. Rivals include the latest Nissan Juke and newest Peugeot 2008. I know you're waiting for the negative section now. Well, there really isn't that much to moan about on that front. Sure, four occupants are going to be more comfortable in the Puma than the five people Ford claims it can carry - but that's the same for most cars in this automotive segment. And, anyhow, the highlight of the Puma is a feature that's hidden. It's called the "MegaBox" - a recess under the boot floor. This extra space means you can carry a bunch of golf clubs upright or anything you wish to keep concealed. Better still, you can chuck dirty or wet items in the storage area, which, by the way, comes complete with a drain hole and plug. That got me thinking how convenient it would be for shoving my lad's mud-covered football gear in there. I could even obtain some vague Sunday satisfaction from flushing the grime away later. Yes, sad, I know, but folk buy or lease motors for these handy little lifestyle features.
Ownership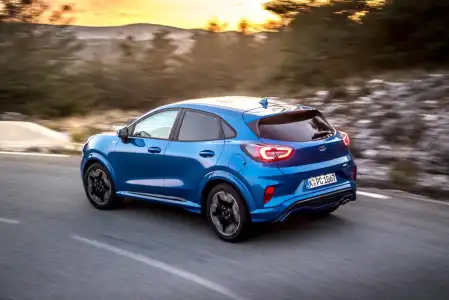 Running Costs
As well as buying the all-new Puma for its looks and its smart cabin, you'll buy it for its efficiency, too. It'll manage around 50mpg in 125ps or 155ps semblance, and it releases 124g/km of carbon dioxide for the lower power output and 126g/km of CO2 for the higher-powered car. The minimal emissions are down to the mild-hybrid technology the fresh Puma employs - something that Ford is ushering in more and more. After all, the Blue Oval wants fifty per cent of the cars it flogs to be electrified in a couple of years.
As well as mild-hybrid technology, the Puma's 1.0-litre engine features a cylinder deactivation system. This tech closes off one of the powerplant's cylinders when full engine capacity isn't needed - such as when coasting or cruising. The system can shut off or turn on a single cylinder in a mere 14 milliseconds.
If you don't fancy petrol or any type of electric propulsion, there's always the 120ps diesel Puma. Ford reckons this oil-burner will make just 117g/km of CO2, and fuel efficiency is around 60mpg.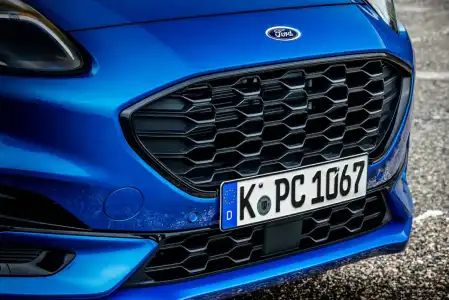 Quality & Reliability
It's still far too early to say if the Puma will be a reliable choice of car. The hybrid system it employs isn't proven yet - and the Fiesta-derived chassis has been rethought to take the Puma's more significant SUV body. That said, other technology within the Puma is already in use in other cars.
Furthermore, there aren't any major shakes when it comes to Ford quality. Most of the company's products, especially the much-loved Fiesta, have a decent reputation, and they've proven themselves over the years.
As with all spanking-new Fords, the modern Puma comes complete with a three-year/60,000-mile warranty. So, if you keep the SUV for three years, then you can be certain of hassle-free motoring.
When it comes to the all-new Puma's cabin, the seats are well-bolstered, plus, with quality materials fitted everywhere, the interior should hold out for years.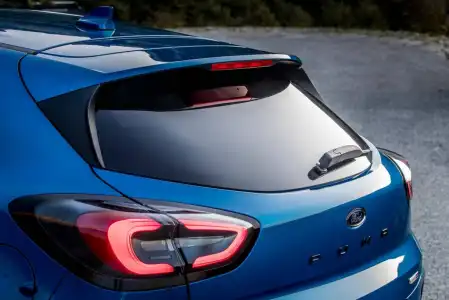 Safety & Security
The Ford Puma is brimming with technology, helping to make sure you and your passengers always stay safe. There's a whole bunch of airbags, too, to help look after everyone in the event of a smash. There's also a full complement of driving aids that assist car control during emergency manoeuvres and in adverse weather conditions. Furthermore, the all-new Puma holds a five-star safety certificate, awarded after recent scrutiny by the crash-test body, Euro NCAP.
The SUV-inspired Puma scored very highly for adult and child occupant protection - with top marks in the side barrier test and the more hardcore side pole assessment. Technologies including its Intelligent Speed Limiter, Pre-Collision Assist and Lane-Keeping System were particularly applauded.
More On This Car
Need more information?
Request Dealer Contact