Pros:
Practical but still has plenty of refinement

Powerful new diesel engines and impressive automatic gearbox

Well kitted out with lots of on-board technology
Cons:
Engine can be noisy when pushed hard

Lots of hard plastic inside the cabin that would easily scratch

Get used to searching for double parking bays - length-wise
More On This Car
Need more information?
Request Dealer Contact
Introduction
According to Ford the latest version of the ruggedly styled Ranger boasts more technologies than before and that helps it maintain its position as the best-selling pick-up in Europe.
While it's billed as a vehicle that gets the job done, it is far more than just a traditional workhorse and boasts comfort levels akin to a chunky SUV with all the on-board creature comforts we demand these days.
Customers can select from a choice of punchy engines, single or double cab styling, and trim levels called XL, XLT, Limited, Wildtrak and Raptor. And of course, there are all manner of ways to fully personalise the vehicle according to requirements.
On The Road
Performance
The latest 2019 Ford Ranger is a rough, tough workhorse that can deliver when it comes to day-to-day challenges. It can tow up to 3.5 tonnes, can wade through water up to 800mm deep and has a payload of one tonne making this 4x4 model quite the all-rounder.
But it's also very accomplished when it comes to everyday motoring with handling that's as good as some SUVs. We tested the mid-grade Limited model powered by a new 2.0-litre EcoBlue 170PS engine delivering 470Nm of torque. This Ranger could complete the 0-62mph sprint in a very respectable 11.4 seconds and tops out at 112mph.
Despite its larger-than-life dimensions – the Ranger is 5.3 metres long – the vehicle is surprisingly agile and within a matter of minutes you easily forget you are driving a big old ute. The acceleration through the gears is smooth and responsive and there's a constant supply of power on tap.
On country lanes the road holding is good although long sweeping bends need to be given a certain degree of respect, but this vehicle cruises effortlessly at national speed limits on the motorways.
In town centres, the manoeuvrability is good with a 12.7 metre turning circle, but you will need an XXL parking space to accommodate this model.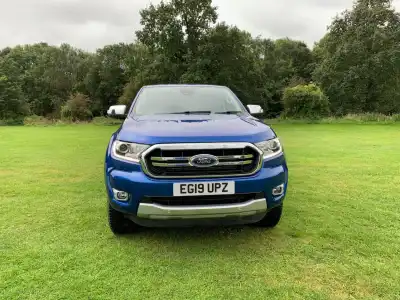 Ride Handling
It seems the days when pick-ups were bouncy, uncomfortable and deafeningly noisy are long gone. For these days, the plethora of models that are vying for sales have really upped their game and the latest Ranger is no exception.
While the 2019 models look very similar, the real news is the latest EcoBlue engines and that 10-speed gearbox. And the difference in the handling is immense. The acceleration is sharper and a lot smoother, and when you factor in the accurate steering, the Ranger is a deceptively good vehicle to drive.
Driving in 2WD was an option on our model and that has its benefits with improved economy and it also handles better on the road. You can easily switch from two-wheel drive to four-wheel-drive – and back again – by turning a dial. This can be achieved while on the move so the Ranger can easily cope with faster speeds across the Tarmac and then venture off the beaten track without pausing to think about it.
Our vehicle was nicely balanced and the ride was well cushioned against uneven road surfaces. In fact, it was one of the most impressive pick-ups when it comes to ride comfort.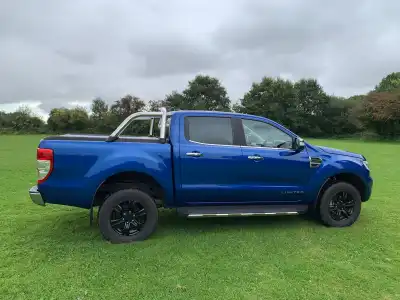 Styling
Getting the right balance between rugged off-road workhorse status and everyday demands is a tricky job, but Ford has certainly achieved it with the Ranger. Our double-cab (four-door) Limited model looked the business with a bright front fender grille, bi-xenon headlights, privacy glass, front fog lights and 17-inch Panther black alloy wheels.
The interior boasted leather upholstery, lots of soft touch finishes and leather trim on the doors and steering wheel. It also comes equipped with all the latest creature comforts for full smartphone connectivity.
When it comes to refinement on the move, the Ranger Limited started up with quite a rumble from the diesel engine, but it softens to a gentler hum after a few seconds. In fact, the cabin is pretty quiet compared to rival pick-ups on offer which is another plus point for the Ford.
If it's out and out luxury with a menacing presence that's required, then check out the Raptor model with its unique grille with FORD blazoned across the front, bespoke bumpers, aluminium skid plate, all-terrain wheels, strengthened side steps, widened wheel arches, upgraded suspension and Raptor suede trim inside the cabin.
In The Car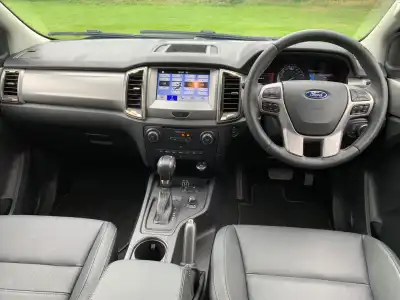 Behind the Wheel
You need to literally climb into the Ranger and there is a side step if required for easier access. But once you take your seat behind the multi-function steering wheel, getting a comfortable driving position takes just seconds thanks to the eight-way power adjustable driver's seat. The steering wheel also has ample adjustment which means the Ranger would be suitable for drivers of all shapes and sizes.
Obviously, tradesmen and builders will not be too fussed about the interior quality of a working vehicle – which the pick-ups were traditionally designed for. But these days, most owners of the Ford Ranger, Nissan Navara, VW Amarok, Mitsubishi L200 or SsangYong Musso (to name just a few) will rarely, if ever, venture from the safety of the Tarmac, so the vehicles have to cater for all needs. And the Ford Ranger does just that.
Yes, it is very capable when put to the test and can carry huge payloads, tow trailers and traverse ridiculously tough terrain, but it looks smart enough to drop the kids off to school too.
On-board techno treats include the likes of SYNC 3 with eight-inch touchscreen, Apple CarPlay and Android Auto smartphone connectivity, a DAB radio, CD player, six speaker sound system, a fixed rearview camera and plenty more besides.
All controls, dials and readouts are perfectly positioned for ease of use and the driver benefits from excellent all-round visibility thanks to the elevated seating position and huge side mirrors.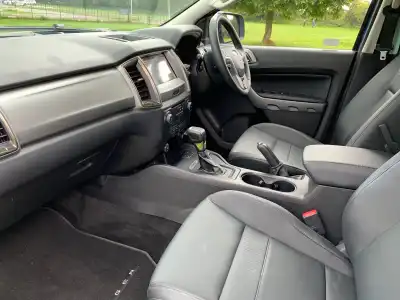 Space & Practicality
The double cab Ranger offers ample space in the back for two adults – or three if they don't mind getting cosy. Depending on requirements, the smaller two-door, two-seater cab comes with a longer load bay measuring 2.3 metres in length. Our four-door model was still very capable though with a 1.6-metre-long loading bay. This is still large enough to transport a regular-sized pallet.
The tailgate folds out flat and our test vehicle had a lockable tonneau cover that rolled back and forth. This, together with a load liner, added an extra £1,500 to the asking price.
There are a number of storage options throughout the cab, including a glovebox, front and rear cup holders, door pockets, a tray on top of the dashboard, pockets in the seat backs, a cooler box in the centre console and lots more.
A side step makes entering and exiting the vehicle a little easier and there are also grab handles to assist.
If the Ranger is going to be carrying out lots off rough duties, then it's very capable with a ground clearance of 237mm, a 29-degree angle of approach, 27-degree angle of departure (both unladen), a tilt angle of 35 degrees and that 800mm wading depth.
However, if it's full-on performance that's required then the all-new Raptor with its 213PS of power and a mighty 500Nm of torque driving the four-wheel drive system via a new 10-speed automatic transmission could be the choice. It boasts a reinforced chassis for high-impact off road stuff and the model-specific suspension has been designed to cope with the roughest terrains. All this technology does not come cheap though with the Raptor costing £39,895 (exc. VAT) before any extra kit is added to the mix.
Ownership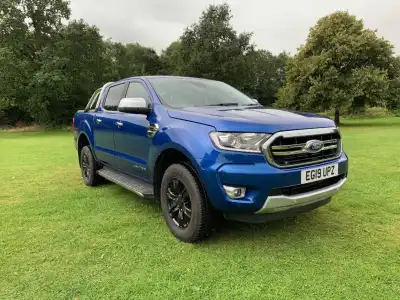 Running Costs
The latest EcoBlue 2.0-litre diesel engines powering the Ranger line-up are impressive when it comes to performance and efficiency with the most economical version – the 130PS – offering carbon emissions as low as 178g/km. The higher-powered 213PS engine has CO2 emissions from 210g/km. The key word here is 'from' as if you venture up through the line-up, so the emissions figures rise.
There are still 3.2-litre engines on offer with six-speed manual or auto gearboxes, but these are far thirstier than the new set-up and have CO2 emissions rising as high as 248g/km.
As the Ford Ranger is classed as a light commercial vehicle, it is taxed at a flat rate. This means there is no CO2-related first year fee. Instead the owners will be charged £240 per year. The Raptor, however, no longer qualifies as a light commercial vehicle due to its smaller payload limit.
When it comes to fuel economy, our 2.0-litre EcoBlue 170PS version in Limited styling with 10-speed auto box, could deliver 36.7-37.7mpg and had carbon emissions of 197g/km.
It was priced at £35,764 (incl. VAT) but optional extras such as upgraded alloys, the tonneau cover and Blue Lightening paint saw the final cost reach £37,984 (incl. VAT).
There is all manner of options on offer to kit out the Ranger from tow bars and wind deflectors to under-shields, covers, cross bars and even hard tops.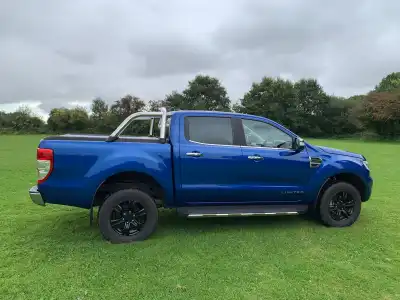 Quality & Reliability
The Ford Ranger comes with a three-year/60,000-mile warranty along with one year of Ford's Roadside Assistance, including Europe.
There is also a 12-year/unlimited mileage Perforation warranty for the Ranger that guarantees the vehicle against any rust issues. In addition, there is the option to extend the warranty to five years with Ford Protect.
The Ranger certainly feels robust enough with solid fixtures and fittings that should survive the test of time. There are a few hard-plastic surfaces within the cabin that would be easily wiped clean, but could prove prone to scratching over time.
Another point worth noting is that if something goes wrong with your Ranger, there is likely to be a Ford dealership within easy reach. This is because the manufacturer has more UK-based outlets than any other car maker. So at least the vehicle will be fixed quickly without the inconvenience of travelling miles.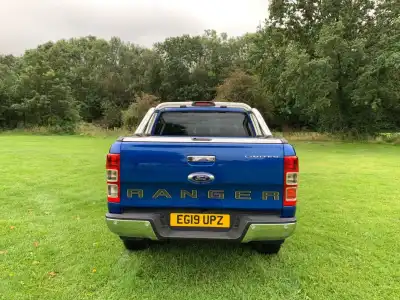 Safety & Security
The Ford Ranger was the first pick-up to gain the maximum five stars when it was tested for a Euro NCAP rating back in 2012.
And the latest model introduces the widest range of advanced features ever seen on a Ford pick-up. For example there is a forward-facing camera and sensors that can monitor the area around the vehicle and scan the road ahead. The active Park Assist can help identify a suitable space and automatically steer the vehicle into the bay (optional on Limited and Wildtrak).
As standard, there is pedestrian detection and electronic stability control with traction control and our car also featured lane keeping assist, tyre pressure sensors, traffic sign recognition, intelligent speed assist, a collision mitigation system, anti-lock brakes, electronic stability programme, roll over mitigation and a full suite of airbags.
For anyone planning on towing, the optional Trailer Sway Control is worth considering. It is designed to detect any snaking or trailer sway and reduces the vehicle's speed automatically.
The Ford Ranger comes fitted with a Thatcham Category one security system.
More On This Car
Need more information?
Request Dealer Contact