Honda NSX (2016 - ) Review
The Honda NSX is a hybrid supercar that is built in Ohio, USA with plenty of input from Japan. It boasts a mighty 3.5-litre V6 engine and delivers a sub-three seconds 0 to 62mph sprint time.
More On This Car
Take one for a spin or order a brochure
Request a Honda NSX brochure
Request a Honda NSX test drive
From £149,950
Pros:
Blistering pace but has a Quiet mode too

Boasts styling to match its excellent performance capabilities

Customised to owner's requirements
Cons:
Expensive to run

Options can be pricey

Infotainment system is quite poor
Introduction
The original Honda NSX was developed back in the mid-1980's and took its inspiration from an F-16 fighter jet. At the time, there was nothing like it thanks to its ultra-aerodynamic body and it was the first supercar to sport an aluminium body. The attention to detail was so great that even the paint job involved 23 steps.
A replacement was planned in 2010 powered by a V10 engine, but the programme was put on the back-burner for a while mainly due to the economic downturn.
But that was then and this is now as the NSX is back with a bang. Every new car is built by a team of 100 workers in the US. That means production is limited to about 2,000 cars per year so the demand for this supercar is likely to outstrip supply capabilities.
On The Road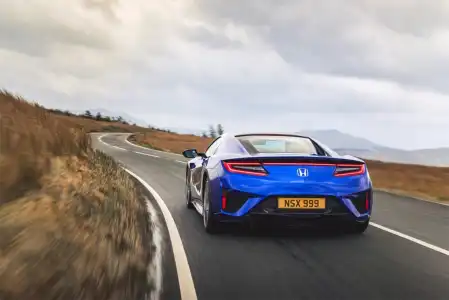 Performance
When you can take your eyes of the beautifully-sculptured mid-engined NSX for a moment, it's worth investigating the driving force behind such a powerhouse of a car. The twin-turbocharged 3.5-litre V6 engine is the main focal point, but there is more.
After all, this is an NSX and has a reputation of uniqueness to uphold. With that in mind, the car also has a 47bhp electric motor which in combination with the engine works with the nine-speed dual clutch transmission to send combined power to the back wheels. In addition, there are 26bhp electric motors on the front wheels which help to provide four-wheel drive traction giving all the grip needed from a supercar with the NSX's driving capabilities.
The combined output is a whopping 573bhp which helps the NSX achieve a 0-62mph sprint time of less than three seconds and power onto a top speed of 191mph.
There are different driving modes called Quiet, Sport, Sport+ and Track which can be selected via a rotary dial. Driven in Sport the car is beautifully smooth and the Quiet mode will keep you on speaking terms with the neighbours during early morning start-ups. Rather cleverly, the NSX can be pre-programmed to only start in Quiet mode between certain times of the day, just in case you forget.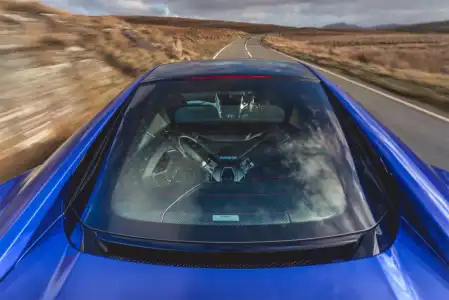 Ride Handling
With performance abilities of the NSX, the handling needs to be as sharp as the fire-power and it is just that. The feedback through the chunky steering wheel is instantaneous with pinpoint accuracy and the response from the powertrain is seemingly endless as the NSX accelerates through the nine-speed gearbox. Take a little more control at the press of a button and you are changing the gears via the paddle shifts.
The suspension is firm, but not unbearably hard despite sitting just inches above the ground and the road grip is so confidence-building even the tightest and longest bends can be taken at pace. Obviously, the throttle, gear changes and all-round feel to the car changes as you switch through the driving modes and although we didn't sample Track whereby the vehicle is transformed into a full-blown race car, the Sport+ mode was exciting enough.
But the really surprising fact about the NSX is how comfortable it is to drive in a 'sensible' manner too. In Quiet mode, the start-up is silent and it seems quite eerie pulling away in such a muscle car with no noise accompaniment. And it can actually amble along at sensible speeds as it weaves through busy town centres, but be warned this is not a car for someone who doesn't want to be noticed - it's guaranteed to turn heads and I even found other motorists let me pull out in front of them so they could admire the car's natural beauty.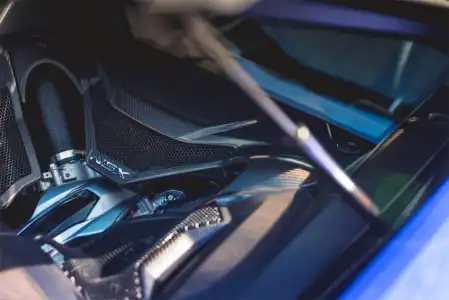 Styling
The Honda NSX can stop people in their tracks with its aggressive, sharp styling. It boasts a wide stance, a long bonnet, quad exhaust pipes, sweeping headlight clusters and lots of vents and creases to help with the airflow. And in keeping with the original NSX which was the world's first all-aluminium supercar, this model features an innovative multi-material body design with world-first material applications and construction.
It will also offer a certain element of exclusivity compared to some of the more mass production rivals.
Move inside the race-inspired cockpit and the large transmission tunnel dominates the space between the duo of sports seats. The interior is neatly laid out and there are all the gadgets needed in a supercar with a simple rotary dial to change between modes and push buttons to select drive, reverse, park etc.
The quality of materials is excellent for a Honda, although some of the switchgear looked a little dated and didn't quite match the jaw-dropping exterior design.
In The Car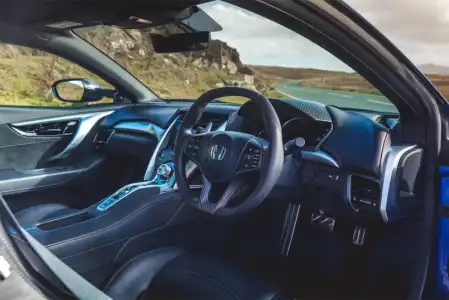 Behind the Wheel
There are no flashy gullwing doors on the NSX and getting in or out requires a certain level of agility. But once planted in your ultra-supportive sport seat, the supercar is deceptively comfortable.
All dials, controls and read-outs are well placed in a very driver-focused cockpit and operations such as switching through the various driving modes are very simple to achieve on the move.
The seat and steering wheel adjustment is good as is the positioning of the pedals. In addition, visibility is adequate for a supercar.
The flat-bottomed sports steering wheel is great to grip onto but I found the oversized paddle shifts proved a little clunky to handle, but the response from them was superb.
In addition, the touchscreen is small with fiddly controls that are almost impossible to operate on the move.
All the read-out dials are positioned on a smart TFT display screen that helps give the car a modern, almost futuristic appearance and there are all the latest mod cons such as sat nav, DAB radio, front and rear parking sensors and heated seats.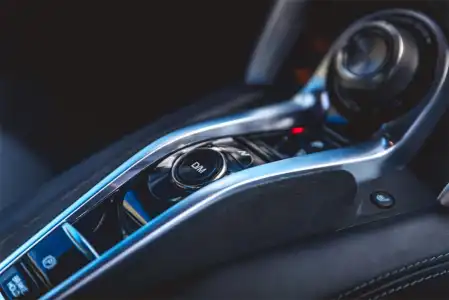 Space & Practicality
Space and storage options are not likely to be high on the wish-list of anyone contemplating splashing out a six-figure sum on a supercar. So, with that in mind, you are unlike to get the same versatility or luggage capacities offered on a basic small hatchback.
Certainly, as far as occupants are concerned, the NSX is very good with both the driver and passenger benefiting from good leg and headroom. But storing knick knacks away in the cabin is limited to just the glovebox, a tiny tray that will hold a smartphone and a small covered box behind the seats. There are no door pockets or cup holders and the boot space is limited to just 110 litres.
Ownership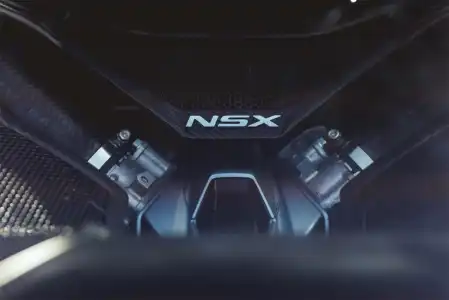 Running Costs
Supercars have super prices and the Honda NSX is no exception to that rule. The test car started life costing £149,950, but after a number of optional extras were added such as specialist paint (£4,800), a carbon fibre exterior sport package (£7,100), a carbon fibre engine cover and carbon fibre engine bay panels (£2,900), carbon ceramic discs with red brake calipers (£8,400) and a whole raft of other add-ons the price-tag had rocketed to £180,250.
However, the cost does include a three-year service plan from Honda.
Just like NSX owners will not be deterred by limited practicality options they will not be too fazed by expensive running costs. According to official figures, the NSX can deliver combined fuel economy of 28.2mpg with carbon emissions of 228g/km. This would result in a Vehicle Excise Duty cost of £1,700 for the first tax year and £140 after that.
The insurance group rating, as expected is the highest, at 50.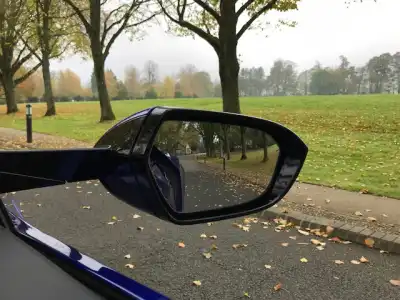 Quality & Reliability
Over the years, Honda has developed an excellent reputation for the reliability of its cars and the NSX should prove just as trustworthy. The build quality within the cabin seems sound and all the switchgear looks like it will survive the test of time.
The fighter-pilot designed cockpit is cleverly designed and that chunky steering wheel feels like it could direct the NSX round a racetrack for years on end without a hitch twisting and turning the car into corners for the sheer hell of it.
The car does feature a fairly complicated petrol-electric set-up so it is difficult to predict how that will fare, but the NSX is supplied with a three-year, 60,000-mile warranty.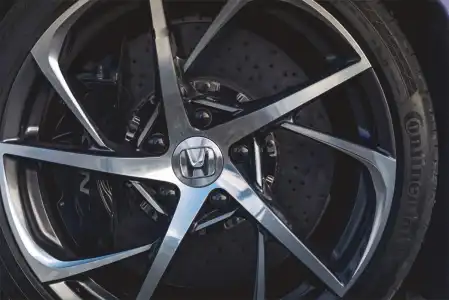 Safety & Security
A car that is designed to perform at supercar speeds needs supercar safety systems to protect occupants in the event of something going wrong. And although the car has not been Euro NCAP tested (and may not need to be as it will sell in fairly low volumes), it is crammed with safety systems.
There are six airbags, a powerful braking system, stability control, a rollover sensor, brake assist and an exceptionally-strong structure that is designed to absorb impact should the unmentionable happen.
And there is anti-theft protection to keep any unwanted attention at away from your NSX, which by the way stands for New Sports eXperience.
More On This Car
Take one for a spin or order a brochure
Request a Honda NSX brochure
Request a Honda NSX test drive