From £16,995
Pros:
Direct and precise steering

Loads of safety kit

Much improved interior & exterior styling
Cons:
Automatic gearbox isn't the best

Still some cheap plastics, albeit not much

Not as economical as the Peugeot 308
More On This Car
Take one for a spin or order a brochure
Request a Hyundai i30 brochure
Request a Hyundai i30 test drive
Introduction
It is fair to say that Hyundai have muscled their way to the forefront of European car-buyers minds. Through persistence, affordability and user-friendly products, Hyundai are now a force to be reckoned with among mass-market manufacturers. For perspective; in 2010 Hyundai sold 366,913 cars across Europe. In 2016 that figure exceeded 500,000. Hyundai achieved this without any form of B-segment SUV which is the fastest growing segment on the continent. (They'll be attending to this void later in the year.) Big things are coming from the Koreans who aim to become the Number 1 Asian manufacturer in Europe by 2021 - they're just getting started.
All their progress and development has now been embodied in their 'New Generation i30'. A medium sized hatchback that we were lucky enough to test on the roads of sunny Marbella...
On The Road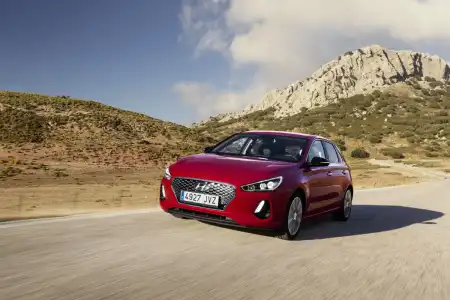 Performance
You have 4 engines to choose from, a 1.0 litre petrol, two 1.4 litre petrol engines and a 1.6 litre diesel. Luckily, we don't get the basic, non-turbo, 1.4litre petrol in the UK as it's slow, thirsty and not very appealing. The other 1.4 litre petrol is likely to be the one that buyers are attracted to, as it boasts a generous 138bhp which certainly makes the car quick enough, but not one you'd double-up as a weekend track-car in… obviously. The 1.4 did tend to scream quite a bit when you gave it some welly, and after trying it with both the Dual-Clutch Automatic as well as the manual transmission, we settled on the 1.0 litre being our preferred choice. This turbo-3 cylinder unit is willing enough while remaining exciting to drive and also feels a bit more refined. The 3-pot had no problem keeping up to speed on the motorway and didn't command gear-changing when accelerating from being sat in 6th gear.
If you are after something hotter than 138bhp then worry not, a performance model called the i30N is en route for the second half of 2017.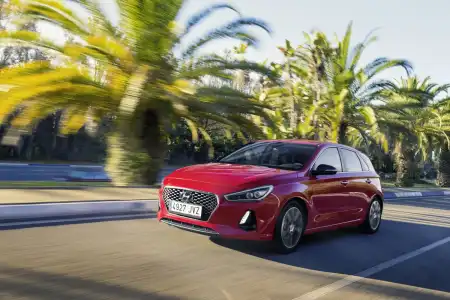 Ride Handling
The route we took on the i30 launch primarily consisted of motorway runs and A roads, which the car handled in a perfectly acceptable manner. It didn't shine as a GT car, nor was it in any way intolerable, it was just as you would expect. This is by no means criticism but similarly, it isn't significant praise. There was one particular stretch of road which the i30 certainly did impress, though. A Stelvio-like descent from a mountain road, riddled with hair pins and S-bends cut into the rock. The i30 sits flatter than you'd think when cornering and is very much predictable. Get too eager and the tyres will start clawing the tarmac for traction but the car won't understeer worryingly off course - which is a relief because if it had I wouldn't be typing this now. Hyundai claim to offer the i30 with 10% more direct steering, 53% stronger steel and a 20% increase in rigidity.
The ride is another area of notable success. Within about 40 seconds of leaving the airport car park where we faced a sequence of speed bumps which were dealt with harmoniously. We didn't come across any significant road blemishes or uneven surfaces for the rest of the launch though, as Spain haven't invented potholes yet, but the car certainly felt capable of softening the acne-ridden face of British road surfaces.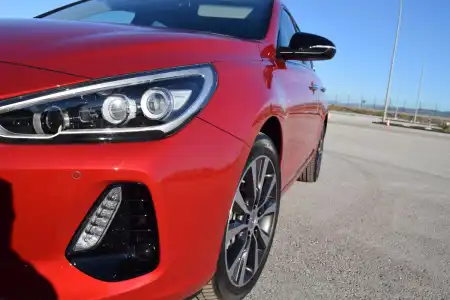 Styling
As mentioned in the performance section, we found the 1.0 3cylinder engine to be the most refined - more so when mated to the manual transmission. The DCT gearbox did it's job but did get a little confused and became audible when given some enthusiastic inputs. We'd go for the manual.
Wind and road noise is kept pretty quiet, even when on the receiving end of a heavy mediterranean sea breeze... Unsure as to whether that will occur on your daily commute.
In The Car
Behind the Wheel
As the hyundai brand has grown, the interior has matured a lot too. A nice and squidgy plastic blankets the dashboard and the seats are a comforting leather but there is one issue. The central, horizontal trim that stretches right across the dashbpard, below the vents and above the heating controls, is of poor quality. It's not a huge piece of trim but it is in a prominent position and so slightly detracts from the efforts elsewhere. Not a deal breaker, though.
At first I thought the multi-function steering was a bit overbearing and cluttered but Chief Designer, Thomas Buerkle, explained that all buttons are grouped. Whether it is on the door handle, the steering wheel or the centre console - functions are not littered throughout the cabin. A good enough excuse in my eyes.
The infotainment is up to modern standards and supports Apple CarPlay and Android Auto. This is a touch screen system which is pleasantly responsive and, thankfully, doesn't host non-entertainment/navigation functions - like climate control - like some competitors tend to.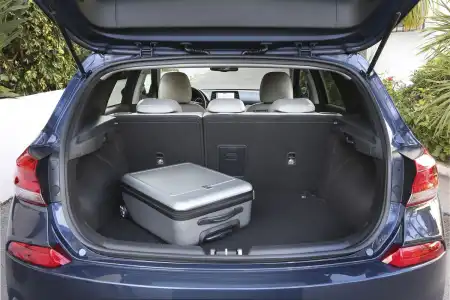 Space & Practicality
The front of the car feels roomy with plenty of space to stretch out your legs, but you'll need to sacrifice such pleasantries when carrying rear passengers as the back seats are a little bit cramped for leg-room.
Boot space is good! 395 litres with the rear seats in place, which exceeds top-sellers like the Vauxhall Astra, Volkswagen Golf and Ford Focus - not quite up to the standards of the 308 though. Fold down the rear seats and the boot-space extends to a massive 1,301 litres. Now that should be plenty, but if you do need more space then it might be worth holding out for the i30 wagon which will be debuting at the Geneva Motorshow later this year. And if for some strange reason the i30 hatchback has too much boot space then there's a sporty fastback model coming too, but that isn't being premiered until the Frankfurt Motorshow in 2018. This will featured a sloped roofline which is likely to compromise luggage capacity.
Ownership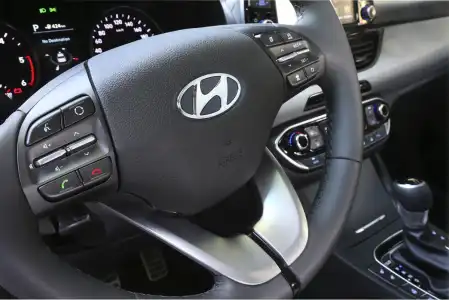 Running Costs
As with any Hyundai, i30 is nice and cheap to run. Only the manual diesel is free to tax under the current rates, which are changing shortly after the car goes on sale, but the 1.0 petrol unit that we preferred emits just 115g/km of CO2.
Buyers benefit from a standard 5 year Hyundai warranty as well as 5 years of roadside assistance - so you can knock those off your annual bill.
Fuel costs will be nice and low too, the thirstiest of the lineup - the 1.4 petrol - manages 51mpg, while the 1.0litre petrol offers 56mpg. The diesel is the most frugal, though, as expected, with the 94bhp engine returning 76mpg.
If you're buying your i30 after the 1st of April 2017 then road tax will increase to £140 a year.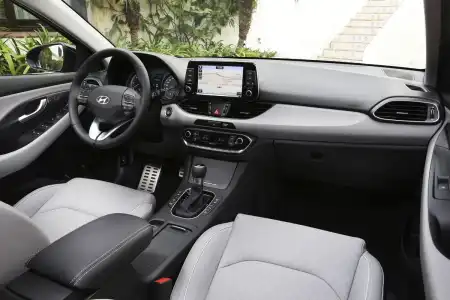 Quality & Reliability
The Hyundai range has always had nice and solid reliability record which was originally owed to their mechanical simplicity, but now as their cars are up to modern standards in terms of functionality and technology, they're still a very safe bet if you're searching for a car that won't let you down. Of course, if you do come across a problem with an i30 then there is always the 5 year warranty to fall back on.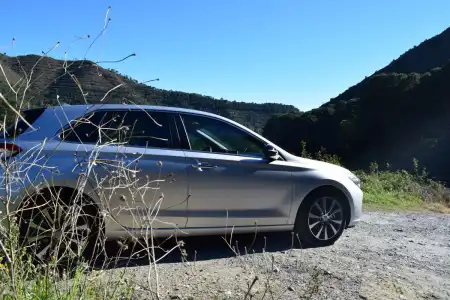 Safety & Security
The i30 is loaded with safety tech to comfort family buyers. Things like dipping headlights - which sense oncoming vehicles and dips as not to blind them - are equipped as standard. You also get fatigue warnings if your driving style becomes too laboured and corrective steering while keep you in the lane if you start to run wide. Again, all of this is standard.
The i30 also comes with AEB - which stands for autonomous emergency braking. As the name suggest, this means the car will brake itself to prevent or reduce an imminent impact whether it is with another car or with a pedestrian.
More On This Car
Take one for a spin or order a brochure
Request a Hyundai i30 brochure
Request a Hyundai i30 test drive