From £24,995
Pros:
Lots of fun to drive

Really well priced for so much performance

Pressing that N Performance button
More On This Car
Take one for a spin or order a brochure
Request a Hyundai i30 brochure
Request a Hyundai i30 test drive
Introduction
The hot hatch market is a tough one to crack; performance coupled with the 'driving thrill' stakes are high with only a few manufacturers having managed to achieve both successfully, in turn producing cars that have become iconic in the class.
So when a 'new' manfacturer decides to take on the big guns, such as the Golf GTI or the Honda Civic Type R, it's always interesting to see if they can take on the fight, so Hyundai have thrown their hat into the ring with their i30 N.
With a mastermind of high-performance cars, Hyundai have got Albert Biermann to join Hyundai from BMW and their iconic M division to head up the development of the model and wave his magic on this hot hatch. We headed to Lincolnshire and the Cadwell Park circuit to find out on the UK launch.
On The Road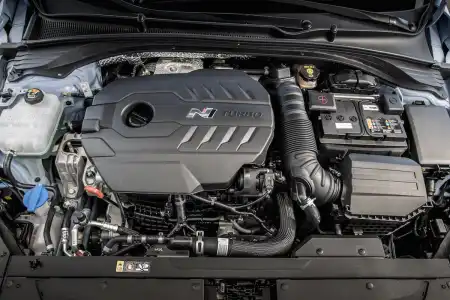 Performance
Now it might not have the sort of high performance figures you'd associate with a hot hatch, it has a 0 - 62mph time of 6.1 seconds, (the Focus ST does the same in 6.9 seconds while the Golf GTI does it in 6.4 seconds) and a top speed of 155mph, but the N Performance model does deliver 275PS from its turbocharged 2.0-litre engine with a very healthy 353 Nm of torque from 1,450 rpm. There is also the cheaper N version with 250PS but both come with a short geared six-speed manual transmission, which has a rev-matching system for incredibly smooth and quick shifting.
With the i30 N tested exhaustively at Hyundai's test centre at the world famous Nurburgring race track, it seemed appropriate to take it to Cadwell Park in Lincolnshire and although it doesn't have 12.9 miles of tarmac to play on, there is plenty of undulating twist and turns, including the famous Mountain to put it through its paces.
With it switched into N mode it has that aggression, power and speed you want on tap, with pops and bangs from the exhaust combining to give the driver an exhilarating drive.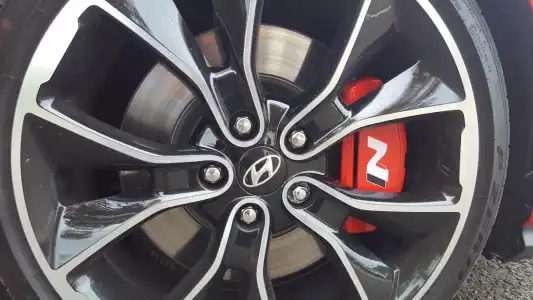 Ride Handling
With the performance ticking all the right boxes, how is it to drive? Awesome would be the word we would use.
For a sporty hatch the front-wheel drive is surprisingly comfortable - of course the ride does feel firm but so much that you can't feel every stone in the road.
There are various driving modes from Eco, Sport and Comfort to choose from including the chequered flag 'N' button (apparently the latter should really only be used on track) and it's possible to set up the car dependant on your driving mood and as well as the electronic suspension.
What we found driving it on the roads in Lincolnshire is how much of a driver's car it really is handling superbly with well weighted, heavy steering, but it's when you take it on track you can really see what a fine hot hatch Hyundai have produced. It turned in when you wanted it to, rode the kerbs without it upsetting the balance, kept stable with phenomenal levels of grip the N Performance version sits on Pirelli 19-inch high-performance tyres. We've had less fun in some supercars...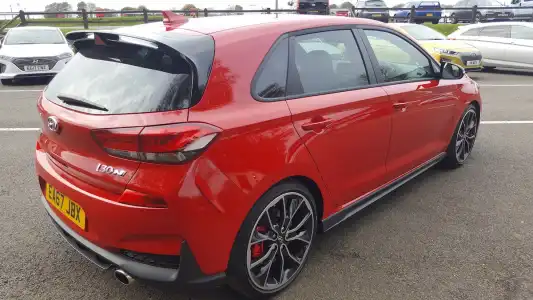 Styling
Hyundai have taken their standard i30, lowered it and added sporty styling to really make it stand out, an i30 on steroids if you will.
With black side sills, a fierce looking front bumper and a rather cool looking rear spoiler with an integrated triangular brake light, they've really ramped up the wow factor and in their gorgeous Performance Blue paint colour, with the contrasting red line it definitely makes you stop and stare. It's just like their getting cooler by the rally WRC car….
The electronically adjustable sport seats are really well supported; they need to be if you're going to take it out on track, but even for everyday use they offer good levels of comfort too and they're available in cloth, or suede and leather.
In The Car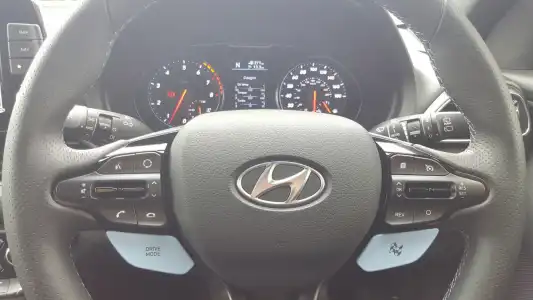 Behind the Wheel
Like with a lot of cars nowadays Hyundai have kept the interior pretty simple with an eight-inch colour screen sitting in the centre of the car featuring navigation, media, connectivity and those all important car settings…such as a lap timer if you're taking it on track.
Smartphone connectivity is available through Android Auto and Apple CarPlay with connections through a USB. There's even a wireless charging pad.
The instrument panel has analogue dials with a driver's information screen showing a gear change function and depending on your driving mode the instrument panel changes colour: Naturally in Sport mode it goes red.
The steering wheel has plenty of mounted controls including the Performance Blue driving mode buttons, which we particularly liked...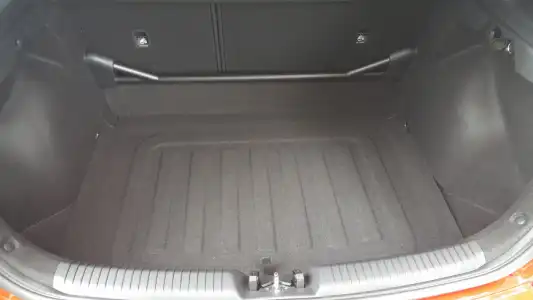 Space & Practicality
It's a really decent sized car for a hatchback, with plenty of leg and head room so three adults could sit in the rear without too much difficulty. Rear passengers get bottle storage in the doors, while up front there is plenty of room for phones and drinks under the centre stack and in the doors.
The boot is really impressive at 395-litres and it's really deep too and with folding rear seats this space can be increased to 1,301 litres. There was a rear stiffness bar behind the rear seats that eats into this space, not by much, but it can be removed if needed.
Ownership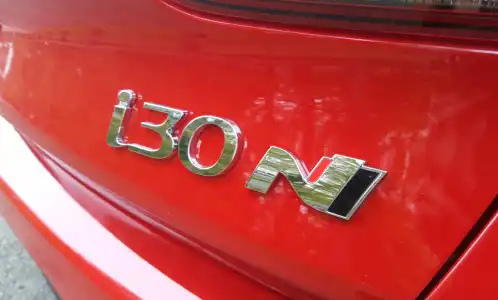 Running Costs
The Hyundai i30 N is £24,995 for the N with the N Performance an extra £3,000 on top and the model comes with a five year/unlimited mileage warranty, which impressively also covers anything on track, but obviously it doesn't cover you if you find your ambition outweighs your talent at Silverstone.
So would we buy one? Tell us where to sign! Hyundai might not be the name that springs to mind when you mention hot hatch, the Golf GTI and the Focus ST are, but the manufacturer does have the background in motorsport don't forget, with cars currently competing successfully in the World Rally Championship, so this road car is a natural step and it undercuts the competition too with its price.
If this is the first car to come from Hyundai's N line-up then we can't wait to see appears in the future, but maybe this is the future as their tag line used to be 'Prepare to want one'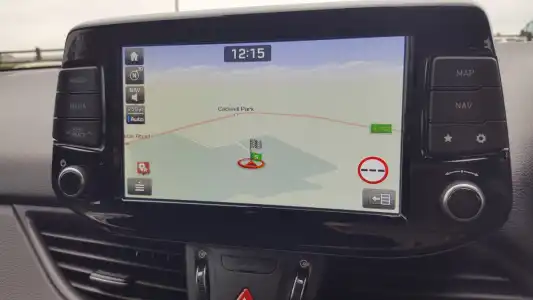 Quality & Reliability
There have never been any major issues with the Hyundai i30 which is a good sign for the hot hatch version as in the JD Power Survey in 2017 the South Korean manufacturer came fifth in terms of reliability.
It feels a strong car, there are no cheap plastics here, the signature N blue colour makes its way into the cabin with stitching in blue, the steering wheel features an N logo, there's a blue stripe on the gearknob and there are black gloss surrounds too adding a high quality look and feel.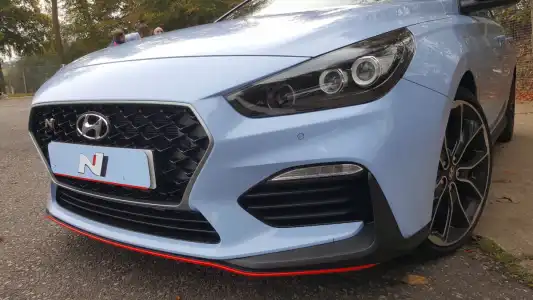 Safety & Security
The standard i30 was tested in the EuroNCAP ratings and scored the maximum five stars, with 88% for adult occupant protection and 84% for a child.
The i30 N features Autonomous Emergency Braking which will assist in avoiding a collision, a clever Driver Attention Alert system, high beam, hill-start and lane keeping assist, and electronic stability control, which you might want to turn off at times…
It comes with airbags, Isofix child seat points, a tyre pressure monitoring system and to keep it safe it has a Thatcham Category 1 alarm with an immobiliser.
More On This Car
Take one for a spin or order a brochure
Request a Hyundai i30 brochure
Request a Hyundai i30 test drive