From £32,845
Pros:
Offered as a five or seven seater

Beautifully styled and generously equipped

Boasts 4x4 off-road capabilities
Cons:
Quite pricey

Only one engine

Difficult to access rear seats
Buy and save on quality approved and used cars
Introduction
The athletically-styled Hyundai Santa Fe is certainly a head-turner in the overcrowded full-sized SUV sector. It looks fabulous from any angle with its dynamic styling and is available in five or seven-seat guise.
It boasts 4x4 capabilities and to prove it's no soft roader, Hyundai recently made history when a near-standard 2.2-litre diesel Santa Fe became the first passenger vehicle to be driven across Antarctica from Union Camp to McMurdo and back again. It was driven by Patrick Bergel, the Great Grandson of legendary polar explorer, Sir Ernest Shackleton.
On The Road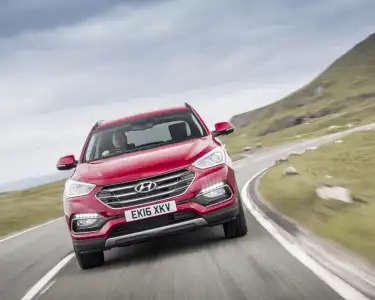 Performance
The Hyundai Santa Fe is only available with one 2.2 CRDi 194bhp diesel engine delivering 440Nm of torque. Buyers can select between an automatic or manual transmission and must decide whether five or seven seats is the priority. In addition, there are trim levels called Premium, Premium SE and Endurance with price-tags ranging from £32,845 to £39,995.
We tested out the seven-seat version in Premium SE spec with six-speed manual gearbox costing £37,495. It could sprint from 0 to 62mph in 9.0 seconds and maxed out at 126mph. According to official figures the car could achieve combined fuel efficiency of 46.3mpg with carbon emissions of 161g/km.
Whilst there are more dynamic SUVs out there, the five-door Santa Fe is a great all-rounder and the car is deceptively agile for its size and whizzes along the country lanes at quite a click. The road-holding is excellent and there is a constant stream of power on tap. In normal driving conditions, the car remains in 2WD but the torque on demand 4x4 system directs extra grip to the second axle in slippery driving conditions. This occasional use of AWD motoring helps to save on fuel consumption during day-to-day driving.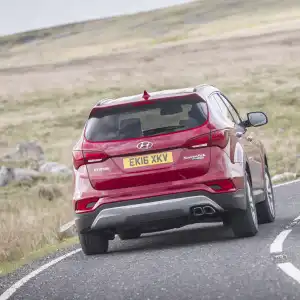 Ride Handling
Comfort levels within the Hyundai Santa Fe are excellent and any bumps, dips and unexpected potholes are smoothed out by the highly-efficient suspension. There is a fair amount of body roll if driven with a very heavy right boot into long sweeping bends, but if driven in a calmer manner the Santa Fe responds beautifully and it's worth remembering that the majority of owners will give their pride and joy a certain amount of respect.
The test car was on 18-inch wheels which was just right, and although I didn't drive the automatic version which has the option of upgrading to 19-inch wheels, it could make the car a little wallowy into bends. That tends to be the case with many SUVs that are fitted with the larger wheels and it reduces the mpg economy too.
The steering is precise with ample driver feedback and the car feels confident and assured on wet, slippery surfaces thanks to the Advanced Traction Cornering Control which directs torque to the wheels that have the most grip. In addition, the ATCC applies braking to the inside wheel if needed so together with the electronic stability programme the car boasts agility and stability when cornering.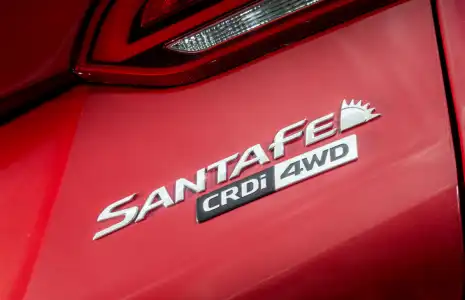 Styling
The Hyundai Santa Fe has built a reputation for delivering premium style luxury at a reasonable price and the latest model reinforces that belief. The cabin oozes class and elegance with top quality soft-touch surfaces along with elegant fabrics.
On-board technology - depending on the grade selected - includes the likes of a 10-speaker Infinity sound system, dual zone air conditioning, a heated steering wheel, cooled and heated front seats, and all the infotainment and connectivity functions are covered by the car's advanced technology system that introduces a smart touchscreen, Bluetooth, DAB digital radio and a sat nav system that features TomTom Live services to keep you updated about any traffic issues on your journey.
The FlexSteer power steering system, which is standard across the range, allows you to switch between Normal, Sport and Comfort. With Normal selected medium steering effort is required. With Comfort, the steering becomes lighter which is ideal for city centre driving with lots of turns and manoeuvring into parking spaces. Finally, in Sport mode the wheel feels heavier which is better suited to motorway-style driving.
In The Car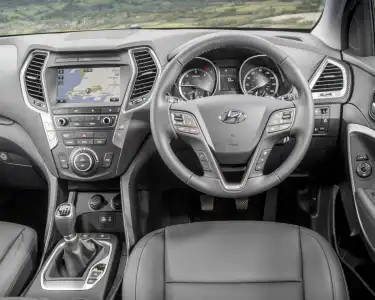 Behind the Wheel
Comfort is an area that the Santa Fe has always excelled in offering plenty of on-board technology in a clutter-free cabin with an easy-on-the-eye layout. All dials, controls and readouts are perfectly positioned for ease of use and the driver benefits from excellent all-round visibility thanks to the elevated driving position.
Despite its length measuring 4.7 metres and a width of 1.88 metres, the Santa Fe feels agile and is easy to handle. And the car also features Smart Parking whereby front and rear parking sensors, along with a rear-view camera, feed information to the touchscreen. The higher specced cars have a more sophisticated set-up called Smart Park Assist. Ultra-sonic sensors will identify a viable parking space and then steer the vehicle into or out of a space. The driver controls the brake and accelerator while the car does the rest - making you look the ultimate expert at parking.
My only slight gripe during the test drive was the speed of the sat nav - it seemed to take quite a while to update on the move should any diversions or alterations to the route be necessary.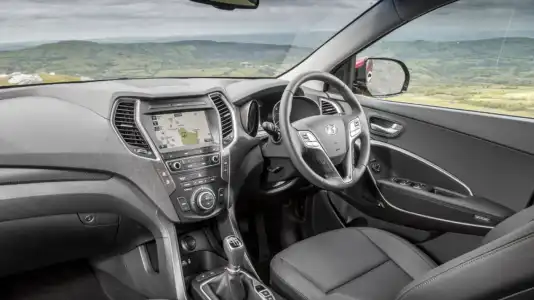 Space & Practicality
The Santa Fe is designed to be a practical vehicle that can accommodate seven people and it does exactly that. The front five occupants are treated to ample leg, head and shoulder space whereas the pair of rear seats are really only suitable for children. It's a shame the second row seats don't tumble forward which would make accessing the third row less difficult, but I liked the way these seats fold completely flat to the boot floor. After all, the majority of time the Santa Fe will be used as a five-seat car that has the extra space available if needed.
The boot is generously sized too with a capacity ranging from 516 litres to 1,615 litres depending on the seating configuration. In addition, there are plenty of convenient storage compartments scattered throughout the cabin, such as a deep stowage area between the front seats, cup holders, front and rear door pockets, front seat-back pockets, underfloor storage, luggage hooks, a luggage net, a practically-sized glovebox and a smart tailgate system that includes sensors that detect a person approaching the car with the key and then can automatically open the tailgate.
The Santa Fe also has a maximum braked towing weight limit of 2.5 tonnes making it the ideal car for pulling along a caravan.
Ownership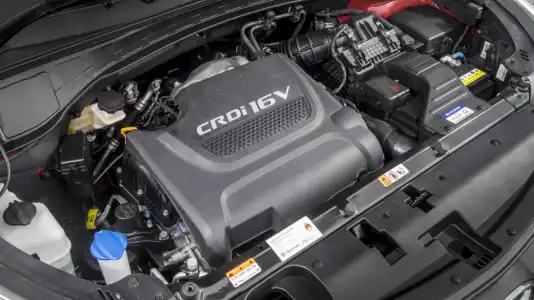 Running Costs
So, onto the nitty gritty then - how much of a dent will the Santa Fe make in your savings? Well, to be fair, the car is reasonably priced in such a competitive field although the higher grade models start to tread on the toes of the premium marques such as BMW and Land Rover.
The most economical version is the five-seat manual model in Premium grade costing £32,845. This car can deliver combined fuel economy of 46.3mpg with carbon emissions of 159g/km. This would have a Vehicle Excise Duty cost of £500 for the first tax year and £140 after that.
The test car, priced at £37,495, also had CO2 emissions of 159g/km so the VED costs would be identical.
Insurance ratings are graded from group 27 to 31.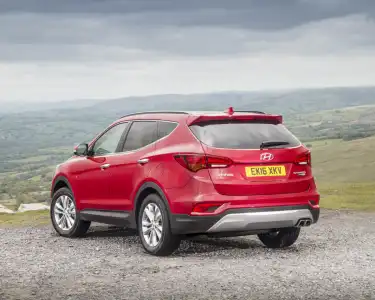 Quality & Reliability
The Hyundai Santa Fe has quite a robust feel to it and any doubts about it being a soft roader were put to bed when it became the first passenger vehicle to be driven across Antarctica. In fact, a special Endurance Edition is available to celebrate the achievement.
The Korean company seems to have covered all bases with the Santa Fe's design so it can easily traverse gravel or grassy terrain without picking up any blemishes thanks to the scuff protection which keeps dirt, scratches and debris away from the door sills.
The interior is well put together and all the switchgear looks like it will last the test of time. In addition, there are plenty of wipe-clean surfaces so there will be no fears about transporting youngsters after picking up lunch at the drive-through!
Previous generation Santa Fe cars have not experienced any major issues and there is the added peace of mind that Hyundai offers a five-year/100,000-mile warranty on its cars.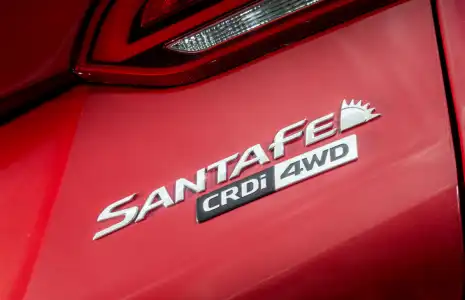 Safety & Security
The Hyundai Santa Fe was awarded the maximum five stars for safety when it was tested for its Euro NCAP rating and it is bursting with technology and driver aids.
Features include autonomous emergency braking, advanced smart cruise control which helps keep a safe distance from the car in front when there is lots of stop and go driving, blind spot detection, a lane departure warning system, high beam assist, along with electronic stability programme, vehicle stability management, brake assist, a tyre pressure monitoring system, seven airbags and ISOFIX child seat fittings on the second row of seats.
With the prospect that the Santa Fe may be used for towing, the car is also fitted with Trailer Stability Assist to help prevent or reduce any swaying when pulling a trailer or caravan.
Buy and save on quality approved and used cars