Pros:
Excellent off-road capability

Functional but aesthetically pleasing interior

Spacious
Cons:
Expect challenged fuel economy

New and untested manufacturer

No dealerships
Introduction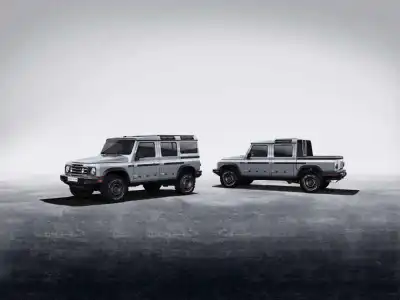 Imagine a Mercedes G-Class and a (pre-redesign) Land Rover Defender had a baby. Voilà! The INEOS Grenadier is born.
That's about as complicated as it gets to understand where this fledgling car manufacturer is coming from.
People might be fearful of buying from a new manufacturer and, often, with good reason. After all, INEOS is a British-based international chemicals firm owned by Sir Jim Ratcliffe, who has a net worth of around £20 billion. So funding isn't an issue, then.
So why cars?
Well, if you're a Formula One fan, you may recognise INEOS as the sponsor that provides that little dash of red on top of the otherwise all-black World Championship-winning Mercedes F1 cars. What you may not know is that, nowadays, INEOS actually owns one-third of the team, too. So, it's undoubtedly been hanging out with all the right people.
Whether that necessarily gives INEOS the pedigree needed to suddenly build its own vehicles remains to be seen but, credit where credit's due, it's gone ahead and done it.
Oddly, given its relationship with Mercedes, it's BMW it's teamed up with, along with Magna Steyr in Austria – who build some Mercs, BMWs and Jaguars – to create the Grenadier. INEOS has also bought Mercedes' former Smart car factory in France, so it's clear the firm is deadly serious about this.
So far, so good.
However, while you may think the name Grenadier was chosen for its military connotations, as if reminiscing of the Land Rover Defender's heydays in the British army, it was actually named after Sir Jim's favourite London pub.
Just as well it isn't called the 'Pig In The Poke'. Or the 'Bag o'Nails'!
On The Road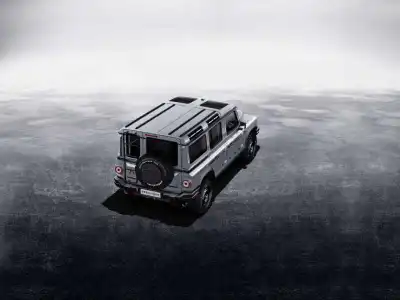 Performance
BMW provides the Grenadier's engines, which is never a bad start. There are two 3.0-litre six-cylinders offered – a petrol producing 285PS and a diesel producing 249PS, although the lower-powered diesel provides more torque. Both come with eight-speed automatics.
The engines offer a rich sound – especially in the petrol one – even if it doesn't sound quite as smooth as the same unit in a BMW.
The diesel sounds mighty, too, and the Grenadier appears to love the torque it generates. For a big motor, it has a decent amount of agility. Its adaptability to all manner of driving conditions is excellent, and it moves well on the road.
There are no performance figures like 0-62mph times available yet, but when they are revealed, they're unlikely to suggest tardiness.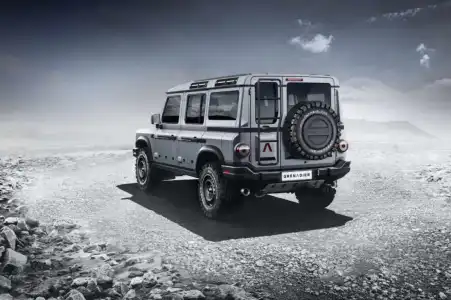 Ride Handling
The Grenadier has permanent four-wheel drive. As a large 4x4, it naturally has some body roll in the corners. But, overall, an excellent job has been done with tweaking the chassis to offer maximum stability on the road.
In reality, though, INEOS wants you to drive the Grenadier off-road – and you get a sense that it's staking its reputation on the vehicle's ability to do so.
This could go badly. Given the links to BMW, the German marque might be famed for its excellent X5, but it has had some shockers in the past with so-called 4x4s that didn't work on the rough stuff (the original X3 being a good example).
So, can the Grenadier go off-road? The answer: emphatically, yes.
The suspension is very firm, so don't expect much comfort off-road, but then navigating over large rocks rarely is. But the suspension setup means it holds up well to anything Mother Nature's untouched terrain can throw at it.
It has virtually endless grip, even when ascending steep, slippery slopes. And, although you'd imagine the tin-can-like structure of a utilitarian-looking vehicle would be creaking as if tearing itself apart, the Grenadier feels well-planted like it's holding itself together with ease.
INEOS knows that some people will be using this as a Chelsea Tractor, so, as a result, the off-road tyres we've got are optional extras. But they are superb.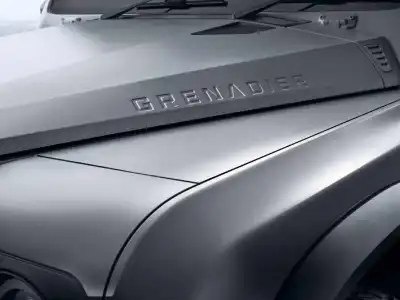 Styling
As we said at the beginning, the Grenadier looks like a cross between a traditional Land Rover Defender and a Mercedes G-Class.
Land Rover's decision to bring the Defender in line with the modern styling of the rest of its range appears to have been a key factor in INEOS creating this. The company wants to fill what it feels is a gap in the market for hardcore Defender fans who, it believes, are not only disappointed that its old-school looks are no more but, crucially, want to buy British.
A first glance from the side, and you'd swear it was a Defender, although the rectangular grille is thinner and, from the side, it's definitely more of a G-Class.
Either way, neither is a bad place to start when designing such a vehicle.
There's even a spare wheel and a ladder on the back, although the ladder is an optional extra.
In The Car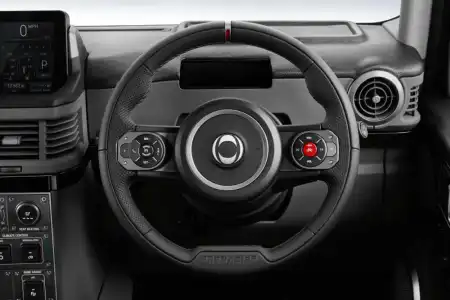 Behind the Wheel
The old-school Defender was traditionally utilitarian inside: practicality over styling at virtually any cost.
Those who appreciated the minimalism of this design philosophy may be disappointed, as INEOS feels that having such a design for the sake of it is unnecessary and decided on something far less basic.
But it's not all doom-and-gloom for those of a retro disposition. It balances utilitarianism with styling well. As a result, it appears modern, with attractive, yet old-fashioned, charm.
All the buttons are grouped together and clearly labelled. In fact, as someone who is (for some reason) familiar with the cockpit of an Airbus, the precisely laid-out and labelled square buttons, each positioned logically, seem like the aircraft manufacturer has inspired them.
And, like in an aircraft, there are more buttons and switches above the dashboard on the roofline, too. These mainly control lighting. In a car that's designed with multi-purposes in mind, you need lots of buttons, but you won't be left scratching your head trying to find them or work out what they do.
A widescreen 12.3-inch infotainment system sprouts out of the top of the centre dashboard – also sourced from BMW. It features Android Auto and Apple CarPlay as standard. But, thanks to the plethora of switches in the cabin – in true utilitarian style – you won't be needing to use such modern-day wonders to adjust the systems of the Grenadier.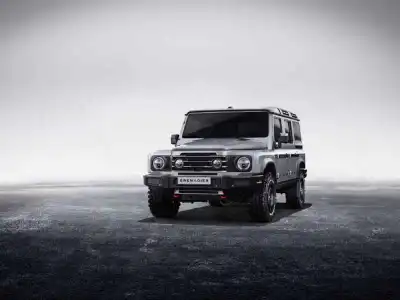 Space & Practicality
Despite its size, it only has five seats. But other combinations are expected, so those wanting seven shouldn't despair. Though, of course, without the two extra seats in the back, this makes for plenty of storage space.
Rather than a boot which you open from the bottom, there are two doors at the back, which open out from the middle, revealing a flat floor and making access even more straightforward.
There's loads of room inside, and you won't struggle for head or legroom – even if you're seven feet tall.
We don't have precise figures for boot space yet but suffice to say; it will be rivalling mid-sized vans for cargo capacity, rather than your average family hatchback.
Ownership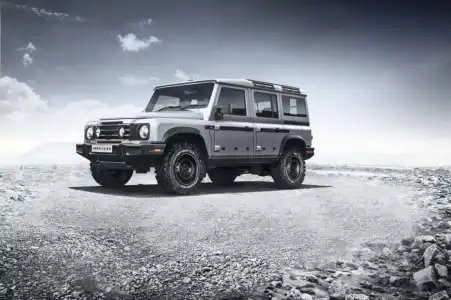 Running Costs
This is one thing we don't yet know. However, we can get an idea of the ballpark in which the Grenadier is likely to compete.
A diesel Mercedes G-Class with a 3.0-litre, six-cylinder diesel engine manages 29.4mpg.
There's no equivalent G-Class petrol, but the BMW X7's 3.0-litre six-cylinders will manage 38.7mpg in the diesel (producing around 190g/km CO2) and 26.6mpg in the petrol (218g/km CO2).
And, of course, the Grenadier has the Bimmer's engines, albeit slightly detuned.
No details have yet been announced on warranties, but three years is standard, up to 60,000 miles. Anything more than that, and you should be delighted.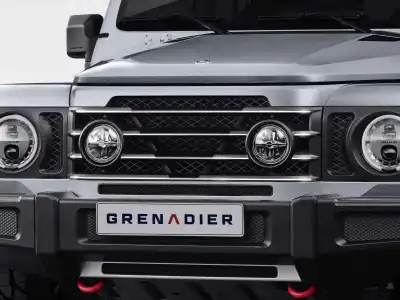 Quality & Reliability
The INEOS certainly feels well-built, both in terms of the car itself and its interior.
It feels solid to drive, too, and everything about it screams out 'attention to detail'.
Of course, no matter how good it might be, the question of reliability is something nobody will be able to answer for a while. A partnership with BMW, a background with Mercedes' F1 team and a production line outsourced to a company that's made BMWs, Jaguars and Mercs certainly ticks all the right boxes, though.
Admittedly, German cars' historical reputation for quality and reliability doesn't quite ring true to the same extent nowadays, but all the above make for encouraging signs.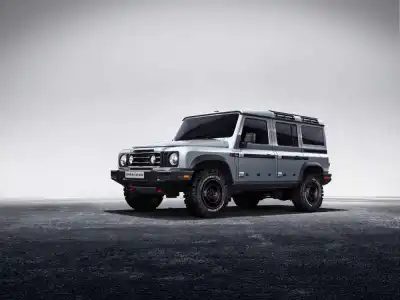 Safety & Security
Euro NCAP hasn't crash-tested a Grenadier yet and, with no manufacturer history to look back on, it's impossible to predict how it might do.
We also don't know much about the safety systems on offer yet, either.
But, without wishing to put graphic images in your head, just look at it. If a standard car collides with it, which do you think is going to come off worse?
A bit presumptuous and self-preserving, perhaps, but if the ruggedness and solidity of the INEOS we've seen so far is anything to go by, the firm will have put a lot of thought into the safety, too.
We recommend you don't try running it off a cliff as an experiment, though… just in case.
Summary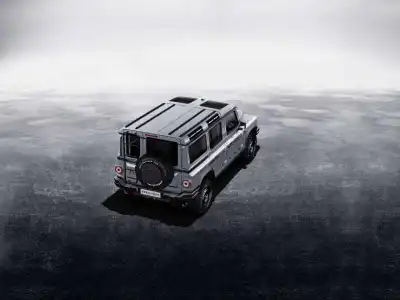 As you can see, there's still plenty about the Grenadier – and, indeed, INEOS as an automotive manufacturer – that we can't measure.
With things like safety ratings, reliability and quality, only time will answer some of these unknowns.
Nevertheless, from what we've seen of the company and the car so far, we're very encouraged by the credibility of both.
What we've reviewed is not the finished article, so some tweaks are likely. We don't know pricing yet, but £40,000+ is expected, although you'll probably be wanting some optional extras to make the most of its off-roading capability.
It's very rare that a new automotive manufacturer comes along. When they do, it's usually four blokes on an industrial estate who don't last long. Or it's a new brand that's actually an off-shoot of an existing established manufacturer. INEOS isn't either of these, so this is an even rarer occurrence.
Without a doubt, INEOS hopes it will be taken seriously.
It's still early days but, so far, it's given every indication it deserves to be.