Pros:
Excellent value with a model to suit all budgets and needs

Improved line-up all powered by a new cleaner engine

Superb off-road ability and packed with safety kit
Cons:
Quite noisy when driven hard

Most rivals are more fun to drive on the road

Only one engine available
Speak with our Concierge team to discuss your car buying options
Request a free call back
Introduction
Isuzu doesn't make cars but it uses its hundred-year-plus expertise and know-how to develop very good pick-up trucks. The D-Max has been around since 2012 and underwent a facelift in 2017. But now, Isuzu has launched the all-new third generation vehicle and it is smarter, stronger and safer.
But these days the designers need to cater for customers who want a workhorse along with those that choose a pick-up as a lifestyle choice. The answer to that dilemma is develop a whole range of models and that's just what Isuzu has done. So, the D-Max is available in Single, Extended or Double Cab styling, with two- or four-wheel drive and basic trim models right the way through to high-end luxury versions.
And it all seems to be going to plan because all vehicles destined for the UK from Thailand where the D-Max is built, have been pre-ordered. That means new customers placing orders will have to wait until the end of the year for delivery.
On The Road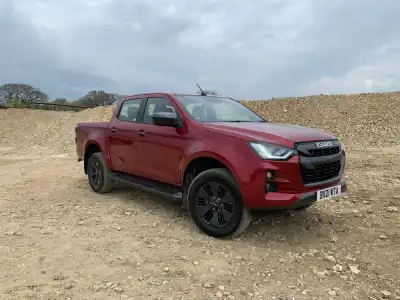 Performance
Customers can choose from three D-Max ranges called Business, All-Purpose and Adventure with four trim levels named Utility, DL20 (DL refers to the Differential Lock), DL40 and V-Cross. The entry-level models cater for the hard grafting side of things whereas, at the other end of the scale, the V-Cross is ideal for the more lifestyle-generated market.
All models are powered by a 1.9-litre, 164ps diesel unit delivering 360Nm of torque and our V-Cross Double Cab model, with six-speed automatic gearbox, could reach 62mph from a standing start in 13.0 seconds and topped out at 112mph.
Out on the open road, the D-Max offers smooth acceleration with 25 per cent faster gear changing on the latest version. The road holding is nicely planted and body sway is kept to a minimum too.
With off-roading ability high on many owner's priority list, the D-Max is very competent when put to the test. We visited a working quarry where the vehicle waded through water obstacles (it can wade to a depth of 800mm). It clambered up slippery banks, dropped down steep hills, balanced at crazy angles and ploughed through deep sand – all without any hesitation.
There are three drive settings. The 2H is for just rear-wheel drive, 4H delivers drive to all wheels in a high gear ratio for slippery surfaces such as mud, gravel or grass, and finally the 4L setting that provides drive to all wheels in a low gear ratio for the more extreme off-road challenges.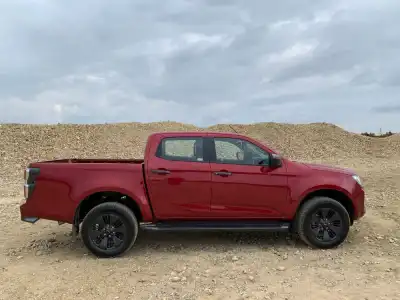 Ride Handling
When it comes to ride and handling, the first thing to remember is that the D-Max is a pick-up and has therefore been designed to put in a hard day of grafting when needed. That said; the improved suspension, chassis and upgraded insulation does make the latest model more enjoyable on the road.
It is nicely balanced and confident into bends with well weighted steering. But it all gets a little bit noisier when travelling at higher speeds with the engine getting more vocal.
There are new chassis cab mounts designed to absorb more noise and vibration and this means occupants benefit from a calmer, quieter cabin environment, but it's not exactly SUV quality.
The acceleration through the six-speed automatic gearbox is nicely timed and there is enough power on tap to overtake slower moving vehicles with ease. Admittedly, it's not the most dynamic pick-up to drive and takes a little while to get up to speed, but it copes okay on the road and excels away from the Tarmac.
Significantly, the heaviest new D-Max model – the V-Cross auto – weighs in at 2,030kg. Legally, any vehicle weighing above 2,040kg must be driven at goods vehicle speed limits which are 10mph less on single and dual carriageways. This restriction is often overlooked and can lead to some unwelcome police notifications through the post.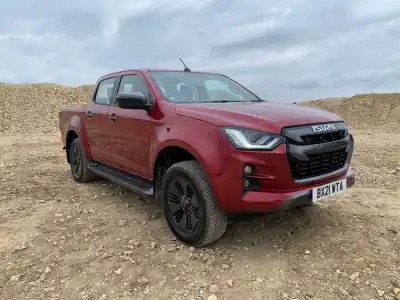 Styling
The new D-Max boasts a more imposing design with smart light clusters including Bi-LED headlights and daytime running lights on higher trim levels. The entry-level Utility models feature lots of practical, hard-wearing plastic decals, DL20 versions gain body-coloured bumpers and door mirrors, DL40 models feature additional chrome detailing and V-Cross versions have a distinctive look thanks to gun metal finishing touches.
Revised seat designs have been introduced to improve comfort and reduce driver fatigue with seat cushions made from Anti-Vibration Elastic Comfort. This sounds technical but basically it reduces the levels of vibration the driver feels from the road so you won't arrive feeling like you've been on a fast spin!
The entry level Utility D-Max, along with the DL20, have practical cloth upholstery but this is upgraded to upmarket leather on the DL40 and V-Cross ranges.
There is an improved suspension system on new D-Max that enhances the road holding, reduces body roll and helps smooth out uneven surfaces along the way.
Although the engine does still get quite vocal under heavier acceleration and there is a fair amount of wind noise from the large mirrors, the latest model is far more refined and better insulated than the outgoing version.
In The Car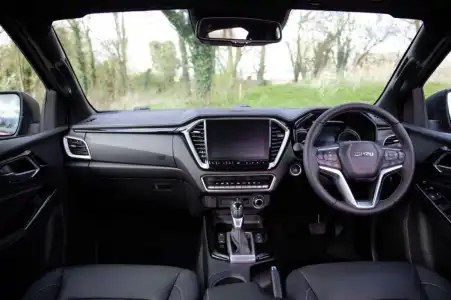 Behind the Wheel
With eight-way powered seats on the V-Cross and ample steering wheel adjustment it takes just seconds to find the perfect driving position inside the Isuzu D-Max and, thanks to the elevated seats, the all-round visibility is excellent.
With lumbar support as standard across the whole range, comfort levels have improved over the outgoing model and there has been an upgrade in the on-board technology too.
The instrument panel now features a 4.2-inch Multi-Information Display and there is also a nine-inch colour touchscreen (seven-inch on DL40 models) with Apple CarPlay and Android Auto, Bluetooth, a DAB radio with eight speakers, CD player, front and rear USB ports, along with dual zone climate control.
There is a clutter-free layout to the cabin and it's easy to adjust settings such as the 4WD options on the move.
New speed-sensitive electronic power steering is another plus-point with lighter steering at lower speeds for easier manoeuvrability in tight spaces and a turning lock of 12.5 metres. Then the steering gets heavier at faster speeds.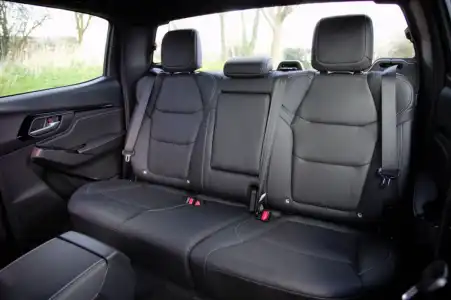 Space & Practicality
On the practical side of things, the D-Max's wheelbase has been increased by 30mm and, as a result, there is additional space inside the cab so back seat passengers can stretch out with 60:40 split-folding rear seats that are angled for comfort. The rear doors open nice and wide for easy access as the B pillar has been moved slightly forward, and there are grab handles front and rear to help climb in and out of the vehicle.
The rear seats can be dropped completely flat to the floor which is convenient and there is extra storage beneath the seats as the jack and tools have been relocated to behind the seats.
Elsewhere throughout the cab, there are there are 10 cup or drinks holders, a double glovebox, upper dashboard storage, a deep central cubby box, practical trays, a sunglasses holder and a small compartment near the driver's door.
The load bed size depends on the model with the Utility Single Cab stretching 2,315mm in length, the Extended Cab version is 1,805mm while the Double Cab is 1,495mm and the payload weight ranges from 1,070 to 1,205kg.
The D-Max can tow a trailer or caravan weighing up to 3.5 tonnes (2.5 tonnes on the entry-level model) and the highly efficient 4x4 system will make light work of towing across wet or muddy ground.
There is a reversing camera situated in the tailgate handle on range-topping versions which is handy when manoeuvring a vehicle measuring more than five metres in length.
Ownership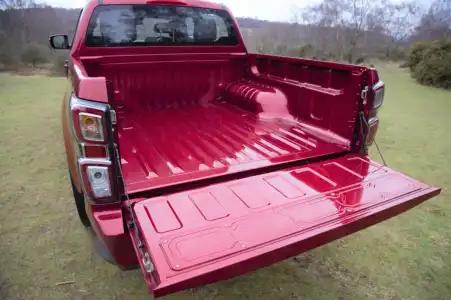 Running Costs
The Isuzu D-Max is priced at the lower end of the scale compared to most rivals (apart from the SsangYong Musso) and there are models of all sizes to suit needs and budgets.
Prices start from £21,009 (excluding VAT) for the entry-level Utility 4x2 Single Cab model and rise to £32,759 for the V-Cross Double Cab Automatic version that we tested.
There is just the one 1.9-litre diesel engine but customers can specify a six-speed manual or automatic gearbox along with two- or four-wheel drive. These decisions do have a slight impact on the running costs with the combined fuel efficiency figures ranging from 30.7-33.6mpg and carbon emissions from 220-241g/km.
The D-Max is classed as a light commercial vehicle so the tax payments are fixed rather than being based on CO2 emissions and it sits in insurance group 50D.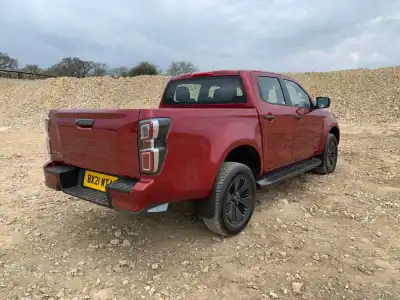 Quality & Reliability
Isuzu has ensured its latest D-Max range suits all budgets and requirements so there are stronger, more basic models that will be very much at home on the building site or the higher trim versions that cater for the ever-growing lifestyle market.
But whichever model is chosen, the vehicle has been developed with longevity and durability in mind. For example, the newly designed side steps protect the body from stone chips and also feature a non-slip surface for improved safety. Entry models have more practical steel wheels while at the other end of the scale snazzy alloys are introduced instead.
Move inside and there is lots of practical, hard plastic surfaces that will not be spoilt by any spillages and Isuzu pays extra to have vinyl floor covering on its UK vehicles as this is more practical than carpets.
The D-Max is also very capable off-road and there is additional underbody protection along with a 1.5mm steel skid plate. The strength and rigidity of the durable ladder chassis has also increased which adds to the strength and safety of the vehicle.
The upholstery, switchgear and touchscreen all seem well put together and the Isuzu D-Max comes with a five-year, 125,000-mile warranty which gives some indication as to how confident the company is about the vehicle's reliability.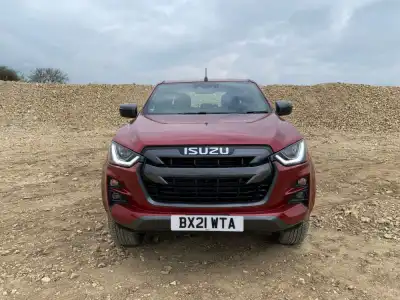 Safety & Security
The Isuzu D-Max was awarded the maximum five stars when it was tested for its Euro NCAP safety rating and is fitted with a range of advanced driver assistance systems.
All models feature forward-facing cameras and, as a result, come with Forward Collision Warning, Autonomous Emergency Braking, Traffic Sign Recognition, Intelligent Speed Limiter and a Lane Departure Warning and Prevention system.
A new driver's knee airbag is standard across the range, meaning Double Cab models have eight airbags in total as they also have a new centre airbag that offers added protection to front occupants in the event of a side-on collision.
Also new is the latest e-Call system that dials the emergency services in the event of an accident when the airbags are deployed. If there is a less serious accident the driver can simply press the E-Call button on the overhead console to be connected with the emergency services.
Another feature worth noting are the larger brakes that help to reduce stopping distances.
All D-Max vehicles are protected by an alarm with deadlock and an immobiliser.
Speak with our Concierge team to discuss your car buying options
Request a free call back