Pros:
Exemplary styling makes an SUV look like a proper Jaguar

Spacious boot and practical touches

Excellent ride quality
Cons:
Quality isn't up to scratch in all areas

Performance is a tad pedestrian

Cabin is more cramped than some of its rivals
More On This Car
Take one for a spin
Request a Jaguar E-Pace test drive
Introduction
Only a few years ago people would have scoffed at the thought of an SUV wearing a Jaguar badge, but the F-Pace proved the public were ready. Now there's its smaller sibling, the E-Pace, an SUV that shares a fair chunk of its running gear with the Range Rover Evoque.
In D150 form tested here, it's as simple as the range gets - there's no off-road friendly all-wheel drive, and there's no automatic gearbox. Every other model gets all four wheels driven, and most are automatic only, but Jaguar still thinks that this will be the second biggest selling model.
On The Road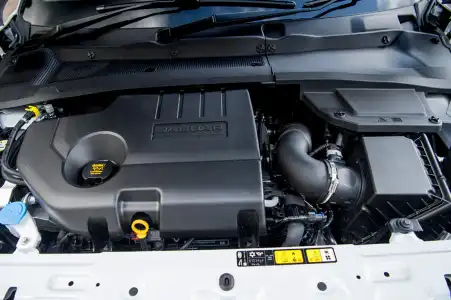 Performance
Choosing the least powerful engine in the range sounds like it might make for a ponderous car, but Jaguar's two-litre Ingenium turbodiesel engine produces a reasonably healthy 148bhp and an impressive 380Nm of torque - it's the latter that really gives the car some shove and, combined with a six-speed manual gearbox, leaves the E-Pace feeling sprightlier than you might imagine.
It's not particularly quick if you look at the raw numbers, as the 0-62mph takes a lengthy 10.1 seconds, but in-gear acceleration is strong thanks to all that torque. The ability to decide for yourself whether to use that low-down grunt or change gears furiously to keep the revs high and engine buzzing makes for a more engaging experience, too.
Of course, quicker options are available, all the way up to a toasty 246bhp petrol engine that will propel the E-Pace to 62mph in a sports car rivalling 6.6 seconds. That's aided by all-wheel drive traction, something this entry level model has to do without.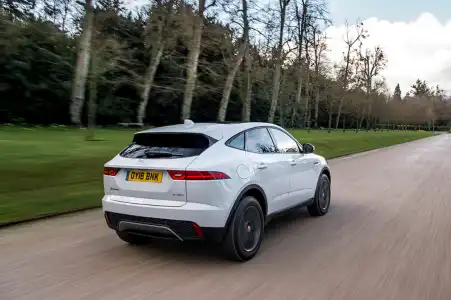 Ride Handling
This is definitely an area where less really is more. In eschewing the more performance oriented models in the range, and the large alloy wheels and stiff suspension they come fitted with, this D150 is a really rather glorious thing.
With tall tyres to absorb most of the minor ripples in the road, the suspension can get on with the job of smoothing out the rougher stuff, and it does that very well. It's not at the expense of handling prowess though, with the E-Pace having some excellent body control and sharp responses from the steering, making it as agile as anything else in its class.
It's a supremely well judged balance between comfort and handling, getting almost the very best out of both sides of the coin. Under power the front wheels can scrabble at the surface a little, but it's not intrusive and disappears once the electronics catch up.
The front-wheel drive limitations of the E-Pace show up eventually, but long after most drivers would have given up. More powerful models come with all-wheel drive, offering better traction and a slightly more balanced feel through the corners, but it's not a necessary upgrade.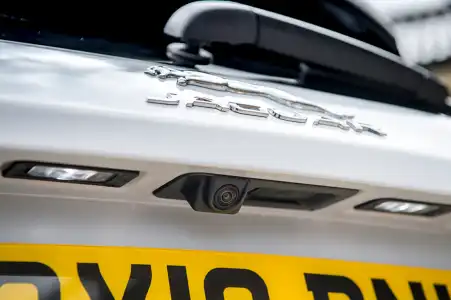 Styling
Despite being a new engine, the Ingenium unit isn't the most refined diesel engine you'll ever find. It maintains a distinct rumble even at motorways speeds, although it's by no means the worst of its kind.
The manual gearbox helps again, allowing the driver to remain in a high gear and rely on that wave of torque, in turn keeping the revs low and the engine quieter. It's certainly better than the slow reacting and indecisive automatic gearbox fitted to other models.
Outside of that, wind noise is kept at bay thanks to a slippery shape, while tyre noise is audible but unobtrusive. With the soft tyres and suspension underneath, it all feels rather composed and discrete.
In The Car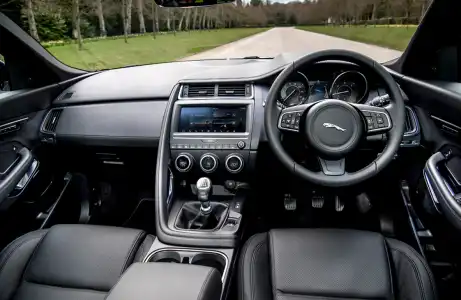 Behind the Wheel
At first glance, everything about the E-Pace interior looks good, and the driving position and ambience of the cabin are top notch.
On taking a closer look at the soft dashboard cover, the plastics around the steering column and the row of buttons below the infotainment screen you'll realise they're not quite as robust as those you would find on a Volvo XC40 or BMW X2, two obvious rivals.
The Infotainment system looks good, but it's slow to respond, the navigation system is still a tad tired, and there's no way of controlling anything without having to prod at the feedback-free touchscreen. There's also no sign of Android Auto or Apple CarPlay, something that is becoming increasingly essential.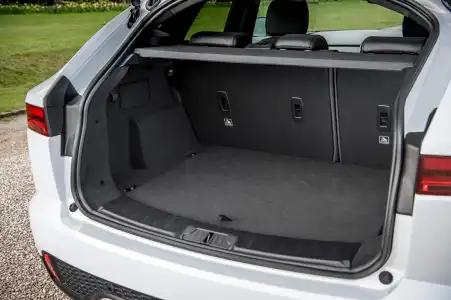 Space & Practicality
Despite looking quite muscular and bulky, the E-Pace isn't a particularly large car, and there's little practical advantage over a decent traditional estate car. However, the front seats are comfortable and roomy, with plenty of headroom, while the rear seats are acceptable. A pair of adults will fit, and won't mind even a long journey, but there's not much room to spare.
The boot is a good size though, and easily accessible. Able to swallow 577 litres of luggage, that's substantially larger than either the Volvo or BMW.
A big glove box, decent door pockets and two large cupholders up front means there's plenty of places to store smaller items, although there's nowhere obvious that will accommodate today's larger smartphones.
Ownership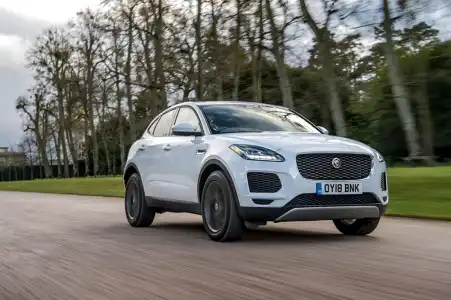 Running Costs
At just over £30,000, this lower spec model is still rather pricey, although no more so than its equally expensive rivals. However, decent residuals mean that you won't lose much money on the car over three years and that in turn keeps leasing and PCP costs lower than they could be. The slightly more powerful D180 model is likely to fare better than this D150 model in the long term, which will reduce the gap in monthly costs between the two, possibly making an upgrade viable.
Economy from the diesel engine is reasonably strong, with 60.1mpg promised through official testing. Figures north of 40mpg were easily achieved during my time with the car, under what could be considered more enthusiastic driving than most will subject it to. CO2 emissions are rated at 124g/km, which means car tax is £140 per year while business buyers will face a BIK rate of 30%.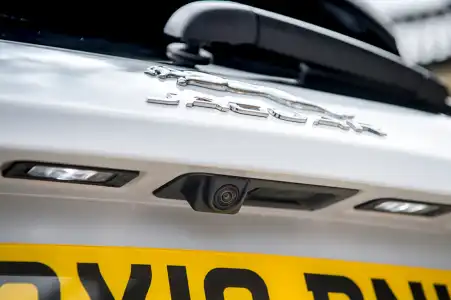 Quality & Reliability
While it's too new to get a handle on the reliability of the E-Pace, the Range Rover Evoque achieved an almost identical score to the Audi Q3 in the most recent Driver Power owner satisfaction survey. Overall, Jaguar outscored BMW across the entire model range.
Should the car let you down, there is a three-year, unlimited mileage warranty on the E-Pace. With around 130 dealers across the country, any warranty repairs should be dealt with quickly, while routine servicing shouldn't be a problem.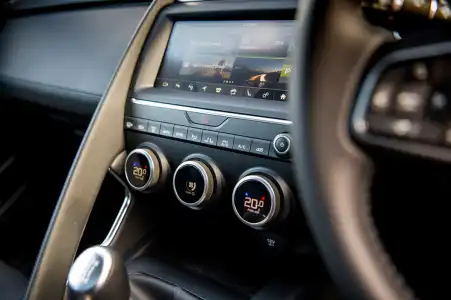 Safety & Security
Kudos to Jaguar, it's made one of the safest cars in its class, thanks to a long list of safety equipment, both mechanical and electronic. The entry level E-Pace comes fitted with automatic emergency braking, lane keeping assist, a driver alertness monitor and a speed limiter. Move up the range and traffic sign recognition with automatic speed limiter activation, 360-degree cameras, rear traffic monitor and blind spot assist get added to the mix.
EuroNCAP awarded the E-Pace five stars following testing last year, praising its side impact strength particularly. The experts there scored the car 86% for adult crash protection, while child protection was a strong 87%.
More On This Car
Take one for a spin
Request a Jaguar E-Pace test drive