Jaguar F-Pace SVR (2016 - ) Review
Jaguar steps up another gear, as it's supercharged F-Pace SVR monster version is unleashed
More On This Car
Take one for a spin
Request a Jaguar F-Type test drive
Pros:
First-rate handling

Ferocious power

Excellent infotainment system
Cons:
Best suited to on-road, not off-road

Fuel economy is very low

CO2 figures make it expensive to tax
Starting price:
Price from £72,630
Introduction
There was a time when people would have baulked at the idea of Jaguar doing a 'Range Rover-esque' type of vehicle. But ever since people accepted BMW's X5, the SUV concept has quickly become the norm, with Bentley, Maserati and even Lamborghini getting in on the action more recently. Jaguars generally are no longer seen as "cars for retired people", and the F-Pace has continued this journey with much aplomb - with many accolades along the way to prove it. And, just as the likes of BMW, Mercedes and Audi eventually let their hair down by offering superfast M-versions, AMGs and 'S' or 'RS' variants, Jaguar has now doffed its hat to the petrol-head by unleashing the SVR. But this is far more than just a big-engined Jag. A raft of upgrades geared towards performance means expectations are high. So, we took it to the twisting roads of the French Riviera to find out what it's really like.
On The Road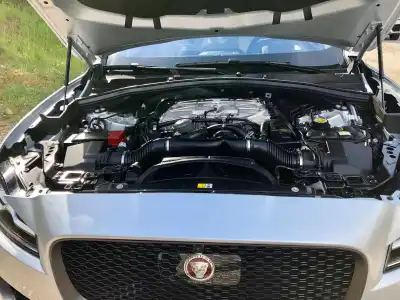 Performance
While it is easy to look at Mercedes, Audi and BMW, Jaguar based its vision for this car on Porsche's Macan, the smaller of the German manufacturer's two SUVs. It produces 550PS, precisely 25 per cent more than the most potent Macan, and around a 45 per cent increase on the next most potent F-Pace engine. And, realising the German powerplant was no match for the SVR in terms of grunt, this has given Jaguar the time to focus on other areas, which bodes well.
Nevertheless, the engine is quite extraordinary. It is a 5-litre supercharged V8, propelling you from zero to 62mph in just 4.3 seconds and maxing out at 176mph (though, admittedly, we didn't reach that speed on the twisting roads between St Tropez and Nice). The engine drives all four wheels via an eight-speed automatic gearbox, though you can use the aluminium paddle shifters if you want to take control yourself.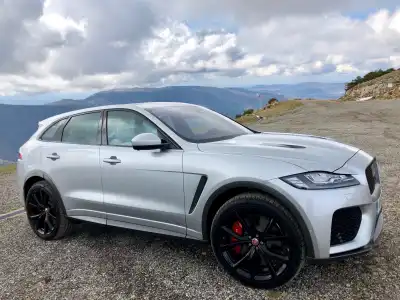 Ride Handling
The handling is impressive considering the F-Pace SVR is a mid-sized 4x4. The steering precision is remarkable, with a great deal of sensitivity. Only the slightest of inputs generates a noticeable difference to your direction. Overall, it's a very sporty driving experience, given the heft of the vehicle, but its unforgiving suspension setup does compromise the ride comfort somewhat.
Our test model came with the 22-inch wheels, which is an optional extra. Those who want a slightly more comforting experience may want to stick with the standard 21-inch rims.
Nevertheless, it was exciting tackling the snaking roads, with the F-Pace limiting body roll as much as possible, giving you the confidence to tackle corners without slowing to a crawl. Just keep expectations in check – the F-Pace SVR is a 4x4, not an F-Type.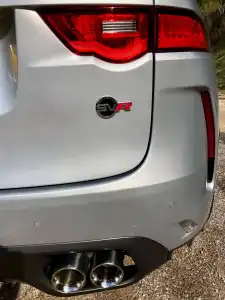 Styling
The F-Pace SVR is a single-trim model with much changed from the normal range. It looks far more aggressive, with air intakes on the bonnet and revised front and rear bumpers. The engine growls, but hearing the might of the motor is all part of why you'd go for a car like this.
The bumpers form part of the SVR aerodynamic package, which also features lower body sides and a rear lip spoiler to reduce drag and improve stability at high speed.
Other sport-focused upgrades show the extent to which Jaguar is keen for the SVR to be taken seriously, with the chassis featuring upgraded dampers and springs. There's also a rear electronic active differential optimising your grip on the road.
When it comes to the F-Pace SVR's looks, the word 'refined' is an understatement. Some may think that the recent drastic changes to Jaguar's range don't suit the F-Pace, but the SVR is simply stunning. It treads the fine line between sophistication and lunacy as perfectly as you'd hope.
In The Car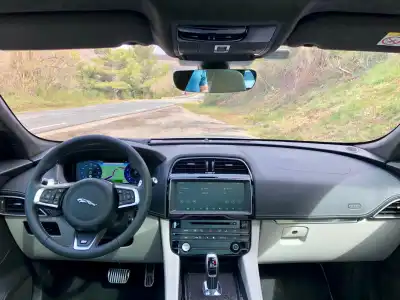 Behind the Wheel
There are far worse places to be than behind the wheel of a Jaguar F-Pace SVR – it's all very comfortable and attractive. The cabin design is well thought out and relatively luxurious and, though we'd maybe hope for a little extra garnish given the price tag, Jaguar interiors are getting better and better.
The aluminium paddle-shifters seem to scream out 'performance' and the infotainment system, which is called 'InControl Pro', offers a 10.2-inch touchscreen. Not only is the display crystal clear and full of detail, but Jaguar has also managed to beat many of its rivals by offering smooth menus. It also does away with the clunkiness that we've been used to for too long.
There are even four interior colour themes to choose from, which also give the nod to the high-performance nature of the F-Pace SVR.
Sports seats in the front are designed to hold you tightly in the corners, with the rear seats looking flatter but modelled on the same design.
It's a lovely place to be, indeed.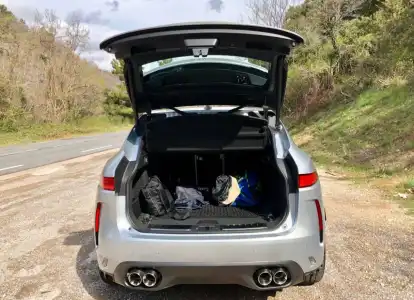 Space & Practicality
Although few buyers of the SVR will likely be looking at practicality as a priority, the available boot space is still an essential stamp of an SUV's credibility. Fortunately, the Jaguar F-Pace delivers here, too. Whereas some mega-powered SUVs have to reduce their available load space to accommodate additional equipment under the floor, the SVR avoids this, retaining 650 litres of boot space with the seats up, expanding to 1,740 litres with the seats folded flat – and that's more than a Range Rover Sport.
Being a five-seater, there is plenty of room in the rear and, despite being designed for performance, the seats are very comfortable. You'll fit three adults in the back without a problem.
Attention to detail is impressive, too – you can activate the tailgate by waving your foot under one of the rear corners of the bumper, though this is an optional extra.
Ownership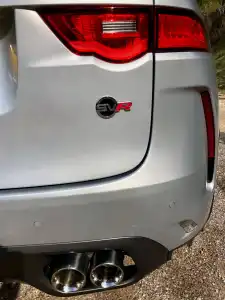 Running Costs
Naturally, running costs will always be the downfall of any high-powered SUV. The Jaguar F-Pace SVR manages just 23.7mpg combined. And, while it's easy to say that this is significantly behind its rivals, most of them have the 'advantage' of having much smaller engines. Therefore, the comparison is hardly fair.
272g/km of CO2 means this isn't very environmentally friendly either, so you'll have to fork out £2,070 for the first year's road tax. And, because the car's list price is over £40,000, it'll continue to penalise you for tax in the years that follow.
The truth is, you don't buy a vehicle like this without expecting it to hit your wallet. But then, if you can afford a motor like this to begin with, you probably don't mind too much.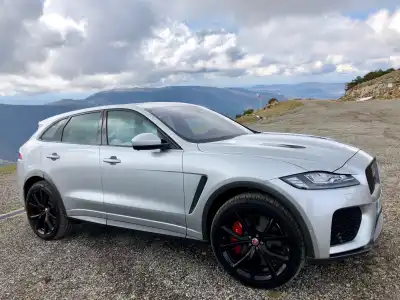 Quality & Reliability
With the F-Pace SVR being a new model, there are few indicators of how reliable it will be long-term.
The standard F-Pace has had a few issues though; from paint defects to panel fit and AdBlue liquid dripping from filler caps and hoses. Air breather pipes have also been known to chafe on parts of the engine.
However, Jaguars generally have a great track record for both reliability and build quality. What's more, the F-Pace SVR comes with Jaguar's standard three-year warranty – and there are options to extend this if you wish.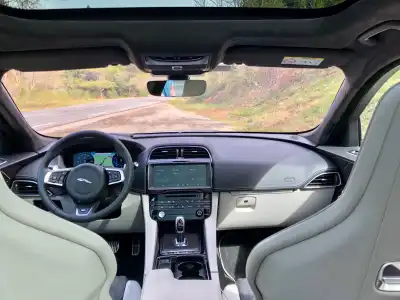 Safety & Security
The F-Pace SVR was tested by Euro NCAP and got a top five-star rating, scoring 93 per cent for an adult occupant and 85 per cent for a child.
The SVR's natural prowess as a sports car means that, while it's a far more powerful beast, it's also been designed to handle such enormous power. The brakes, active differential, aerodynamic package, rear lip spoiler, chassis modifications, dynamic stability control and suspension, are all specifically tuned to the SVR's needs. So you have the confidence that this car's safety equipment has been built with performance very much in mind, rather than just bolted on from the rest of the F-Pace range.
More On This Car
Take one for a spin
Request a Jaguar F-Type test drive