From £40,000 - £45,000 (est)
Pros:
Comfortable long-distance cruiser

Large cargo capacity

Good safety technology
Cons:
It wallows in corners

Steering is woolly

Noisy under acceleration
More On This Car
Take one for a spin or order a brochure
Request a Jeep Cherokee brochure
Request a Jeep Cherokee test drive
Introduction
Like it or not, Jeep is a lifestyle brand, and there will always be fans ready to buy one, whether it's any good or not. You see, the Cherokee has been around for 44 years, and just like an ageing rock star, it can be hard to criticise a name that's so enduring. But, with our usual impartial hats on we decided to get behind the wheel of the fifth-generation Cherokee to determine what the changes for 2019 mean. After all, the model hasn't just had a face-lift, the suspension has been tinkered with, and its infotainment system has been enhanced. This is so Jeep keeps 'down with the kids'. Kids like the BMW X3, Audi's Q5 and even the Skoda Kodiaq and Ford Kuga. We took the Cherokee, in 2.2 MultiJet 4WD Overland guise, for a drive around Sicily to see if it still has talent or if it's a 'has-been'.
On The Road
Performance
The revised Cherokee doesn't go on sale in Britain until early February 2019, and if you want choice, you'll be left wanting. It comes to our market with four-wheel-drive, although two-wheel-drive is available in other territories. It also comes with only one powerplant - a 2.2-litre diesel with 195 PS. This delivers enough clout to get the hefty machine from 0-62mph in 9.1 seconds and on to 127mph. The unit drives all its wheels via a nine-speed automatic transmission. It's the same 'box found in the current Cherokee, but with improvements to the software side of things. This results in the Jeep delivering power smoothly, but it's by no means the fastest SUV on the block. In fact, it feels slower than the zero to 62mph figure on paper states. It shifts very efficiently when left in 'auto' mode, but it's slow on the uptake when kicking down for an overtake or in manual mode.
Around town, the new Cherokee is painless to drive for a two-tonne (or thereabouts) lump of metal. It's also a comfy vehicle to cruise in straight lines along motorways and dual carriageways.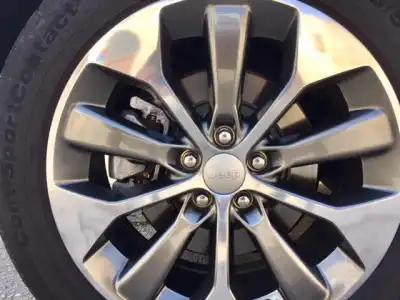 Ride Handling
The Cherokee's handling is decent enough on the straights, but it's a different story on the bendy bits.
Despite alterations to the new Cherokee's suspension, which Jeep asserts enhances both handling and ride comfort, the SUV feels unwieldy through the corners. The snoop-heavy chassis is susceptible to understeer, and the weighty, vague steering rack makes twisty tarmac a challenge, to say the least.
We threaded the Cherokee along many meandering Sicilian roads and felt exhausted at the end of our two-day trip. You really need to steer the car, and it does feel like a gym work-out sometimes. This means you need your wits about you 100 per cent of the time when at the tiller of the Jeep.
That said, the Cherokee's ride is even-handed in general, but excessively-soft dampers mean it lurches from lump to lump on scarred, rippling bitumen – and there's a lot of that in Sicily. It's planted enough at 70mph onwards, but an Audi Q5 or a BMW X3 is more relaxed – and both could outclass the Illinois-manufactured Cherokee on snaking asphalt. To be fair, the bargain-basement Skoda Kodiaq could too.
Off-road, though, the four-wheel-drive Cherokee is as awesome as it's always been. It will handle all terrains, as we found out in Sicily. We took it onto a sandy beach, over rocky trails and through a muddy field – and it sailed across all of it. This off-road capability will be a deal-clincher for some buyers. All units incorporate Jeep's Selec-Terrain system, a dial by the gear-lever which allows you to pick from a variety of modes: Auto, Snow, Sport and Sand/Mud. Sport generates a livelier throttle reaction and makes the automatic 'box hold on to gears. Auto constantly selects the optimum settings for the conditions you're driving in – and the other two modes do what they say on the tin. To be fair, we couldn't test the snow mode as it was 31 degrees on the Italian island, but trust us, the Cherokee will handle it.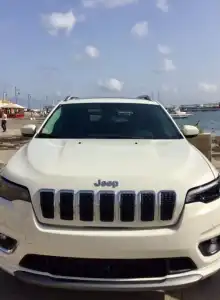 Styling
There are just two trim levels available for the 2019 Cherokee in the UK, although other markets get four. Here we will get Limited and Overland. The Limited model offers leather-trimmed heated and powered front seats, a seven-inch colour instrument cluster, a carpet covered load area, 18-inch aluminium wheels, and a high-definition 8.4-inch sat-nav with Android Auto and Apple CarPlay technology. It also houses Adaptive Cruise Control-Plus, a high-quality audio system and, new for 2019, a powered tailgate.
The flagship Overland trim ushers more frills into the Cherokee. It was the model we drove and adds 19-inch polished aluminium wheels to the standard kit of the Limited. It also sports painted fascias and a dual-pane electric sunroof. What's more, the cabin boasts ventilated and Nappa hide-trimmed seats, a leather-swathed dashboard, a heated steering wheel and heated back seats.
Even though the Overland sounds plush, the interior design still lets it down and looks cheap in comparison with BMW or Audi rivals. There are some downmarket plastics that the leather can't hide - and they don't seem in keeping with the Cherokee Overland's estimated £45,000 price-tag. (UK prices haven't been confirmed at the time of writing). Basically, the cabin is dated when compared with not just the German competition, but with Ford's and Skoda's too. It doesn't do the Jeep any favours.
In The Car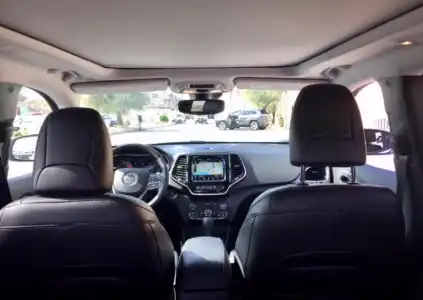 Behind the Wheel
Overall, there are worse places to be than behind the wheel of the new Cherokee. The thick steering wheel feels good in the hand but could do with a better range of adjustment. This is because it feels quite far forward and high up.
Instead of a traditional handbrake, the Cherokee has an electronic button with an automatic hill-hold assist function. For 2019, the electric park brake switch has been enclosed around the centre automatic gear-shifter bezel for ease of use. What's more, integrated gear-shift controls are fitted on the steering wheel.
But the most significant change is the new infotainment system. The 8.4-inch touchscreen is pleasing to the eye, although it's irksome that some climate functions can only be controlled via the display. However, the menus are easy to read, and the information loads speedily.
Better still, the car's reconfigurable instrument cluster contains a thin-film transistor (TFT) LED colour display which can easily be configured. The sort of data you get on it includes speed, fuel economy, turn-by-turn navigation and audio information.
The seats are comfortable and make long periods of time behind the wheel stress-free, as we discovered on our two-day road trip. The driver's seat provides a good range of movement, making your ideal driving position uncomplicated to find.
The new Cherokee is as likely to be used for 'urban adventures', as it is off-road, so we were pleased with the good visibility the Jeep offered us during our Sicilian jaunt. And, if you have a hard time turning around when reverse parking, there's a 'ParkView' rear back-up camera with grid lines to assist you.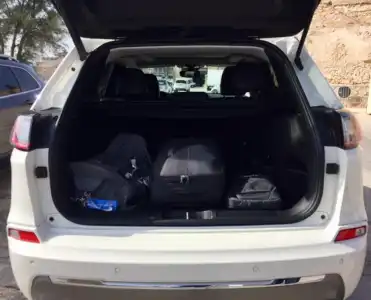 Space & Practicality
The Jeep Cherokee is a large car, and that became apparent when we squeezed through Sicilian village streets that were designed for horse and carts. But the ample size means it can compete vigorously with competitors, offering space for five adults.
Rear head and legroom are comparable with the Ford Kuga, yet the Cherokee's boot is far bigger. Total cargo capacity has swollen to 570 litres, which is better than you get in BMW's X3. This is a welcome change for the SUV, as one of its poorer points prior to this 2019 update was lack of boot volume. At 412 litres with the rear seats up, it was rather small. Top marks to Jeep for addressing this.
Practicality is excellent, with a standard folding front passenger seat and heaps of room for rear occupants. Additionally, the 60:40-split back seats can be moved to generate further space for legs. Alternatively, the boot balloons to 714-litres if you slide the rear seats as far forward as possible.
Furthermore, the 2019 Cherokee's centre console has been restructured to give additional room. The front storage pocket has also been enlarged, making it ideal for placing phones and other devices by the USB port for connectivity.
Ownership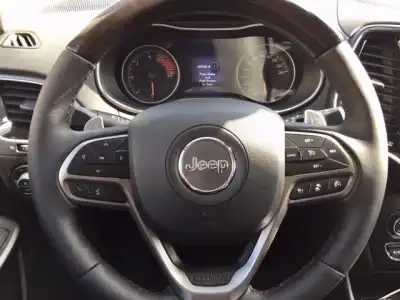 Running Costs
A large SUV with four-wheel-drive is never going to make it on to your 'most efficient cars' short-list. But the new Cherokee isn't terrible when it comes to paying out at the pumps.
Jeep claims the 2.2 MultiJet 4WD Overland we tested will do 46.3mpg on average. That said, we only squeezed 36mpg from the Cherokee's tank during our Sicilian road test. Mind you, late 30s mpg is still tolerable for a beefy SUV, particularly when you consider we'd gone off-road a few times. It's not overly polluting either, releasing just 161g/km CO2. This means company car customers are looking at a BiK contribution of 37 per cent.
The BMW X3 is more economical, though. For example, the xDrive 20d xLine will return 54.3mpg, and the Audi Q5 2.0 TDI Quattro Sport 190PS S tronic will do a claimed 56.5mpg.
The Q5 costs £40,175 and the BMW X3 is priced at £41,020, so they aren't far off the Cherokee's estimated £40,000 to £45,000 price range.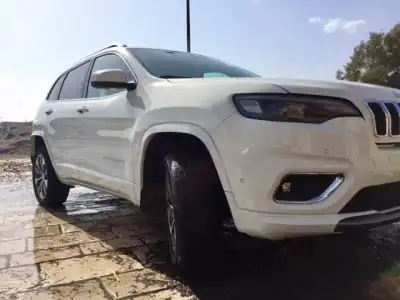 Quality & Reliability
Cars from the United States don't tend to have a good reputation when it comes to build quality. Furthermore, Jeep is a member of the Fiat Group whose products have had reliability issues. That said, the new Jeep Cherokee employs a platform related to Alfa Romeo's Giulietta, and many of the elements are proven in that vehicle.
Additionally, Jeep's new 5-3-5 scheme is designed to give peace of mind. It provides a five-year warranty, three years free servicing and five years roadside assistance. It's basically the same as the former three-year bundle but extended to five years or 75,000 miles.
Jeep really does offer free servicing, too. There's no labour fee for any free parts or lubricants needed during the first three services.
Of course, if you're going to buy a Jeep, you'll do it for the prestige and history, not for the brand's reliability. And if you want an SUV that comes with as much heritage as the Cherokee, then you're looking at the right vehicle.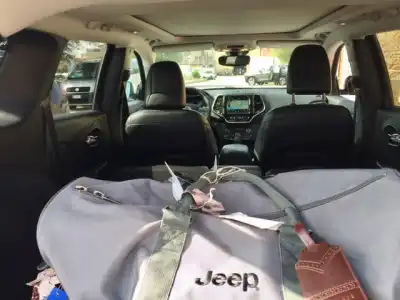 Safety & Security
Euro NCAP tested the last Cherokee, and it received the full five stars, including a 92 per cent adult occupant protection score. You won't be surprised to read then that this Jeep was made with lots of safety and security features.
As well as ISOFIX child-seat anchor points in the rear, the Cherokee offers electronic stability control, eight airbags, tyre-pressure monitoring and anti-lock brakes. It also encompasses a trailer stability function for when you're load lugging. Additional safety features comprise ParkSense Parallel and Perpendicular Park Assist. A new side-distance warning system also adds greater awareness of side objects while parking the Cherokee.
Basically, the new Cherokee has been created to be driven with peace of mind, using advanced technology to help keep every occupant safe and secure.
It's not likely to get stolen either as the Cherokee is fitted with an alarm, an immobiliser and keyless entry as standard.
More On This Car
Take one for a spin or order a brochure
Request a Jeep Cherokee brochure
Request a Jeep Cherokee test drive