Pros:
Dominant off road performance

Surprisingly easy to handle on road

Great cabin with easy to use features
Cons:
High running costs

Wind / tyre noise on road

Slight delay in output when you put your foot down
Speak with our Concierge team to discuss your car buying options
Request a free call back
Introduction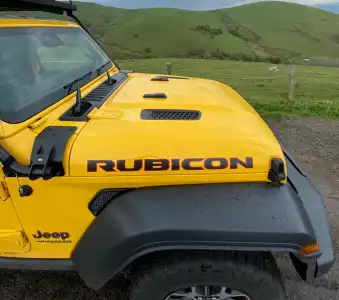 The Jeep Wrangler is a beast, there are no two ways around it.
We were lucky enough to hop into the Rubicon model – the iconic brand's most rugged edit of this rugged machine – but it also comes as the Sahara and Overland. If that's not enough, there's an 80th anniversary special, too.
The on the road price difference for each is pretty small with the entry level Sahara starting at £49,950 while the Rubicon and 80th Anniversary models start at £52,450.
On The Road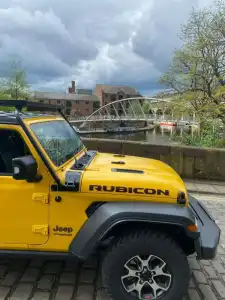 Performance
The Wrangler's 2.0 litre petrol engine handles road and trail comfortably. Pushing out 272hp the only slight annoyance is a small delay from putting your foot down to feeling the power kicking in but, make no mistake, this truck was built to be an on land cruiser and an off road savage. If you want something to flip from kerb to kerb – look away now.
The engine has been improved from previous edits so you do get more miles per gallon.
Put your foot down away from the lights and there is a slight delay between power down and thrust forward, but this isn't too unfamiliar from a large proportion of other automatics out there. Once it kicks in, the torque gives you more than enough to get excited about.
Off road, the low-range gearbox is set up perfect for both amateurs and pros to tackle some off roading. You really would have to be a pretty unfamiliar with any sort of 4x4 to struggled getting this thing up the steepest of hills or over the biggest of obstacles. It seemingly tackles anything in its sleep.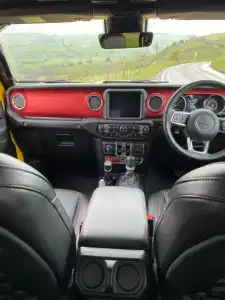 Ride Handling
On the road, it's comfortable and, whisper it quietly, you can start to get a sense of luxury in this indistinctly rugged machine. Its off-road tyres inevitably create road noise and you get a bit of volume from wind too, but it's far from what typical off-roaders of yesteryear used to create.
It's a two tonne machine that does offer some lean that won't be all that familiar to drivers who aren't familiar with vans, bigger SUVs or 4x4s, but make no mistake, this is far from uncomfortable. In fact, as you get from A to B, the high ride height and balanced chassis make this a more enjoyable ride.
Football fans amongst us will be familiar with the term 'great feet for a big man' – you very much get that impression with the Wrangler here.
And, despite Jeep clearly making progress from previous Wrangler models to make the latest edit a more capable on-road machine, off-road is still where this truck thrives. It swallows large holes and tackles virtually whatever is in front of it as a result of its locking diffs and detachable front sway bar and the strengthened axles give the distinct impression that, when you think you might be finding the Wrangler's limit, it simply smirks and asks for more.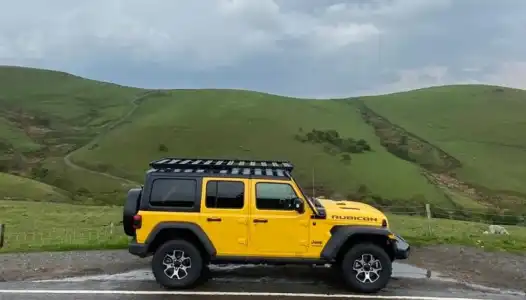 Styling
From the outside critics may say 'what's changed?'. And they'd have a point to a degree. But in true Porsche 911 style, Jeep is sticking to what they know and there is no doubting the Wrangler looks like the imposing, dominant 4x4 they want it to be.
In our office there were even comparisons to the Hummer, it's very much TBC whether that's based on the shell itself or simply because the model we tested was yellow…
The shell itself is typically Jeep, square, rugged and the big bumper coupled with linear grille and circular headlights are almost identical to what has come before.
Moving inside, despite it being set in a more intentionally rough and ready frame, which can open up to reveal great panoramic views, there are hints of luxury. The widescreen infotainment display is classy, as are the seats, gear stick and steering wheel.
Apple CarPlay is easy to set up and use, as our virtually all of the controls from air con to managing the sound output coming from the Wrangler's huge Alpine subwoofer, which, perhaps predictably, isn't shy.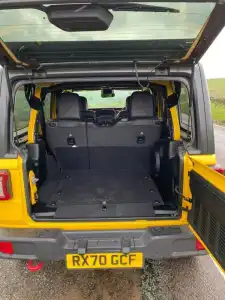 Space & Practicality
Space is far from a premium, especially in the four door option we were behind. Cyclists will be happy to know that both a road and mountain bike fits in the boot without even the need to take off the front wheel, so shopping, camping, weekends away – pretty much whatever the venture you can be confident you'll have the ability to pack your stuff. Unless you plan on taking your house, of course.
Leg room isn't a problem from any seat either. You can have four adults in any seats and you won't hear any complaints about a lack of room or 'can you just slide forwards'.
Ownership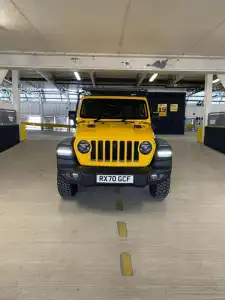 Running Costs
This is where the Jeep struggles. Especially in today's market. Despite efforts to lighten the Wrangler to improve emissions, it's still a two tonne + off road vehicle that hasn't been designed with eco credentials at the top of the list.
It's CO2 emissions are 261g/km, which means, to you and me, that this is a high emission vehicle and you can expect to pay £1,065 annually for your car tax – ouch.
Jeep has made strides to improve the Wrangler's fuel consumption, though. As a result, you won't be making quite so many trips the petrol station and it's worth saying that the Wrangler is also Euro 6 compliant, as well as being compliant for ULEZ and CAZ in the UK at the time of writing this article.
Safety & Security
Undoubtedly one of the weaker points on the Wrangler is safety. In 2018, the Wrangler received one of EuroNCAP's lowest safety ratings when tested in 2018 and got just one star. Limited impact protection and little in the way of driver assistance technology as factors that influenced its low score. It should be pointed out, though, that the Toyota Land Cruiser, its key rival, still hasn't been safety tested at all.
Speak with our Concierge team to discuss your car buying options
Request a free call back