From £34,765
Pros:
Great off-roading capability

Big boot space

Heritage
Cons:
Uncomfortable ride

High running costs
Buy and save on quality approved and used cars
Introduction
Jeep have hit a milestone and are celebrating 75 years of automotive...ness, their famous seven slatted grille adjorning many models over the years starting with the one we all know, the Willys Jeep back in 1941. This iconic model paved the way for off-roaders and can still be seen today driven to events by die-hard owners usually decked out in their vintage army garb.
To celebrate this achievement Jeep have brought out 75th anniversary editions of the Grand Cherokee, Cherokee, Renegade and Wrangler, so we took the latter for a drive on their launch event but t just how different is this special edition?
On The Road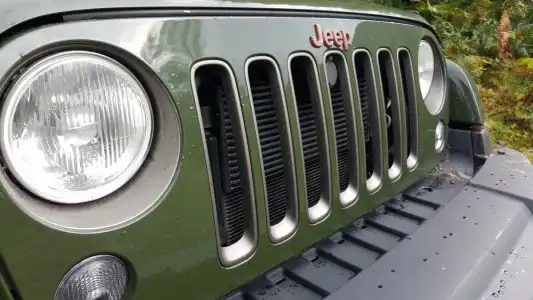 Performance
The Jeep Wrangler we drove came with a 3.6-litre petrol engine producing 285hp with 347Nm of torque. It's quick despite its bulky size as it gets from 0-62mph in just 8.9 seconds while it has a top speed of 112mph but you won't really need that latter figure as that's not why you have one of these.
It does come with a five-speed automatic gearbox which at times seems a bit laboured moving up through the gears while when tackling rough terrain we would have preferred a manual 'box.
If you'd prefer a diesel option there's also a 200hp 2.8 CRD engine available for the 75th anniversary edition model.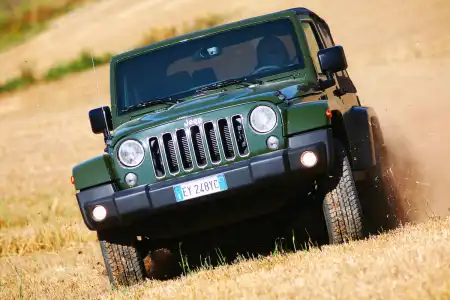 Ride Handling
If you're driving the Wrangler on normal roads it isn't that comfortable a ride; the soft suspension tries to soak up every road imperfection and struggles to do so, so it's not ideal if you're using for everyday use. That said, take it off-roading and it's where it excels as in four-wheel drive it tackles whatever you throw at it, and....we threw some stuff at it...well not literally but you know what I mean. Taking on large boulders on a steep hill in the Yorkshire Moors it made light, quick work of it and at no point did you think it would struggle thanks to their Command Trac 4x4 system which splits the power to the front and rear axles when you're looking for traction under tough conditions.
Steering is light, great for when you take it on extreme road surfaces, but on B roads and town driving it feels a tad unresponsive with steering input.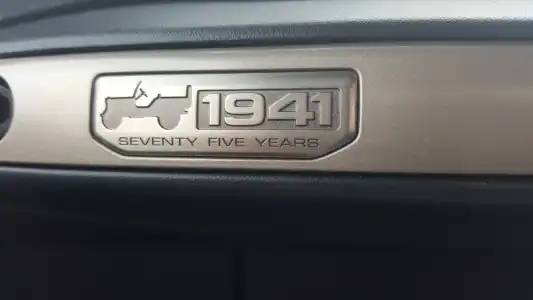 Styling
So what have Jeep done to turn it into a special edition? There's a few 1941 75th anniversary edition badges on it, the trim is a bronze colour including on the wheels and grille, with three paint choices from Black, Bright White and Sarge Green.
Inside the cabin the bronze theme continues on the vents, badges and inserts with Saddle brown coloured heated leather seats set off with pearl and orange coloured stitching with '1941' embossed in the seats and slush mats.
There's quite a lot of wind noise from the large, square mirrors and the V6 does tend to pump in quite a bit of engine tuneage into the less than well-insulated cabin, no doubt thanks to the hard top roof not letting much noise escape.
In The Car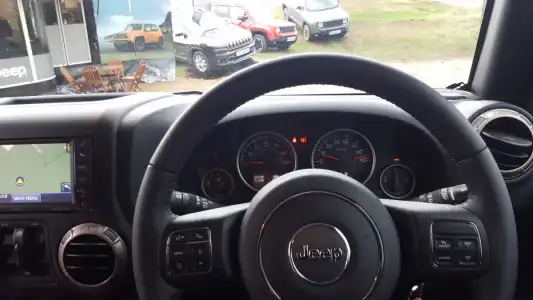 Behind the Wheel
Once you've stepped up into the cabin you're greeted by quite an underwhelming interior, it looks basic but it does the job as this car is not about being stylish. The bronze trim inserts around the air vents and the 1941 badges differentiate it from the normal Wrangler, although don't get confused by the vent looking window buttons in the centre stack, we spent a long time working out how to put the windows down...
There's quite a small touchscreen which features navigation, media, radio and phone connectivity with a USB also available to hook up your smartphone.
The 75th anniversary edition also comes with a good level of equipment including a leather steering wheel with audio controls, climate and cruise control, keyless entry, front and rear fog lamps and heated mirrors.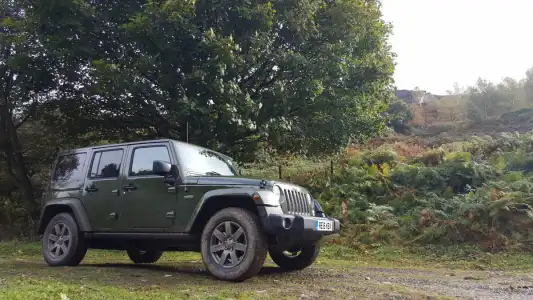 Space & Practicality
If you're looking for space there is plenty of it with lots of head and legroom for all passengers.
It comes with a body coloured, hard top panel roof - which is removable for those summer surfing moments you're bound to have in Malibu - the only question is where you would put it if you decided enroute you wanted to feel the sun on your head and the boot is full?
The rear loading area holds 498-litres which isn't great and it's a bit narrow but there is a floor mat if you're looking to throw in a couple of dirty bikes or items in. If you need more space then the rear seats can be folded to increase this to 935-litres.
Ownership
Running Costs
The Jeep Wrangler 75th Anniversary Edition is priced from £34,765 for the 2.3 CRD model with the 3.6 V6 costing £36,435. It's nearly £3,000 more than the entry level Wrangler model so is it worth it?
The Jeep Wrangler is an iconic car, of which there is no question but it's likely to be the Wrangler followers that buy this one, of which only 85 will be available to buy in the UK but because it has super off-roading capability, it struggles as an everyday car which actually is what most people need them for nowadays... Dilemma.
The 3.6 V6 we drove emits 273g/km of CO2 so will fall into tax band M and cost £1,120 for the first year, then £515 annually, Jeep reckon it'll achieve a combined 24.1 mpg which isn't great so expect running costs to be high.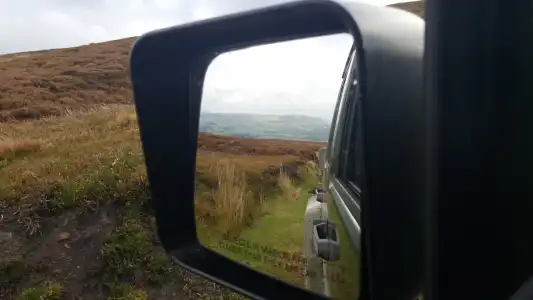 Quality & Reliability
There are quite a few cheap looking plastics in the Wrangler which is a let down considering the cost of the vehicle, but some may look past the interior basicness if they're using it for a lot of off-roading but it's definitely an area which could do with some thought.
The Wrangler has been around for awhile, but over time reliability has been an issue that has affected the manufacturer, this hasn't put off buyers as even though Wrangler sales aren't that high, the Renegade has seen a change of fortunes for Jeep becoming a very popular model.
Safety & Security
The Jeep Wrangler has never been tested for safety in the Euro NCAP tests it does include front and side airbags plus driver aids including hill descent control, hill start assist, electronic stability control and a tyre pressure monitoring system, but considering how advanced some safety systems on cars nowadays it could with a bit more to keep up with rivals.
Buy and save on quality approved and used cars