Pros:
Funky design

Reasonably practical

Excellent range and performance
Cons:
Expensive to buy

Likely in short supply

Only one trim level
More On This Car
Take one for a spin or order a brochure
Request a Kia Soul brochure
Request a Kia Soul test drive
Introduction
There's another Kia Soul coming. If you were unaware that there was a previous Soul, you're not alone. While Kia has sold 1.6 million of them so far, it's the US that's taken most of them. It's never quite captured the imagination in the same way here.
It's likely that would continue, given that Kia already makes the Stonic SUV, the larger Niro SUV, and the XCeed crossover. Where does the Soul fit into that mix? It doesn't really, so it's changing tactics and selling the Soul as an electric car, shoehorning in the battery and motor from the e-Niro into the smaller (and funkier) model.
Could the funky styling, eco-friendly running, and impressive range be enough to make this the best value EV on the market? I head to Kia's secret engineering centre in Germany to find out.
On The Road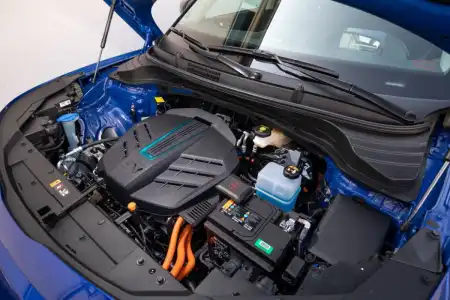 Performance
There's only one power option for the Soul, and that's an all-electric system that's been lifted from the Kia e-Niro. That gives it zesty performance, with the Soul charging to 62mph in just 7.9 seconds.
It actually feels quicker than that, as the instant responses you get from an electric car add a sense of urgency. Keep your foot in and it continues just over 100mph before running out of steam. With no gears to get through, it delivers that speed in a smooth, linear fashion, and certainly pulls well beyond UK motorway speeds without really letting up, so it should be more than enough for most.
Braking can be done by simply lifting the throttle pedal, with different levels of regenerative braking selectable by paddles behind the steering wheel. At its strongest setting, the Soul will come to a halt briskly, without ever touching the brake pedal.
The Soul EV cover 280 miles before running out of juice, at least according to official testing, but driving at high speeds will impact that significantly. Still, even the heaviest right foot should be able to get 200 miles from a full charge.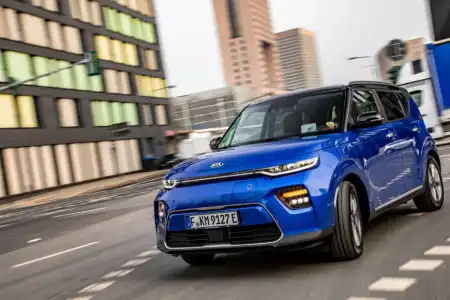 Ride Handling
No small SUV buyer is likely to be overly concerned about sporting prowess, especially when it's powered by electricity, but the Soul EV isn't the dreary drive you might expect. There's fully independent suspension all around, with gas-filled dampers doing their best to smooth out the worst of a road's imperfections.
The low centre of gravity helps with agility as, despite the raised ride height and tall body, the battery pack keeps all the weight low down. It's still not exactly razor-sharp, but it makes a better fist of things than many other small SUVs.
Direct steering that's particularly responsive also makes urban driving a breeze, with the Soul's instant acceleration combining with the rapid steering to make zipping between traffic quite entertaining.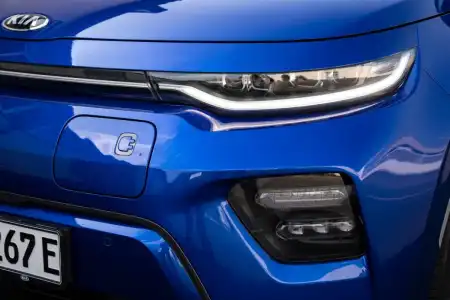 Styling
Every electric car shames a petrol or diesel model thanks to the lack of moving parts creating vibrations, the lack of sound, and the smooth power delivery. The same holds true for the Soul.
There's virtually no noise from the motor, and what noise there is soon gets rendered inaudible thanks to tyre noise. Not that the tyres are noisy, as they're not, but even car park speeds are enough to drown out the near-silent motor.
Crank up the speed and there's some wind noise from around the windscreen, but that's all there is thanks to flattening the underside of the car, more sound deadening beneath the cabin floor, and anti-vibration pads on the floor panel.
The usual urban grind will be carried out with little noise and no clunky drivetrain issues interrupting.
In The Car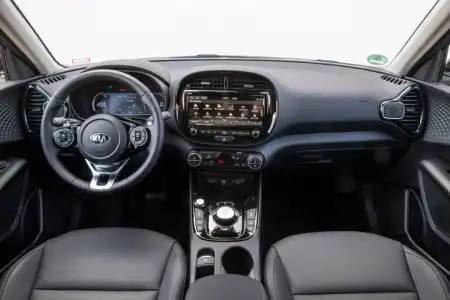 Behind the Wheel
Kia's recent interiors have been perfectly usable, but lacking in flair or excitement. The Soul fixes a lot of that by eschewing the straight lines for circles.
The centre stack is a large almost-circle that houses the infotainment controls, air vents and a huge 10.25-inch touchscreen. The rectangular nature means the latter jars slightly with the curves around it, but it's one of the best systems on the market. The graphics are clear and simple and the system is a cinch to use. It's also customisable, allowing you to place one, two or three panels on the screen, each displaying different information. Android Auto and Apple CarPlay are also in situ, providing you with all sorts of options.
A head-up display sits in front of the driver, although it's a fold-up piece of plastic rather than a projection onto the screen. It works, but it's quite a way from the line of sight. To the side are some panels that look like speaker grilles but aren't, but they look fantastic, adding an air of sophistication without clashing with the rest of the decor.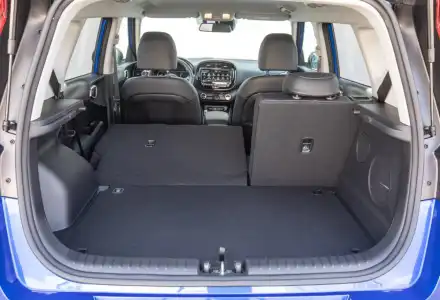 Space & Practicality
Shorter and narrower than the Niro, you'd expect there to be less space. However, despite its diminutive dimensions, there's plenty of space all around for adults and children alike. Up front it's as you'd expect from any modern car, with plenty of elbow room thanks to the 1.8m width of the car. The rear seats are more compact, but the high roofline adds a feeling of airiness, while there's enough legroom for adults to sit comfortably.
The boot is a tad tight at just 315 litres, which is significantly less than you'll find in something like a Volkswagen Golf, and even a Polo. However, it's a good shape, with a hidden floor to hide valuables away. Fold down the rear seats and it extends to a significant 1,339 litres, thanks to its almost van-like proportions.
Ownership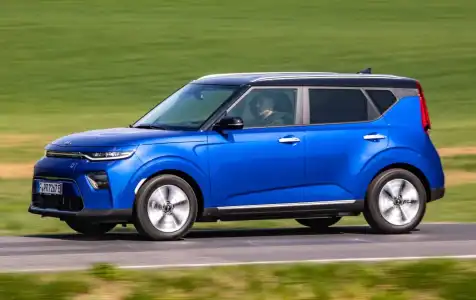 Running Costs
This is where electric cars excel. The purchase price might be high, but you'll only need to spend around 3-4p per mile on electricity. That compares to 10-12p a mile for an economical diesel alternative. On 10,000 miles a year, that's already an £800 saving. Add in zero car tax and you'll be saving £1,000 a year without any effort.
Maintenance costs tend to be lower too, thanks to fewer moving parts that can go wrong. Kia's service interval remains at one year or 10,000 miles though, so if it's a fixed-rate plan there won't be much to shout about.
It's company car drivers that will benefit most though, with company car tax rates dropping to zero next year. A driver paying income tax at 20% will be saving roughly £1,500 a year on their tax bill.
The Soul remains a popular second hand buy too, which should help residual values and, in turn, keep PCP and leasing costs lower than they could be.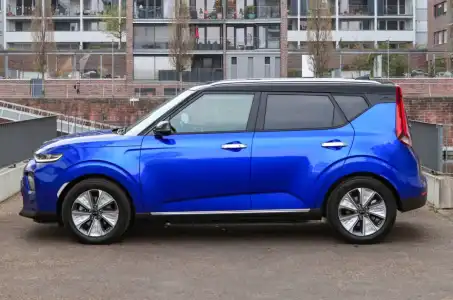 Quality & Reliability
Kia offers a seven-year warranty on all of its cars, and the Soul EV is no different. It might be limited to 100,000 miles, but it extends to the battery pack so should ensure you have many happy years of backup.
Not that it needs it. Apart from being theoretically more reliable than petrol-powered cars, thanks to fewer moving parts in the motor and reduced strain on the drivetrain, Kia seems to build some solid cars. As a brand, it finished third in the most recent Auto Express Driver Power survey, ahead of Mazda, Honda and Toyota. The Soul is too new to measure specifically, but the Niro finishes in the top ten.
The results are broadly similar in the JD Power Vehicle Dependability survey, where Kia finishes seventh.
That proves that the perceived quality of fit and finish, as well as material choice, is backed up by real experiences.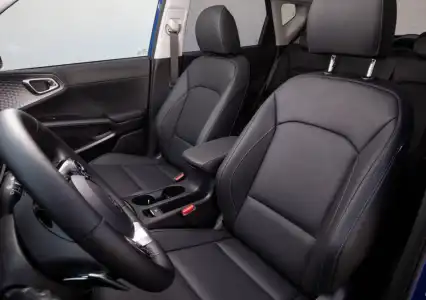 Safety & Security
Kia has thrown everything at the Soul EV to ensure the safety of its occupants, with an array of acronyms fitted as standard to baffle the most ardent of Scrabble players.
Highlights include automatic emergency braking, blind-spot collision avoidance, driver attention warnings, and lane follow assist. The latter controls acceleration, braking and steering depending on the vehicles in front, right up to motorway speeds.
It's too early for the Soul EV to have been tested by EuroNCAP, but recent Kia's fitted with the sometimes optional safety packs have all scored the full five stars. As the Soul EV has every safety option box ticked, it's safe to assume there'll be another five-star rating coming soon.
More On This Car
Take one for a spin or order a brochure
Request a Kia Soul brochure
Request a Kia Soul test drive