From £31,995
Pros:
Beautifully styled with sporty appeal

Generous levels of on-board technology included in the asking price

Dynamic driving capabilities
Cons:
Poor over-the-shoulder driver visibility

No manual gearbox available

Limited headroom for back seat passengers
More On This Car
Take one for a spin or order a brochure
Request a Kia Stinger brochure
Request a Kia Stinger test drive
Introduction
The Kia Stinger is the Korean marque's four-door fastback-style hatchback and is the first grand tourer to emerge from the company. It is also the first rear-wheel drive car to be launched into the UK market. It draws inspiration from the Kia GT Concept that was shown at the Frankfurt Motor Show in 2011.
Six years in the making, the Stinger shows Kia in a whole new light and is by far the most adventurous model in the company's history. Although it is not deemed a sports car and lays no claims to being the fastest on the planet, the gran turismo harks back to an era when the journey and manner of driving experience was more important than sprint times. That said; it's certainly no slouch!
On The Road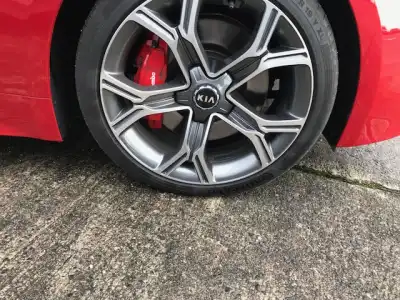 Performance
Grand Tourer cars not only have to look the bees knees with beautiful styling and excellent comfort levels, they must also deliver the goods on the performance front too - the Kia Stinger does just that.
There is a choice of three powerful engines all geared for travelling long distances and offering their own individual appeal. Firstly, there is the mighty 3.3-litre 365bhp twin-turbo V6 T-GDi petrol model which helps power the fastest accelerating Kia ever from 0-60mph in just 4.7 seconds and onto a maximum speed of 168mph. Next is the 2.2-litre 197bhp CRDi diesel version which boasts combined fuel economy of 50.4mpg with a touring range that tops 600 miles. And sitting neatly between the two is the 2.0-litre 244bhp T-GDi petrol-driven Stinger which offers all-round appeal with a 0-60mph time of 5.8 seconds and combined fuel economy of 35.8mpg.
There are three trim levels to choose from called GT-Line, GT-Line S or GT S and all Stinger models are rear-wheel drive and feature an eight speed automatic gearbox. There are five different driving modes to alter the gear shifts and throttle responses called Smart, Eco, Comfort, Sport and Sport+ and there is the option of steering wheel-mounted paddles if you fancy taking a little more control.
Our test car was the all-singing, all-dancing range-topper - the 3.3-litre Stinger GT S (The other models will not go on sale until early 2018). Firstly, it has to be said we can all become bamboozled with sprint times and other seemingly relevant data, but this is one car where those numbers actually do materialise into something rather special. The acceleration is blisteringly quick and shows little sign of letting up. But it also feels completely composed as the head-up display confirms you have hit three digit speeds. This is a car that will take on a number of well-established performance cars, chew them up and spit them out - for fun!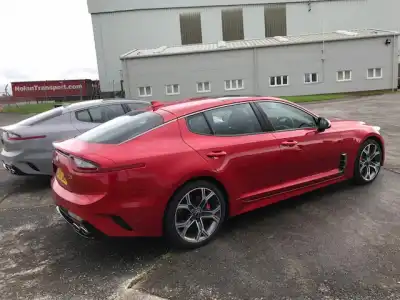 Ride Handling
Comfort is an essential ingredient when creating a gran turismo car but the Stinger, if only by its styling and name alone, is going to attract buyers with a penchant for enthusiastic driving too. This is achieved thanks to the combination of alert steering that offers plenty of feedback, pliant but controlled suspension and powerful brakes to bring the car to a safe stop.
It's also reassuring to learn that UK-destined models have undergone additional testing on British roads as well as the all-weather testing across numerous continents and at the infamous Nurburgring.
The suspension system features McPherson struts at the front and a five-link set-up with double wishbones at the rear. The most powerful Stinger GT S also adds adaptive Dynamic Stability Mode Selector allowing the driver to vary the suspension, acceleration, braking and steering through those different driving modes.
In addition, the Stinger's brakes have had more development work than any other Kia to ensure they can match the car's performance. They were tested on some of Europe's highest mountain passes as well as the race track.
During our test drive we blazed our way from the south-west to the south-east of England driving on all sorts of roads and the Stinger proved to be a very accomplished performer. The handling and steering was pinpoint and the road-holding ultra-grippy.
Our test car was riding on 19-inch wheels although the other specced cars have 18-inch wheels.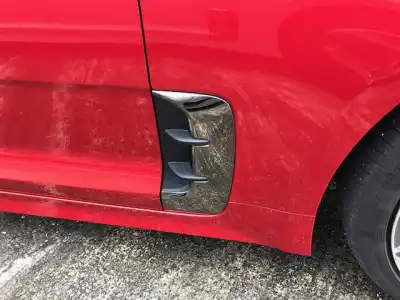 Styling
The Stinger boasts classic gran turismo proportions with its long bonnet, short front overhang, broad shoulders, lengthy rear overhang and long wheelbase. It's a car guaranteed to stop onlookers in their tracks especially if they spot the dark chrome headlights, sunroof, finned gills behind the wheel arches and larger grille and air intake.
The interior is solid proof of how far Kia has come in recent years. it oozes premium quality styling with low slung Nappa leather seats, a wing-shaped leather dashboard, a D-shaped steering wheel and chrome gearstick,
KIA has built a solid reputation of packing its cars with high-end technology whilst keeping optional extras to an absolute minimum and the Stinger maintains that mindset.
Occupants can stay connected on the go as the Stinger GT S is linked to Kia Connected Services with TomTom which keeps drivers up to date with live traffic reports, weather reports, speed camera locations and point-of-interest information such as nearby Kia dealerships, hotels or restaurants. All these helpful tips are displayed on an eight-inch colour touchscreen.
The Stinger also links up with smartphones via Apple CarPlay and Android Auto. In addition, there is a concert hall-quality 15-speaker Harmon/Kardon sound system that really cranks up the volume.
Other features include a head-up display, dual zone air conditioning, Bluetooth with music streaming and voice control plus a wireless mobile device charger.
When it comes to a refined driving experience then the Stinger delivers on all counts. Even on large 19-inch wheels the ride was beautifully balanced and composed.
In The Car
Behind the Wheel
Comfort levels are exceptionally high with the front seat occupants sitting snug in their power-adjustable sports seats with memory settings on the driver's side.
The seats can be heated or ventilated and there is plenty of adjustment to the steering wheel which can also be heated to beat off the winter chill. And passengers in the back benefit from a degree of luxury too as the outer two seats can be heated.
The cabin boasts a clutter-free, user friendly ambience and I particularly liked the head-up display which delivers vital information such as speed, navigation instructions, audio, cruise control and blind spot detection onto the windscreen. This information can be customised to avoid an information overload.
And if that ear-bursting sound system is not enough, then it's also possible to activate the Active Engine Sound System, which is another first for Kia, and relays the engine note through to the cabin.
Despite its awesome power potential and raft of techno treats, the Stinger is actually a fairly easy car to drive. The dial to change the driving modes is simple to operate and the head-up display is a bonus on a car that can reach national speed limits deceptively quickly.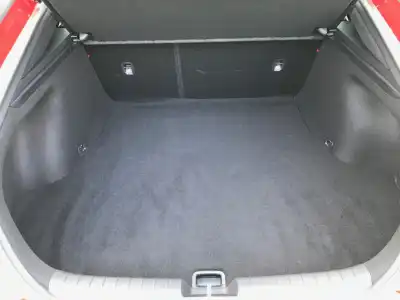 Space & Practicality
Gran turismo cars of bygone days had to look fabulous but also be practical family cars and this is something the Stinger successfully achieves. The cabin can easily accommodate five adults with ample leg and shoulder space in the back. The sloping roof design does mean six-footers may moan a little about the lack of head space, but other than that the Stinger can by used as a family vehicle.
When it comes to storage the boot capacity ranges from 406 to 1,114 litres depending how the seats are configured.
Other storage options throughout the cabin include cup holders, door pockets, an overhead sunglasses compartment, covered trays, a central bin and a generously-sized glovebox - which was most essential as the Stinger appears to have the world's largest manual!
Although the car is quite low to the ground, getting in and out is not particularly difficult. My only gripe is the limited visibility, especially over the shoulder and when reversing, although the rear camera is of great help in those situations, along with the sensors.
Ownership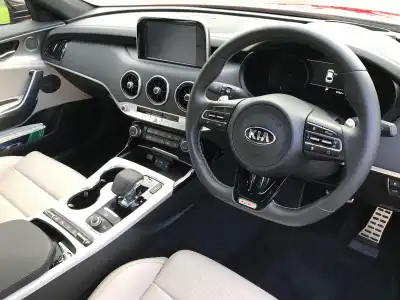 Running Costs
So onto the nitty gritty then - how much of a dent will the Stinger make in your savings and will you need a second job to pay for its running costs.
The entry-level GT-Line powered by the 2.0 T-GDi is the cheapest car to buy costing £31,995. The most expensive, not-surprisingly, is the GT S with the 3.3 T-GDi V6 powertrain, which carries a £40,495 price-tag.
The 2.2 CRDi diesel engine, which is available on both the GT-Line and GT-Line S cars is the most economical with combined fuel efficiency of 50.4mpg and carbon emissions of 147g/km. These models would have a Vehicle Excise Duty cost of £200 for the first tax year and £140 after that.
The range-topping GT S car that we tested delivers fuel economy of 28.5mpg with CO2 emissions of 225g/km on a combined run and that would mean a first year VED bill of £1,200 and then it would reduce down to £140 for future years.
Insurance costs range from 32 to 41.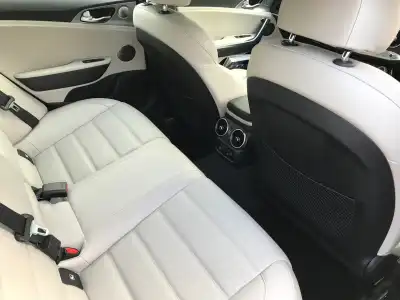 Quality & Reliability
With the Stinger being a brand new model it's impossible to give a strong opinion on its reliability, but like all Kia models it comes with one of the best warranty packages in the industry thanks to its seven year/100,000-mile guarantee. Rival brands offer no more than three-year warranties.
The Stinger is also available with Care 3 and Care 3 Plus servicing packages for retail customers. These cover the cost of all routine servicing work for three or five years respectively and, like the warranty, can be passed on if the car is sold before they run out.
Over recent years an area that Kia has targeted successfully is its interior build quality. Early models featured far too much hard plastic which rather let down the overall appeal. But those days are long gone and the Stinger is another fine example of the direction Kia is taking. The cabin is beautifully refined and boasts a luxurious ambience seen only in premium marques.
There is a beautiful mix of aluminium, chrome and satin chrome finishes throughout the cabin and even the headlining has a suede-like effect. There are alloy pedals, stainless steel door scuffs and aeronautically-inspired circular air vents. Search hard enough and you will find a few hard plastic surfaces but generally, the car looks and feels like it will survive the test of time with strong switchgear and a good, solid build throughout. The seats, whilst striking in appearance, also have a sturdy feel to them.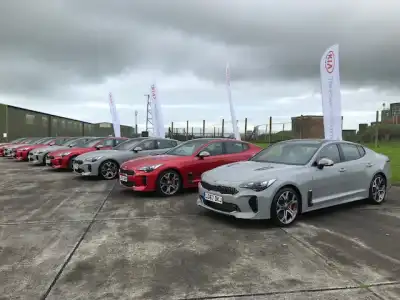 Safety & Security
Although the Stinger has not yet been tested for a Euro NCAP safety rating, Kia is confident it will receive the highest marks. That's because the vehicle is packed with safety features and advanced driver aids which are controlled by radar and cameras to supplement the driver's vision and reactions.
Systems include Autonomous Emergency Braking, which uses both short and long-range radar. The short-range radar works at speeds of up to 31mph. Between 19mph and 50mph the longer-range radar also comes into play to detect obstacles in the car's path and respond by automatically slowing the car, to a complete stop if necessary. The pedestrian detection function operates at up to 37mph.
The Stinger also features Lane Keep Assist, Driver Attention Warning that alerts the driver if it detects unusual driving behaviour, High Beam Assist which automatically adjusts the headlight beam range between main and dipped to avoid dazzling oncoming drivers, plus Blind Spot Detection with rear Cross Traffic Alert.
In addition an Active Bonnet set-up offers protection for pedestrians involved in a collision. The bonnet springs upwards to increase the space between the head of the person involved in the accident and the harder points in the engine bay.
More On This Car
Take one for a spin or order a brochure
Request a Kia Stinger brochure
Request a Kia Stinger test drive