Pros:
Distinctive crossover style looks like an SUV but drives like a car

Increased practicality means there's a bigger boot and loads of space

New technology makes for a high-tech driving experience
Cons:
No actual off-road ability despite the tough image

Emissions are quite high, impacting company car drivers

Prices can go north of £30,000
More On This Car
Take one for a spin or order a brochure
Request a Kia XCeed brochure
Request a Kia XCeed test drive
Introduction
Kia's on a roll, getting closer to selling 100,000 cars a year in the UK. While it's SUVs that lead the way, the latest generation Ceed counts for a decent proportion of sales, so what would happen if you combined both areas?
The result is the XCeed, a crossover based on the Ceed but carrying some of the tough design features you'll find on an SUV.
Don't think this is just a Ceed hatchback with some plastic cladding on it, though. Kia's gone to great lengths to create the XCeed, with the only shared body parts being the front doors. It's longer and taller than the Ceed, with unique styling elements at the front and rear, and the latest technology inside.
One thing it's not is an off-roader though. There'll be petrol and diesel engines, but no all-wheel-drive. Is that enough to appeal to the style-conscious buyer that also need a practical everyday car? We find out...
On The Road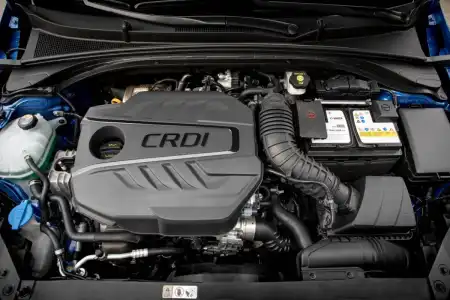 Performance
A 1.0-litre petrol engine will probably power most XCeeds in the UK, but there's also a 1.6-litre diesel engine and, as tested here, a 1.4-litre turbocharged petrol option. It produces 140hp, which is enough to pull the car to 62mph in 9.4 seconds. Europeans will get a hotter 200hp model, but that's not pencilled in for the UK just yet.
The figures for the 1.4 may not be earth-shattering, but it's got enough poke to keep up with all kinds of traffic, and actually feels a little more athletic than the data suggests. It's helped by a smooth six-speed manual gearbox, but the seven-speed automatic is the one to go for - it makes for a more relaxing drive (this is no sports car!) and hides the low power at very low revs.
The 1.0-litre model is a couple of seconds slower to hit 62mph, while the diesel model sits somewhere between the two petrol models.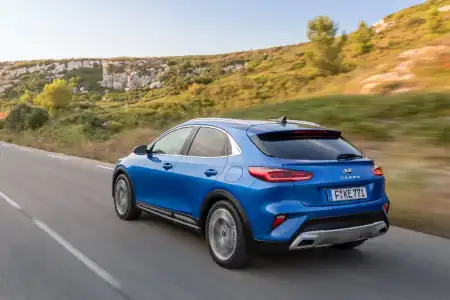 Ride Handling
Standing taller on its suspension than the standard Ceed, the XCeed shouldn't handle quite as well and, in truth, it doesn't. Still, it's a long way from being bad thanks to some significant changes Kia's made to the suspension.
Chief amongst those changes is a special new damper that houses the bump stop in hydraulic fluid. Combined with longer travel suspension, it allows for a more cosseting ride without adversely affecting handling.
Handling prowess is unlikely to be high up a potential XCeed buyer's list, but the car is capable enough. It flows through corners effortlessly, the power steering being accurate but entirely lifeless, never doing anything that could be considered either unwanted or involving. It just goes, turns and stops, although with a pleasingly neutral balance.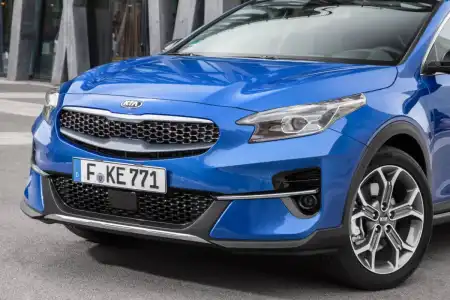 Styling
Taking the petrol option means you'll end up with a pleasingly smooth and quiet drivetrain. There are no unpleasant rattles, and the engine noise is kept mostly at bay until you ask it to do a lot of work. At that point it's not unpleasant but, like any other three-cylinder engine, you'll find it rumbles a little at all times.
Suspension noise is kept in check too, possibly thanks to those hydraulic bump stops, and there's not a single rattle or creak anywhere in the car. Some of the material quality might not be up to the best in class, but the quality of construction feels top-notch.
Raising the car keeps the floor just a little further away from the road too, which reduces noise a little. There's a bit of tyre roar, especially from the rear of the car, but otherwise road, tyre and wind noise is low for a car of this size.
In The Car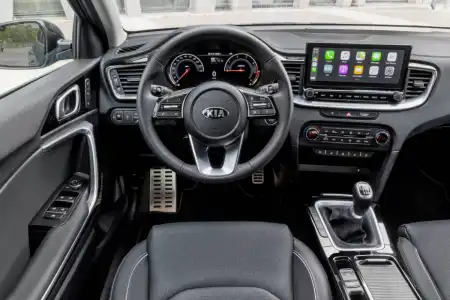 Behind the Wheel
There's an influx of new technology in the XCeed, or at least technology that's new to Kia. The most noticeable indicator of this is the enormous 10.25-inch touchscreen that sits at the top of the centre console. This houses the new infotainment system that includes navigation, audio controls including DAB radio and Bluetooth connectivity, and smartphone mirroring from Android Auto and Apple CarPlay.
It's a fully customisable display, with up to three panels of information able to be shown side by side. Navigation on one panel, audio information on another, and perhaps the weather forecast for your destination on the third? It's up to you what's displayed where, on one, two or three panels. It's a slick system that's easy to use, and will undoubtedly start appearing across the rest of the Kia range before long.
There's also a 12.3-inch digital screen behind the steering wheel, replacing the traditional instruments, at least on this First Edition model. It's less effective, as there's little wrong with a round dial that shows your speed clearly, but allows for more information to be presented clearly to the driver. It adds a suitably premium style to the interior.
Being a First Edition, there's endless equipment in the cabin, and a long list of safety equipment fitted as standard.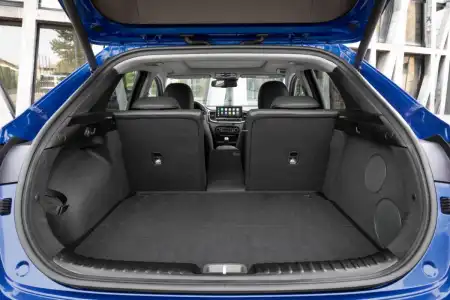 Space & Practicality
Being longer and wider than the Ceed, you'd expect the XCeed to be a more practical proposition, and you'd be right. The difference isn't marked though, as the wheelbase remains exactly the same; legroom remains the same, therefore, which makes it perfectly acceptable if not quite class-leading in the rear.
The boot gains some extra capacity, with a volume of 426 litres against the ordinary hatchback's 390 litres. That's 41 litres more than you can squeeze into a Volkswagen Golf.
Space upfront is unchanged too, although there's nothing wrong with that as few people will find any issues with shoulder or headroom.
The raised ride height allows the XCeed to venture at least slightly off road, although there are no four-wheel drive or tricky traction control systems to get you out of anything slippery.
Ownership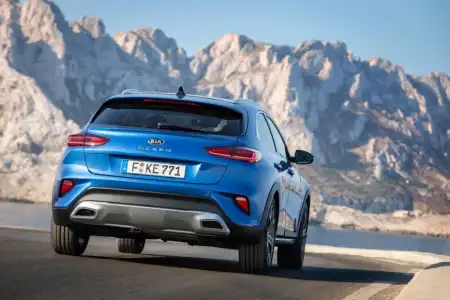 Running Costs
Moving from a Ceed to an XCeed will see the price tag jump by about £2,000, but it might still pay to think bigger - depreciation is expected to be slower on the XCeed and, with all other costs being broadly similar, that might be enough to make the total cost of ownership over three years move in the crossover's favour.
Fuel economy is decent, with the official WLTP figures suggesting 45.6mpg is possible from this 1.4-litre model. Evidence from the launch suggests that's not unrealistic, although much will depend on your driving style and road conditions.
Company car drivers won't be thrilled by the CO2 figures though, as they're higher than some rivals. The 142g/km that this car puts out translates to a company car tax bill of almost £1,800 thanks to its 32% BIK burden. Even the 1.0-litre model has emissions starting at 140g/km, while the diesel doesn't cut things at all, pushing 141g/km or more from the exhaust pipe.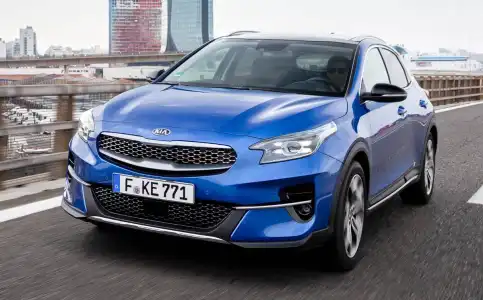 Quality & Reliability
Kia's got a lot of confidence in how it builds cars, which explains why you'll get a seven-year warranty on a new model, including the XCeed.
Evidence suggests you might not need it though, as Kia is doing rather well in the various reliability indexes. While the XCeed is too new to appear on its own, Kia came third overall in the latest Auto Express Driver Power survey, with reports showing a below-average level of faults.
Likewise, the brand finished seventh overall in the JD Power Vehicle Dependability Study, just ahead of Mini, Ford and Volvo.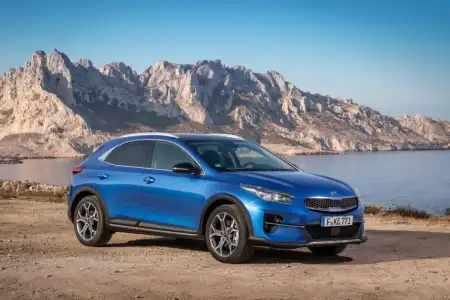 Safety & Security
EuroNCAP hasn't tested the XCeed yet, but as there's so much shared with the Ceed it's safe to assume the five-star safety rating will apply here too. However, that only applies to the top-spec First Edition model - the lower '4' and '3' models miss out on pedestrian and cyclist detection for the emergency braking system, which is enough to drop the score by one star.
The list of equipment included on the First Edition is comprehensive and includes blind-spot warning, lane-keeping assist, lane-following assist with the automatic gearbox, automatic main beam, automatic emergency braking and a driver attention warning.
More On This Car
Take one for a spin or order a brochure
Request a Kia XCeed brochure
Request a Kia XCeed test drive