Pros:
It's the king of off-roading

Impressive handling and ride

Roomy and practical cabin
Cons:
It's a heavy vehicle

Narrow access to load area

It's expensive to buy
More On This Car
Take one for a spin
Request a Land Rover Defender test drive
Introduction
Land Rovers have secured a special place in the hearts of farmers, humanitarian groups, and adventurers across the planet. Evidenced in the harshest environments in the world, the up-to-date Defender continues this heritage. Beside the Range Rover and the adaptable Discovery, the all-new Defender puts the finishing touches to the Land Rover family. The 110 is just the beginning for this lineage of the most durable 4x4s on the globe. A short wheelbase 90 is to arrive imminently. Read on to find out what we thought of the Defender, reviewed here in D240 S 110 guise.
On The Road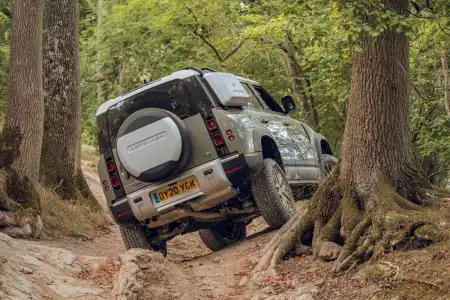 Performance
A selection of cleaner diesel and petrol units make sure the new Land Rover Defender has the clout, handling and efficiency for any situation, while a Plug-in Hybrid will join the lineup shortly, providing the prospect of hushed electric vehicle-only propulsion.
Initially, though, the petrol range encompasses a four-cylinder P300 engine and a muscular six-cylinder P400 with mild-hybrid tech. Alternatively, you can pick between a couple of four-cylinder diesel powerplants: the D200 - and the potent D240, as tested by us. The 2.0-litre D240 will do 29.9mpg, and its carbon dioxide emissions are 234g/km.
The Defender isn't a slouch in D240 form, either, with its eight-speed automatic 'box hurrying things along nicely. Zero to 62mph can be achieved in 9.1 seconds, and the diesel 4x4's maximum speed is 117mph. Oh, and if you're into towing, the Defender's towing capacity is 3,500kg (braked).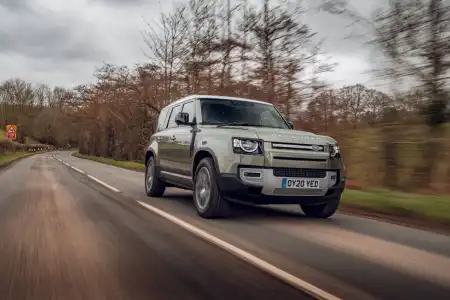 Ride Handling
It's a heavy vehicle, but the stiff, strong new structure for the Defender can tolerate 6.5 tonnes of snatch load through the recovery points. It provides foundations for the vehicle's cutting-edge all-independent chassis. The hi-tech double-wishbone front and integral link rear suspension boosts off-road performance while delivering exceptional handling dynamics. It also comes with a selection of passive coil or electronic air suspension.
The suspension arrangement uses band new elements to give supreme durability with modern steel subframes and upgraded bushes and ball joints that are made to resist brutal off-road wallops. The Defender's wheels can even bear seven tonnes of load into the body. Consequently, the new Land Rover delivers a matchless range of ability, uniting cruising contentment and satisfying handling traits with instant reactions and first-class off-road ability.
The ushering in of air suspension transforms the Defender's handling on the tarmac and aids its all-terrain competence, supplying a ride height hike of 75mm and superlative ride comfort across all terrains.
Indeed, the confidence-inducing and unerring new Land Rover outshines off-road, where its full suspension articulation shines. It can attack side gradients and hills of 45 degrees with poise, but the major revolution is on the road, where the contemporary Defender is involving and alert.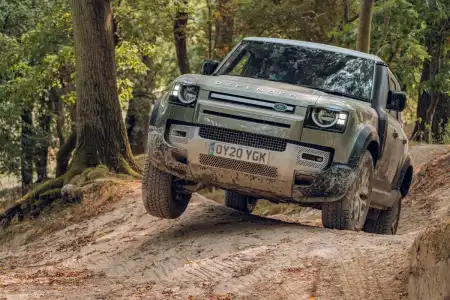 Styling
There are less obvious areas of luxury than in a Range Rover, but it would be a lie to claim that refinement doesn't play a crucial part in the makeup of the new Defender.
Cabin materials have been chosen so that they will last for years. So even after thousands of hours behind the wheel, the Defender is set to look and feel at its best.
Land Rover offers a trio of cabin colour schemes with the opportunity for personalisation by mixing the colour schemes with different interior finish choices. Material selections include grained leather on S and SE grades blended with woven textile featuring in areas of the interior likely to get the most wear. HSE models house higher-grade leather, and the Defender X has this high-class leather as well as premium textiles for greater durability. This quality textile is a 30% wool mixture and is also obtainable as a complete alternative to the leather upholstery, coupled with suede cloth.
A range of finishes and veneers, including a walnut or natural smoked dark oak veneer can also be selected.
In The Car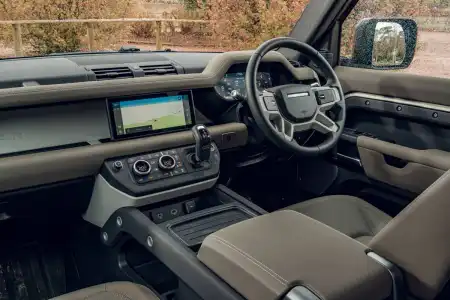 Behind the Wheel
Anyone used to a Land Rover product of the last few years will feel right at home here - and then some. This is a 21st Century Defender after all!
The driving position is erect, yet accommodating, the visibility is awesome, thanks to large windows, and the steering wheel is colossal.
Driver disruptions are kept to the minimum with a head-up display. Additionally, an illuminated colour TFT system delivers important information to you. At the same time, its video ability can reproduce displays from the main touchscreen - including graphics to help you in off-road situations.
A new electrical vehicle architecture, a digital camera, ultrasonic sensors and a strong 3Gbit/s onboard network support a wide-ranging suite of driver assistance tech, with the sensors and cameras managed by a domain controller for enhanced security. These comprise a 3D surround camera that gives a 360-degree view of the immediate area, both on and off the road.
The equipment provides heightened on-screen visualisation when using tow assist, wade sensing and Land Rover's ground view transparent bonnet tech, to further improve visibility of the Defender's surroundings.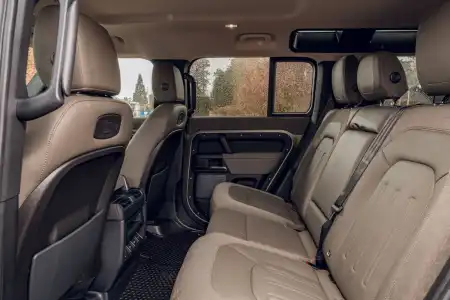 Space & Practicality
There is plenty of room up front in the Defender, but rear occupants get it good, too. Everyone gets a large seat, and there's a glut of leg and headroom.
Practicality is a trademark of Land Rover cabin design, and the fresh Defender comes with a profusion of storage areas, including a preference of low and high centre consoles.
A front-row middle seat enables three-up to take a trip in the front tier. Created as an occasional chair, the useful addition means the 110 Defender model can be ordered with five, six or five plus two seating, while the Defender 90 can house six people in a compact body. When not used, the seatback folds to offer a storage area and front armrest containing a couple of extra cupholders.
The 110 boasts 1,075 litres of boot space behind the five seats, expanding to a vast 2,300 litres when the rear seats are folded. The side-hinged tailgate is heavy, though, and makes access to the cargo area narrow and tricky. Competitors with top-hinged tailgates would earn marks over the Defender here.
Ownership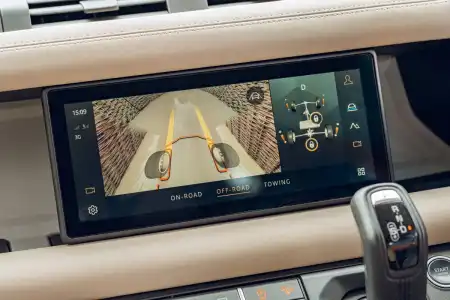 Running Costs
In theory, driving this all-new Defender shouldn't have you rummaging deep into your pockets. Land Rover will tell you that the diesel variant of the Defender is capable of doing 29.9mpg, and that seems realistic in the real world.
During our drive along forest trails in rural Herefordshire, and motorways into the eventful West Midlands, we got just under that. So, envisage up to mid-20s mpg if you're driving in a reasonably swift way.
We shouldn't forget that this is a vehicle with 4x4, though, so the fact you can get that kind of efficiency and release 234g/km of CO2 is a touch impressive. However, be mindful that if you're going to be driving this off the trodden track frequently, your tyres and brake pads will wear out more quickly.
It's also worth noting that if you're a regular driver for work as well as pleasure, especially in rural areas, you'll find this new Defender more commercially attractive.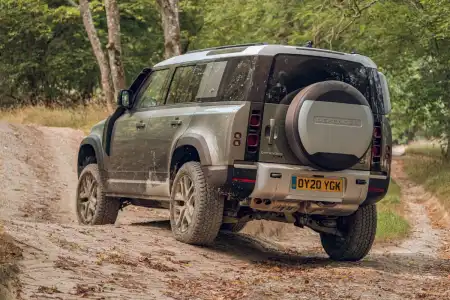 Quality & Reliability
We won't fib here, reliability and quality have been a worry for Land Rover's products in the past. We can't predict how the new Defender is going to perform in the future, but we can tell you that it has gone up a considerable level in quality over the old model.
The new Land Rover Defender's technology and structure are spanking new, and the vehicle has been made with longevity in mind. The Defender has also been assessed to death - beyond the usual benchmark for passenger cars.
Overall, everything you lay your hands on feels well-produced, and the finish of the whole vehicle is of a very high standard.
Land Rover will be working hard to ensure both this model and future generations of cars match up to the strength and perception of the brand.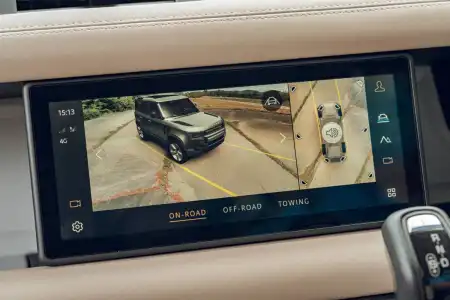 Safety & Security
The new Defender has a robust frame and a whole bunch of factory-fitted safety equipment. We can't tell you what the Euro NCAP crash test results are yet, but Land Rover expects it will gain the top five-star safety score when it goes through testing soon.
The technology consists of lane keep assist, automatic emergency braking and traffic-sign recognition, speed limiter and cruise control functions, a 360-degree parking aid and even a driver condition monitor.
What's more, advanced keyless tech brings cybersecurity with ultra-wideband transceivers foiling thefts from mimicking devices. Jaguar Land Rover was the first car producer to establish the keyless entry method, and the Defender uses the pioneering set-up to fight relay attack and meet the planet's strongest security standards.
More On This Car
Take one for a spin
Request a Land Rover Defender test drive