Pros:
Superb off-road ability

Impressive to drive on the open road these days and packed with technology

Practical load capacity and a lockable storage area for valuables
Cons:
The starting price is not cheap for a workhorse

Running costs are quite high

Only one trim level to choose from
Speak with our Concierge team to discuss your car buying options
Request a free call back
Introduction
Land Rover's completely restyled Defender 90 has been met with high praise globally as the company somehow managed to reinvent a British icon without losing all its character along the way.
Now, the Defender 90 Hard Top has been launched and the timing could not be better as there are a number of pick-up models falling by the wayside, so Land Rover hopes to scoop up some of those customers.
Admittedly, for a workhorse, it's not a cheap vehicle, especially with a list of options factored in, but the Defender is very capable when faced with rough terrain and also has a far more refined side these days too.
On The Road
Performance
The all-new Land Rover Defender 90 Hard Top is available in just one trim level which makes it simple for customers looking for a three-door model with awesome off-road ability and nice manners on the Tarmac too.
It is powered by the company's own 3.0-litre, six-cylinder, Ingenium diesel engine delivering 200PS and 500Nm of torque, matched to an eight-speed automatic gearbox.
The vehicle can reach 62mph from a standing start in 9.8 seconds and maxes out at 109mph. Those stats may not sound that exciting, but it's worth remembering just what this vehicle can do away from the Tarmac. With permanent all-wheel-drive it can tackle any challenge, with torque that can be balanced between the front and rear wheels.
It boasts ground clearance of 291mm with impressive approach, breakover and departure angles that are on a par with the standard Defender 90 models. It can wade through water up to 900mm deep and with the various off-road settings can easily cope with snow, mud, rock climbs, steep inclines, slippery slopes and, basically, anything Mother Nature throws at it.
But back on the open road, the new Defender 90 Hard Top is so much more refined. You no longer need to have the driver's window lowered because the new model is wider. You no longer need a chiropractor on speed dial as the performance is so much smoother and longer journeys are actually a pleasure rather than a bit of a chore in models of bygone days.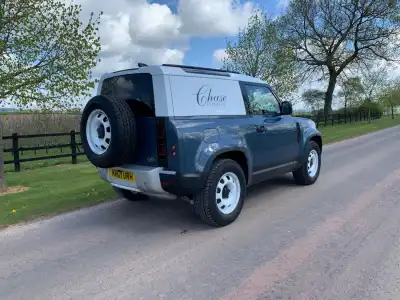 Ride Handling
Despite what all the die-hard Defender 90 fans out there say, of which I am one, there is no denying the fact that the new generation vehicles are much more comfortable to drive. Whether that means a slight loss in character will remain to be seen, but the latest Defender 90 Hard Top possesses plenty of charm.
It's more than capable off-road, so will happily graft away on a farm or building site. But, it's on the road that the real differences are immediately apparent. Admittedly, it's still not a 'softies' vehicle to drive and it still feels quite heavy weighing in at well over two tonnes (unladen), but it does offer much friendlier ride and handling capabilities these days.
The acceleration through the gears is smooth and responsive and there are steering wheel-mounted paddles for added driver engagement.
There is also ample power on tap, which is new to Defender 90, so it can overtake slower moving vehicles. The road-holding is super-grippy but you can still expect a fair amount of body lean if bends are attacked a little too eagerly.
And the clever all-wheel-drive system not only means the Defender 90 Hard Top can go anywhere, but it also works on delivering torque where it's needed most for added traction. This in turn, helps to save fuel and lowers emissions along the way.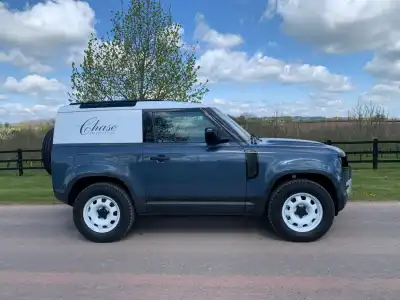 Styling
Approached from any angle, the Defender 90 Hard Top is guaranteed to turn heads. It already possesses the quirkiness associated with the older generation models, especially when supplied in a mix of pale blue and white body colourings with those striking white wheels.
But it's inside the cabin that Land Rover has really taken things up a notch or two. The ebony fabric seats are semi-powered and can be heated. And there is a wealth of on-board technology to explore too. Yet, the vehicle maintains it's rough and ready interior with practical hard-wearing surfaces and chunky controls.
With such an open loading area, the noise levels within the Hard Top do get quite loud at higher speeds, and with a full load of spuds on board, there was a little creaking at times – which, in truth, added to the enjoyment. But it's still very calming compared to previous generation models.
The vehicle is fitted with independent coil-sprung suspension which does a worthy job of smoothing out the bumps and dips along the way. If you want to have the luxury and comfort of electronic air suspension, then that is available on the larger Defender 110 Hard Top models as an option.
In The Car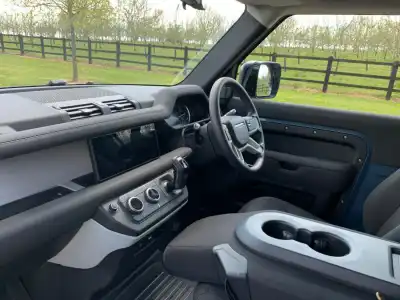 Behind the Wheel
With plenty of adjustment available to the seat and steering wheel, finding the perfect driving position takes a matter of seconds. The driver has an elevated seating position so the visibility forwards and through the side windows is excellent.
However, the over-the-shoulder view is virtually non-existent as the rear of the vehicle is solid panelling. In addition, the criss-cross petition between the front of the vehicle and the load bay can be a little off-putting when using the rearview mirror. But, the test model featured Land Rover's ClearSight technology where a camera view of what's happening behind the vehicle can be seen in the rearview mirror.
All dials, controls and readouts are ideally placed for ease of use and there is plenty of technology to get your teeth into. The vehicle is kitted out with Land Rover's latest Pivi Pro infotainment system which includes a 10-inch touchscreen, full navigation, smartphone connectivity via Apple CarPlay and Android Auto, a DAB radio, a four-speaker sound system and lots more besides.
Our model featured the front jump seat which is an £815 optional extra. When lowered it is similar to an arrest with a couple of cup holders, but when raised, it offers space for a third occupant.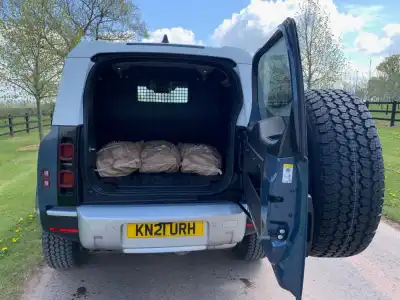 Space & Practicality
While the Defender 90 Hard Top is billed as a commercial vehicle ready for a day's graft, it is also comfortable and spacious enough to use as a day-to-day model too. Up front, there is plenty of space for two adults to stretch out and there is the option of a jump seat that can be fitted for a third person.
There is a full height partition with hooks and lashing points to the load floor, plus heavy duty rubber load space mats. The panel on the side of the vehicle is ideal for company names to be added.
The wide-opening side-hinged rear door (with a traditional spare wheel on the back) offers easy access to the huge loading bay measuring 1,030mm in length by 1,326mm in width and 947mm in height. It can carry up to 670kg of goods and the load space can accommodate 1,355 litres of gear, including underfloor storage.
There is a lockable underfloor storage area which is really convenient if you are transporting valuable tools and want to keep them safe and out of sight.
In addition, there are numerous storage compartments scattered throughout the vehicle, including deep door bins, a practical glovebox, cup holders, a sunglasses holder and some deep trays.
Ownership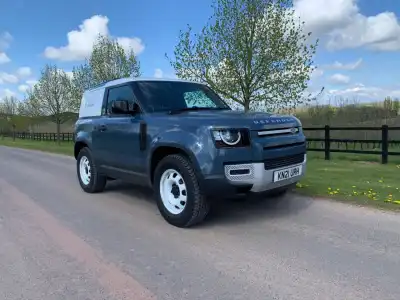 Running Costs
The Land Rover Defender has been a firm favourite with farmers and builders throughout the decades and the arrival of the latest Hard Top model will be very welcome news.
In three-door Defender 90 guise, the vehicle costs £36,566 (excluding VAT) with an on-the-road price of £44,210.
Our test car featured a number of optional extras such as Tasman Blue paint (£895), a white contrast roof (£900), black roof rails (£330), off-road tyres (£255), a front jump seat (£815), an electrically deployable tow bar (£1,130) and ClearSight interior rear view mirror (£525) bringing the final cost to £49,060.
According to official figures under stricter WLTP testing, the vehicle can deliver a combined 29.5mpg with carbon emissions of 251g/km.
The Defender 90 Hard Top qualifies as a commercial vehicle so has the standard set fee of £275 for the first year VED. The Benefit in Kind rate for business users is based on a standard flat rate of £3,500.
The vehicle is classed as insurance group 39E.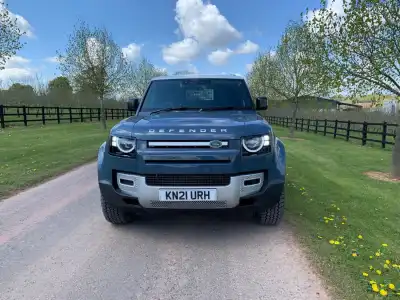 Quality & Reliability
Land Rovers are built to conquer the toughest terrain and keep going where rival models would fail. There is absolutely no doubt that the Defender 90 Hard Top is as capable as they come when faced with off-road challenges – just like its many predecessors before it.
In fact, the Hard Top name has been associated with rugged practicality and go-anywhere capabilities since the first Land Rover Hard Tops were introduced 70 years ago.
The rear load bay has been designed to be hard-wearing and there is a fixed full-height partition to separate occupants from the load area. The high-sided rubber mats for the front footwells, along with the all-rubber floor coverings throughout the vehicle, can be hosed down when they become too grubby which is nice and convenient.
The cabin is packed with technology, but has a ruggedness about its design and layout with no flimsy switches, but lots of grab handles and hard, practical surfaces that will survive a rough day-to-day lifestyle.
The Defender 90 Hard Top comes with Land Rover's three-year, unlimited mileage warranty.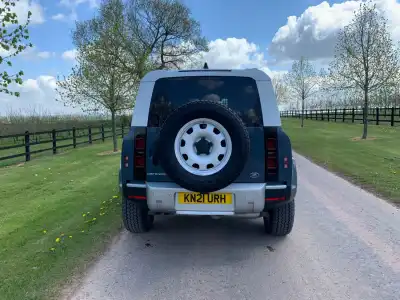 Safety & Security
The Defender 90 Hard Top is packed with all the latest safety features and driver aids to help protect occupants, pedestrians, other road users and also help prevent an accident happening in the first place.
As standard, the vehicle has a 3D surround camera, emergency braking, a 360-degree parking aid, lane keep assist, traffic sign recognition and adaptive speed limiter wade sensing, cruise control with speed limiter, plus a driver condition monitor.
An option fitted to our car was Land Rover's clever ClearSight Rear View camera, priced at £525. This offers an uninterrupted view of what is going on behind the vehicle by simply flicking a switch on the bottom of the rearview mirror. This is ideal if you are carrying goods that are piled high in the back and blocking the driver's visibility.
Speak with our Concierge team to discuss your car buying options
Request a free call back