Pros:
Land Rover's seven-seater boasts outstanding off-road and towing capabilities

Neatly designed interior with new Pivi Pro infotainment system

Mild hybrid engines added to the mix for the first time
Cons:
Quite expensive for what was once regarded as a 'workhorse'

The running costs are quite steep even with the MHEV technology

Despite getting used to the rear-end styling, it still has the marmite effect - some love the off-set number plate, others loathe it
Speak with our Concierge team to discuss your car buying options
Request a free call back
Introduction
It's been on our roads for more than three decades now, but the latest Land Rover Discovery has just undergone quite a makeover with fresh styling cues, the introduction of lots of new technology and, for the first time, the addition of mild hybrid engines.
The engineers have also worked tirelessly to improve the ride and handling quality of the stylish seven-seater, making it as much fun to drive on and off the road.
And should it be faced with severe driving conditions with a few obstacles thrown in for good measure, it laps up the challenge with ease.
On The Road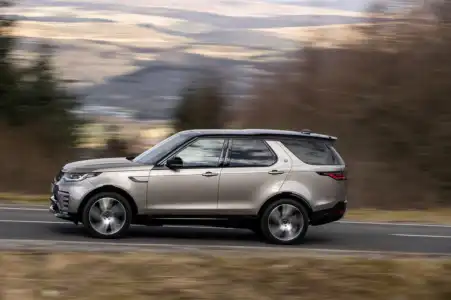 Performance
The new Discovery engine line-up for 2021 consists of a trio of 3.0-litre, six-cylinder, Ingenium engines featuring 48V mild hybrid technology. On the petrol front is the P360 with 360PS or for fans of diesel, there are the D300 with 300PS and D250 with 249PS, all of which are powered by straight-six engines.
The Discovery will still be available in pure petrol format via the 2.0-litre P300 engine.
Anyone with concerns that the addition of mild hybrid technology might have a detrimental effect on the Discovery's performance can certainly relax. We tested the P360 MHEV petrol model in R-Dynamic SE trim level mated to an eight-speed automatic gearbox and it was an absolute powerhouse.
Despite weighing in at just below 2.5 tonnes, this model with 500Nm of torque, could sprint to 62mph from a standing start in just 6.5 seconds and maxed out at 130mph.
Out on the twisting country lanes, the acceleration is instant and smooth as the car moves through the auto transmission. The road holding is ultra grippy with the reassurance of an intelligent all-wheel drive system that automatically distributes torque to the axle that needs it most for optimum efficiency.
There is a Sport mode that sharpens up the reactions further and the car effortlessly eats away at the motorway miles cruising at 70mph.
Yet, despite its size – it measures almost five metres in length – the Discovery is also agile and easy to manoeuvre in busier town centre settings.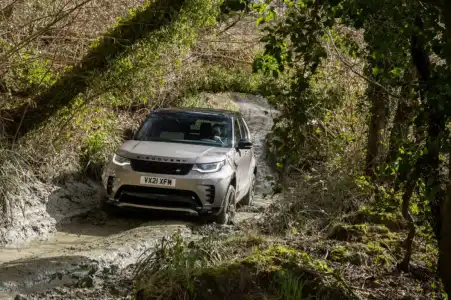 Ride Handling
All new Discovery models powered by the latest six-cylinder Ingenium engines feature an advanced driveline. This optimises the torque between the front and rear axles, using a number of sensors to distribute torque to suit the conditions.
There is also a more advanced all-wheel drive set-up to maximise traction and the dynamic handling. This means the latest vehicle feels more planted and it seemed less susceptible to body sway into bends which is a plus point for such a large vehicle.
The air suspension system provides excellent levels of ride comfort and features an automatic speed lowering to improve the aerodynamic efficiency when cruising on motorways. In addition, the Adaptive Dynamics damper technology, again fitted as standard on all D300, P300 and P360 models, monitors the vehicle movements up to 500 times a second, reacting accordingly to driver or road inputs for greater body control and a nice flat ride.
The Terrain Response system is fully configurable so the driver can fine-tune the vehicle's throttle mapping, gearbox shift points, steering and suspension settings to suit their preferences.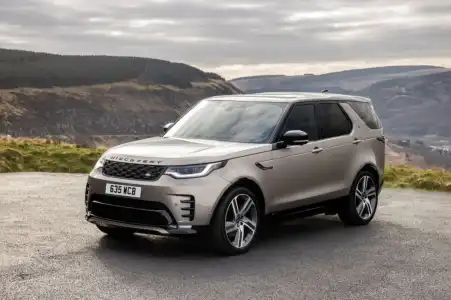 Styling
Over more recent generations, the Discovery has moved upmarket and its comfort levels are now on par with any premium SUV.
For such a large vehicle, it looks impressive from any approach and although it no longer has the boxy, squared-off rear end of earlier models, it still has its very own character.
The Discovery DNA design cues include the clamshell bonnet, highly visible C-pillar and stepped roof, but there are lots of fresh design features of note. There are new signature LED headlights with a daytime running light set lower into the units, along with sweeping front and rear indicators.
The R-Dynamic models feature a revised front bumper and there are new LED taillights with a gloss black panel.
Move inside and the spacious cabin features Land Rover's new Pivi Pro infotainment system. With its built-in battery, navigation initialisation takes just a matter of seconds and the graphics are sharp and clear.
The system can multi-task too, such as streaming music and uploading over-the-air software updates at the same time, and all the information is displayed on a neat 11.4-inch interactive screen. Smartphone connectivity via Apple CarPlay and Android Auto is standard and the likes of a head-up display can be added as an optional extra.
When it comes to driver refinement, the vehicle is well insulated so occupants are protected from engine and road surface noise, although due to the high-sided design of the Discovery, wind sound becomes more noticeable on motorways.
The excellent intelligent and advanced suspension set-up smooths out even the bumpiest road surfaces which is another plus factor.
In The Car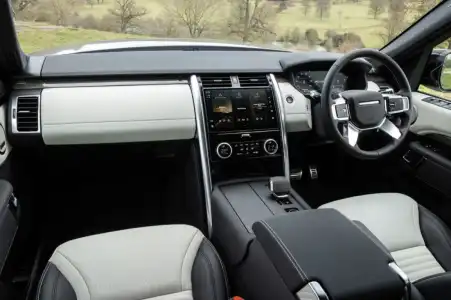 Behind the Wheel
Getting comfy inside the latest Discovery is a quick and simple process thanks to power-operated seats that move every which way possible and a steering wheel with full adjustment too.
Then it's a case of sitting back and taking in the beautifully designed cabin with its wealth of on-board technology. The new Pivi Pro infotainment system looks really smart and works at a rapid speed so there's no delays downloading navigation routes or streaming music from devices.
This system replaces the Touch Pro infotainment system that has been a regular feature in Land Rover models in recent years.
On-board equipment includes a Meridian sound system, smartphone connectivity, wireless charging pad, a 3D surround camera, four zone climate control and the introduction of new Click & Go tablet holders incorporated into the front seatbacks. With a 4G Wi-Fi hotspot, occupants can connect up to eight devices which guarantees entertainment for all the family on those longer journeys.
All the climate control systems are very easy to access which is always welcome and the controls, readouts and touchscreen are ideally positioned for ease of use.
The driver benefits from excellent all-round visibility thanks to the high seating position. This is another positive point as the Discovery will often feature on the dreaded school run.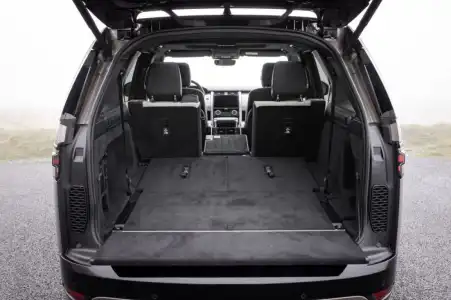 Space & Practicality
When the latest generation Discovery was launched back in 2017 Land Rover claimed it was the "most capable and versatile vehicle it has ever produced".
And despite looking a little softer than its predecessors with a modern design, it still ticks all the boxes on the practicality front.
It's a proper seven-seater with seven individual seats and five Isofix fixtures to keep the family safe. Storage options are impressive too with 258 litres of luggage space if all seven seats are occupied. This increases to a whopping 2,485 litres if just two seats are being used.
In addition, Land Rover designers have made good use of available space within the cabin so there are almost 42 litres of smaller storage compartments scattered throughout the vehicle.
And for people who simply can't be separated from their mobile devices, there is a charge point for every occupant.
The Terrain Response is easy to operate and the settings can be adjusted to tackle the likes of mud, gravel, snow, sand and water. We took our test Discovery off-road and it ploughed its way through the muddy ditches, clambered over rocks and dropped down slippery banks with the hill descent control automatically slowing the car to a safe speed.
The boot boasts a gesture control feature so it can be opened easily when approaching the car arms full of shopping bags. And it also has a convenient fold-out bench which prevents items rolling round in the boot and doubles up as a handy seat for picnics. The Discovery's height can be raised or lowered at the push of a button which makes it simpler to load heavy items and this resets automatically to drive height when the vehicle starts up.
The Discovery can tow a caravan or horsebox weighing up to 3.5 tonnes.
Ownership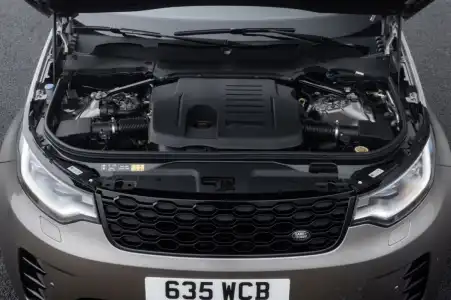 Running Costs
There's no denying that Land Rover is a premium carmaker, so it will come as little surprise to learn that the Discovery is not exactly cheap. Once upon a time, together with the Freelander and Defender, the Disco (as it's affectionately known) was part of the working range of Land Rover models with a price reflective of this.
Move forward a few years and the costs have increased quite dramatically.
The Discover line-up is priced from £53,090 for the pure petrol model in entry-level S trim. The cost rises to £68,050 for the version we drove but in high-end R-Dynamic HSE specification.
Our test car was priced at £63,150 and according to official figures, under WLTP testing, it can deliver combined fuel economy of 26.7mpg with carbon emissions of 238g/km. This CO2 figure would result in a first year Vehicle Excise Duty charge of £1,850 which would drop down to £150 the next year.
However, there is extra expense to consider as owners of cars with a list price above £40,000 pay an additional £325 supplement for five years.
The insurance group for the new Discovery is yet to be confirmed.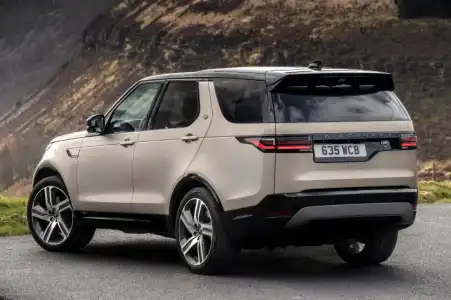 Quality & Reliability
Land Rover's reputation for reliability has always been a bit of a sticking point and it's often on the receiving end of jibes regarding the electrics, with many customer surveys putting them towards the lower end of the scale.
However, the new Discovery is designed to withstand the toughest conditions and boasts world beating off-road ability.
The interior feels upmarket and very well put together. The controls have been simplified and that's always a good thing to avoid distraction while driving.
All the switchgear is sturdy and the upholstery both looks and feels like it will survive the test of time.
Obviously, the mild hybrid engines are new, so it's impossible to state with any real confidence how they will fare, but the Ingenium engines have been pretty good up to now.
The Land Rover Discovery comes with a three-year, unlimited mileage warranty.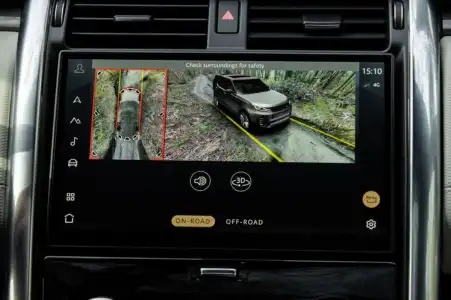 Safety & Security
When tested for its Euro NCAP safety rating, the Land Rover Discovery was awarded the maximum five stars and it boasts a range of features designed to protect occupants and other road users as well as help prevent accidents occurring in the first place.
Our car featured Matrix LED headlights with an adaptive driving beam and dynamic headlight levelling, wade sensing to check the depth of water before entering, blind spot assist, clear exit monitor and rear traffic monitor. There is traffic sign recognition and adaptive speed limiter, lane keep assist, a driver condition monitor, front and rear parking aids and a full suite of airbags.
The ClearSight Ground View system deserves a mention. Camera images are displayed on the touchscreen showing a view down the side of the car from the door mirrors. This is really handy if you are parking next to high kerbs or negotiating a tight track off-road in order to avoid scraping the wheels.
The Discovery is fitted with an advanced alarm system to keep uninvited guests at bay.

Find out our latest offers for used Land Rover Discovery.
Speak with our Concierge team to discuss your car buying options
Request a free call back