Pros:
New highly-efficient powertrains

Beautiful design with a modern, luxurious and feature-rich interior

Superb driving dynamics with excellent towing and off-road capabilities
Cons:
Pricey when optional extras are factored in

No paddles for manual gear changes

Quite a lot of road surface noise at higher speeds
More On This Car
Take one for a spin
Request a Land Rover Discovery Sport test drive
Introduction
Land Rover's Discovery Sport has clocked up almost 120,000 UK sales since its launch four year's ago and now the seven-seat premium compact SUV has been upgraded with the latest efficient, electrified engines, a new interior with more space, lots of extra onboard technology and some very clever safety kit.
With prices starting from £31,575 and rising to £49,675, customers can choose from trim levels called Standard, S, SE, HSE, R-Dynamic, R-Dynamic S, R-Dynamic SE and R-Dynamic HSE. The entry-level model is a five-seater and front-wheel drive, but all other vehicles can carry seven occupants and are all-wheel drive.
There are petrol and diesel engines with mild hybrid technology and a plug-in hybrid EV version coming next year.
On The Road
Performance
The latest Discovery Sport is available with plenty of powertrain choice. Customers can select from three petrol or four diesel Ingenium four-cylinder engines. And all models, apart from the entry-level car, boast 48-volt mild hybrid electric vehicle (MHEV) technology that sees fuel efficiency increase by up to seven percent and CO2 emissions drop by up to 10g/km compared to the outgoing model.
The MHEV engines harvest the energy that is normally lost when decelerating and stores it in an underfloor battery so that it's ready to be used when the car pulls away, so assisting the engine under acceleration. When driving at speeds below 11mph or braking, the engine will shut off to minimise emissions. This technology is really beneficial for short commutes and helps to improve fuel efficiency with figures of up to 40.9mpg and carbon emissions as low as 144g/km (WLTP). A plug-in hybrid electric vehicle will join the line-up early next year.
Also new to the latest Discovery Sport is an updated nine-speed automatic transmission that's ultra-smooth and more fuel efficient across the range.
We tested the 2.0-litre 180hp Turbocharged diesel model with 430Nm of torque which results in a 0-60mph sprint time of 9.4 seconds and a top speed of 125mph. But it's the manner in which the vehicle, in HSE trim, behaves that really impresses. This is a car that responds instantly to throttle pressure. Despite its weight and large body size, it handles with sports car reactions.
Out on the open road, it boasts super confident grip meaning long sweeping bends can be attacked with ease. It eats motorway miles for fun, cruising effortlessly at national speed limits and is deceptively agile in town centres too. There is a Dynamic mode for added spice, but to be honest, the car performs beautifully when left in its 'Normal' setting.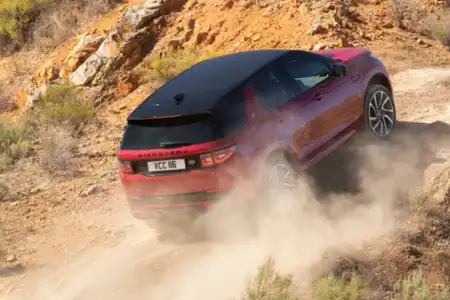 Ride Handling
The Discovery family is renowned for its off-road ability and the latest Discovery Sport features Terrain Response 2 which allows drivers to choose from four modes - Comfort, Sand, Grass-Gravel-Snow, Mud & Ruts. This can be done manually or you can select Auto and let the car decide what mode it should be in - which is probably the wisest choice.
We had the opportunity to fully test out the Discovery Sport in demanding off-road conditions for 90 minutes and it passed with flying colours.
It boasts approach, departure and break-over angles of 25, 30 and 20 degrees respectively and ground clearance of 212mm. It can climb gradients up to 45 degrees and lean at nerve-wracking angles. And should a water obstacle put in an unexpected appearance, this car can wade at depths of up to 600mm.
There is some very clever technology to assist when clambering over rocks and boulders or squeezing through a really narrow channel. Cameras on the door mirrors and one on the front bumper offer real-time views of what's going on next to the wheels and just ahead of the vehicle as you inch forward at a snail's pace.
The hill-descent control is superb as it eases the car slowly to the bottom of slippery banks and the grip when climbing is flawless. Although few owners would dare venture through such testing terrain with their pride and joy, it's always reassuring to know what the Discovery Sport can do if required.
The car's highly efficient suspension system, which is newly upgraded at the front, does a very worthy job of smoothing out the roughest road surfaces and the car also boasts Adaptive Dynamics to deliver a comfortable and composed ride regardless of changes in the terrain, with intelligent sensors and continuously variable dampers that monitor the road conditions every 10 milliseconds.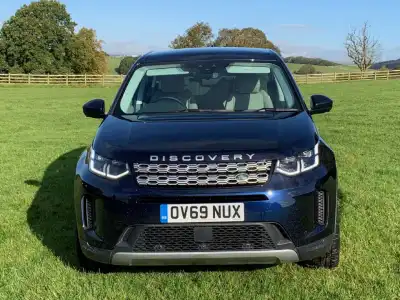 Styling
Refinement is always an area where Land Rover models excel and the Discovery Sport is no exception to that rule. It embraces the adventurous spirit that has defined the Discovery family for 30 years with trademark design cues, such as the clamshell bonnet, tapered roof and rising belt-line. But the new model also boasts new signature LED headlamps at the front and rear, plus an updated grille and bumpers.
The R-Design variants gain unique bumpers, Shadow Atlas script on the bonnet and tailgate, along with body-coloured side sills and wheel arches.
Move inside and the quality has been vamped up a notch or two with the introduction of new materials. The upgraded seats across rows one, two and three provide improved comfort and once again the R-Design versions have stand-out design cues such as branded treadplates.
The seats are upholstered in the finest Windsor leather, there are soft-touch surfaces at every turn, gloss black trim, footwell lights, ambient lighting, heated seats and lots more.
The Discovery Sport is built on Land Rover's latest Premium Transverse Architecture, which basically means it provides greater versatility and refinement with a new body that is 13 per cent stiffer than its predecessor. There are also rigidly-mounted subframes that help to reduce noise and vibration intrusion as well as offering extra protection in the event of an accident.
In The Car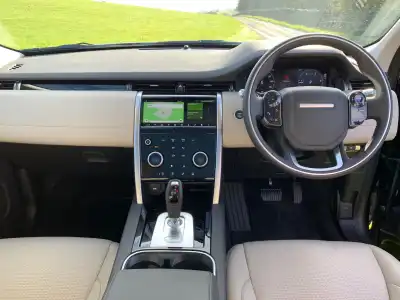 Behind the Wheel
Getting comfy inside the Discovery Sport is easily accomplished thanks to powered seats with memory settings and a manually adjusted steering wheel. The driver benefits from an elevated seating position and that in turns results in excellent all-round visibility at all times.
And I mean all times as the latest Discovery Sport features some clever features called ClearSight technology. The ClearSight Ground View (a £575 option) is derived from the company's 'invisible bonnet' concept and uses cameras in the front grille and door mirrors to project an image onto the touchscreen. This shows what is ahead and beneath the vehicle and is an excellent feature when navigating difficult off-road terrain and also when approaching a high kerb, to avoid damaging the front of the car.
The ClearSight Rear View Mirror, which is standard on HSE models, transforms the mirror into an HD video screen at the touch of a button. A rear-facing camera positioned above the back window delivers excellent visibility in low light and also offers a clear view if there are three passengers sitting in the back blocking the driver's vision. It can be switched back to the standard mirror whenever required.
The cockpit is beautifully designed and all controls are ideally positioned for ease of use. And there's a wealth of technology to explore too. The Touch Pro infotainment system is standard across the range and introduces a new 10.25-inch touchscreen with swipe and zoom functions. A lower interface remains hidden until lit and brought into life and this is where the controls for the heating, ventilation and climate system are located, along with Terrain Response 2 settings and the Advanced Tow Assist function.
Creature comforts include a pitch-perfect Meridian sound system, full smartphone connectivity via Apple CarPlay or Android Auto, Bluetooth, sat-nav and a list that goes on and on and on!
One new feature is definitely worth mentioning though. It's the smart Artificial Intelligence technology. This self-learning system recognises the driver from their key fob or phone and will set up their seat and steering column preferences with the ability to store up to eight profiles. Then after a few journeys, the clever system starts to remember the driver's preferred temperature settings, commonly dialled numbers, media preferences and even massaging seat settings. It's all very Big Brother, but in a good way.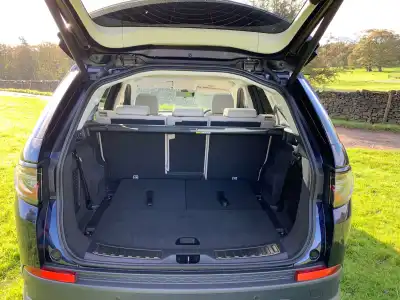 Space & Practicality
Land Rover's team of designers have made sure the latest Discovery Sport is more practical than ever by maximising the cabin space and storage options. The 5+2 seat layout makes this model an ideal choice for larger families and with a second row of seats that split 40:20:40 and can slide or be folded there are up to 24 seating configurations available.
The boot can hold 1,179 litres of kit - a limit that increases to 1,794 litres with seats in the second row dropped flat, and there is a net included as standard to prevent items rolling around.
Re-designed door bins and a larger 7.3-litre central cubby box mean there is room to store 48 litres of smaller goodies within the car, which is an increase of 25 per cent compared to the outgoing model.
And there are lots of connectivity options too with eight USB and three 12-volt charge points throughout the cabin. There are also optional Click & Go tablet holders, which hold and charge smart devices for passengers travelling in the second row. These cost £215 each.
As well as all the off-road know-how, the vehicle can tow a trailer or caravan weighing up to 2.5 tonnes. Advanced Tow Assist is available on the latest Discovery Sport and this helps to make towing safer and easier. It allows the driver to focus on steering the trailer via a dial instead of the difficult counter-steering of the vehicle.
Ownership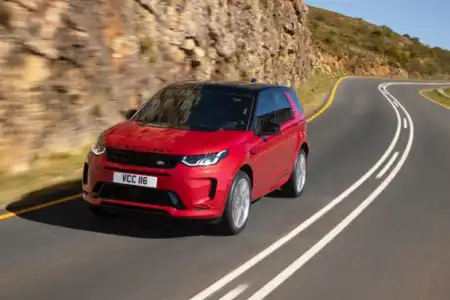 Running Costs
As is the case with any premium brands, you can expect a premium price to match, and the Discovery Sport is not a cheap car even at basic entry-level. Costs range from £31,575 to £49,675 and, of course, all manner of optional extras and packs can be introduced.
Our test car, in high-end HSE trim level, began life costing £46,025, although a few optional extras were added to the mix which resulted in a final asking price of £48,870.
The diesel-powered model could deliver a combined 37.2mpg under WLTP testing with carbon emissions of 150g/km (NEDC). This CO2 output would result in a first-year Vehicle Excise Duty cost of £210 dropping down to £145 after 12 months. However, there are additional costs to factor in if your Discovery Sport tops the £40k mark, with an extra £320 per year for the first five standard rate years.
Our car was positioned in insurance group 33.
Quality & Reliability
The Discovery family has always been regarded as the 'go-anywhere' models in the Land Rover stable and the latest Discovery Sport certainly proved its strength as it conquered a demanding off-road course. It climbed boulders, scrambled up muddy banks, tilted at unbelievable angles and waded through water - all without the slightest hint of a struggle.
And although Land Rover has had some issues regarding reliability over the years, more recent models have proved more dependable.
The interior is beautifully constructed with the finest materials that certainly look durable. That said; the cream-coloured Windsor Leather seats would not be that practical unless the vehicle was treated with plenty of TLC.
The Discovery Sport comes with a three-year, unlimited mileage warranty.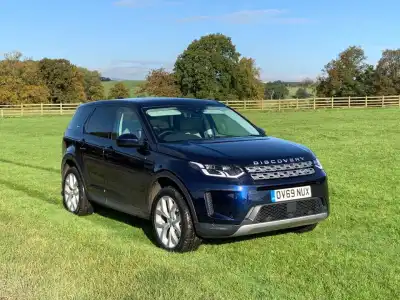 Safety & Security
The Discovery Sport secured the maximum five stars when it was tested for its Euro NCAP rating and is packed with features to protect occupants and pedestrians plus reduce the risk of an accident happening in the first place.
There are plenty of safety features as standard on the latest Discovery Sport, including Autonomous Emergency Braking and Lane Keep Assist, a Driver Condition Monitor, front and rear parking aid, a rear camera, Cruise Control and Speed Limiter, a full suite of airbags and three Isofix fixtures.
Customers can also add extra safety kit to their cars via a number of optional packs. There is the Driver Assist pack, costing £1,970, which will be available from next year. This all-encompassing package introduces Land Rover's Adaptive Cruise Control with Steer Assist and 360-degree camera, alongside Blind Spot Assist, High-Speed Emergency Braking, Park Assist, a 360-degree parking aid, Rear Traffic Monitor, Wade Sensing and Clear Exit Monitor.
It can be broken down into more focused packs, which are available now, that could be more practical for owners. For example, the Drive Pack, costing £1,000 or a Park Pack, priced at £550, add all of the above features, but may be more suited to individual needs.
In the event of an accident, a pedestrian airbag beneath the bonnet's top edge inflates to protect the head of a pedestrian while there are three Isofix points to help keep occupants safe. There is also an Emergency Call service that automatically connects you with emergency services so they can confirm you are safe.

Find out our latest offers for used Land Rover Discovery.
More On This Car
Take one for a spin
Request a Land Rover Discovery Sport test drive