Pros:
Beautifully styled inside and out and packed with Italian flair

Nice to have alternatives to the 'German' brands

Choice of luxury or sport-themed versions
Cons:
The introduction of hybrid technology doesn't make a huge impact on running costs

Steering wheel-mounted paddle shifts are huge and get in the way of the indicator stalk

Lacks some of the brutal firepower of other V6 and V8 Maserati models
More On This Car
Need more information?
Request More Information
Introduction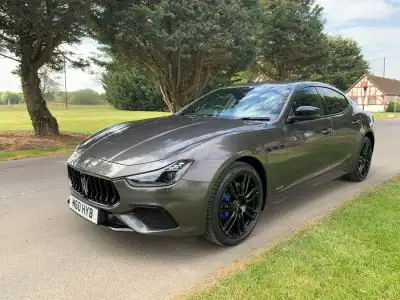 When you mention the Maserati name it conjures up images of beautifully streamlined and svelte-like cars that stopped onlookers in their tracks, but were priced out of reach for most people.
That changed when Maserati launched its four-door Ghibli with a realistic starting price to offer a quality option to the likes of the Mercedes E-Class, Audi A6 and BMW 5 Series.
It proved an instant hit and sales have soared since its launch in 2014. Now there is a mild hybrid version on offer and the latest model also features a number of design tweaks and a new-look cabin.
Customers can choose from the sporty GranSport of luxurious GranLusso models.
On The Road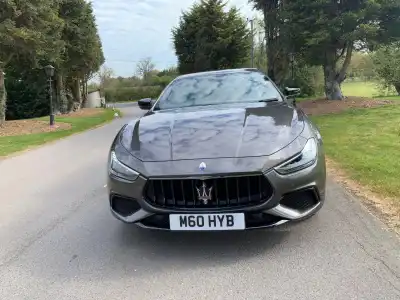 Performance
The rear-wheel drive Ghibli Hybrid has been built around a modified version of the V6 vehicle and has a 0-62mph sprint time of 5.7 seconds and a maximum speed of 158mph. It features a four-cylinder, 2.0-litre, diesel engine delivering 330hp and 450Nm of torque, along with a 48-volt hybrid system that allows energy to be captured when braking or slowing down.
The acceleration through the eight-speed ZF automatic gearbox is swift and smooth with the option of steering wheel mounted paddles if you fancy taking a little more control. These paddles are massive and I found the left one, that is used to change down through the gears, did get in the way of the indicator stalk at times.
When it comes to driving capabilities, the Ghibli Hybrid lacks some of the brutal firepower of the previous models, but it is still very much a driver's car – just a tad calmer.
It's very composed on motorways cruising effortlessly at 70mph and, for its size stretching just under five metres in length, it is quite agile in busier town centres.
There are three driving modes to flick through called Normal, Sport and ICE, which stands of Increased Control and Efficiency, which alter the car's reactions.
And like most hybrid models, energy is recovered when coasting or braking to boost the battery pack. There is an eBooster system that is charged by the battery and this works with the turbocharger to add extra torque at low revs.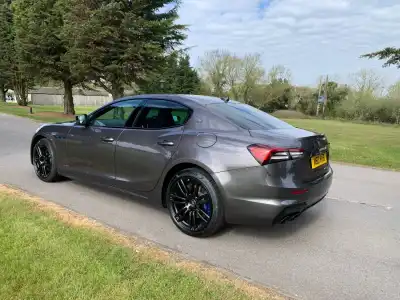 Ride Handling
Maserati worked tirelessly to improve the Ghibli's all-round handling and, along with the Quattroporte, it was the first model to adopt the Integrated Vehicle Control (IVC) system by Bosche. It sounds complicated but in layman's terms the system prevents vehicle instability and that in turn enhances safety and improves the driving dynamics.
The IVC uses clever technology that predicts driving situations in advance and adapts the engine speed and brakes accordingly. This improves the traction and balance as the car travels at its higher speed limits.
The Electric Power Steering helps deliver great handling ability and comfort while supporting the drive modes. While retaining the sharp handling typical of Maserati models, it also improves the feedback on road irregularities along with easier low-speed manoeuvres in busier town settings.
However, the suspension still feels quite firm, so expect to feel the full force of bad road surfaces.
Out on the country lanes, the road holding is confident which means tight bends can be attacked with confidence and the Sport driving mode, along with steering wheel paddles, offer added driver engagement.
The introduction of the hybrid powerplant has improved the weight distribution meaning the car feels perfectly balanced.
You will find the Ghibli quite a wide car to drive and it becomes even more noticeable on narrow country lanes. That's because the car measures 1,945mm in width. As a comparison, the Mercedes E-Class is 1,852mm wide.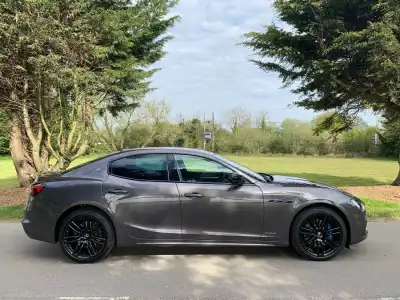 Styling
Any concerns that adopting hybrid technology would impact upon the car's stunning styling are swiftly laid to rest with one glance in the direction of the vehicle.
The Ghibli Hybrid, which is built entirely in Italy, still features all the muscular styling traits that have made the Italian models so desirable over the decades. And the four-door saloon has also undergone some restyling tweaks with a number of details set in dark blue – the colour universally adopted as the symbol of clean mobility. There are blue-coloured air intakes, brakes and the traditional trident emblem is underlined by a striking blue flash.
It debuts a new-look grille which is finished in chrome on GranLusso vehicles or sporty black on the GranSport versions. There's a sculpted bonnet, black alloy wheels, boomerang styled rear light clusters, sleek coupe-like streamlining and twin tailpipes.
Moving inside, the sports theme continues with powered sports seats, a sports steering wheel with huge aluminium gear shift paddles, sports pedals and an updated gearshift lever and driving mode buttons.
The dashboard's wooden trim is finished in high-gloss piano black to add to the athletic character of the car.
Soft touch close doors are another high-end feature that ensures all four doors are properly closed.
When it comes to driver refinement, the cabin is well-insulated against outside road surface and wind noise, and features the new Skyhook suspension system which means all four dampers can be electronically controlled independently of each other. As a default, it is geared towards comfort until you press the suspension control button when the ride firms up considerably.
In The Car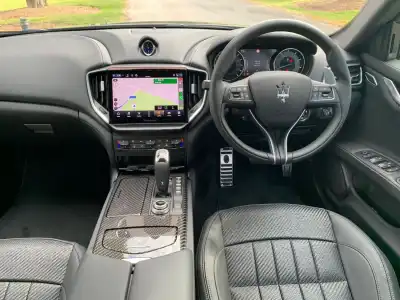 Behind the Wheel
Our Maserati Ghibli Hybrid GranSport test model boasted 12-way power adjustable sports seats, along with a sports steering wheel with ample adjustment, which meant finding the perfect driving position is a simple process. And then there are memory settings to store that data away.
The cabin is beautifully crafted and gains an upgraded infotainment system that sits neatly within the dashboard offering sharp graphics and easy access on the fly
From 2021, all Maserati models are connected thanks to the new Maserati Connect program. This helps to monitor the vehicle's health and, when necessary, alerts the driver to book a service. It also improves the safety and security of the car with assistance in an emergency or if the car is stolen.
Owners can use a Smartphone or Smartwatch to stay in contact with the car via an app and there are free services for three years with Alexa integrated into the system. The onboard maps are updated regularly throughout the three years and there is a complementary Wi-Fi hotspot to connect up to eight devices on the move.
Factor in the pitch perfect sound system, climate control with air quality sensor and a wealth of on-board kit and the Maserati Ghibli Hybrid is certainly equipped to a premium standard. We would expect nothing less.
The driver visibility is good but not perfect (like most of its rivals to be fair). The streamlined design, along with wide B pillars, limits the over the shoulder views. But the car is fitted with parking sensors and there is blind spot monitoring too.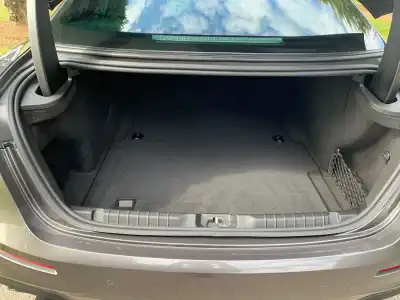 Space & Practicality
The Ghibli Hybrid GranSport offers bags of space upfront so even basketball players could get comfy. But sadly, the same can't be said for the back, especially if the front seats are pushed well back.
With its tapering off saloon-style roofline, the back-seat passengers may find the space a little claustrophobic and will constantly be tapping the person in front's shoulder and asking them to move their seat forward a touch.
That said; the space is ideal for teenagers who will never tire of being dropped off at school in one of the coolest cars on the planet.
The boot is practically-sized and can accommodate 500 litres of kit and there are numerous convenient storage options scattered throughout the cabin, such as a lockable glovebox, a deep central cubby box, door bins, cup holders, seat-back nets and a small compartment hidden away beside the driver's right knee.
The powered boot lid can be opened or closed automatically using the key-fob, by pressing a button on the door panel or by just moving a foot beneath the rear bumper – this is great if you are carrying lots of shopping and your hands are full.
Ownership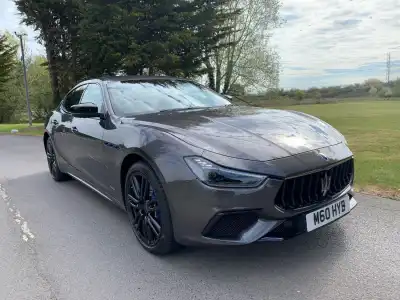 Running Costs
So, onto the costs then. The Ghibli Hybrid is available in GranSport or GranLusso trims – both priced at £65,100. So, it really depends whether you want a car that is sports themed or geared more towards luxury.
We tested the GranSport version and although it now features a 2.0-litre, four-cylinder diesel engine that delivers 330hp and 450Nm of torque, along with a 48-volt hybrid system that allows energy to be captured when slowing down or braking, don't expect a huge improvement in fuel efficiency. Under stricter WLTP testing, the car could return 30.1-34.9mpg with carbon emissions of 213g/km.
This CO2 emissions figure means owners will face a Vehicle Excise Duty, formally known as road tax, cost of £1,345 for the first tax year and £155 after that. However, there is more bad news as cars costing more than £40k incur an additional levy of £335 for five years starting from the second year of ownership.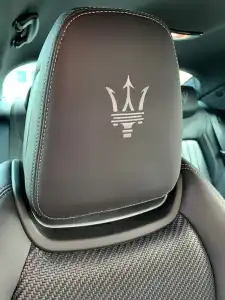 Quality & Reliability
Maserati previously used petrol engines built by Ferrari and the diesel unit could also be found inside the Jeep Grand Cherokee. But the hybrid unit has been sourced from Alfa Romeo and then extensively re-worked by Maserati technicians and engineers to develop the new engine. So, at this stage, it is impossible to say how reliable they will be, but there are no issues to report to date.
The 48-volt hybrid system comprises four parts – a belt starter generator, battery, eBooster and a DC/DC converter and it all seems to work away nice and smoothly. Once again though, it's still early days.
The interior is beautifully crafted and the GranSport model featured sports-based pedals, metal gear shifters, powered sports seats and a sports steering wheel. The upholstery is beautifully crafted and that, along with the switchgear, feels durable and well made.
There is a little hard plastic on show that could prove susceptible to scratching over time, but that was my only real concern.
The car comes with the reassurance of a three-year, unlimited mileage warranty.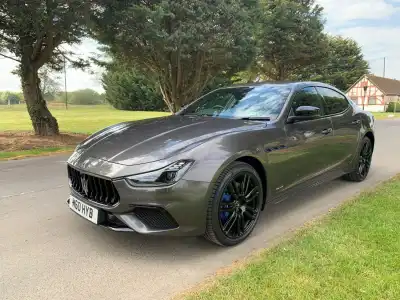 Safety & Security
The Maserati Ghibli secured the maximum five stars when it was tested for its Euro NCAP safety rating and is packed with safety kit and driver assistance aids to help protect occupants and other road users.
There is Level 2 Advanced Driver Assistance Systems such as highway assist, active blind spot assist and lane keeping assist, along with the option of traffic sign recognition.
The adaptive cruise control has a stop and go function that monitors the space between the Ghibli and the vehicle in front and maintains a safe distance, braking and accelerating automatically.
In addition, there is forward collision warning plus, advanced brake assist, autonomous emergency braking, a rear-view camera with dynamic lines, rear cross path, a tyre pressure monitoring system, active speed limiter and a full suite of airbags.
There is a Vehicle Control system that is incorporated in the Stability Program that helps predict possible dangerous driving situations in advance and reacts by slowing the vehicle and braking accordingly.
The chassis is built around a steel shell to maximise strength and the Brembo dual cast brakes, pioneered by Maserati, are designed for consistent performance in sports driving situations.
More On This Car
Need more information?
Request More Information