From £58,315 (S GranLusso model £77,000)
Pros:
Maserati somehow manages to work its magic and make a larger-than-life 4x4 SUV look appealing

Outstanding comfort and surrounded by on-board luxury

It has a soundtrack to match its performance
Cons:
Some hard plastic lowers the quality and sharp edges beneath steering wheel

Over-sized paddle gear shifts get in the way of the indicator stalk

Overcomplicated touchscreen with too many menu options
More On This Car
Need more information?
Request More Information
Introduction
When Maserati launched its first SUV into the market in 2016, it was met with mixed greetings. Some welcomed the arrival of another classy high-performance car in the bustling SUV scene. Others felt putting the Maserati Trident badge on a high-sided people carrier was sacrilege.
But with a 0-62mph sprint time of just 5.2 seconds and a top speed of 164mph the Levante, which has its own production line in Turin, is anything but normal.
The latest 2018 version has some improvements to the steering, safety systems and gearbox for sharper gear-shifting.
There are two distinctive trim levels to choose from called GranLusso which focuses on luxury and GranSport which leans towards performance. Customers can also choose between punchy petrol or diesel powertrains.
On The Road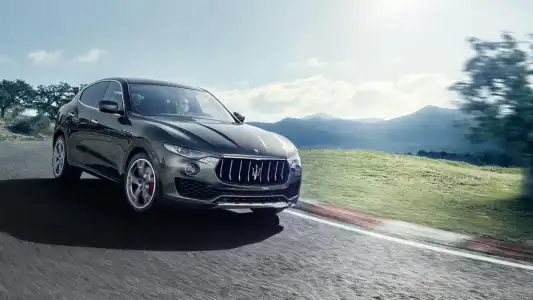 Performance
We tested the new Levante S GranLusso powered by a 3.0-litre twin-turbo V6 petrol-driven engine that has been designed and manufactured by Ferrari. It produces 430hp and a sizzling 580Nm of torque. It's a car that can power its way from 0-62mph in 5.2 seconds and redlines at 164mph.
Those figures alone should hold the Levante in good stead, but when you add in the 2.1 tonnes kerb weight that's a hefty lot of metal to shift around – it does it with ease.
There's plenty of fizz through the eight-speed gearbox with the option of steering wheel mounted paddles if you fancy taking a little more control of the gear changes. These paddles are quite large and at times they do get in the way of the indicator stalk, but there's no chance of missing them when firing through the gears.
There are different driving modes to choose from. By default, the car is set to Auto Normal which delivers the right balance of ride comfort, fuel efficiency and sportiness by performing smooth gear changes at low engine revs. Next up is the Auto Sport mode which enhances the powertrain's sportiness with faster gear switches at higher revs. The sportiest mode is Manual Sport which hands over the gear changing to the driver so the revs can reach screaming point before switching.
The Levante also boasts Off-Road modes along with an I.C.E mode whereby gearshifts are at their smoothest for unrivalled driving comfort.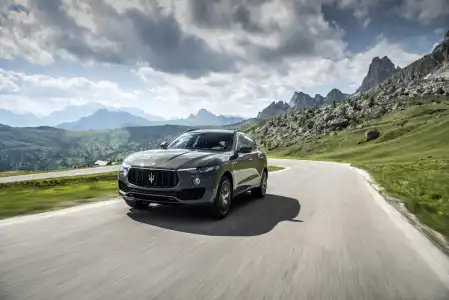 Ride Handling
With all that power at your disposal, driving the Maserati Levante was never going to be boring and it certainly lived up to all the hype. Yes, it's a heavy unit to throw around and the almost two metres width of the car will have you breathing in and holding your breath along narrower lanes as other vehicles approach.
But the powerful engine driving the Levante easily copes and delivers exhilarating driving dynamics. Set in Sport mode, the performance and handling capabilities are livened up and then for a relaxed ride, switch across to I.C.E.
In Sport mode with the suspension lowered you can almost watch the fuel gauge drop and the official combined fuel economy figure of 25.9mpg will becomes irrelevant. After 45 minutes in Sport mode I was seeing just 18mpg.
But for that compromise in economy you do get the exhilaration of powering along with a soundtrack to match. In Sport, the exhaust valves open providing the shortest exit route for exhaust gases. This gives the Levante its maximum engine performance and the unique Maserati engine sound which is guaranteed to stop onlookers dead in their tracks.
It's also worth mentioning that the latest Levante has adopted Electric Power Steering in place of the hydraulic set-up in previous models and this in turn improves the car's handling and comfort. It also means that the car retains the razor-sharp steering feel that is expected from a Maserati.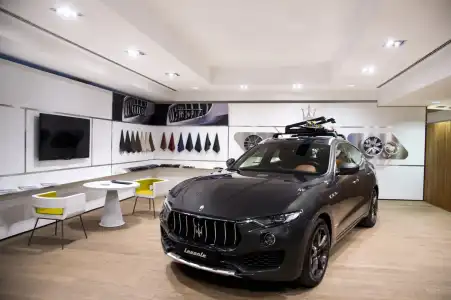 Styling
The Levante was riding on stunning 20-inch wheels which seemed the perfect match for such a powerhouse of a car. Some larger SUVs feel wallowy and tend to suffer from too much body roll into tight corners. That's certainly not the case with the Levante. It appeared to glide across the Tarmac and was unfazed by uneven road surfaces. There is, of course, an off-road setting and although I didn't test it out, Maserati claims it can cope with the roughest of terrains. I wouldn't think many owners would risk their pride and joy though.
The cabin is well-insulated against the intrusion of engine, road surface and wind noise, unless of course, you want it to be heard in Sport mode.
Externally the Levante GranLusso is distinguished by its metallic finish roof rails, front skid plates, black painted brake calipers, body-coloured side skirts and GranLusso badging low on the front wings.
And when it comes to refined interiors, the Levante is right up there with the very best. Our GranLusso model concentrates on luxury and oozes Italian craftsmanship. For example, the Ermenegildo Zegna Silk interior features patented mulberry silk inserts on the seats, roof lining, door panels and ceiling light fixture. There is open-pore wood trim, tailored comfort seats with 12-way power adjustment, soft closing doors and lots more besides. The embroidered Trident on the headrests is another neat touch.
In The Car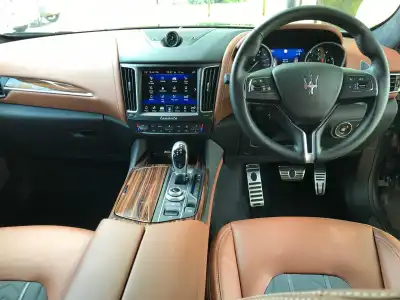 Behind the Wheel
The Maserati Levante is one of the easiest cars to get a comfortable driving position. There are 12-way power adjustable seats along with a power-adjustable steering wheel, so within seconds it's like you're in a favourite armchair. In addition, the seats can be cooled or heated and the steering wheel can be warmed against the winter chill.
The all-round visibility is excellent which is essential when driving such a large vehicle. I keep harping on about the Levante's size, but it is five metres long and almost two metres wide. It sums it up really that Maserati refers to the inside of the Levante as a lounge!
All the controls, dials and readouts are perfectly positioned for driver usability and there are steering column-mounted paddle shifts to change gear manually. These paddles are massive and I did find they get in the way quite a lot, especially when trying to quickly reach the indicator stalk.
The Levante features an impressive, although somewhat complicated infotainment system. There is an 8.4-inch touchscreen display which is navigated via Maserati Touch Control Plus. It works similar to a tablet recognising drag, scroll, swipe and rotate gestures. Whilst there is an array of icons such as climate control, phone and media, it was a little overwhelming at first and results in taking your eyes off the road to operate.
It's simple to stay connected on the go with Apple CarPlay and Android Auto and the 15-speaker Bowers & Wilkins sound system costing an additional £2,300 delivered symphony-like acoustics throughout the cabin.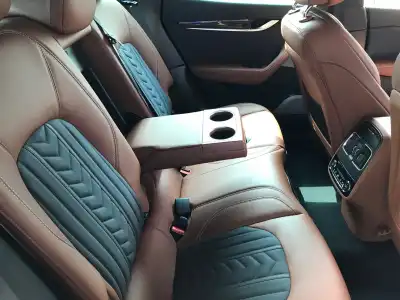 Space & Practicality
Anyone sitting inside the Maserati Levante GranLusso will be treated to bundles of room to stretch out. The interior is like a Tardis and there is ample space for a trio of adults in the back with the two outer rear seats offering maximum comfort along with lateral support. Unfortunately, unlike rivals such as the Audi Q7, there is no seven-seat option.
The boot capacity is also lower than targeted rivals such as the Porsche Cayenne. The Levante has a capacity of 580 litres that is increased to 1,625 litres with the 60:40 split-folding rear seats dropped flat. This is less than the 770/1,710 litres offered in the Cayenne or the 770/1,955 litres available in the Q7.
There are numerous additional storage options scattered throughout the car, including a glovebox that can be locked via the touchscreen menu, deep door pockets, covered compartments where the USB and aux-in connections are found and cup holders.
With its high-sided design getting in and out of the Levante is a simple process, so too would be accessing child seats in the rear.
Ownership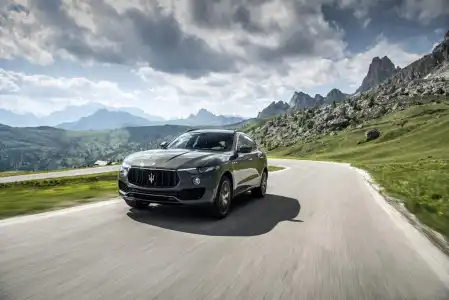 Running Costs
So, onto the nitty gritty then – how much will the Maserati Levante set you back? Or perhaps more importantly, what will the running costs be like? The answer is quite a bit, but after all this is an exquisite piece of Italian craftsmanship. The car driven was £79,125.
Powered by that 3.0-litre twin-turbo V6 petrol-driven engine, with a 0-62mph sprint time of 5.2 seconds, max speed of 164mph, combined fuel economy of 25.9mpg and carbon emissions of 282g/km means owners would face a Vehicle Excise Duty cost of £2,060 for the first tax year and £140 after that.
A more economical option would be the 3.0-litre diesel models with combined mpg of 39.2 and CO2 as low as 213g/km. These diesels cost from £58.300. That would result in a reduced first year VED charge of £1,230.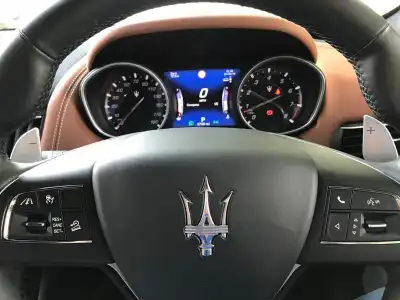 Quality & Reliability
It's impossible to predict with absolute confidence just how reliable the Levante will be because it is still so new on the market, but the Maserati has undergone rigorous testing on five continents.
A total of 34 pre-production models covered millions of miles with extreme heat testing in South Africa, the deserts of the United Arab Emirates and Morocco with daytime temperatures soaring to 50 degrees Centigrade. Extreme cold testing was carried out in New Zealand, Sweden as well as other tests in locations such as Dubai, China and Russia.
According to Maserati every car that comes off the production line is tested on the road for 50kms and before delivery, it undergoes an additional 30-minute quality test which includes electrics.
The build certainly seems robust and all the upholstery and switchgear feels like it will survive the test of time. On the downside, the hard plastic surrounding the touchscreen system looked a little cheap and might be prone to scratching and if you delve deep beneath the steering wheel there's some rather nasty sharp edging.
The car comes with the reassurance of a three-year, unlimited mileage warranty.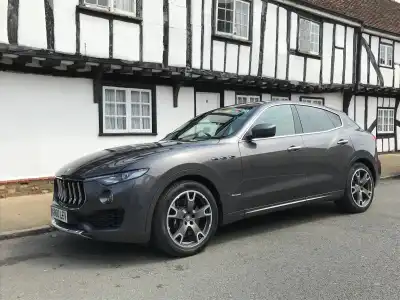 Safety & Security
The Levante boasts a comprehensive list of safety features including highly efficient Brembo brakes, a new electric power steering set-up with crisper responses and driver feedback, along with six airbags, traction control, hill descent control, hill hold, tyre pressure monitoring and Maserati Stability Programme which covers anti-lock brakes, acceleration slip regulation, electronic brakeforce distribution and brake assist.
The car also has Intelligent All-Wheel-drive which helps to deliver a typical Maserati rear-wheel driving experience with traction transferred in an instant to the front wheels when additional grip is needed. This can be achieved in 150 milliseconds.
In addition, the test car was supplied with a Driver Assistance Plus Pack costing £2,300 extra. This added adaptive cruise control, blind spot and rear traffic alert along with forward collision warning and lane departure warning.
Due to the fact that the Levante is unlikely to sell in high volumes, it has not been tested by Euro NCAP for a safety rating.
More On This Car
Need more information?
Request More Information