Pros:
Excellent interior design and quality

Smooth and refined to drive

Great fun to drive
Cons:
Current engine range lacks power

Diesel is frugal but frustrating

Not as practical as some rivals
More On This Car
Take one for a spin or order a brochure
Request a Mazda 3 brochure
Request a Mazda 3 test drive
Introduction
Mazda has been quietly getting on with the business of making stylish cars that drive every bit as well as they look. The outgoing Mazda 3 had an almost-premium feel to it, and drove well enough, but fell just short of the Ford Focus for driving thrills.
That's not the case anymore. This latest generation 3 more than matches the sporting prowess of the Ford Focus as well as the premium feel of the Volkswagen Golf, and does it at a price that's surprisingly competitive.
It's not without its flaws, most notably the initial lack of a range of engine and trim levels, but Mazda promises that the 3 will age like a fine wine; that means there's new, super-efficient, engines coming, along with more power and performance.
Wrapped up in a delightful body, could this be the car to break Mazda into the mainstream?
On The Road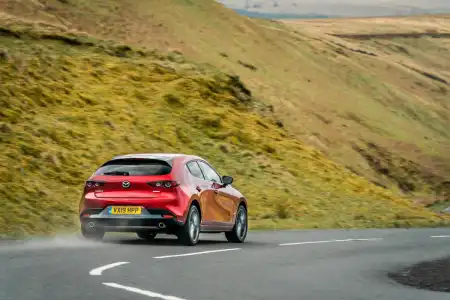 Performance
At launch, there are just two engine options. A 1.8-litre turbo diesel provides just 116hp and takes a rather lethargic 10.3 seconds to reach 62mph. There's also a 2.0-litre petrol engine, as tested here, that adds just 6hp to that total, and actually takes a tenth of a second longer to reach 62mph.
This is no performance car then, but there's something quite delightful in how the Mazda allows you to play with that power. There's no turbo on the petrol engine, which makes the power delivery smooth and linear, with enough pull from low revs allowing for normal, everyday driving. Allow the engine to spin into the higher echelons of the rev range and it comes alive, releasing all 122hp and making the car feel decidedly quicker than it is.
That's in part to the chassis, but it's pleasing to have a drivetrain that's not been compromised by chasing emissions regulations with downsizing and turbocharging. Mazda's method might create a little more CO2 under testing, but it's better in the real world, and makes it so much more engaging to drive.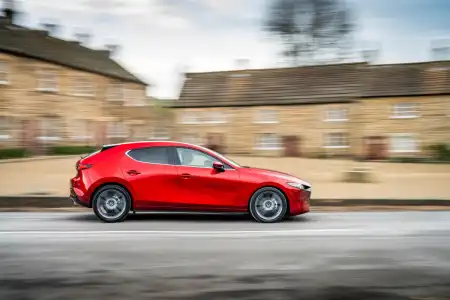 Ride Handling
There's only one real flaw with the Mazda's on-road ability, and that's the steering that lacks a little feel and isn't as sharp and direct as you might like. That said, it's only because the other areas are so strong that you notice this and, in reality, few buyers will be hurtling around Scottish B-roads trying to extract every last bit of performance.
Which ultimately means the 3 feels magnificent when pressing on at a decent, but not antisocial, rate. Suspension damping is superb, the chassis absorbing every bump and leaving the car feeling rock-solid on the road, at least until things get seriously potholed. Then the rear suspension struggles marginally, but it's never obtrusive.
There's still enough squidge left to keep passengers feeling comfortable, with that damping leaving a settled, refined ride. It's at the top of the class for ride quality, and as near as you can get for driving engagement.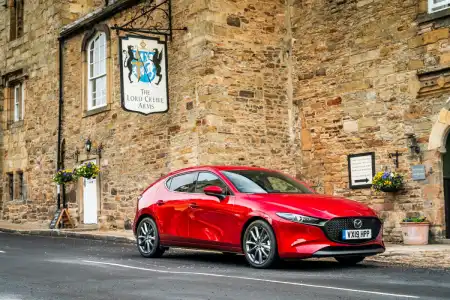 Styling
There's a hush to the cabin that surprises, with the hard-working petrol engine almost inaudible from the front. However, that has the odd side effect of making the tyre roar from the rear of the car sound more significant than it probably is. At least there's little to no wind noise, even at higher speeds, and the stereo is clear and loud enough to mask anything untoward.
The gearshift is precise, smooth and positive, to the extent that you barely notice that you're changing gears. Opt for the automatic model and shifts are smooth enough, but there's a delay when you ask for more power and wait for the gearbox to shift down a ratio or two - something it has to do frequently, as all the power is at the top of the engine's range.
It's a small quibble on what is an otherwise excellent environment.
In The Car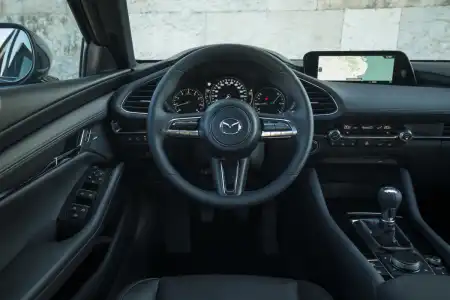 Behind the Wheel
Mazda is clearly hoping to coax drivers from the so-called premium sector, as the interior of the 3 is as sharp, tactile and cosseting as anything from Audi, BMW or Mercedes. The design is simple yet dramatic, with a neat 8.8-inch infotainment screen sitting nestled in a vast swoop of leather dashboard topper. It's integrated in a way that few current cars can manage, and that simple move lifts the entire cabin.
Even the material choices are of a high standard, leaving the Mazda feel particularly luxurious. The GT Sport spec tested adds leather seats to the mix too, further boosting the ambience.
It's not all show, either. The driving position is excellent, while the seats support well while remaining comfortable. The combination of digital and traditional dials in front of the driver are clear and crisp, while a head-up-display projects vital driving information ahead of the car.
There's a new (much-needed) infotainment system too, with modern, clear graphics, that's easy to control using a rotary knob by the driver's left leg. It's not got as many facilities and options as the BMW iDrive or Mercedes MBUX systems, but it's a big step forward for Mazda, and comes with both Android Auto and Apple CarPlay.
Equipment levels are high across the range, with even the 'basic' SE-L trim getting that infotainment system, LED headlights, adaptive cruise control, head-up display and satellite navigation as standard. The GT Sport model here adds leather trim, a Bose 12-speaker sound system with CD player, adaptive headlights, 360-degree camera and 18-inch alloy wheels, amongst other items.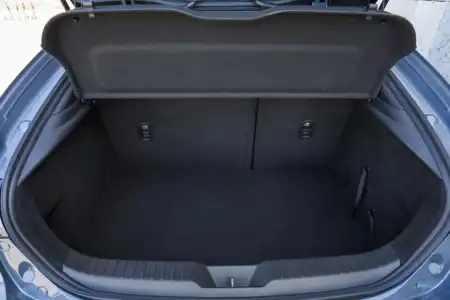 Space & Practicality
While the 3 is fine for those in the front, it's not quite so appealing for rear seat passengers. That stylish but oh-so-thick C-pillar robs the rear of light, making it feel quite claustrophobic. Actual space isn't so bad, but it feels more enclosed than it could do.
That pillar also makes reversing manoeuvres tricky at times, although the GT Sport has a 360-degree camera that fills in any blanks nicely.
The sweepingly styled bodywork also robs the car of some boot space, with just 351-litres available. That's roughly 10% smaller than a Golf or Focus.
Ownership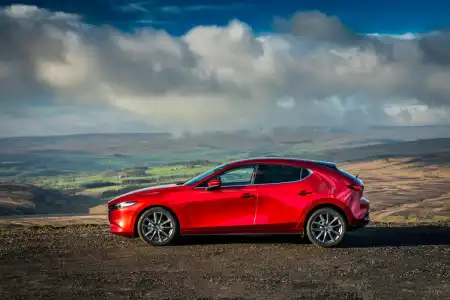 Running Costs
The Mazda 3 range is priced competitively, but it's the leasing and PCP costs that really matter. While depreciation is expected to be a little steeper than that of premium rivals, it's not scary and should mean reasonable monthly payments.
Emissions of 117g/km mean it falls into the normal car tax band, resulting in a bill of £145 a year. Fro company car buyers, that translates to a BIK rate of 27%, or a monthly tax bill of around £110 for a standard rate tax payer.
Opting for the diesel will reduce your fuel costs, with economy of 56.5mpg promised, but the petrol engine is still competitive. Officially it'll return 45.6mpg, while our road testing saw a pleasing 42mpg after an hour or so of normal driving.
However, there's more to come. A new Skyactiv-X engine arrives in October, promising a significant uplift in power while using less fuel. We've driven the new unit in prototype form and the technology seems to work well, which means there will be the refinement and performance you expect from a petrol engine, with the economy of a diesel.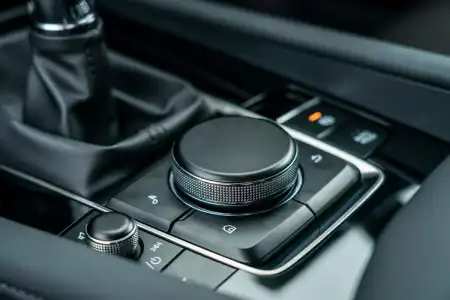 Quality & Reliability
Everything about the Mazda 3 screams quality, from the material choices to the feel of construction. Even the plastics hidden away in the depths of the car feel a grade or two above the norm.
Owners like the cars though, with the Auto Express Driver Power survey seeing the 3's bigger brother, the Mazda 6, finish in 11th place.
It's too new to know how this latest model will fare, but it's backed up by a comprehensive three-year or 60,000-mile warranty, although it's possible to extend that for a fee. Servicing is just once a year, or 12,500 miles, with a fixed-rate service plan available for up to seven years.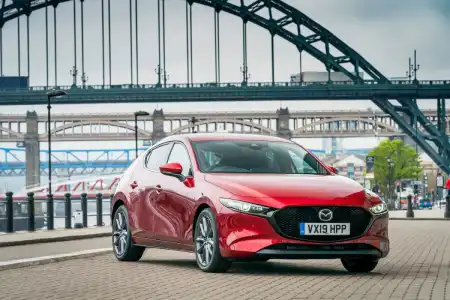 Safety & Security
Every Mazda 3 comes packed with safety equipment, from blind-spot monitoring to radar-backed cruise control. Emergency automatic braking is standard across the range, as is rear cross traffic alert and lane keeping assist. It's an impressive roster of equipment that stands Mazda ahead of its rivals, including from the supposed safety-led models from Volvo.
Mazda has also taken the decision to remove touchscreen controls from the infotainment centre. Research suggests drivers spend too long looking at the screen while drifting slightly off-line as they search for the right box to prod, so Mazda has settled on a simpler system with fewer options, all controlled by a tactile, rotary knob. Likewise, all ventilation and volume controls are traditional, physical dials, making adjustments when driving easy to do by feel alone.
The all-new Mazda3 has been awarded the maximum five-star rating by Euro NCAP in its latest series of tests. Both the CX-3 and 6 scored five stars in recent testing too.
More On This Car
Take one for a spin or order a brochure
Request a Mazda 3 brochure
Request a Mazda 3 test drive