Pros:
One of the finest supercars on the planet

It sounds as good as it looks and drives

It's a McLaren - brilliant handling
Cons:
That quarter-of-a-million-pound price-tag

Driver visibility is not great

The unpredictable British weather!
More On This Car
Need more information?
Request More Information
Introduction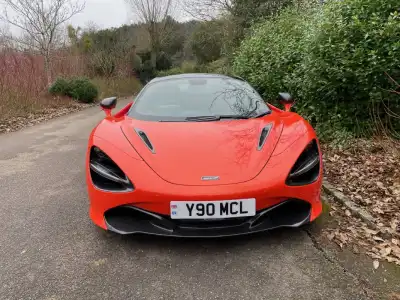 Should you have the odd quarter of a million lying around doing very little, then McLaren may have the perfect solution. Because that's what the 720S Spider will cost you and that's before you factor in any options.
Expensive? Yes. But we are talking supercar territory here and this McLaren is one of the best.
With a top speed in excess of 200mph and acceleration out the blocks that will have you pinned to the back of the seat, it's not for the faint-hearted. But for sheer enjoyment and outstanding performance, it's the one to beat.
On The Road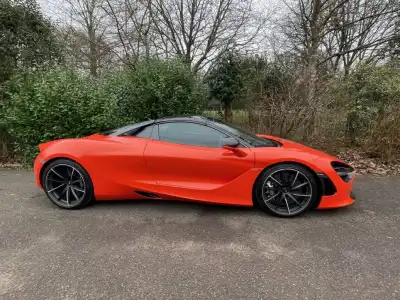 Performance
Just like its coupe sibling, the mid-engined McLaren 720S Spider is unbelievably fast. It's powered by a 4.0-litre, twin-turbo, V8 petrol engine delivering 720PS of power and 770Nm of torque. And that translates into interesting reading when it comes to performance.
This McLaren can complete the 0-62mph dash in just 2.9 seconds. It reaches 124mph in 7.9 seconds and 186mph in 22.4 seconds with a maximum speed of 212mph.
With its seven-speed automatic transmission and paddles for added driver engagement, the McLaren 720S blasts out the starting blocks with a suitably raucous accompanying soundtrack. The acceleration is blisteringly quick, but it is so composed on the twisting country lanes with excellent grip and no sign of any body sway.
The beautifully weighted steering is certainly one of the best on any supercar with perfect driver feedback, and there are modes to switch through called Comfort, Sport and Track that recalibrate the handling, powertrain, gearshifts and suspension instantly.
Hit the motorway and you are cruising at 70mph in the blink of an eye and if the sun should put in an appearance the roof is lowered in matter of seconds.
Despite its awesome good looks and exhilarating performance, the really surprising factor is just how comfortable this McLaren is. You could almost use it as your regular daily car, although it is guaranteed to attract attention wherever it's parked.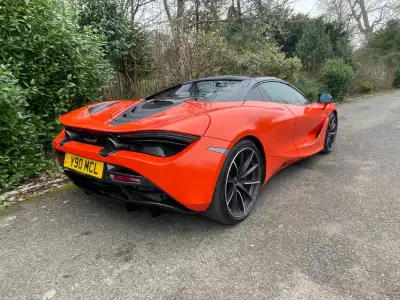 Ride Handling
Despite sitting on massive wheels (20-inch at the rear and 19 at the front), the ride is very smooth with the effective suspension absorbing bumps and dips along the way.
The ride height can be raised or lowered to protect the underneath of the vehicle if driving over raised speed bumps and there is all manner of driver assistance systems to help you get the most out of the McLaren.
If you venture onto a track, there is Variable Drift Control where you can explore your inner hooligan in a relatively controlled way, but we stayed to the public roads on our test drive, which offers a more realistic experience than hurtling around a track.
And what an experience it was. Four hours behind the wheel covering a range of roads. It's composed on motorways, easy to manoeuvre in busy town centres, but comes alive when faced with the twisting B roads.
It is so composed that you are constantly encouraged to challenge yourself and you just know you will bottle it long before the McLaren. It really is that good.
With the roof up, it's all very refined within the cabin and the pitch perfect Bowers & Wilkins sound system drowns out any noise intrusion.
However, drop the retractable hard-top roof and you can hear the engine purring away behind you, add some pressure to the throttle and it's like feeding time in the lion's enclosure.
Styling
The two-door McLaren 720S Spider is one of the most beautifully crafted cars on our roads today with gorgeous lines that will bring out the green-eyed monster in any bystander.
Our car boasted stand-out Helios Orange paintwork costing £7,750 extra and a whole host of optional styling packs. There was a Performance Plus Pack (£4,900) that introduced 10-spoke super lightweight forged aluminium wheels, McLaren Track Telemetry with lap time functions and three cameras.
A sport exhaust added £4,900 to the price and for an extra £5,990 there is plenty of additional carbon fibre trimmings along with upgraded Nappa leather upholstery.
Soft close gull-wing doors, an active rear spoiler, sweeping LED light clusters and a single piece retractable hard top roof complete the styling.
Move inside and there is a choice of luxury leather interiors. Our test car featured Black leather and Alcantara which really looked the business, especially with the McLaren Orange contrast stitching.
The electric, heated sports seats have memory settings and there is ambient lighting and an electrochromic roof that changes colour when in a raised position.
Once again there are optional extras to add to the McLaren's appeal such as a folding driver display bezel, infotainment screen surround and door applique costing £2,290.
In The Car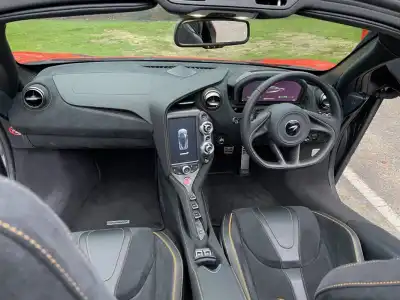 Behind the Wheel
With powered seats and a powered steering wheel with reach and rake adjustment, getting comfortable is a quick and simple process.
And it is comfortable despite sitting so close to the ground. Then it's a case of taking stock of all the technology at your disposal. A Convenience Pack costing £4,900 added a 12-speaker Bowers & Wilkins sound system, but the standard spec is plentiful with a McLaren Infotainment System that includes an eight-inch high-resolution touchscreen, Bluetooth connectivity, voice control, dual-zone climate control and lots more besides.
The driving position is spot on with all the pedals lining up nicely and the readouts, controls and dials are all perfectly positioned for ease of use on the fly. Rather unusually, there isn't a single button or switch on the steering wheel
As is generally the case with two-seater convertibles, the driver visibility out the tiny rear window is quite poor but the over-the-shoulder view is better than some rivals thanks to the slim pillars. For added convenience, there is a reversing camera along with a 360-degree park assist system on the McLaren.
On the downside there is no Apple CarPlay or Android Auto. Instead, smartphones can be connected via a USB port.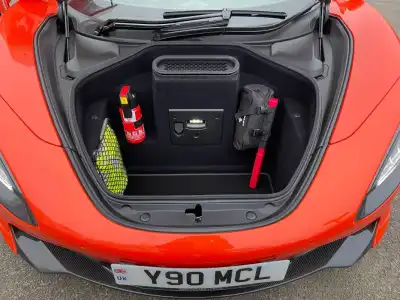 Space & Practicality
The McLaren 720S is a two-seat convertible supercar, so if practicality or family days out are high on the 'must have' and 'to do' list then maybe look elsewhere.
However, this car is perfect for two occupants and they are treated to sublime comfort levels that really do belie the car's potent design.
It's a very driver-focused cockpit and storage options are few and far between. There are two cup holders for anyone brave enough to carry a hot drink when driving a McLaren, a covered bin between the seats, a tray and that's about all.
But designers have made good use of storage space with a boot that can hold 58 litres along with a frunk (front trunk) that will swallow an extra 150 litres of kit.
The roof can be opened or closed at speeds up to 31mph – this takes 11 seconds and is achieved at the flick of a switch. This is the fastest in the supercar sector.
The McLaren 720S Spider measures 4,544mm in length, is 2,161mm wide (including the mirrors), is just 1,194mm high and has a wheelbase of 2,670mm. With its gull-wing doors that swing up and outwards, the opening is nice and wide making it quite easy to get in and out of the McLaren in a relatively dignified fashion.

Ownership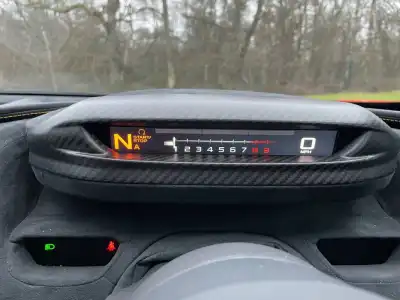 Running Costs
First things first, the McLaren 720S is a supercar and a very good one at that. So, it has a high-end price-tag. Our test car started out at £245,700, but once the wealth of optional extras had been factored in, the cost had risen to just under £300k.
When it comes to the day-to-day running costs, the McLaren 720S Spider delivers a combined 23.2mpg (if driven in a fairly respectful manner) with carbon emissions of 276g/km. Obviously, that fuel efficiency figure will take quite a hit if the car is taken to the track or pushed hard all the time.
The high carbon emissions figure would result in an expensive first year road tax charge (or Vehicle Excise Duty to give it its proper name) of £2,245 which would drop to the standard fee of £155 the following year. However, owners of vehicles with a list price above £40,000 pay an additional £335 for the first five years.
And it doesn't get any better with the insurance costs either as the McLaren 720S Spider sits in the highest group 50 category.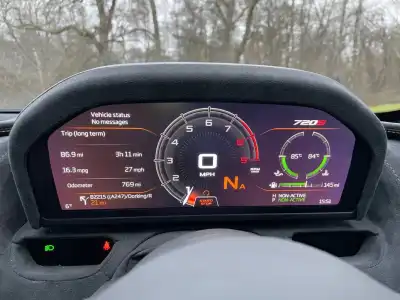 Quality & Reliability
McLaren has a mixed reputation when it comes to reliability. But in fairness, these cars are often pushed to their limit day after day. Not exactly a school-run car then, unless you want your child to suddenly gain a huge following of new best friends!
The McLaren 720S Spider certainly felt solid in its build and all the materials and upholstery were of the finest quality.
It comes with a three-year, unlimited mileage warranty. In addition, the 720S Spider is also eligible to be covered by the McLaren Extended Warranty that makes it possible to cover a McLaren 720S Spider for up to 15 years (increased from 12 this year).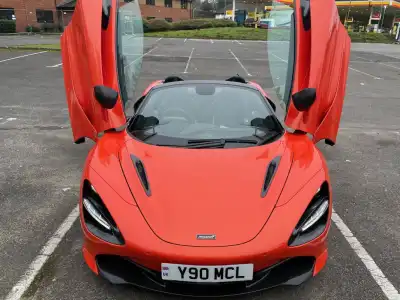 Safety & Security
The McLaren 720S Spider has not been tested by Euro NCAP for a safety rating. This is not unusual for low volume sales models such as the McLaren.
It is however, packed with safety kit and driver assistance aids to help protect occupants and keep other road users as safe as possible.
The car has been designed with an ultra-stiff carbon fibre body which should offer optimum protection in the event of an accident and the carbon ceramic brakes do an excellent job of bringing the vehicle to a safe standstill.
There is an anti-lock braking system, dynamic electronic stability control, traction control, variable drift control, hill hold assist, brake pad wear sensors, cruise control, an electronic parking brake, plus driver and passenger front and side airbags.
The McLaren is fitted with an excellent alarm with tilt sensors and there is also an immobiliser for added peace of mind.
Summary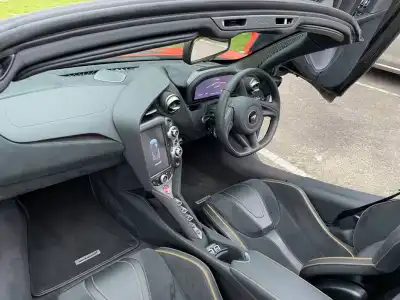 Few supercars match performance with comfort as perfectly as the McLaren 720S Spider does. It is brutally fast but refined and, at times, composed too. It does cost the earth, but sometimes you get just what you pay for – and this is one of those times.
More On This Car
Need more information?
Request More Information