Pros:
Legendary off-roading ability matched only by the toughest Land Rovers

Mighty 4.0-litre V8 engine sounds magnificent and delivers all the power necessary

All the mod cons and infotainment systems imaginable
Cons:
Combined fuel economy of 21.4mpg (if driven very sensibly)

It's a lengthy vehicle measuring more than 4.5 metres and will need extra-large parking bays, especially to open the side hinged rear door

Doors and tailgate need slamming to close properly
More On This Car
Take one for a spin or order a brochure
Request a Mercedes-Benz G Class brochure
Request a Mercedes-Benz G Class test drive
Introduction
The Mercedes G-Class or as it's more affectionately known the G-Wagon, which is short for Gelandewagen meaning cross country vehicle in German, is possibly the most indestructible passenger vehicle on the planet.
It's boxy design and go-anywhere off-roading capabilities make it ideal for conquering the roughest terrains. But in addition the mighty V8 engine on the AMG version can power this giant from 0-62mph in a blisteringly quick 4.5 seconds.
With a price-tag that eliminates all but the super-rich, the G-Class is packed with all the latest technology and it will make any driver feel invincible behind the wheel.
It's worth noting every G-Class is hand-built in Graz, Austria, a process that takes about 140 hours.
On The Road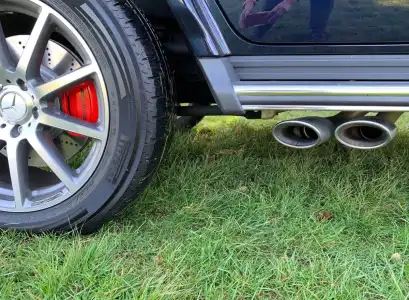 Performance
Reinventing an icon can be a risky business but Mercedes seems to have hit the jackpot with the very latest G-Wagon. It is in fact the company's longest running vehicle and has undertaken numerous transformations over the decades, but this is the most significant upgrade in almost 40 years.
Rather cleverly, Mercedes has kept the shape of the vehicle very similar with its instantly recognisable boxy silhouette, rippled bonnet, external door hinges, round headlamps and full-sized spare wheel on the back door.
But beneath the surface, it's all new and that includes a new AMG 4.0-litre V8 biturbo petrol engine that replaces the outgoing 5.5-litre V8 powertrain. It generates 585hp and delivers a maximum torque of 850Nm.
To put these figures into perspective, the G-Wagon has a kerb weight of 2.56 tonnes yet can power its way to 62mph from a standing start in just 4.5 seconds. An additional AMG Drivers Package on our car increased the maximum speed to an electronically-limited 149mph (it's normally set at 137mph as standard.)
If you enjoy going about your business in a quiet unassuming manner, the G-Wagon is not the car for you. It starts up with a roar and with the options of Sport and Sport+ at the top end of the driving modes everything just gets louder with twin side pipes below each of the rear doors.
There are more 'sensible' drive modes and most owners will probably opt for Comfort, but the G-Wagon still delivers exceptional power and acceleration as it fires through the nine-speed automatic gearbox.
Ride Handling
With its larger-than-life dimensions and massive 20-inch alloys, you would expect the AMG G 63 to handle like a shipping container on wheels, but it doesn't. I clocked up almost 650 miles during my week-long loan and at no stage did the thought of booking a chiropractor appointment spring to mind. In fact the longer you spend driving the G-Wagon the more comfortable you feel with its handling.
Yes, there is a low range gearbox, differential locks, special suspension settings plus Sand, Trail and Rock drive settings to cope with all the off-road duties, but the latest AMG G 63 is very at home on motorways where it cruises at 70mph; out on the twisting country lanes where the road holding is surprisingly confident or in town centres where the tight turning circle of 13.5 metres impressed.
The steering has been completely upgraded and delivers ample driver feedback and despite the car's high centre of gravity, you soon feel that bends can be attacked with a degree of confidence. The rear-biased all-wheel drive system keeps the AMG G 63 firmly planted and when the open road presents itself the driver can take complete control of the gear changes by switching across to Manual and using the steering wheel mounted paddles.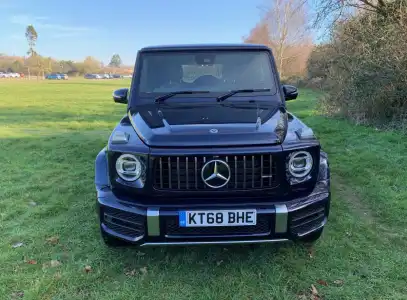 Styling
The AMG G 63 features AMG Ride Control suspension with adaptive adjustable damping as standard. This fully automatic, electronically controlled system adjusts the damping at each wheel to suit the current requirements such as road surface and driving style which, in turn, improves the ride comfort along with safety. The drive mode settings also influence the refinement within the car – choose Comfort for a more relaxed experience or ramp up the excitement with Sport or Sport+ modes.
One glance in the direction of the AMG G 63 will leave you with little doubt that this is not going to be the most refined to drive and in a way that's a fair assumption. It feels quite bulky and tight bends need to be given a degree of respect to avoid any body lean, but at the same time it feels incredibly safe and you get the feeling that any over-enthusiastic driver errors will be corrected by the stability control system and once again order will be restored.
With its larger-than-life dimensions, you would expect noise intrusion to be an issue, but generally the AMG G 63 is well insulated against road surface sounds. There is wind noise at higher speeds and in Sport or Sport+ the engine becomes exceptionally loud and boisterous.
In The Car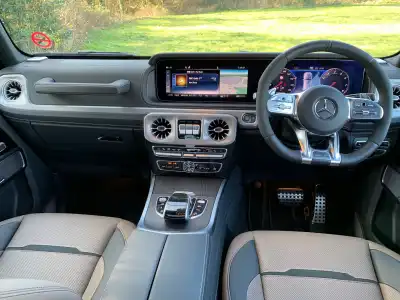 Behind the Wheel
The interior of the AMG G 63 oozes class and elegance with the likes of AMG Nappa leather upholstery, 64-colour ambient lighting, black flamed open-pore ash wood trim, plus an AMG performance steering wheel that can be heated and has a Nappa leather and black microfibre covering.
There is Mercedes' COMAND Online navigation system, a 12.3-inch media display and 12.3-inch instrument display where the likes of smartphone integration via Apple CarPlay or Android Auto is located. And a Burmester surround sound system with 15 performance speakers is the ideal accompaniment for the not-exactly-understated AMG G 63.
Getting the perfect driving position is simple thanks to the heated, electrically-adjustable front seats with memory settings plus the power- adjusted steering wheel.
The driver benefits from superb all-round visibility thanks to the elevated driving position and large windows, and the cabin is comfortable for all occupants with back seat passengers also enjoying heated seats. In addition, the electric sliding sunroof lets light flood the spacious cabin.
The controls and readouts are perfectly positioned and simple to adjust on the move with three different display views called Classic, Sporty and Progressive that alter the information shown and the manner in which it's presented.
And when you arrive home or at your destination in the dark, simply open the door and a giant Mercedes three-pointed star lights up the pavement – it's more of a puddle floodlight than puddle lamp!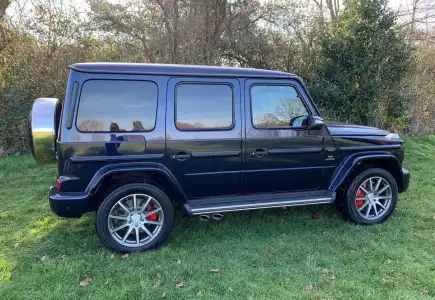 Space & Practicality
The latest second generation AMG G 63 has had a bit of a growth spurt. It's 53mm longer and 121mm wider. This in turn means additional room inside with front legroom up by 38mm, rear legroom up by 150mm, front shoulder room increases by 56mm, rear shoulder room gains 27mm front elbow room increases by 68mm and rear elbow space by 56mm.
And storage options are impressive too. The rear seats can be folded 40, 60 or 100 per cent and the storage capacity ranges from 667 to 1,941 litres with the back seats dropped flat. There are numerous additional storage options scattered throughout the car, including a glovebox, cup holders, deep central cubby, practical door bins, rear cup holders, pull out pockets in the backs of the front seats and, rather rare these days, an ashtray
The boot features a handy reversible rubber boot mat along with nets and hooks to prevent items rolling around.
Getting in and out of the AMG G 63 is made simpler thanks to grab handles and side steps, but it can be quite a climb up.
Another point worth making is the doors all need to be slammed hard to shut them – there's no automatic soft-closing option on this vehicle!
And with towing options in mind, it has a braked towing limit of 3.5 tonnes.
Ownership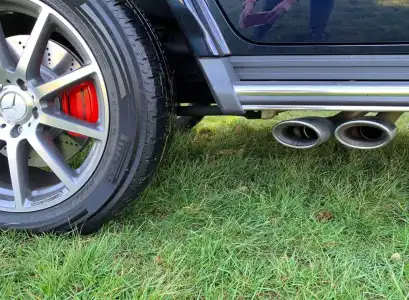 Running Costs
If you can afford £143,305 (£145,755 with a few options) to buy the AMG G 63 then running costs are not going to be that significant. However Mercedes engineers have worked hard to maximise fuel efficiency and have equipped the V8 engine in the G 63 with a cylinder deactivation system whereby cylinders two, three, five and eight are deactivated when not required. This, according to Mercedes 'significantly lowers the fuel consumption'. That said; simply watching the fuel economy levels in the TFT display can cause your heart to flutter as it tends to hover around the 20mpg mark if driven carefully. Push hard or accelerate in Sport mode and that level frequently drops below 10mpg.
I refuelled just once and stopped at £102.50 with plenty of room still available in the tank.
The official combined fuel figure is 21.4 mpg with carbon emissions of 299g/km. This would result in a first year Vehicle Excise Duty charge of £2,070 dropping to £140 for each following year. In addition, under the recent restructuring of the tax system, cars with a list price above £40,000 pay a surcharge of £310 supplement for five years. After the five-year period the vehicle is taxed at the applicable standard rate.
The insurance group rating for the test car is 50.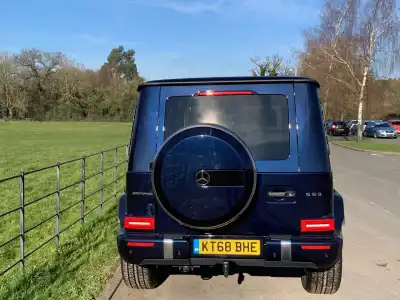 Quality & Reliability
The AMG G 63 is billed as one of the most capable off roaders on sale today and has built up legendary status over the years. The latest model is tougher than ever with a rigid ladder-type frame made from high strength steel which has been designed to tackle the toughest jobs.
There has also been a significant weight reduction without compromising durability, operating life or quality with the wings, bonnet and doors made from aluminium.
The side and rear doors have a protective foil cladding on the inside so no water can get in while crossing streams or rivers. On that front, the AMG G 63 can wade through water up to 700mm; boasts tilt angles of 35 degrees; a 30-degree angle of departure and break-over of 26 degrees.
While the interior has moved upmarket and features all the latest mod cons, the upholstery, trim and switchgear feel sturdy and of the highest quality.
The vehicle comes with Mercedes' three-year, unlimited mileage warranty and four years standard roadside assistance cover.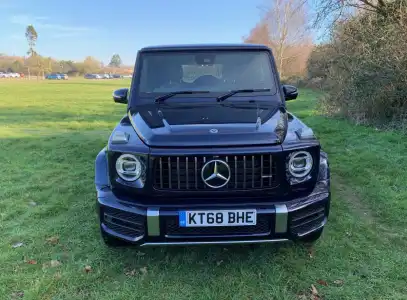 Safety & Security
Although the AMG G 63 has not been tested for a Euro NCAP safety rating, the list of features and drivers assist systems is impressive. For example, specifications include the likes of blind spot assist, adaptive automatic cruise control, parking assist with 360-degree camera, AMG high performance braking system and four-wheel electronic traction system.
In addition, there is all manner of technical wizardry to help combat the most challenging off-road terrain imaginable and still emerge unscathed.
More On This Car
Take one for a spin or order a brochure
Request a Mercedes-Benz G Class brochure
Request a Mercedes-Benz G Class test drive