From £22,850 (200 AMG £26,220)
Pros:
Cutting edge technology looks fantastic and provides a real premium feel

Extra space increases practicality

Performance and economy are both good, making the A 200 a strong all-rounder
Cons:
The really interesting models not available yet

Design is conservative
More On This Car
Take one for a spin or order a brochure
Request a Mercedes-Benz A Class brochure
Request a Mercedes-Benz A Class test drive
Introduction
Introduced 20 years ago, the Mercedes A-Class has constantly been developed and turned into something stylish, plush, frugal and, above all else, safer.
Now Mercedes is throwing everything at making it a technical tour de force as well, introducing new technology never seen on the road before, without sacrificing anything that makes the hatchback such a strong seller for the company.
Remaining entirely conventional on the outside, and instantly recognisable as a Mercedes A-Class, it's the cabin inside that's been transformed. It's as groundbreaking as the original car was.
On The Road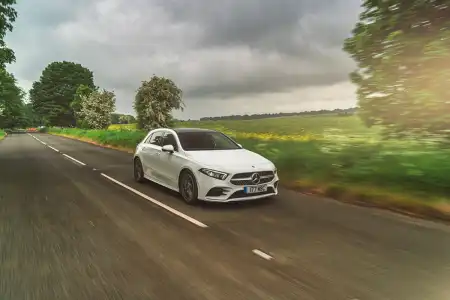 Performance
There's a surprise under the bonnet of this A 200 test car - there's just a tiny 1.4-litre petrol engine powering the car. Despite its diminutive size, there's 163bhp on offer, so performance is actually reasonably strong. It's not exactly going to set the pulse racing, but a 0-62mph time of eight seconds dead means you won't have any fear when joining a motorway.
Once up to motorway speeds it starts feeling a little lethargic, with the car occasionally dropping a gear or two to make its way up a hill, but the smooth seven-speed automatic gearbox makes it barely perceptible.
For those covering more than average miles, a 1.5-litre diesel option is available that's not as quick but is deceptively smooth, while a 2.0-litre petrol engine offers Golf GTi-rivalling performance for those of a more sporting bent. That' it for now, but there'll be more engines joining the range over the next 18 months, as well as another six body shells, from coupe to crossover.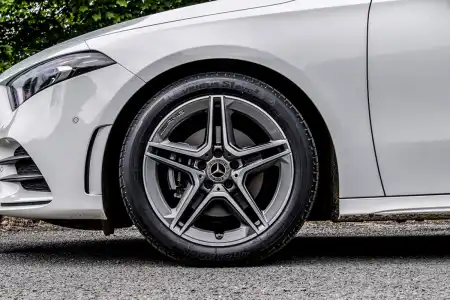 Ride Handling
Picking the AMG Line option is always going to have a negative impact on ride quality, as larger alloy wheels mean lower profile tyres and stiffer suspension. However, this A-Class is a pleasingly compliant car.
It's not perfect, crashing over potholes with a cabin-shuddering thud, but away from the worst of British roads, it makes a pretty good fist of smoothing out the road surface.
It's still pretty firm, which adds an air of confidence when wanting to make more rapid progress, with a solid turn in and precise steering encouraging the driver. The rest of the car follows in line nicely, but only to a point, and that point depends on what model you're driving.
That's because the sportier models have complex multi-link suspension at the back of the car that copes nicely with changes in surface, bumps and cracks. Cheaper models are kitted out with a torsion beam, a solid bar that connects the rear wheels, and that's far less sophisticated. It leaves the car fidgeting around more, and limits outright road holding.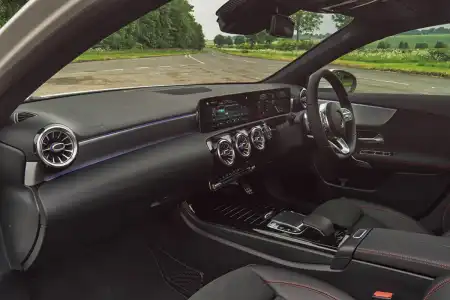 Styling
What's instantly noticeable about the A-Class is just how quiet it is. It really isolates its occupants from the drone of the engine, the rush of the wind and, to a reasonably strong degree, the roar of the tyres. That's backed by some excellent damping on the engine, so there are no vibrations felt through the steering wheel or pedals.
The suspension is quiet for the most part, although there's a loud thunk when the tyres smack any of the wheel-swallowing potholes that litter our roads. Those tyres, even in low-profile form on this AMG Line model, also absorb much of the minor patter of the road.
Close your eyes at speed (only as a passenger, please!) and you'd swear you were in an E-Class, or maybe even an S-Class. It's smooth, comfortable and, if not quite silent, quiet enough to be relaxing on even the longest of journeys.
In The Car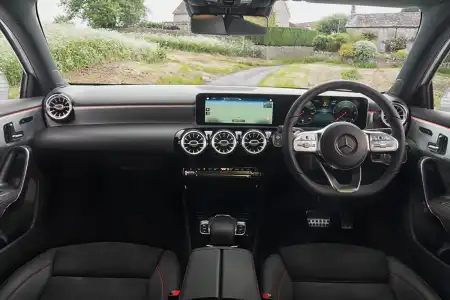 Behind the Wheel
Absolutely stacked full of technology, it's what faces the driver that separates the A-Class from virtually any car that's gone before. Instead of a traditional instrument binnacle and centre console, there's a huge swathe of piano black plastic housing two 10.25-inch touchscreens. These can be personalised in virtually any manner imaginable, although it's a bit of a gimmick as, once you've settled on your preferred style, you'll probably never switch things again.
The centre screen houses the augmented reality satellite navigation. This presents a standard sat-nav view most of the time, but adds a video feed from the front of the car at junctions, overlaying floating signs to direct you to the right exit. It looks great, although often pops up a little late and requires you to remove your eyes from the road. It's also not entirely up to date, with a major year-old hotel missing from the system.
There's also natural voice control, a la Google Assistant, Alexa or Siri. Bark 'Hey Mercedes' and the system wakes up, waiting for your instructions. Change the radio, navigate somewhere, alter the ambient light colours, make a phone call, etc., all by simply asking the car to help out. The only issue is it sometimes doesn't work very well. Anyone coming from Google's excellent Assistant will be frustrated at the amount of times the car simply doesn't know what to do or navigates to an entirely different location to that specified. Yes, it's an early work in progress, but it's not really ready yet. Relying on Android Auto or Apple CarPlay instead will cost an extra £495, as neither is installed as standard.
To get the tech, and the look, also requires ticking some option boxes, adding almost £3,000 to the list price. Ignore the boxes and you'll get two tiny seven-inch screens that appear a little lost.
It's a shame as, boxes ticked and technology working, this would be the best cabin on sale today.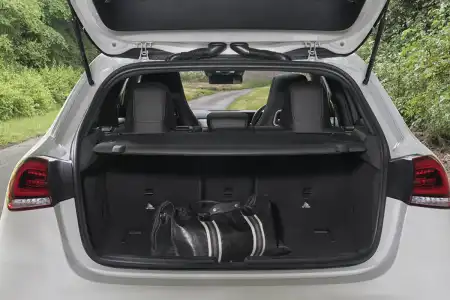 Space & Practicality
This A-Class is wider inside, but only slightly - in the front you get just an extra 2¼ millimeters width per shoulder, but the old model was never cramped. The rear seats are commodious enough to take two adults with ease, but three really would require everybody to be good friends.
The boot is a decent size at 370 litres. That's more than you'll find in a BMW 1 Series, but less than an Audi A3 Sportback. The rear seats fold down to extend the load bay to 1,210 litres. There are decent storage options dotted around the cabin too, with the glovebox being a good size.
Ownership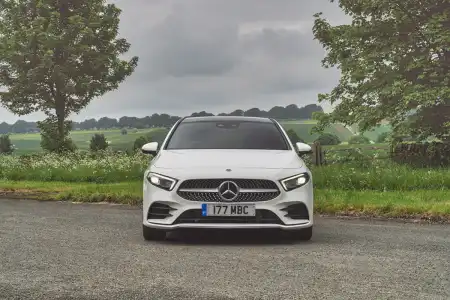 Running Costs
Starting at £22,850, the A-Class range is competitively priced, with strong PCP offers making the A 180 model a snip at £269 a month, and the A 200 Sport at £299 a month. That's helped by strong residual values, that will also appeal to those choosing to buy outright.
Diesel economy is strong, with a promised 68.9mpg, but even this A 200 petrol model could manage 53.3mpg, according to Mercedes. After driving the car, sometimes rather enthusiastically, the on-board computer reported well over 40mpg which could be considered impressive.
CO2 emissions are rated at 123g/km, which means car tax is £140 per year. Company car drivers will be facing a Benefit in Kind burden of 25%, which translates to a monthly bill for a 40% tax payer of around £237.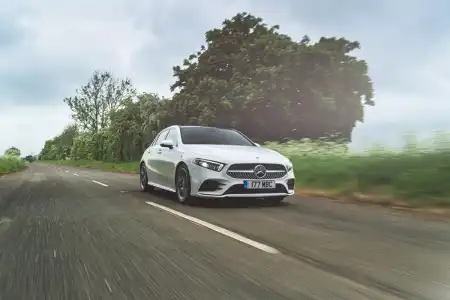 Quality & Reliability
With a new engine and an entirely new car, it's difficult to say how reliable this A-Class, and how reliable that complex infotainment system, will be. As a brand, Mercedes finished 20th in the most recent Auto Express Driver Power which compares well with Audi (18th) and BMW (21st).
Servicing can be spread over monthly payments, with a £28 monthly fee covering annual servicing for up to four years. The car will also track service requirements, reminding both you and the dealer when attention is due.
There is a three-year warranty on the car, which is the same as you will find on any of its direct rivals.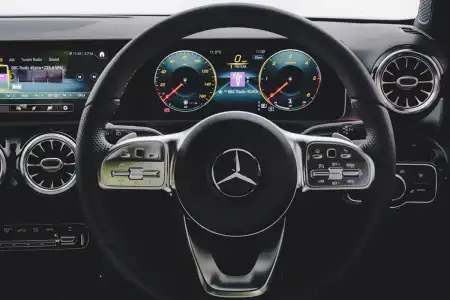 Safety & Security
With an Attention Assist system that monitors the driver for tiredness and fatigue, backed up by lane departure warning, autonomous emergency braking and pedestrian detection, the A-Class helps avoid accidents in the first place. There are seven airbags around the cabin should the worst happen.
Whilst it's not been tested by EuroNCAP yet, the previous two generation cars scored five stars, as does the rest of the current range from Mercedes. It's safe to assume this A-Class will continue that trend.
For added safety, adaptive cruise control that adjusts its speed for changed limits it spots on road signs is an optional extra, as is blind spot monitoring.
More On This Car
Take one for a spin or order a brochure
Request a Mercedes-Benz A Class brochure
Request a Mercedes-Benz A Class test drive